Blockchain-Based Telemedicine Ecosystem
Digitalization in the healthcare industry is one of the main focuses of Abto Software. Since 2017, we have been working on the blockchain-based telemedicine ecosystem. As a result, we created high-protected software. It includes electronic health records, telemedicine, online appointment, and other digital medical tools. In this article, read about the specifics of blockchain usage in healthcare software projects.
About the project
Our client wanted to build a digital healthcare ecosystem with a focus on a patient. It should help with medical interactions between patients, doctors, pharmaceutical and insurance companies.
The first part of our telemedicine software should be Telekit – a convenient and secure video consultation platform. We planned it will utilize blockchain technology to connect patients with their doctors in the most secure way.
Also, we needed to create a high-protected universal EHR solution. It is supposed to store patient medical records and insurance history. In our system, we decided to give patients the ability to control the level of access to their personal data. Thus, doctors, hospitals, laboratories, and health insurers would request permission to patients' records.
Project challenges
1. Security risks to patient data
Due to the increased sensitivity of medical data, data security is paramount. In fact, the healthcare industry has more data breaches than any other sector. Medical records are often being stolen and passed on.
2. Lack of transparency
In present-day healthcare, there is a lack of transparency between all parties involved. Patients have no immediate access to their health records. Medical workers are only able to share data quickly within their own organization using internal EHR systems.
3. Integration with the national eHealth system
The software will work in all the government clinics and medical institutions, serving millions of users.
Blockchain for telemedicine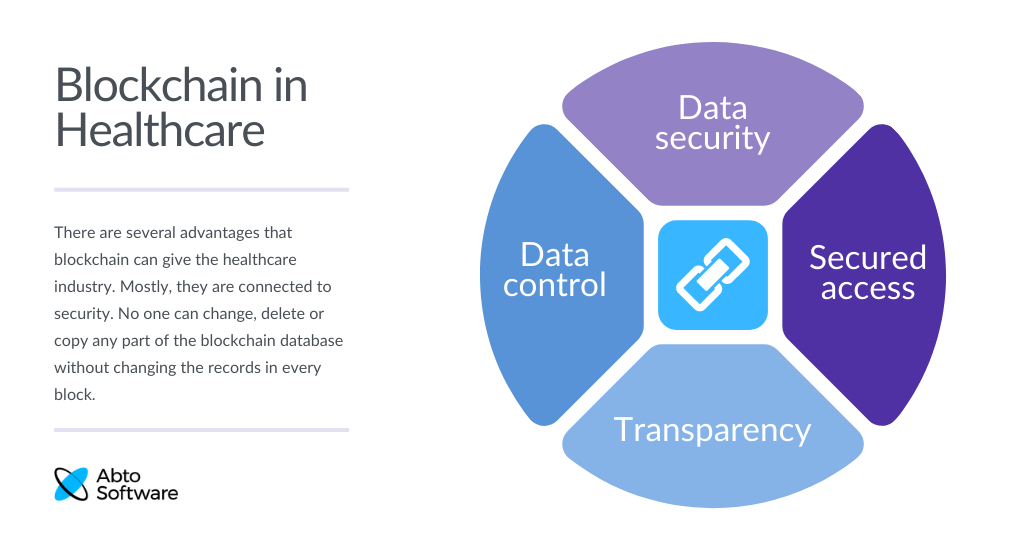 Why use blockchain for telemedicine
There are several advantages that blockchain can give the healthcare industry. Mostly, they are connected to security. The secret is lying in the blockchain structure. Blockchain is a distributed database that consists of separate blocks (or nodes). The number of nodes depends on the system structure, and every one of them represents a record of the same database. Moreover, no one can change, delete or copy any part of this database without changing the records in every node. Even if one of the nodes will be hacked, data in all other blockers will remain safe.
Advantages of blockchain for healthcare:
As we previously said, no one can change information in one node without the influence of all other blockchain parts. That makes blockchain an incorruptible, decentralized and transparent solution for data storage.
The system is private thanks to the identification of any individual with complex and secure codes. As a result, medical professionals can share sensitive information securely and promptly.
With blockchain keeping events records, it is always possible to see who, when and how to use the stored information. Also, with an unchangeable medical history, blockchain can significantly reduce insurance fraud.
Without being affected by transparency, patients have a high level of control of their personal data. In blockchain-based healthcare systems, they can easily manage the accessibility of their data.
However, even with the numerous advantages of blockchain, healthcare experts need to pay attention to some drawbacks. Any blockchain system requires a big storage capacity. It is difficult to change information inside the system, which means data error fixing can become a challenge. Also, it is not easy to find reliable blockchain experts. So, starting your blockchain healthcare project, make sure your tech vendor has good experience in it.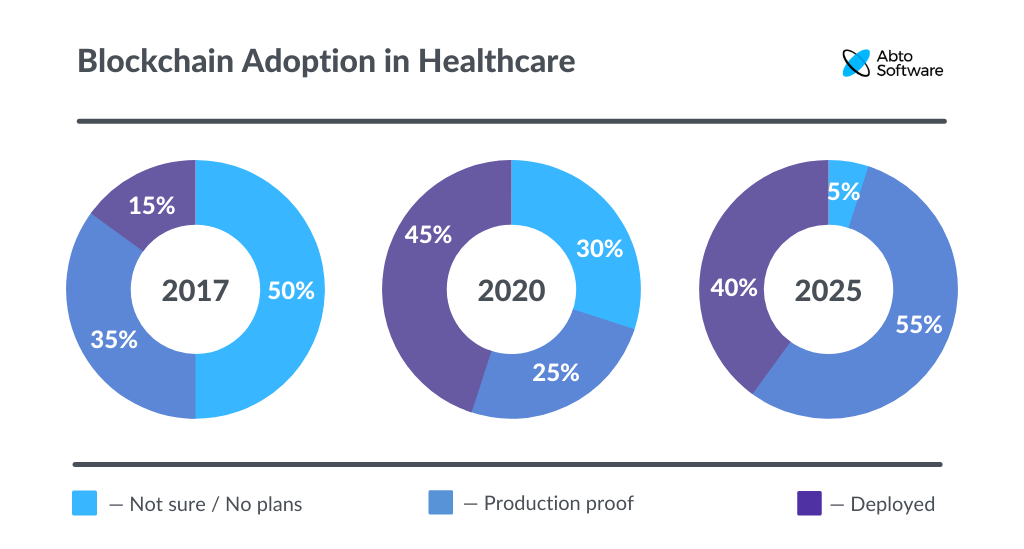 Blockchain technology
We used Hyperledger Fabric in our blockchain telemedicine system. It is a platform for distributed ledger solutions underpinned by a modular architecture.
The platform enables high degrees of confidentiality, resilience, flexibility, and scalability. Medical information is often sensitive, in both a social and legal sense. So, a closed blockchain such as Hyperledger Fabric helps to retain the necessary privacy.
In our system, blockchain controls access to health records. The Hyperledger blockchain network is permission-based and requires users to sign up to use it. Permissions are controlled using Hyperledger modelling and access control languages.
Above all, Hyperledger Fabric is a better solution for managing access to health records. It accommodates multiple layers of permission, meaning the owner of a dataset can control which parts of their data are accessed.
Blockchain for Digital Health Solutions
Leveraging innovative technologies to deliver transformative enterprise solutions in healthcare
Delivered blockchain-based health tools
In 2018, we successfully delivered a beta version of the software, and today it is used by thousands of people. For now, our team launched a few modules with the functionality listed below.
Telemedicine
Experts say telemedicine is the future of healthcare. It is an online consultation with a doctor and patient using a webcam interface. For patients, telemedicine removes the need to attend the doctor's office. And, as a result, it seriously reduces the time for seeking consultation and waiting in lines.
For doctors, this eHealth solution enables live interactions with the patient's records. Consequently, telemedicine allows more informative, and valuable experience for both the patient and doctor.
Electronic Healthcare Records (EHR)
EHR stands for Electronic medical records, the digital equivalent of paper records at a clinician's office. By implementing EHR, patient data can be tracked over an extended time by multiple healthcare providers.
The patients are owners of their medical records. They can control who accesses their data and which information they access. Patients can grant access to their EHR to other users and revoke access by setting up a time-limited gateway.
Online Appointment
Our system offers the opportunity to book medical appointments online. In addition, this service allows users to reschedule or cancel upcoming doctor visits. The patient can view pending and past medical events.
Choosing a doctor, patients can make an informed decision about a medical expert based on recommendations from other patients and doctors. They can book an appointment quickly and easily, and leave reviews after the consultation.
Doctor's Account
Using an integrated platform, the family practitioners and other doctors can nurture ongoing patient relationships. It can help them to keep patients on a path toward better health. The solution allows healthcare providers to track and monitor patient health progress.
Via our healthcare system, doctors can:
see all their patient medical records and share them when needed;
keep track of all appointments;
access the knowledge base and consult other doctors.
House Call
A patient can request an onsite consultation with licensed, qualified doctors. That means you will receive medical treatment even when your family GP clinic is closed or the doctor is absent. One of our approved doctors will treat you in the comfort of your own home.
Multiple integrations
We integrated digital health software with other medical care providers. On our platform are available:
Medicaments portal;
A national initiative of medicaments reimbursement;
Online pharmacies;
Medical tests companies;
Insurance companies.
Conclusions
The Abto Software development team created reliable blockchain-based telemedicine software. It's highly secure, convenient to use, and helpful for all parties involved in the healthcare process.
We focus on next-generation EHRs, predictive modelling, AI, blockchain, and medical imaging. We fundamentally change the way healthcare is delivered, providing solutions for value-based patient-first care. If you would like to know more about the value of blockchain and AI for digital health, contact us.