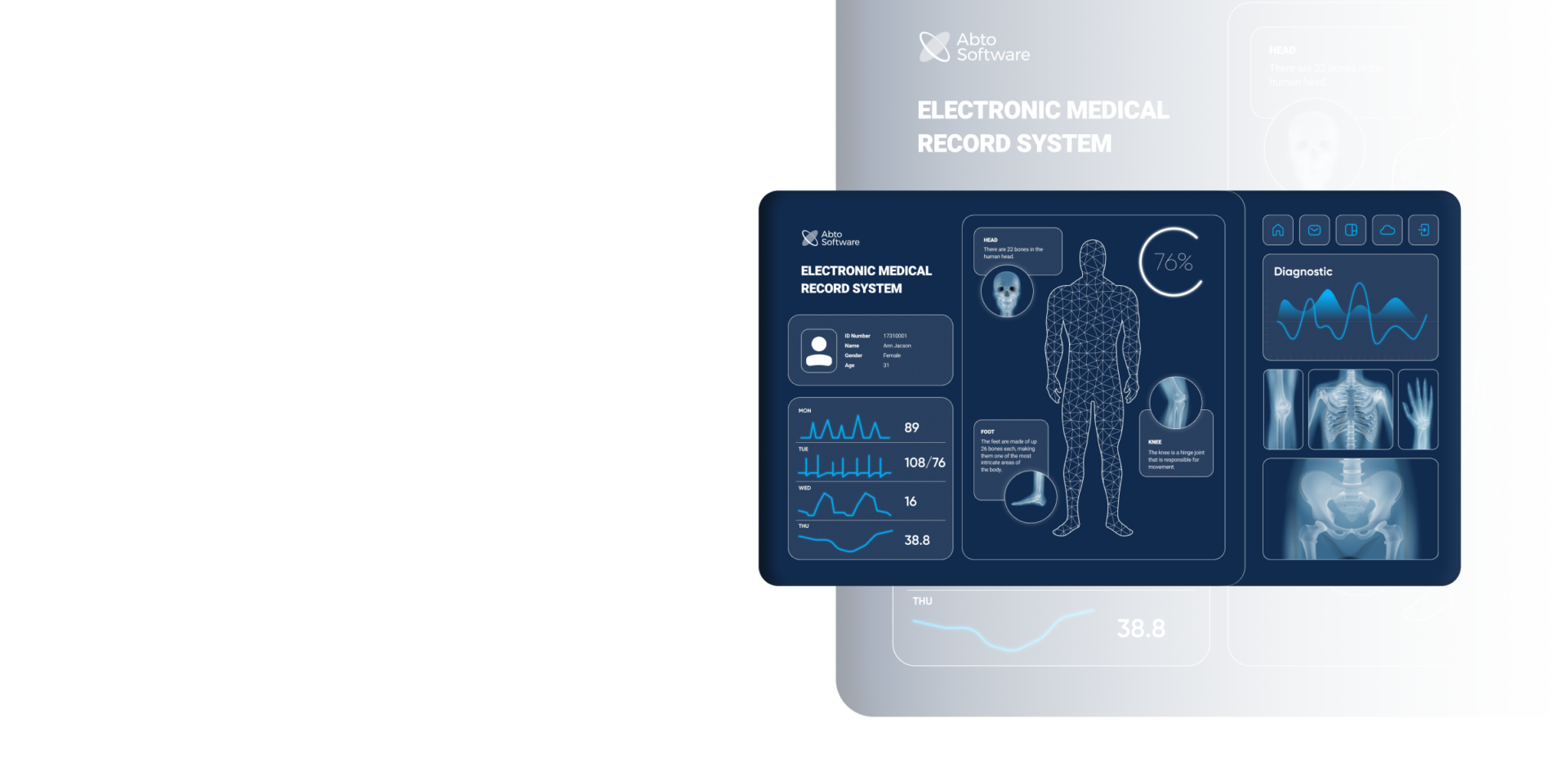 EMR Solution for Medical Practice Management
Delivering reliable EMR system for a US healthcare solution provider
Services:
Software development
Cloud migration
Data protection
Data source integration
Document workflow automation
1
Project overview
Back in year 2012, Abto Software was approached by a US-based healthcare solution provider. Our engineers successfully delivered a suite of reliable digital tools and are now still actively involved in the product's support and development. 
The project was aimed at modernization and smooth cloud migration of the client's complex internal system. The system, written in Visual FoxPro, was designed for medical practice management.
Abto Software fruitfully assisted the company by sharing expert proficiency. We provided 15 experienced software developers to complement the client's internal team in their US office.
Our patient care system, EHR solution, is designed to streamline operational processes in clinics and hospitals. The system simplifies the overall workflow, processing claims, managing inventory, and more.
2
Main goals
The project's main objective was developing an advanced EMR software for clinics and pharmacies. A fast, seamlessly running EMR solution would provide overwhelmed clinicians and pharmacists with the needed tools to optimize internal processes.
Another goal was integrating the software with official medical databases. These databases include information on drugs, various diseases and diagnoses. Another task we covered was the smooth integration with several insurance companies. The purpose was making medical insurance coverage verification as easy as possible.
3
How the solution works
The developed EMR software is designed to provide both clinicians and patients with important medical data. Our solution helps overwhelmed medical workers save time and provide high-quality service. The information, which can be accessed through the electronic health record solution, includes information about appointments, medical history, diagnoses, allergies, and other relevant data. Such a modern system simplifies communication and brings patient care to a new level.
The system also provides advanced reporting based on specific inquiries. This feature is of particular importance in terms of delivered business value.
Skilled professionals, provided by Abto Software, also paid great attention to accessibility and convenience. Medical workers and patients can choose between using the user-friendly web portal or the mobile platform for iOS.
The solution allows personnel to report any issues, which might possibly emerge. This means, the introduced software developers are able to fix any shortcomings as soon as they are discovered.
The features of the eHealth solution delivered include:
User-friendly and easy-to-navigate interface

User profiles with detailed patient information (medical history, diagnoses, allergies, treatment plan, radiology images, lab and test results, treatment reimbursement, health insurance, and more)

Appointment management

Internal chats for communication between clinicians

Clinical decision assessment support by access to reliable digital tools

Inventory management

Drug approval 

Medical insurance coverage verification

Integrated claim data access

Finance regulation

In-depth analytics

Advanced reporting based on real-time data

Streamlined and completely automated ETL workflow

Secure, SAML-based SSO integration of external, third-party systems
The delivered eHealth solution complies with the international HIPAA and HITECH standards. This means it is highly interoperable.
4
Our contribution
Our team covered the following tasks:
Researched the EMR / EHR market

Designed and implemented an electronic medical record system

Helped the client company to license the product to comply with international medical standards

Launched the EMR system
5
Main challenges
Main challenges our engineers faced during the project include the following matters:
Smooth integration of different data sources


Business collects important data through multiple digital applications. Each application has its own algorithms for uploading and updating collected data.
Advanced support of hierarchical role access


A reliable security system must be both resilient and flexible. Security issues can lead to leakage, which can have serious business consequences.
The need for flexibility to meet various customer and end user needs


When talking about technology, one of the main healthcare tendencies in the world is digital transformation. Expanding access to affordable patient care is a key challenge in the developing markets of Asia, Africa, and Central and Eastern Europe. Based on global trends, it can be assumed that growing healthcare organizations will increasingly invest in digital transformation. Already introduced technical specialists must be very flexible in order to adapt to the client's needs.
HIPAA and HITECH compliance


HIPAA and HITECH compliance is an important matter in assessing healthcare solutions in the eHealth industry. The violation of these might lead to fines and loss of reputation.
Tools and technologies
Tech stack:
.NET
ASP.NET
CSS
SQL
JavaScript
Team composition
1 project manager
15 .Net and JavaScript software developers
4 QA engineers
6
Value delivered to business
The delivered EMR solution:
Is responsive to sudden market changes

Provides enterprise level certification

Provides in-time, on-demand reporting

Complies with the international HIPAA and HITECH standards
Value of the developed EMR system:
The solution allows the client company to optimize internal processes in a pharmacy chain, which, accordingly, significantly increases business efficiency

It is another advanced on-demand tool, which can be sold to and successfully used by other healthcare providers all over the globe
Abto Software provides consulting and innovative software development to deliver advanced solutions. Focusing on predictive modeling, AI, ML, computer vision, and next-generation EHR systems, we accelerate high-level, accessible patient care.
The engineers working at Abto Software have extensive domain expertise in delivering telemedicine solutions, in particular AI enabled human body pose detection and analysis for platforms that provide MSK rehabilitation. For more detailed information on our telehealth services, contact us.
Contact Us
To find out more about Abto Software expertise, request a quote or get a demo of your custom solution.
Contact us
Tell your idea, request a quote or ask us a question