Healthcare Mobile App Development: Benefits, Types, and Trends For 2022
Posted Jan 26, 2022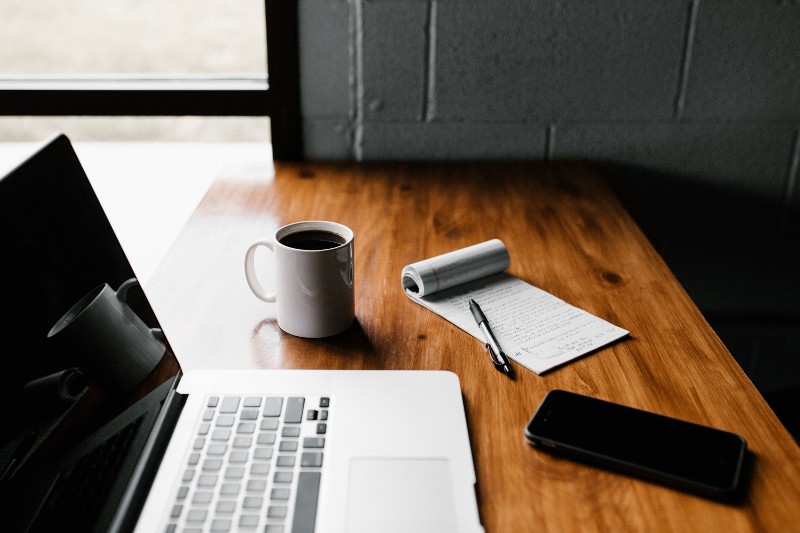 Healthcare mobile app development allows medical companies to provide better-quality services to more patients. The industry market, which has seen a significant surge caused by the COVID-19 pandemic, has reached its all-time high of $326.1B in 2021. Furthermore, it shows no signs of slowing down and is expected to reach an impressive $821.1B by 2026, with a 20.3% CAGR.
So, what are the advantages of such apps that make them so popular? How much does it cost to build an app? What types of apps are out there? And what trends of mobile healthcare app development should you be aware of for the coming years? Read on to find out!
Key benefits of mobile healthcare apps
It's obvious that mobile healthcare applications have unique features. However, all advantages brought by such applications fall under the umbrella of one of the four main benefits.
1. Faster access to healthcare providers
Mobile healthcare apps allow patients to quickly communicate with healthcare providers and set up appointments. Moreover, patients can use mobile applications to attend telemedicine visits with their providers. Many patients appreciate the added convenience of conducting a visit via their mobile device instead of going to an office. Indeed, a study found that 94-99% of patients that used telemedicine features were "very satisfied" with the experience. This is unsurprising, as this reduces the time to receive care from several hours to just a few minutes.
2. Easy monitoring of remote patients
Monitoring remote patients that need constant observation has always been a challenge in the healthcare industry. This was true even before the COVID pandemic, which only made things more difficult. Wearable devices like smartwatches and fitness trackers can ease this process. When they are combined with mobile applications, they're able to constantly record and send various patient information (blood pressure, heart rate, etc.). As a result, healthcare organizations effectively monitor patients in-between visits. Furthermore, they can provide timely care without putting patients at risk.
Abto Software provides businesses with a custom solution to empower completely remote MSK rehabilitation – AI supported pose assessment and analysis, which can be integrated into existing telemedicine applications. Our solution enables businesses to eliminate excessive sensors and markers and achieve unseen accuracy, simultaneously providing every patient with guidance, real-time feedback, and statistics about progress.
3. Better medication adherence
Improper medication adherence is one of the most common challenges of treating patients with chronic conditions. Healthcare providers can not effectively monitor whether the patient is taking their medicine on time (or at all). And this is where mobile healthcare applications step in. They can send automated refill reminders and medication notifications. Moreover, these applications also provide lots of useful medical information. This can educate patients on the importance of proper medicine intake.
4. Improved communication and management within healthcare organizations
Mobile healthcare app development opens the opportunities to significantly improve communication and coordination within healthcare organizations. Such solutions can come with a wide range of useful features. These include messaging and communication, schedule management, access to medical records and appointment history, etc. Furthermore, a healthcare mobile app can quickly notify healthcare professionals about patient hospital admissions and discharges. This streamlines all care provision and patient management processes within the organization.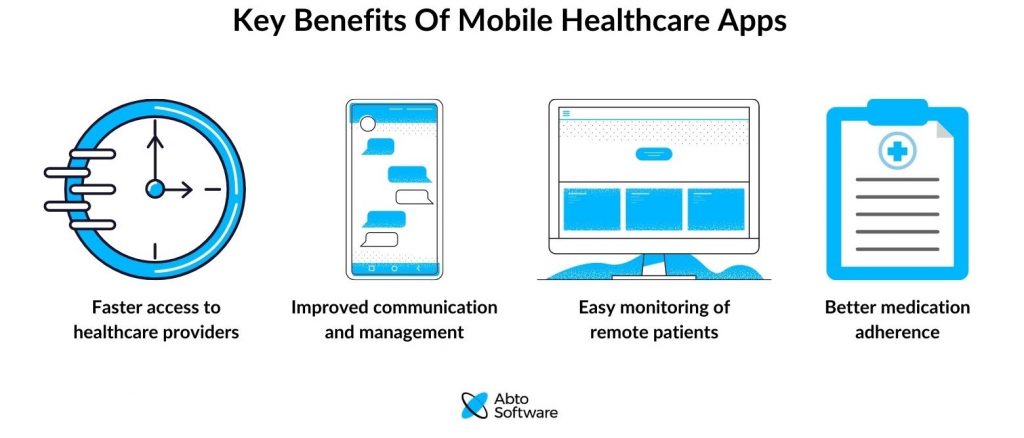 Most popular types of mobile healthcare apps
There are 5 types of solutions that can be obtained from healthcare mobile application development. Let's take a closer look at each one.
Apps for remote monitoring
This very useful type of mHealth app has become an extremely important part of patient care in times of the pandemic. It allows practitioners to monitor their patients remotely without the need for hospital visits. These apps can provide different types of medical information about each patient, including blood pressure, heart rate, oxygen levels, and more. As a result, practitioners can effectively monitor many patients and provide timely care to prevent health risks.
Apps for clinical diagnostics
These solutions allow practitioners to gather and share patient information, such as Electronic health records (EHR), lab results, etc. They can also check various symptoms to diagnose illnesses or injuries. Finally, depending on the features included during mobile healthcare app development, these solutions also allow scheduling and managing patient appointments.
Apps for clinical reference
These applications provide access to all the necessary digital reference materials a patient needs. This includes E&M coding, ICD-10, ICD-9, and more. Instead of spending lots of time searching for a particular reference, the app user can find the information they need within seconds.
Apps for healthy living
The main purpose of such solutions aims to help patients develop and maintain healthy lifestyles. They can track various metrics, such as sleep, heart rate, diet, or exercise. Also, they can send notifications or updates, provide statistics, and more. Finally, these solutions can also track a woman's pregnancy and ensure the healthy development of the fetus.
Apps for monitoring productivity
Eventually, there are productivity apps that aim to increase the efficiency of healthcare providers. They offer features such as internal communication, patient home visit scheduling, charting, remote dictation, and more. Most importantly, these applications maintain compliance with the HIPAA standard. As a result, all patient information stays protected.
Top healthcare mobile app development trends to look out for in 2022
Rapid technological advancement affects every industry. This causes new trends to appear every year. Let's take a look at what you can expect from mobile healthcare app development in 2022.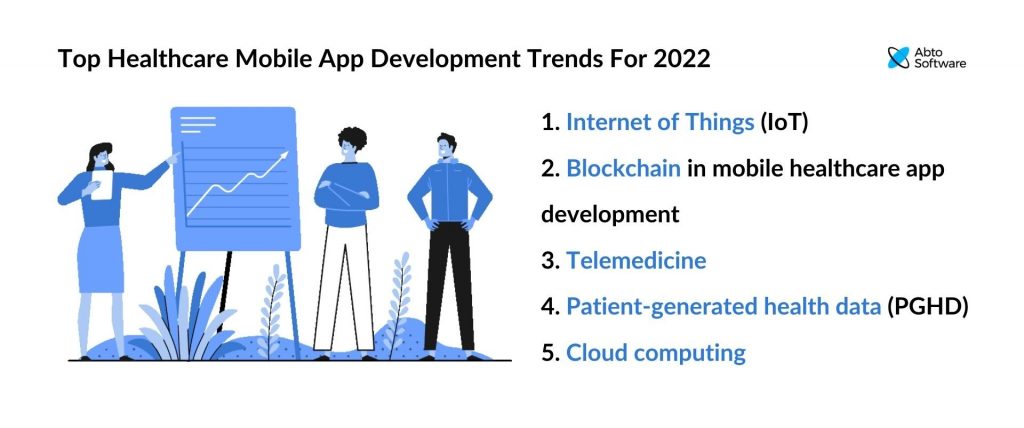 1. Internet of Things (IoT)
Internet of Things devices has direct interaction with the internet which they use to transmit data. This data transfer occurs without any interactions between humans or humans and computers. A fitness band that calculates the number of steps taken is a good example of an IoT device.
As technology develops, it starts to play an important role in the healthcare industry. As mentioned before, IoT devices can connect to mobile monitoring or lifestyle apps. By doing so, they can provide practitioners or patients with various medical information.
2. Blockchain in mobile healthcare app development
Blockchain is another technology that will have a significant impact on the healthcare industry in the coming years. Its ability to protect data from malicious attacks and hacking attempts can become irreplaceable. This is especially important in healthcare as there is so much confidential information that must be protected.
Moreover, blockchain also helps healthcare organizations optimize their costs. It eliminates the need to acquire additional tools for said data protection. While the use of blockchain in healthcare is still somewhat of a new phenomenon, it is expected to become one of the trends in the near future.
3. Telemedicine
We have already partially mentioned telemedicine, which is another one of mHealth trends. This trend was already starting to appear several years ago. However, its popularity has skyrocketed under the effects of the pandemic. It does not only provide an easier and more convenient way of conducting patient visits. Telemedicine can also play a crucial part in cases when the patient requires immediate consultation.
4. Patient-generated health data (PGHD)
PGHD provides an excellent option of monitoring patients' health without constant involvement from medical practitioners. It allows patients to record and update their medical information (symptoms, history of diseases, etc.). This creates a comprehensive picture of the state of the patient's health. Furthermore, it will inform the patient about the need to seek medical assistance. As a result, healthcare providers can monitor more patients and provide appropriate care when it is needed.
5. Cloud computing
The use of cloud computing has spread to almost every industry, and healthcare is no exception. As one of the most data-intensive industries, storing all information in the cloud can be the best option for healthcare facilities. The cloud provides almost unlimited computing power and storage.
Moreover, the cloud provides a quick and secure way of accessing and sharing data from almost any corner of the world. Patients can remain up to date on their treatment or health updates. Practitioners can access medical records, insurance and payment information, research data, and more. Cloud computing is a rapidly growing trend in healthcare, expecting to reach an impressive $64.7B in 2025.
Summary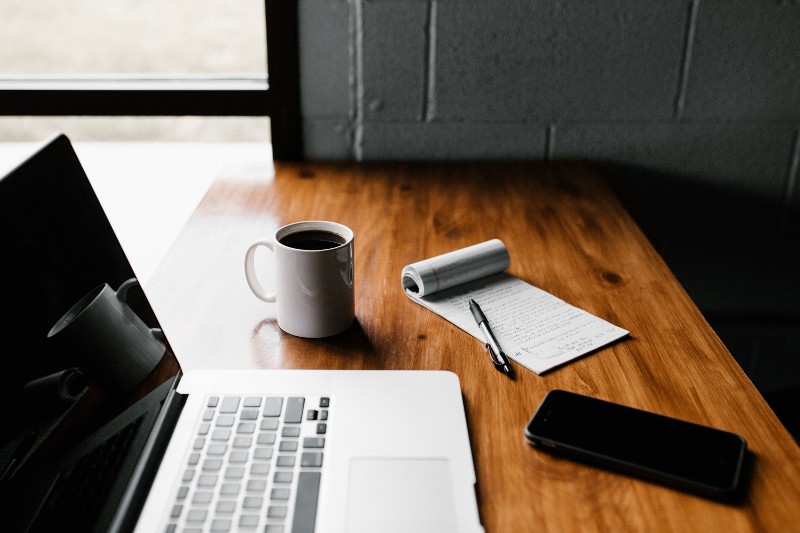 Article Name
Healthcare Mobile App Development: Benefits, Types, and Trends For 2022
Description
Let's take a look at the advantages, types, main trends of mobile healthcare app development for 2022 and what makes them so popular
Author
Publisher Name
Publisher Logo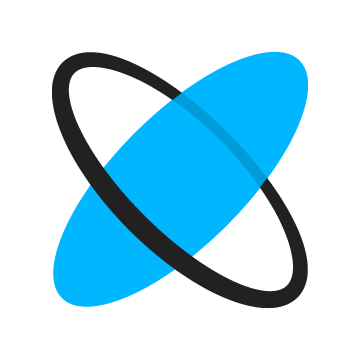 Our services to take your business to the next level
Conclusions
The healthcare industry is becoming more reliant on healthcare mobile app development. Solutions such as remote monitoring or clinical and diagnostics applications help practitioners provide better care for their patients. Moreover, it allows more patients to avoid health risks by receiving timely service or consultation.
As technologies develop and become more advanced, their influence in various industries increases. Healthcare is no exception, as mHealth trends such as the use of IoT and blockchain are becoming more and more common.
Interested in mobile app development for healthcare? Or are you looking to implement the latest mHealth trends in your solutions? Reach out! Abto Software has many skillful experts. Moreover, we have years of experience in developing mobile solutions for the healthcare industry.