Developing Mobile-Based Telemedicine Solution for an African Provider of Telecommunications
Detailed overview of the delivered solution
Our team has designed a mobile-based telemedicine solution for an African provider of telecommunications. The project's main goal was to make healthcare more accessible.
Content:
Our Approach to Delivering mHealth App Suitable for African Market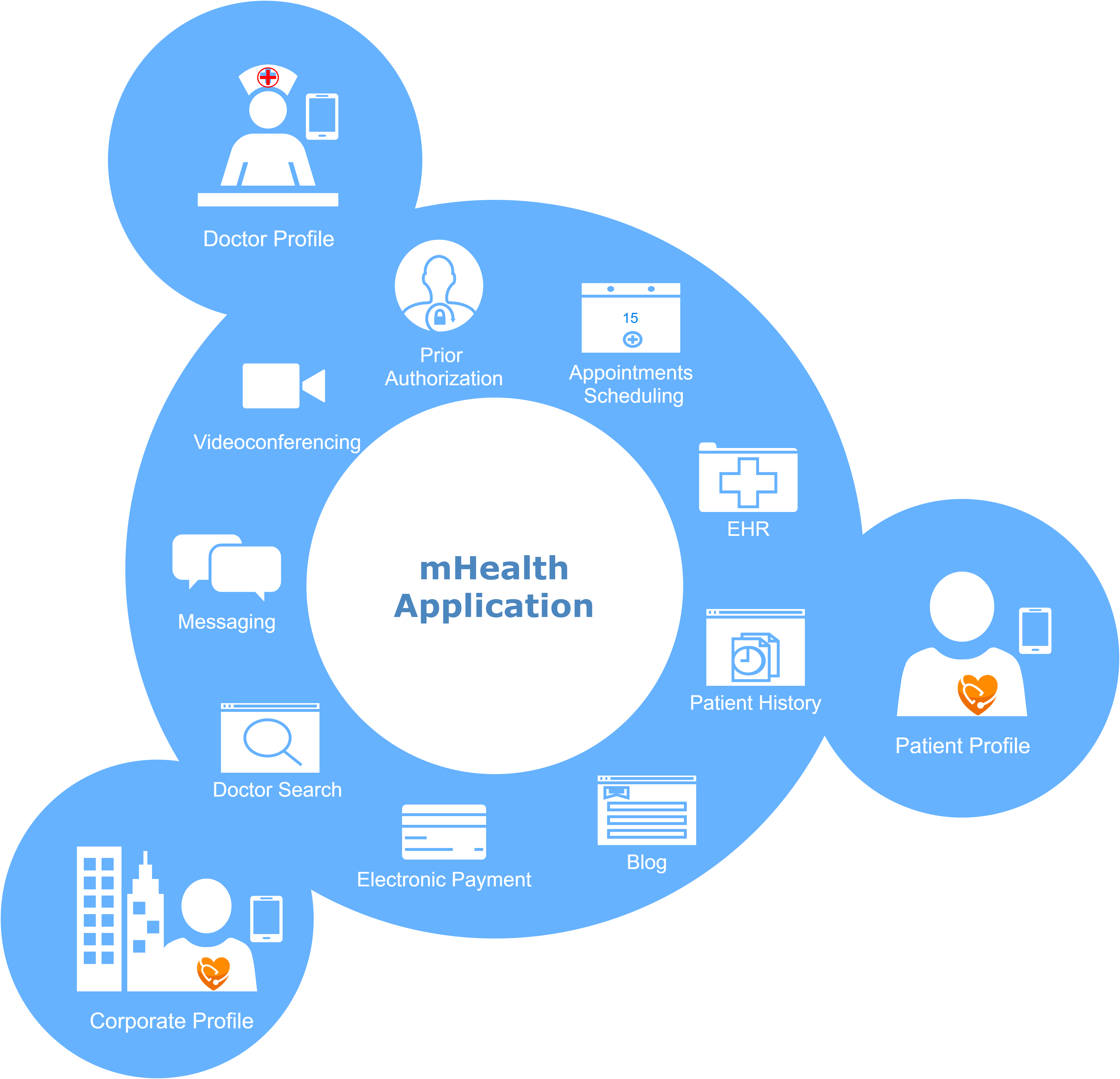 Our engineers came up with a telemedicine solution with the following features:
Patient and doctor profiles
"Hello Doctor"
Videoconferencing
Messaging
Electronic health records
Patient history management
Appointment scheduling
Support of corporate programs
Prior authorization
Electronic payments

Providing mobile healthcare application with videoconferencing
The value of videoconferencing as part of trending virtual care is tremendous. It provides for full-suited medical consultation via a mobile healthcare application.
The feature of videoconferencing saves time and money, as there's no need to travel to get a consultation – that's what virtual care is about. Thanks to the mobile healthcare application, attending physicians can diagnose their patients directly from their facilities, regardless of the location. The solution not only contains a video consultations feature but also accommodates clinicians with all necessary tools to interact with the patient's records. Attending physicians can provide high-quality service and update the information about the patient's health without having to meet in person.
Enabling the "Hello Doctor" and online appointment scheduling
Worth mentioning is the "Hello Doctor" searching module. It enables the patients to find appropriate virtual care services via mobile healthcare application.
The included search criteria in our "Hello Doctor" include the doctor's name, field, hospital, and availability. When selecting a physician, the patient can make the decision based on the recommendations both from fellow patients and other medical workers, medical certifications, and pricing. "Hello Doctor" provides users the opportunity to book medical appointments completely remotely. The patients can review the physician's personal profile and book the virtual care appointment right away.
Including both doctor and patient profiles
The delivered healthcare solution helps physicians to monitor and manage their patients' treatment progress. After authorization, the clinician can access a list of the consulted patients, look through electronic records, and consult with colleagues.
The designed mHealth application has also great value for patients. After authorization, the patient can review the doctor's consultation notes, his own medical records, as well as his treatment history.
Saving and easily managing patient history
The doctor's consultation notes about diets and allergies, medical records, treatment history, and diagnoses are essential for long-term holistic care. When the patient data is stored in one single place, different doctors and institutions can request permission to access this information and therefore, provide help.
The patient does also have control over the consultation notes. He can grant access to those, allowing doctors across the health system to make thought-out decisions about further treatment plans, and more.
Adding electronic payment to the mHealth app
We ensured payment transparency and reliability within the healthcare solution. By executing the integration with local e-payment providers, we created virtual wallets, which patients can use to pay via the mHealth app.
The available wallets include:
Wallets for health providers to receive the money for the provided services
Wallets for individual patients to pay for the received help
Wallets for corporate patients, which contained an already predefined amount of funds
Healthcare Mobile App Development: Benefits, Types, and Trends For 2022
Enabling internal corporate programs
The delivered healthcare solution gives institutions the opportunity to register medical personnel and provide them with prepaid plans. The management within the mHealth application is flexible.
Features for corporate clients:
The employer can add multiple accounts for employees
The employer can define various plans for employees and receive corporate discounts
The employer can register multiple wallets within the payment system
Internal blog as an engagement tool
We have also included a blog with useful medical information that attracts people seeking medical advice. Content marketing is one of the best practices that help to engage more patients with the mHealth application, providing users benefit-rich insight. The blog contains completely free content accessible for authorized and non-authorized users to drive traffic and interest, as well as to increase the visibility of the mHealth application. Authorized users get access to more useful content.
Stages of software development
Stage 1. At first, our team performed initial market research, identified the growth points and challenges speaking about telehealth services.
Stage 2. After a complex analysis, a vision around empowering virtual care was formed and the main features and characteristics of the healthcare solution were defined.
Stage 3. A thought-out, user-centric design was created, and software development has started.
Stage 4. Additional improvements were made, and the telemedicine platform has been successfully delivered.
Team composition:
1 project manager/business analyst
1 designer
2 back-end developers
2 front-end developers
1 mobile developer
1 QA engineer
Main challenges of introducing a mobile telemedicine solution to the African market
Our team faced some specific challenges in the African region that impacted the development:
Low ratio of clinicians and facilities in relation to the population's size
The developed mobile platform provides patients with high-quality telehealth services in regions where it is difficult to get an appointment.
Lack of personal computers
The developed mobile solution is tailored to be used with mobile devices.
Low digitalization leads to the loss of sensitive data
The delivered telehealth solution includes an HER module, which gathers and stores patient data in one single place for being anytime available in different medical facilities.
High prices for Internet and also mobile Internet in regions like Kenya and Somalia
Our team developed a mobile platform, which does not use large amounts of data.
Business value of the delivered mobile telemedicine solution
The solution has accelerated the development of telemedicine in the African market
The system has accelerated the digitalization of patient medical records
The application helped clinicians in treating more patients
The developed mobile application made high-quality medical care more accessible
The app enabled facilities to use corporate programs
The delivered mHealth application enlightens the African population with useful, benefit-rich insight
The solution attracts more potential patients thanks to the blog, which constantly increases traffic
The system allows using certain services spending only small volumes of data or even no data at all
Expanding our solution to other markets
Thinking beyond local challenges, now we can see a world that is connected via mobile devices.
The capabilities of the videoconferencing technology break down geographical barriers, which provide patients with access to high-quality medical care.
The mobile telemedicine application isn't bound to the African market and can benefit any healthcare system. For both medical personnel and patients, convenience and accessibility are key for future cooperation.
With the rich knowledge and expertise in healthcare including artificial intelligence and machine learning, software developers provided by Abto Software can develop similar solutions satisfying the local needs, as well as integrate them with global digital health initiatives.
As the healthcare market dynamically evolves, we suggest to implement AI based pose detection and analysis for facilitated MSK rehabilitation to empower your existing telemedicine platform and provide even more value-added services.