RPA adoption in the healthcare industry
Posted May 29, 2023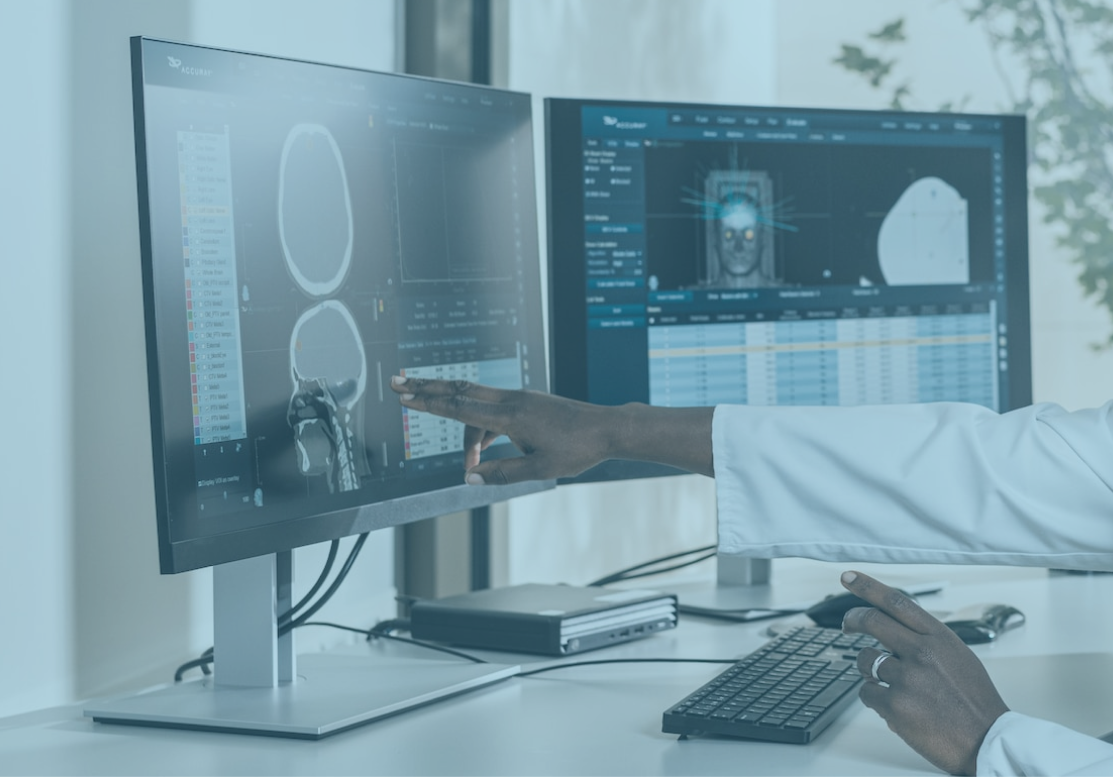 The modern healthcare industry is overburdened by regulations, rising costs, and constantly high workloads. Such pressure might degrade the quality and urgency of provided healthcare services.
In the healthcare domain, many operations – patient registration, onboarding, follow-ups, report generation, medical billing, claim processing – require uncompromising data consistency.
The mentioned above factors are creating the environment for implementing robotic process automation (RPA) to reduce manual workflows and increase overall efficiency, thus providing for improved business operation. By transforming everyday processes and facilitating regulatory compliance, robotic process automation tools can drive business revenue.
Market overview
Robotic process automation (RPA) is a computational technology, which simulates resource-intense activities – data entry and extraction, form handling, file management, document analysis and categorization, and more. Robotic process automation bots autonomously execute back-office tasks by deploying sophisticated scripts that emulate human activity.
One factor that had immense influence on the robotic process automation market was the COVID-19 outburst. Both the front- and back-office processes were impacted by the sudden occurrence, and created the necessity for adopting digital transformation.
There are other factors that are rapidly driving healthcare process automation adoption all across the globe. These include computer science, increasing demand for both networking and storage solutions, and demand for strategic digital transformation.
Legislative background
Healthcare software must comply with specific regulatory standards to ensure patient privacy and security. HIPAA, GDPR, HITECH, FDA and other regulatory guidelines set forth stringent requirements for protecting sensitive information.
Robotic process automation software must establish robust measures and demonstrate rigorous compliance protecting individuals during determined automation processes, maintaining auditability and accountability. This enables customer trust and integration within the organization's ecosystem.
HIPAA
HIPAA is the US federal law that focuses on preserving the privacy and security of personal health information. It establishes the standards for entities (healthcare providers and clearinghouses, health plans, and others), which handle such information, and grants data privacy and security, as well as medical billing protection.
GDPR
GDPR is the EU enforcement directive that focuses around protecting personal information of individuals. Within the healthcare context, it governs the collection, preservation, management, and sharing of personal health information and imposes strict obligations for mandatory breach notifications.
HITECH
HITECH is a US federal guidance, which strengthens the privacy and security of electronic healthcare records. The act is established to promote information technology and incentivizes meaningful utilization of electronic medical records.
FDA
FDA is a US federal agency that regulates and oversees various aspects of the healthcare and pharma sectors. Within the healthcare field, it controls medical hardware and software being utilized in the healthcare setting and establishes strict guidelines for development and testing of such.
Healthcare RPA application areas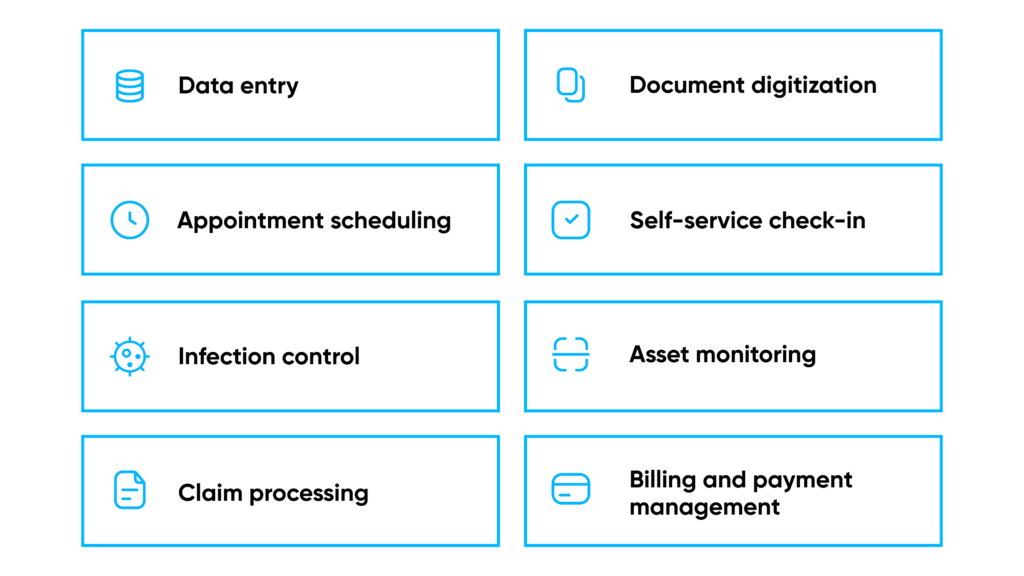 Data entry
Robotic healthcare process automation can be successfully implemented to process and analyze patient details by using natural language processing (NLP), image recognition, speech recognition, and other related fields.
RPA software can handle:
Appointment scheduling
Calendar management
Patient registration
Patient history
Medical notes
Insurance information
Medical billing
Medical claims
Clinical trial data
Laboratory test data
Document digitization
Robotic medical process automation can be also implemented to prepare and ingest paper-based documents into larger, centralized repositories.
RPA programs can cover:
Digitization of claim forms and associated insurance documentation
Digitization of consent forms or patient legal agreements
Capturing information from invoices and statements
Extracting information from laboratory test results
Appointment scheduling
Appointment scheduling and management can present significant challenges to the involved personnel – manual scheduling, rescheduling, cancellations, and timely appointment reminders are all intense activities. RPA robots can handle availability evaluation, slot presentation, appointment scheduling, patient notification for confirmation, and other routine processes, saving time and cost.
Self-service check-in
Self-service check-in comes with waiting times, insurance verification, eligibility screening, information updates. RPA bots can automate those processes by covering data extraction from internal healthcare systems.
Infection control
Healthcare RPA might accelerate infection control by automating:
Triage management
Protocol management
Outbreak alerting
Threshold notification
Hand hygiene compliance monitoring
Healthcare associated infections reporting
Asset monitoring
Healthcare robots might streamline asset monitoring by transforming:
Asset tracking and localization
Inventory control and restocking
Equipment calibration and testing
Equipment maintenance and servicing
Claim processing
RPA solutions can handle the transaction between provider and internal revenue cycle management system, eliminating tedious routine processes, which increase employee burnout and decrease customer satisfaction.
By applying process automation, healthcare organizations might empower:
Claim registration
Eligibility verification
Pre-authorization handling
Post-authorization review
Claim adjudication and validation
Claim analytics and reporting
Status updates and notifications
Payment reconciliation and processing
Denial management
Appeal processing
Billing and payment management
RPA systems can handle claims processing, including first-line patient inquiries and follow-ups.
The concept is simple:
The bot can recognize and analyze payment details by using optical character recognition (OCR)
After this, the bot can input extracted information into the accounting system
At the next stage, the bot can register the form and email the information to the involved patient
In case of problems, the bot can send a reminder to the affected patient
Healthcare RPA success stories
Northampton General Hospital
The Northampton General Hospital has applied RPA robots to monitor oxygen supply for its COVID-19 patients. Eliminating traditional manual monitoring, the bot logs into the oxygen supplier's system to extract the details and input the information into the hospital's system.
With this automation solution, the organization could achieve:
100% accuracy
24/7 control
1,500 free work hours
Minimized risks
University Hospitals Birmingham
The University Hospitals Birmingham has adopted RPA robots with their internal patient registration system. Installing automated self-service check-ins, the provider has ensured accurate administration that received higher ratings due to absent queuing.
With this automation initiative, the organization has seen:
50% increase in their staff efficiency
200% increase in their patient flow
The benefits of healthcare RPA implementation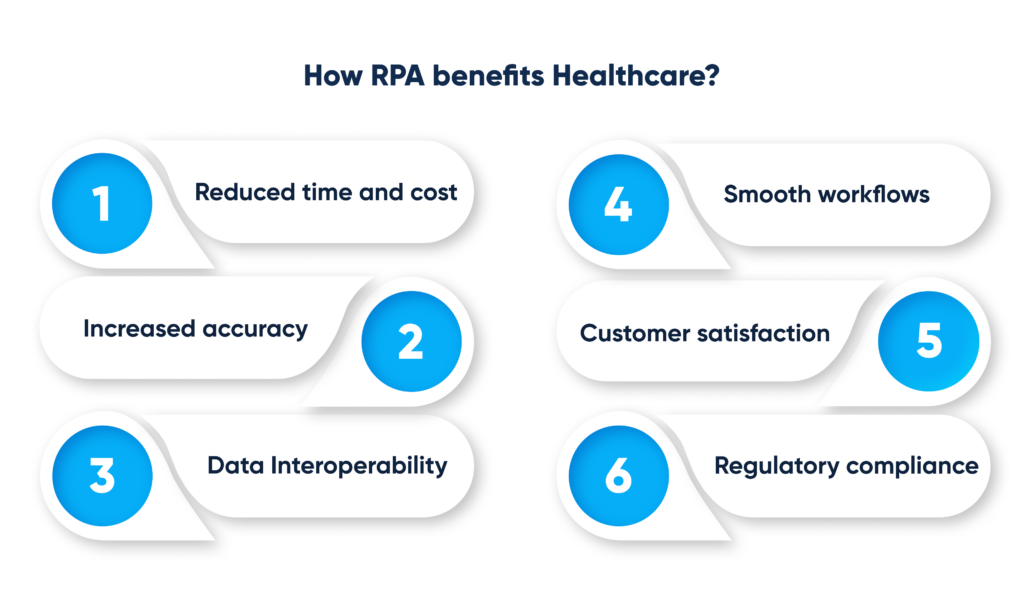 Reduced time and cost
By performing repeated processes, automation software eliminates resource-intensive manual intervention, accelerating productivity, reducing time and cost, and, accordingly, streamlining revenue.
Increased accuracy
By performing routine processes, automation programs might ensure 100% accuracy throughout operations – the more day-to-day tasks you delegate to robots, the fewer human errors you experience, saving resources spent correcting those errors.
Data Interoperability
By leveraging artificial intelligence (machine learning, deep learning, and other advanced techniques), healthcare organizations create ecosystems that easily collect information from sources, enabling improved data interoperability and accessibility.
Smooth workflows
By implementing business automation, healthcare providers create opportunities to optimize every process from registration and scheduling to everyday accounting activities.
Customer satisfaction
By reducing the workload of your support division, you're creating more time for attentive customer service. This results in improved customer experience and loyalty.
Regulatory compliance
Process monitoring and adjustment, analytics, reporting, and consistent risk management are burdensome when done without assistance.
RPA solutions might automate:
Process monitoring and auditing
Data analytics and reporting
Change tracking
Document review and approval
Violation identification and resolvement
Compliance training and education
The challenges of smooth RPA implementation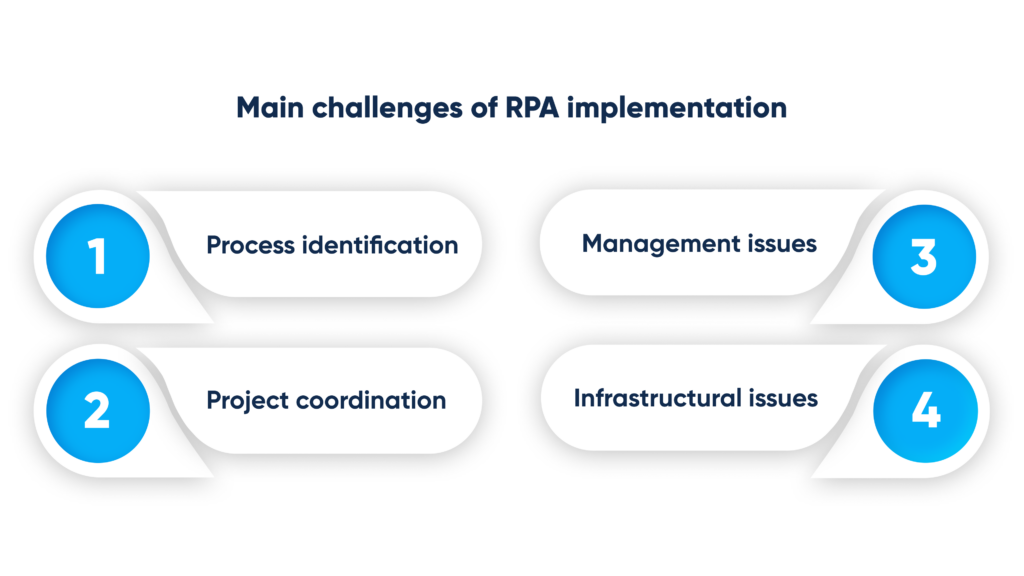 Process identification
Incorrectly identified processes to-be-automated won't improve business operation and revenue as expected and can lead to:
Overlooked problems
Inaccurate prioritization
Inefficient automation
Unjustified expenses
Project coordination
Unreasoned coordination between employees, both internal and external, might cause considerable troubles, which include:
Incoherent communication and collaboration between departments
Inadequate alignment of efforts with determined business requirements
Inefficient utilization of resources
Unjustified investment
Management issues
Organizations must prioritize governance, change management, risk management, as well as accountability when adopting RPA solutions.
Management issues might cause:
Insufficient governance and accountability over the RPA initiative
Insufficient monitoring and tracking over the RPA performance
Infrastructural issues
Businesses should establish robust information & technology infrastructures that support seamless integration to accommodate automation needs.
Infrastructural issues might cause:
Deficient scalability to handle automation needs
Inadequate security to prevent non-compliant processes
How to determine whether RPA implementation is reasonable?
Before moving towards automation, a leader must understand the benefits and challenges of transformation. That empowers informed decisions and creates stable foundations.
Before implementing robotic process automation (RPA), a leader should answer these questions:
Process assessment:

Which specific manual processes are suitable for automation?
What are the inefficiencies in the selected processes that can be addressed by automation?
Implementation feasibility:

What is the time and cost to integrate RPA software for each identified process?
What is the potential return-on-investment (ROI) of adopting RPA software?
Application compatibility:

How well can the existing software integrate with RPA programs?
Are there any limitations that must be addressed before implementing RPA programs?
Regulatory compliance:

How will confidential information be handled within the automated processes?
What measures are needed to comply with acknowledged privacy requirements?
Change management:

How can RPA integration potentially impact the roles and responsibilities of employees?
How will the company manage communication and collaboration to simplify RPA integration, without affecting overall productivity?
Future considerations:

Does the RPA software of choice provide scalability to accommodate business growth?
How will the company measure performance and success of the RPA software?
How to choose your RPA vendor?
When choosing your partner, ensure that the company does align with determined business requirements. Guided by specified criteria, you ensure software development, testing, deployment, and support are handled with responsibility and understanding of domain-specific business needs.
Before hiring robotic process automation professionals, be sure to consider:
Industry knowledge and experience – evaluate the vendor's expertise within the healthcare domain
Technology stack – assess the vendor's capabilities (software development, integration capabilities, analytics and reporting capabilities, and other relevant features)
Customer references and reviews – go through case studies to ensure perfect-fit partnership
Partnership model – asses the vendor's approach to cooperation
How we can help
The modern healthcare industry involves handling sensitive interaction between provider and end-customer, but also includes overwhelming repetitive operations, which don't necessarily require human participation. These processes – data entry, appointment scheduling, and other routine tasks within accounting and legal – can be successfully optimized through automation.
Abto Software delivers scalable robotic process automation products across industries, no matter the scope. Our engineers design solutions, which transform manual workflows into easy-to-monitor, efficient processes.
Our expertise within tailored-to-business IT services:
Our projects within the healthcare industry: