Recognition tool for sanitary control of pharmaceutical premises
Posted Jul 25, 2022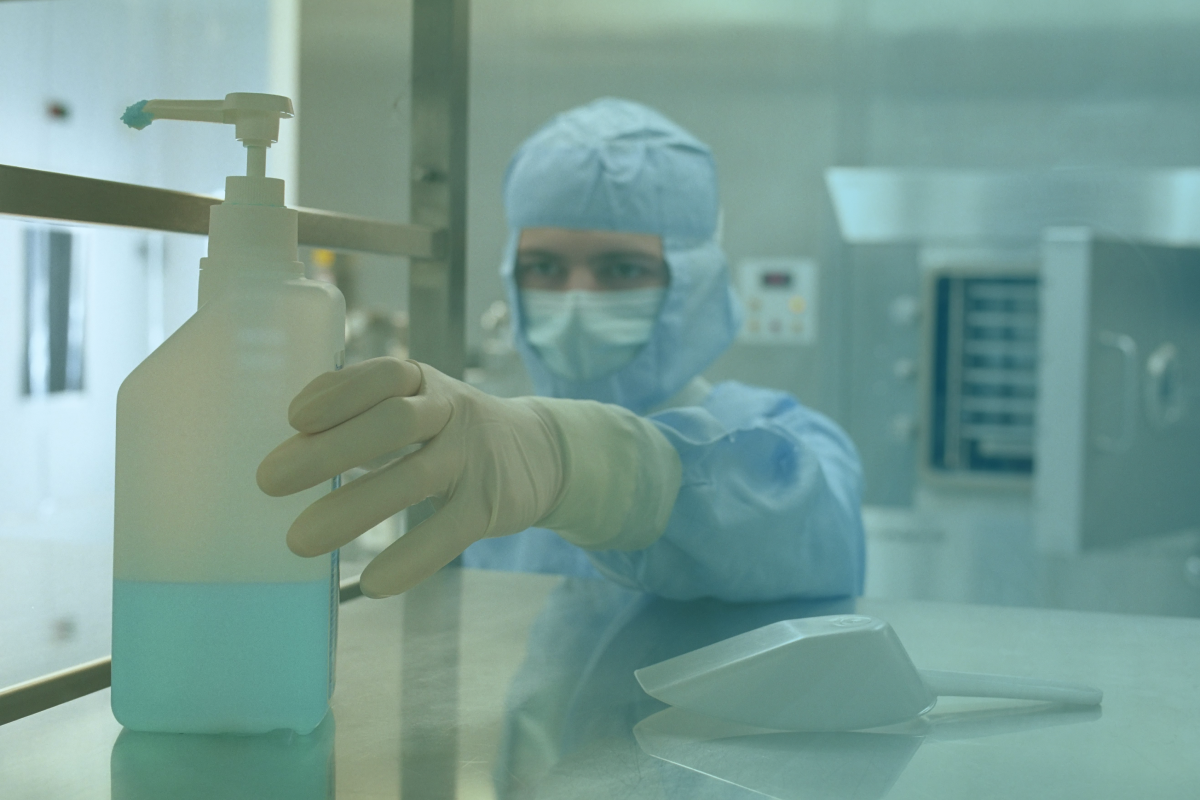 Facilitating sanitary control of pharmaceutical premises and equipment with digital recognition tool
An advanced automation solution might be game changing for strategic-thinking pharmaceutical companies. The same routine processes can take place with the help of handwritten text recognition with the allocation of fewer resources.
Advanced optical character recognition combined with artificial intelligence might boost business efficiency. Such digitalization drives automated data entry, record analysis and future tendency recognition.
The challenge of ensuring sanitary conditions
In the manufacturing process, pharmaceutical companies are obliged to ensure perfect conditions as required. This includes complete disinfection of premises and equipment.
To ensure the highest possible quality, pharmaceutical companies must comply with the industry's standards. The implementation of the cleaning and sanitation program should comply with specified cleanliness standards, with proper laboratory documentation, access to up-to-date information and statuses, and visibility.
To ensure sanitary conditions, manufacturers utilize testing and elimination programs as well as consumables. And taking into account that there are usually many premises to be examined daily, corresponding inspections usually require the allocation of great financial and human resources.
Obviously, companies can't afford to skimp on mandatory security measures and neglect official requirements. But they can save their resources by implementing advanced technology for simplified data management.
The solution
To automate routine processes and save financial and human resources, we suggest to utilize OCR technology. The optimization of such day-to-day activities such as data entry, data exchange and reporting reduces standard paper-based routines, provides for accurate data, and helps identifying issues right away.
By implementing OCR technology, pharmaceutical companies can also significantly reduce production times. The faster the exchange of information between employees, the better the cooperation between departments, the faster the process of getting approval or decline for production, and, accordingly, shorter time-to-market and increase in production volumes.
Automated cleaning & sanitization documentation management
Effective cleaning and disinfection in the pharmaceutical industry are among preventive measures providing for required maintenance in order to avoid negative impact on the product's quality. Appropriate cleaning and disinfection must meet the specified regulatory standards and microbial contamination control of products.
Efficient maintenance practices include:
Proper documentation
Instantly accessible up-to-date information
Status validity
Instant viewability
These features are necessary to avoid negative impact on the product's quality.
As to US FDA, Summary of Inspectional Observations, failure to properly manage microbial load as a result of inadequate cleaning and disinfection practice control is one of the most common, frequent non-conformances. In a similar way, European inspectors consistently identify gaps in microbial contamination risk measures as appearing from EudraGMDP Non-compliance Reports.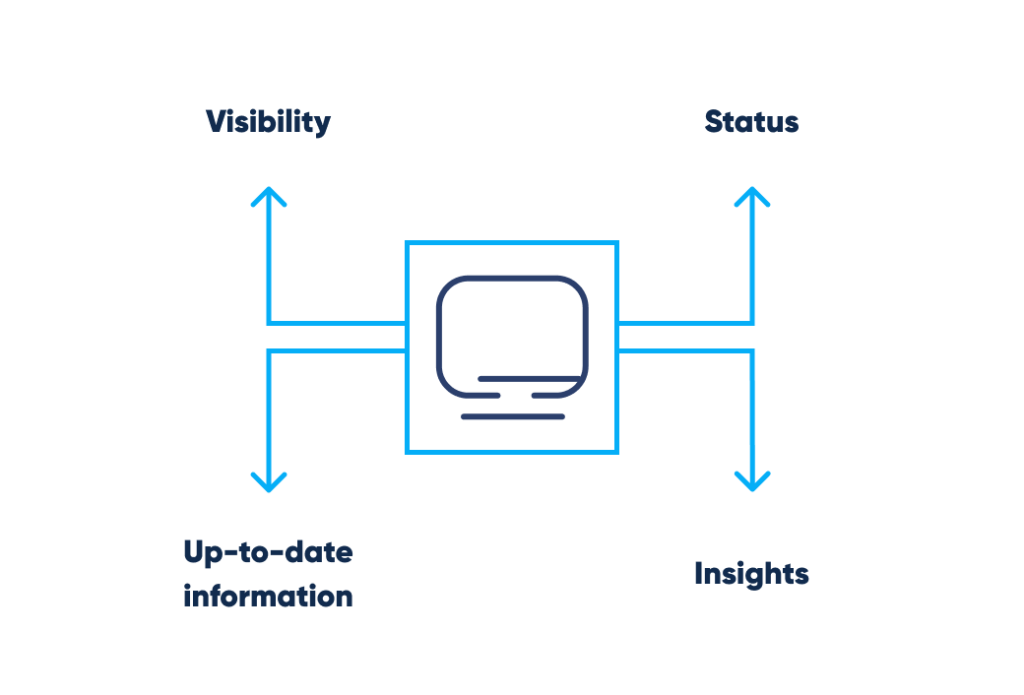 Automated documentation management. Data maintenance. By Abto Software
Manufacturing dossiers, including batch processing records and batch packaging records belong to critical documentation, as evidence for monitoring and recording all activities that directly or indirectly impact medicinal product quality. The quality assessment base is a complex dataset, inclusive of detailed records of all cleaning and disinfection processes to assure completion of cleaning and disinfection practices in accordance with the regulatory requirements.
Common general wash areas, cleaning and sanitizing preparation, as well as drying and storage equipment areas should be maintained with equal attention to the buffer or clean area, front area, compounding area, or other work areas.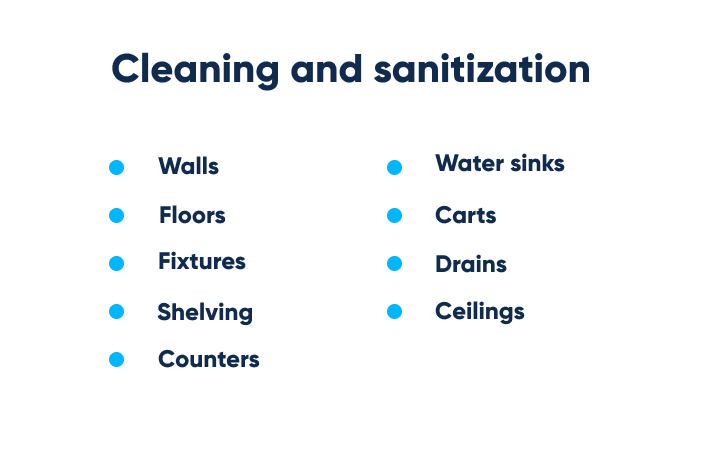 Cleaning and sanitization areas. By Abto Software
Cleaning and disinfecting practices and frequencies in pharmaceutical facilities are guided by the following regulations:
Good Manufacturing Practice for Medicinal Products for Human and Veterinary Use
WHO Good Manufacturing Practices (GMP)
cGMP 21 CFR 211

USP <1072> Disinfectants And Antiseptics
USP <1075> Good Compounding Practices
USP <795> Pharmaceutical Compounding – Non-sterile Preparations
USP <797> Pharmaceutical Compounding – Sterile Preparations

Guidance Documents for Pharmacy Compounding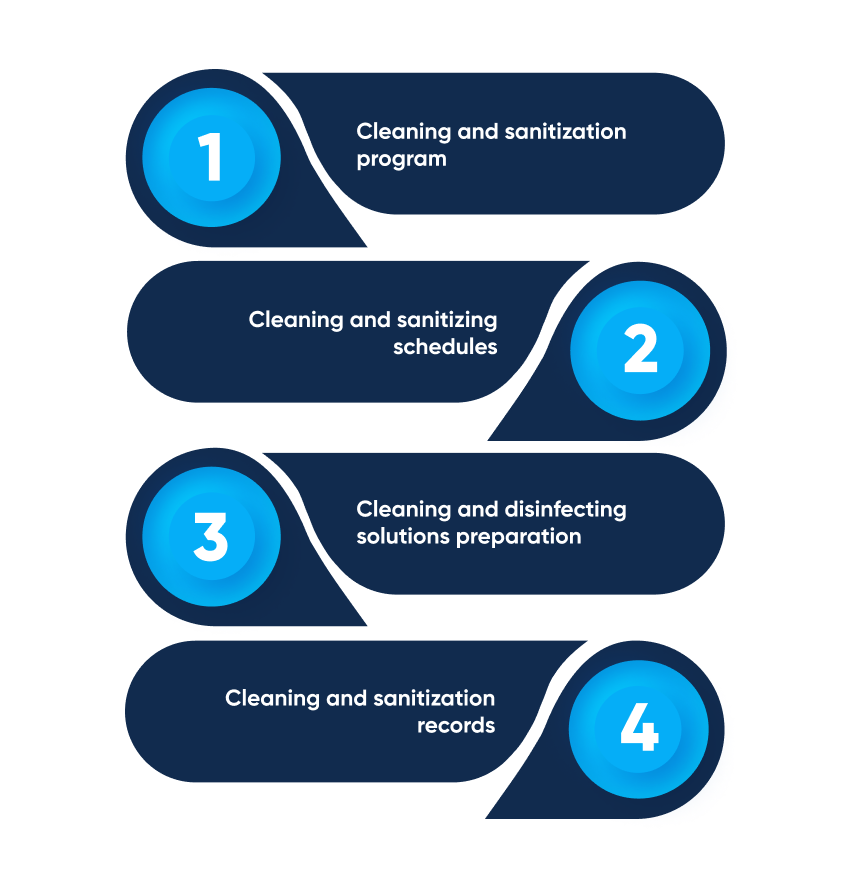 Sanitization regulatories. By Abto Software
Depending on regulations and safety considerations, scrupulous attention can be focused on the cleaning and disinfecting of special dedicated zones. For example, the floors in the buffer or clean area, front area, and segregated compounding area should be mopped utilizing an approved sanitizing agent once daily. The cleaning and disinfecting of premises and equipment should take place at the beginning of each work shift at strict sanitizing schedules. This process should include the cleaning and disinfection of ceilings, walls, floors, fixtures, shelving, counters, water sinks, floor drains, carts, shelves, and cabinets.
Maintaining documentation in accordance to regulations
Maintaining records about all operational processes performed during regular daily, weekly and monthly cleaning and sanitation, especially in controlled environments, is complex. The challenges include difficulties associated with resources allocated to workforce, and constant quality control.
The documents, as prescribed by Quality Management System, should be:
Approved, signed and dated by the authorized persons
Regularly reviewed
Kept up-to-date
Not handwritten, with sufficient space provided for handwritten data entry
With sufficient space provided for manual data entry
Clear, legible and unambiguous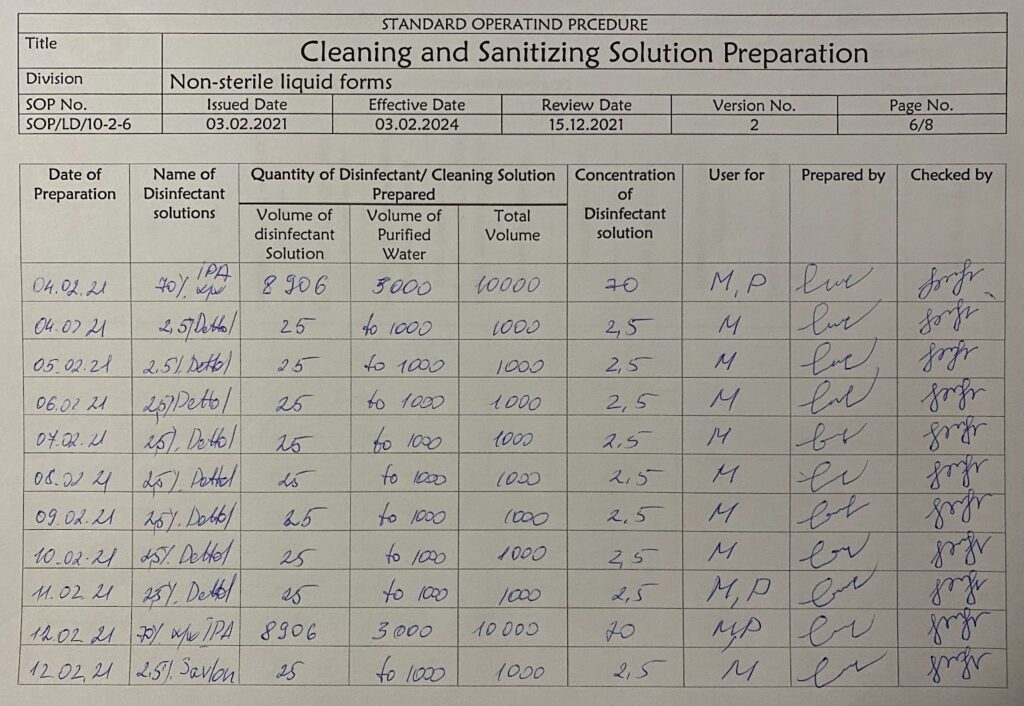 Cleaning and sanitization solution preparation. By Abto Software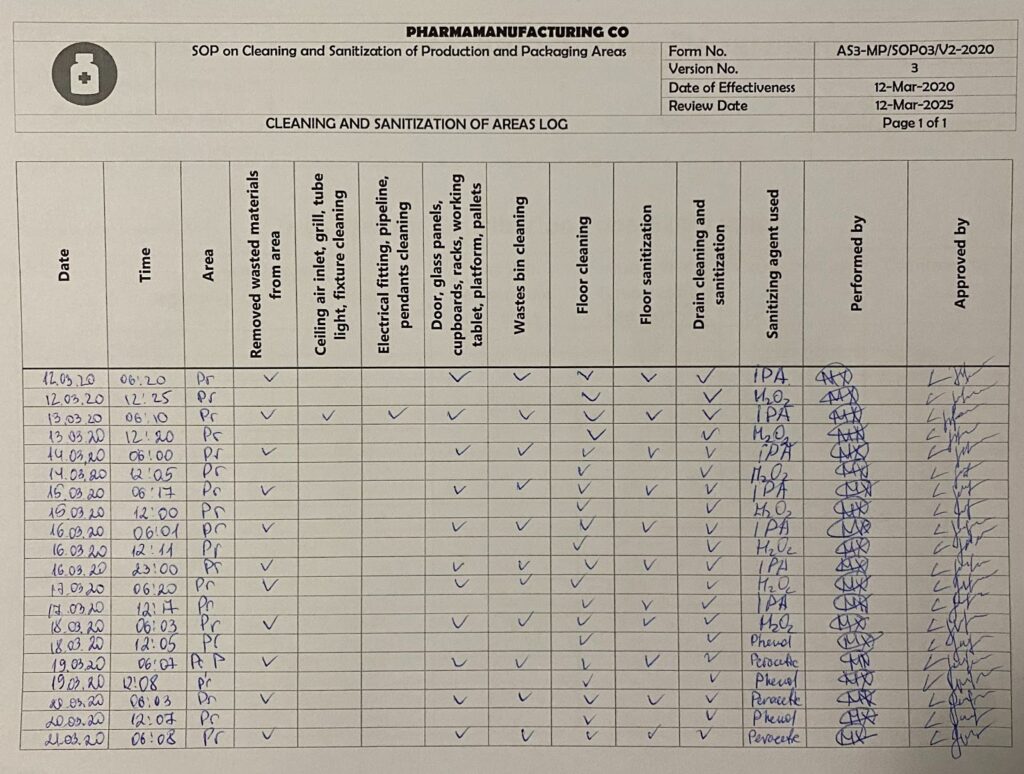 Cleaning and sanitization of areas log. By Abto Software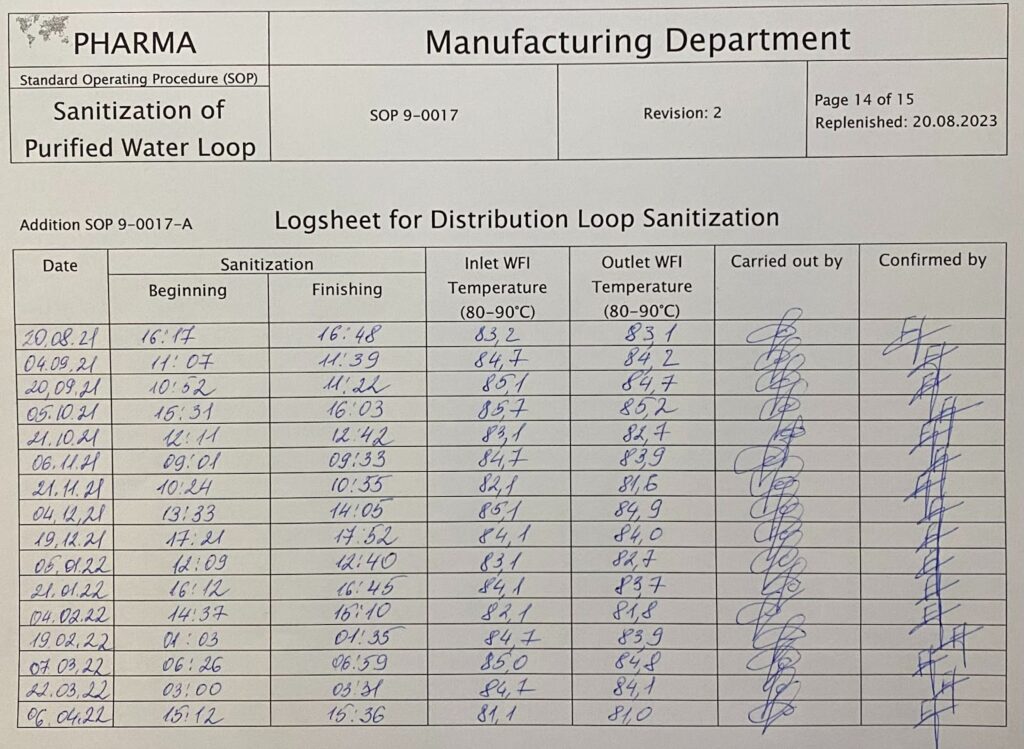 Longsheet for distribution loop sanitization. By Abto Software
Correlations and control measures for pharmaceutical key documents, data handling and records need to be made in a timely manner to facilitate accurate reporting. Records should be made or completed at the same time an action is taken and in such a way that all significant activities concerning the manufacture of medicinal products are traceable.
Data shall be collected and reviewed on a regular basis as a means of assessing overall environmental control for any microbial bioburden.
Paper-based objects (such as raw data supporting operations) should be transformed into a complete set of supporting data, simple to manipulate and analyze.
Recognition technology for automated paper-based routines
Business process management (BPM) is improved through automation after eliminating repetitive, replicable, and routine tasks from employees' workload, allowing them to focus on the areas that can't benefit from automation.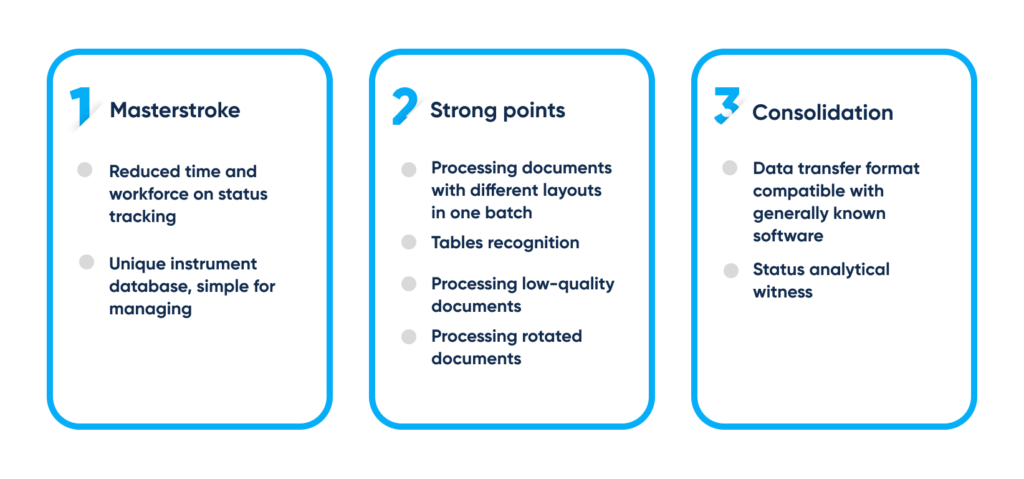 Benefits of recognition technology for automated paper-based routines. By Abto Software
Applying the OCR technology for automated record management helps to boost productivity, reduce errors, improve efficiency, and streamline and scale decision-making across the organization.
The data from paper-based, hand-filled forms, is processed through the OCR technology, transformed into easy-to-work-with sheets, collected into a common dataset, and effortlessly analyzed and visualized.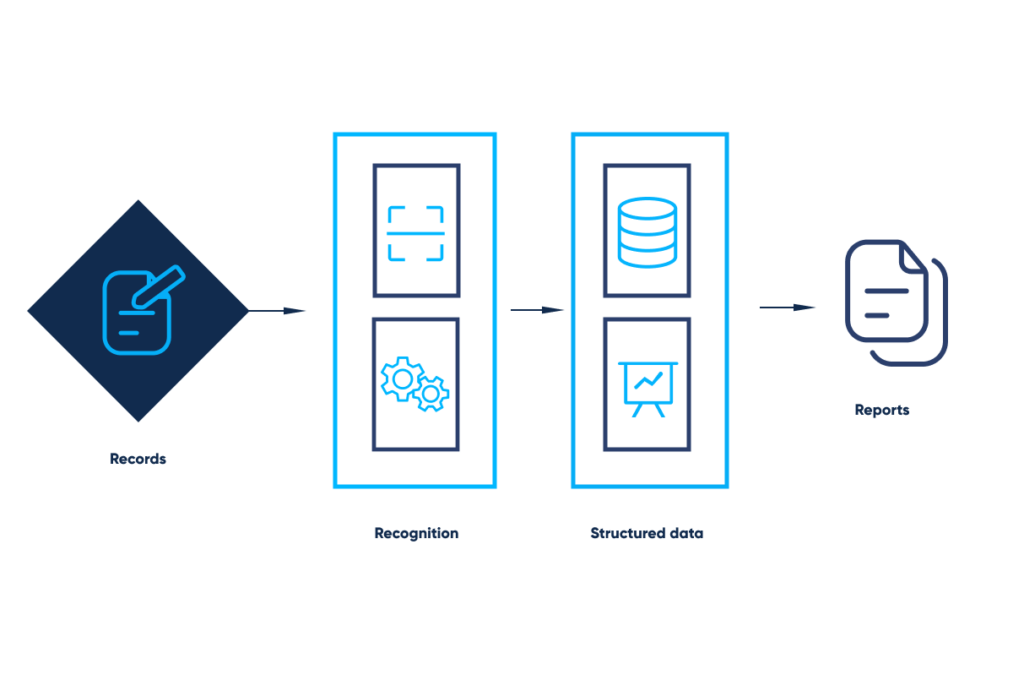 OCR for automated record management. By Abto Software
The most important benefits of the described solution include flexibility – widely known data formats are supported by thousands of modern software products.
Instead of manual entry of data, searching through filled-in documents and spreadsheets to determine activity statuses, the personnel can review, derive analytics and easily investigate trends using a shared dataset.
Return on investment in 4 months – is it worth it?
When calculating the ROI for data management automation, the key business benefits to consider include improved employee engagement and increased overall productivity. For example, implementing a custom solution at an estimated cost of $7,500 can notably reduce employee retention costs by up to 90% in just two month, save $2,200 per month, and deliver a return on investment in approximately 3,5 months.
Utilizing optical character recognition can improve multiple aspects, including both quality assurance and business process automation.
Integrated software helps meet regulatory requirements by facilitating the establishment and management of a comprehensive environmental disinfection program and adherence to the frequency, location, types, and methods of monitoring of cleaning/disinfection processes and practices, and timelines.
In order to comply with guidances, the tool supports the enhanced organization of a great variety of activities:
Supervision of consistently documented cleaning and disinfecting actions
Traceability of cleaning and disinfecting processes
Collection of meaningful information about the processing environment quality
Constant control of the manufacturing environment
Verification of proper cleaning and disinfection of the processing area, manufacturing equipment, and utensils, as well as cleaning effectiveness improvement
Automated alerting system for accurate scheduling of cleaning and disinfection, including proper agent identification and rotation frequency control, as well as expiry date management
Monitoring of daily results and trends
Investigation of results that exceed limits and forming adverse trends, in addition to detecting any contamination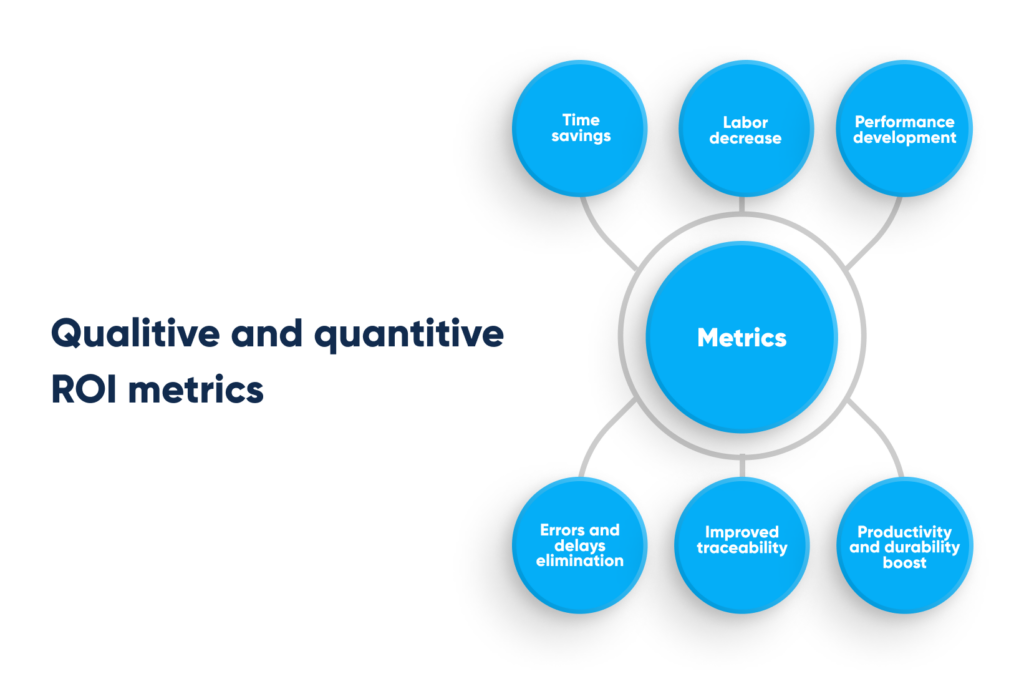 Qualitive and quantitive ROI metrics. By Abto Software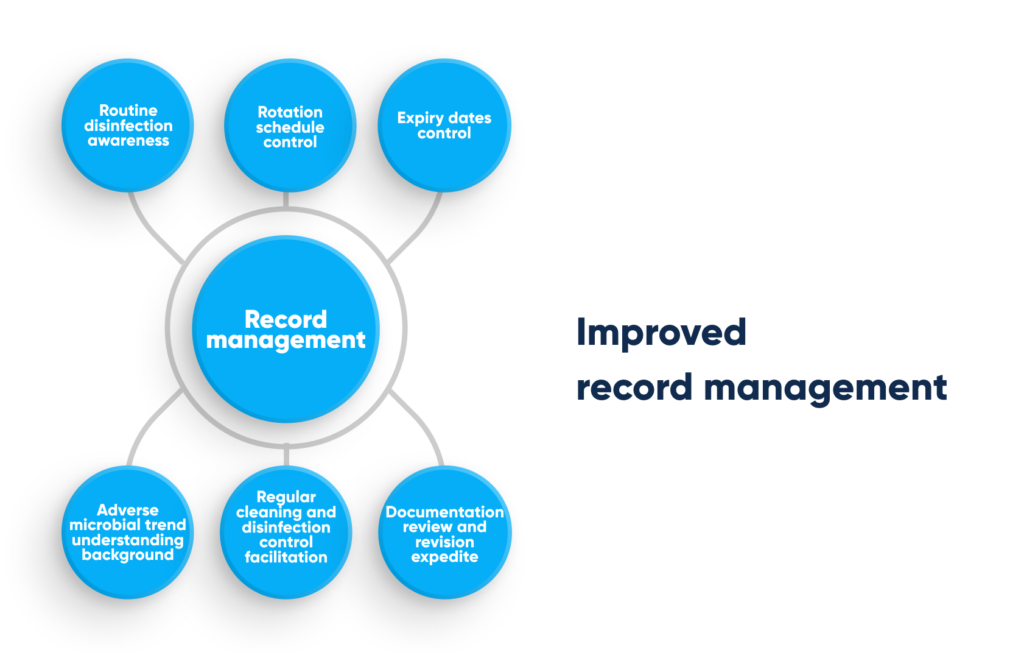 Improved record management. By Abto Software
The way business data is aggregated, collected, shared, integrated, quality-assured, visualized, analyzed, and interpreted directly impacts the business.
Implementing data management automation:
Eliminates inefficient resource allocation, including the elimination of repetitive tasks such as data entry
Allows to instantly access critical data and documents from a centralized system, which can be connected to a cloud database
Opens various opportunities for continuous revision and development through transmission of real-time analytical data
Provides a concise dataset to perform reliable, reproducible, scientific and evidence-based assessments
Helps eliminate human error, stemming from unintentional mistakes
Increases productivity by automating routine sanitization
Improves cooperation between employees, prospect for valuable insights and motivation
Improves trustworthiness and reliability through visibility and transparency
The described recognition tool allows capturing valuable information and customizing the platform facilitating visibility, instant control and access necessary when gathered information is transferred both internally and externally.
Get your recognition tool for facilitated sanitary control
AI-based object recognition technology is changing the ways medical providers approach processes. By implementing AI solutions, prescription and treatment information, patient records, and letters can be exported and imported automatically to optimize administrative and business operations.
Image and handwritten text recognition technology helps businesses move away from unsecured, easily lost physical documents and boost overall productivity across departments.
Abto Software delivers robust, custom-made solutions to assist clinics, laboratories, pharmacies, and drug manufacturers.
Our areas of expertise:
Enterprise Resource Planning (ERP)
Customer Relationship Management (CRM)
Data Source Integration
Document Workflow Automation
We help healthcare providers:
Manage, link and access medical reports, test results, prescription and treatment records, patient records, and invoices
Allocate resources more accurately
Increase efficiency
Decrease risks
Get your recognition tool and facilitate sanitary control of premises and equipment!