How to hire remote software developers
Posted Jan 16, 2023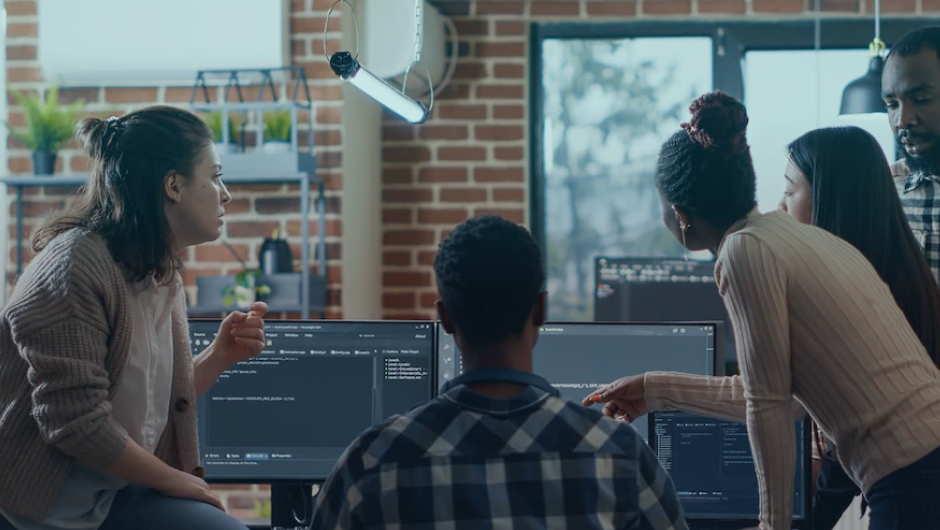 In 2022, most recruiters had difficulty finding candidates, in particular in the information & technology domain. Though today's fast-paced world is data-dominated and data-powered, we see an ever-increasing skill scarcity speaking about data science.
Given today's talent shortage, ITO (Information & Technology Outsourcing) services are gaining increasing momentum:
In 2020, the global IT market (both internal and external) was worth $715.93 billion
In the same year, the global ITO market was valued at trimming $556.67 billion
Information and technology outsourcing is getting more and more common, as companies are approaching third-party vendors to provide web and mobile development, quality assurance, design, writing, and more. Other services being delegated include accounting, payroll processing, customer support, and marketing.
IT outsourcing allows companies to involve IT professionals skipping hunting, interviewing, hiring, and training. Explained briefly, IT offshoring allows organizations to get help from IT specialists without handling legal and infrastructure issues, onboarding, benefits, and other resource-intense processes.
IT outsourcing in brief
If intending to transfer particular services, you can turn to software freelancers on various popular platforms. But planning on delegating multiple objectives, you should contract a product development software company to cover every stage from initial idea evaluation to deployment.
You can find assistance, acting upon three types of outsourcing:
Onshore development
Onshore development means transferring your project to an external company located within your country. With this cooperation model, you enjoy more control, clear communication, and local market understanding.
For example: Chicago – Atlanta
Nearshore software development
By involving nearshore professionals, you delegate internal processes to an IT vendor in a neighboring country. Choosing this ITO model, you enjoy cultural and language resemblance, as well as the multiple advantages mentioned above.
For example: US – Canada
Offshore software development
By involving offshore professionals, you delegate business operations to an IT vendor in a far-located country. 
Choosing this ITO model, you enjoy:
Reduced costs – popular destinations, in particular Eastern Europe, provide sensibly cheaper services due to local legislation, and their economic landscape
Talent availability – choosing destinations outside your country's borders, you can access professionals from literally all over the world
For example: US – Ukraine
Here are the most common services being outsourced:
Web and mobile development
Legacy migration and optimization
Business consulting and analysis
Project management
Quality assurance
UI/UX design
And the top industries using outsourcing:
Healthcare and pharmaceuticals
eCommerce and retail
Education
Finance
No matter the complexity of project or industry, there surely are providers, which can meet your core needs. Having the sector-specific knowledge and experience, a third-party healthcare software development company can provide EMR/EHR systems, ERP/CRM platforms, telemedicine and telehealth solutions, clinical decision assessment tools, and other on-demand products, covering everything from planning to launch.
The same goes also for other major industries, including automotive and transportation, construction, energy. For example, providing narrowly focused specialists, an external ecommerce software development company can design on-demand products for efficient retail and wholesale management, business reporting, and more.
Talent shortage taken seriously
The pandemic greatly impacted the workforce and economy in the whole world causing major talent shortage. And now that businesses are recovering, both startups and mature international organizations keep struggling with attracting and retaining new employees.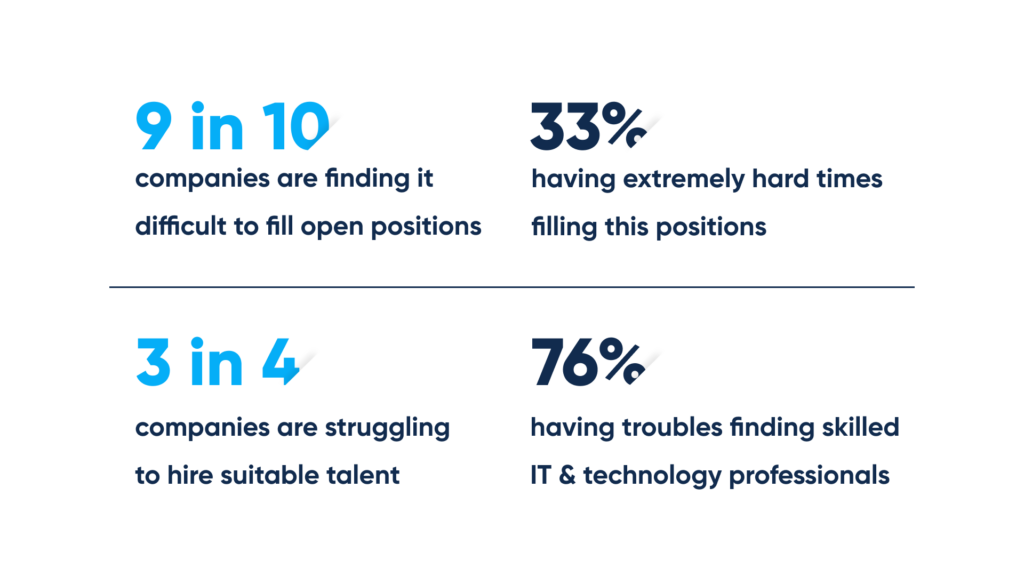 The impact of the COVID-19 pandemic was enormous:
One reason for today's talent shortage worth mentioning is the prevalent desire to radically change industries. 17% of all surveyed said they're shifting careers to feel more secure.
Another reason for the talent and skill shortage is the attitude transformation towards regular 9-5 schedules. After dismissal, some of the surveyed discovered freelancing, which provides more flexibility than regular corporate jobs.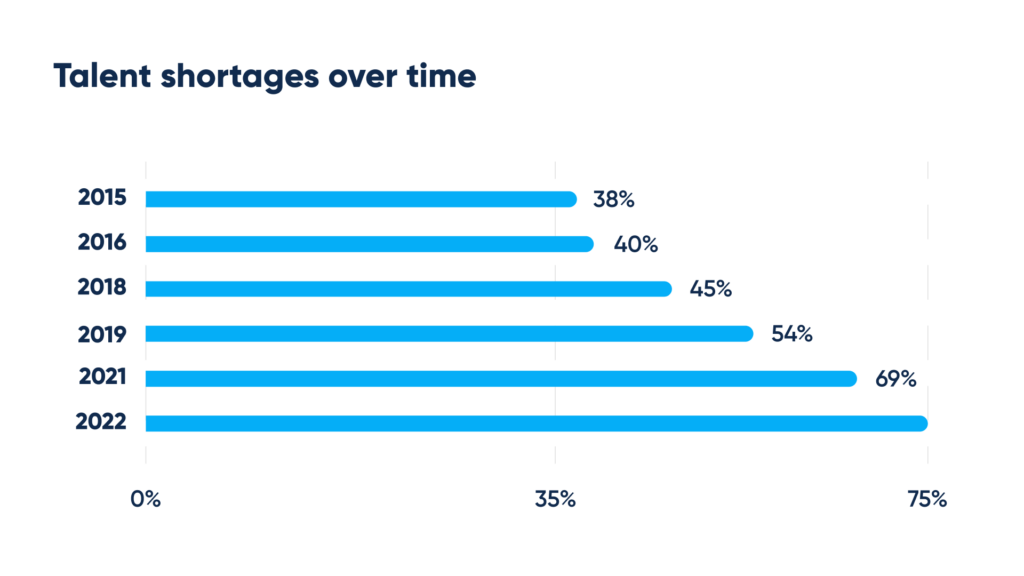 A research by Zippia reviews another major factor of why many leaders hire remote development teams:
It takes 36 to 42 days to fill an average mid-level position in the United States
It takes, on average, 12 weeks for a new employee to become fully productive at work
And NAPEO reveals the financial aspect of why business leaders hire remote development teams:
Most companies take advantage of outsourcing by transferring HR functions, including headhunting, recruitment, hiring, and management of claims
A company can save up to 27.2% of HR costs by involving PEOs (professional employer organizations)
The key business value of hiring remote teams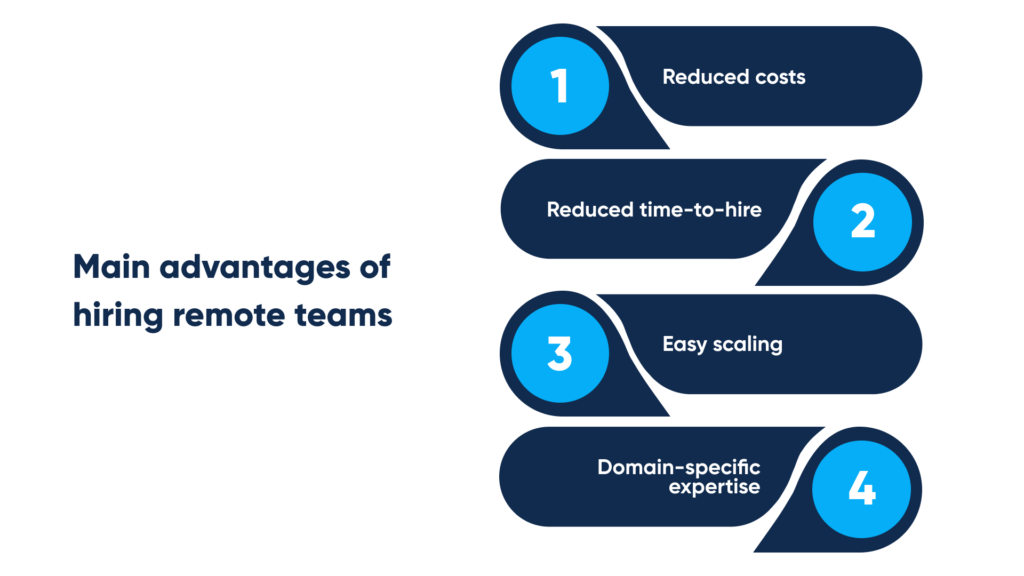 Reduced costs
With remote software developers, you get your idea to life without covering software and hardware upgrades, training, holidays, and other accompanying expenses, which come with retaining internal teams.
Reduced time-to-hire
Hiring remote software engineers, you get the team you need without going through processes like hunting, interviewing, handling legal issues, and waiting for the new employee to become fully productive.
Easy scaling
By contracting a third-party enterprise software development company, you can easily expand your capabilities by involving more employees on demand.
Domain-specific expertise
When approaching an external offshore software development company, you involve well-aligned teams possessing necessary technical expertise to cover the processes your employees can't handle.
Quick guide on hiring remote teams
Do your market research
Before outsourcing software development, compare vendors focusing on:
Expertise
Portfolio
Key industries
Technology stack
Customer reviews
Service fees
Choose the outsourcing destination
To outsource software development, you must first choose the best-suiting cooperation model and location. Consider minimal salary legislation, unemployment rates, economic landscape, cultural and language barriers, and availability of talent.
Estimate your project's scope
Approaching software development services, consider this:
Large-scope projects will be more expensive, as they commonly require industry-specific expertise, sophisticated testing, technical support, and maintenance
Small-scope projects are cheaper, as you can involve less specialists
Define the required expertise
Before running the software development process, define the tech knowledge and experience you need. Complex projects, which incorporate artificial intelligence, computer vision, or blockchain, require superior technical expertise, which, naturally, is an intense investment.
How we can help
Abto Software is a software product development company helping businesses achieve their ambitious goals. No matter the scope and complexity of the planned project, our teams deliver custom, on-demand solutions that power accelerated growth.
We provide:
Let's bring your ideas to life!
Tell us more about your project, choose the best-suiting strategy, approve your remote team, and let us cover the rest.