Virtual care: benefits, challenges, and prospects
Posted Jun 14, 2023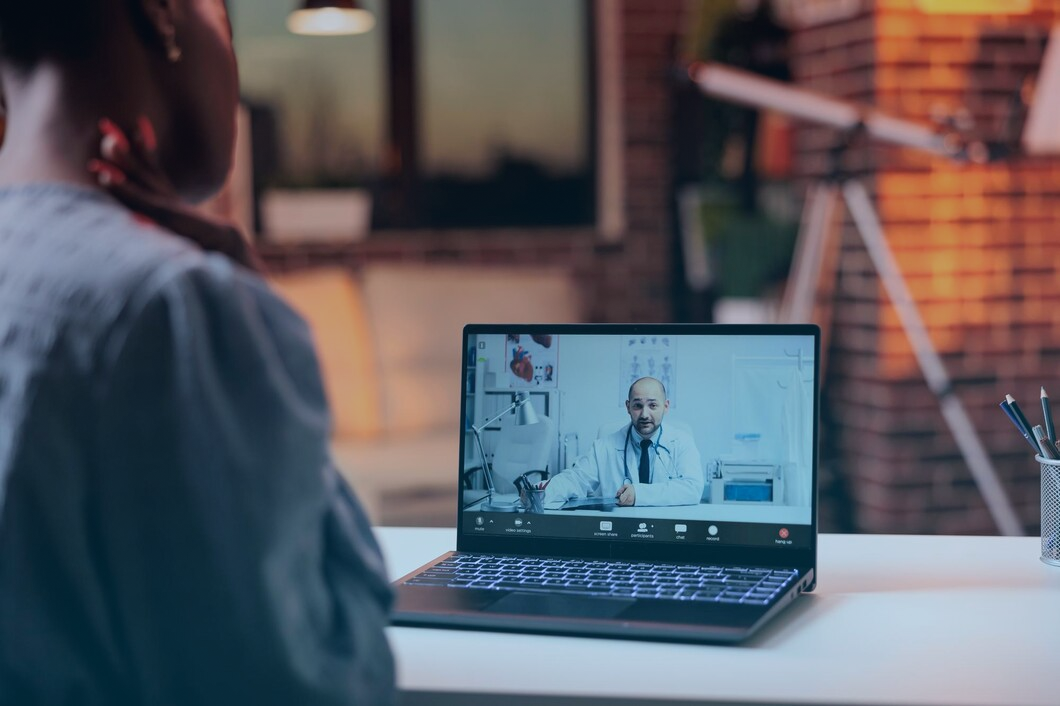 The recent COVID-19 crisis has required healthcare providers, individual patients, and governments to rethink how different healthcare services can be also delivered at home and revealed some opportunities to improve business performance and, accordingly, the quality of service.
In the following article, we will dive deeper into the increasing tendency towards implementing virtual care, paying attention to the biggest opportunities and the potential challenges of the trending concept.
What is virtual care?
Virtual health is arguably the most important accomplishment in the healthcare industry of the last decades – modern technology is estimated to revolutionize healthcare capabilities and outreach across domains.
Despite magnitude, the terminology that surrounds the achievement is chaotic, and with broad disagreement.
De Jong, for example, is defining virtual care in the following way:
The provision of services utilizing advanced conferencing technology between patients and providers or using virtual reality to simulate hospital environments
Integrated technology that combines self-management capabilities, data sharing, and interaction between patients and professionals
What's interesting, in Canada, different provinces are interpreting "virtual care" quite differently, as there is no formal definition:
In Alberta, "virtual health" is defined as telemedicine, which means "the provision of diagnosis and care through electronic communication means, where patient and provider are in different locations"
In Ontario, "virtual health" is defined more broadly and includes:

Services delivered through SMS
Synchronous virtual care applications
Asynchronous virtual care applications
Remote monitoring
Healthcare technology in 2023: understanding terminology
Concept definition
Virtual care is a broad term, which encompasses different means healthcare organizations provide services. Virtual healthcare typically comprises audio and video calls, instant messaging, virtual and augmented reality, and other novel technologies healthcare companies are now actively adopting.
Virtual care software enables online appointments and follow-ups, patient monitoring, diagnosing, treatment. Virtual care solutions might also support patient education and coaching, wellness and lifestyle management, risk assessment and screenings, preventive reminders and tracking, and remote medication management, among others.
Telemedicine definition: where is the difference?
In brief, virtual health is a broader term, which includes telemedicine, telehealth, and telepharmacy.
Telemedicine is a subset, which focuses around services provided without seeing patients in person at facilities. Telemedicine includes audio and video calls, and utilizing secure platforms to provision professional advice, diagnosing, treatments, and guidance through exercises.
Telehealth
Telehealth extends beyond traditional clinical services, but does not directly address diagnosing and treatment. This segment encompasses education, administrative processes, health promotion, multidisciplinary services, and monitoring.
Telepharmacy
Telepharmacy enables individual patients to access pharmaceutical services and guidance completely remotely. This segment comprises counseling, medication prescription, medication-related management, and more, eliminating barriers to high-quality pharmaceutical services.
Virtual care market overview
The demand of modern-day virtual care software is primarily driven by the dynamic adoption of technology. The prevalence of serious chronic conditions, the shortage of skilled medical professionals, and the rising need for more cost-efficient options are also among the main factors.
The currently largest market applying virtual care software are the United States, in particular North America This region has an established infrastructure in the healthcare segment, advanced technology, and fortunate government policies.
According to the Zion market research:
The virtual care market is likely to expand at a 15.10% CAGR from 2022 to 2028
The virtual care market was valued at around $2982.40 million in 2021 and is being projected to reach $6934.54 million by 2028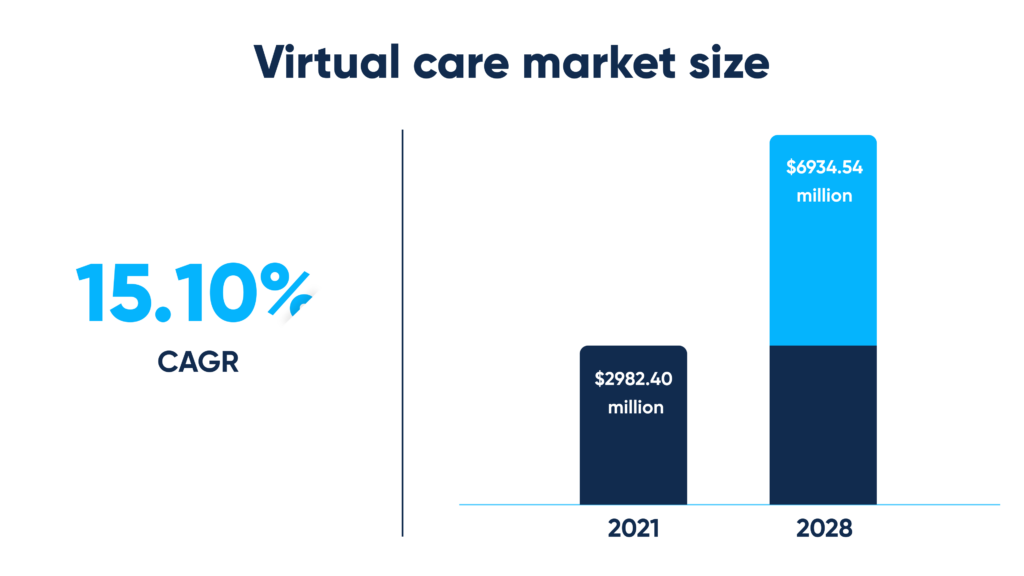 As to the Persistence market studies:
The market is estimated to overrun $10,017.3 million in 2023 to over $122.33 billion by 2033
Its size is predicted to grow at a 17.4% CAGR during the forecast period
The market's main trend:  virtual care software, chatbots, supported by artificial intelligence, and solutions empowering more personalized services
The market's main opportunity: increased access in remote, underserved areas, delivered through virtual care software solutions
Types of virtual care
Virtual care
– the use of technology to overcome temporal and geographical barriers that burden healthcare delivery.
Virtual health is the overall concept of providing healthcare services using digital communication technologies. This includes homecare software – telemedicine, telehealth, and telepharmacy. 
Virtual care is used to enable:
Remote patient monitoring (RPM)
– the use of applications and other related equipment to track health indicators & progress.
Remote patient monitoring (RPM) allows monitoring healthcare conditions without scheduling personal visits. Homecare software helps track health indicators, symptoms, allergies, treatment and medication adherence, and progress.
That enables:
Early detection
Targeted delivery
Health risk assessment
Chronic condition management
Resource reduction
Readmission reduction
Patient empowerment
Preventive intervention
Data-driven diagnostics & triage
– the use of applications, enabled by artificial intelligence, to access patient needs more accurately.
Insight-driven diagnostics & triage involves utilizing virtual platforms to conduct initial assessment, and more. With accurate primary analysis, AI-supported screenings, and triage, health professionals can determine treatment urgency, which facilitates timely intervention.
This way, virtual care might accelerate:
Pattern recognition and analysis
Informed decision-making
Disease prognosis
Risk assessment
Data processing & analytics
– the use of solutions, enabled by artificial intelligence along with Big Data, with nationwide healthcare datasets to identify risk factors among particular patient groups and inform responsible authorities.
Data processing & analytics involves utilizing data collected through platforms to receive meaningful insights. This might optimize resource-allocation, support decision-making, and improve patient outcomes.
This way, virtual care sensibly streamlines:
Image recognition and analysis
Data extraction through natural language processing
Predictive analytics to identify patient outcomes
Anomaly detection to identify unusual patterns, for example:
Examples of virtual care
Virtual consultations and follow-ups
Virtual health assistant technology can enhance virtual consultation and follow-ups by enabling:
Online appointments, routine follow-ups and check-ups from anywhere and anytime
Easy access in remote, underserved areas
Timely intervention
Second opinion
Health education
Lifestyle counseling
Which poses numerous benefits to strategic-thinking healthcare leaders:
Increased adherence
Reduced no-shows
Accelerated day-to-day administrative processes
Streamlined potential customer reach
And that is not empty chatter, but proven by research.
According to Aliza Gordon, healthcare organization might significantly reduce costs when adopting virtual care:
A three-week-long retrospective analysis of insurance company claims was applied, which included:

4635 virtual visits
55,310 non-virtual visits

The costs for traditional, in-person visits if compared to technology-supported virtual visits:

Retail health clinics – $36 higher
Urgent care centers – $153 higher
Primary care physician visits – $162 higher
Emergency departments – $1735 higher
Pain management
Virtual care assistant technology can improve pain management by providing:
Remote consultations (medication management, prescription refills)
Remote monitoring (pain levels, treatment adherence and efficiency)
Support groups and counseling
Remote non-pharmacological cognitive-behavioral therapy
Which brings several benefits to strategic healthcare businesses:
Reduced hard-to-maintain physical infrastructure, which minimizes associated investment
Reduced unnecessary in-person visits, which minimizes employee overload and burnout
Care continuity
Patient engagement and loyalty
And that is confirmed by practice.
As to Kathryn Birnie, "needle procedures are among the most stressful aspects of pediatric cancer treatment". The researcher found that needle procedures can be seemingly improved by utilizing virtual reality to create immersive and interactive environments relieving distress among children.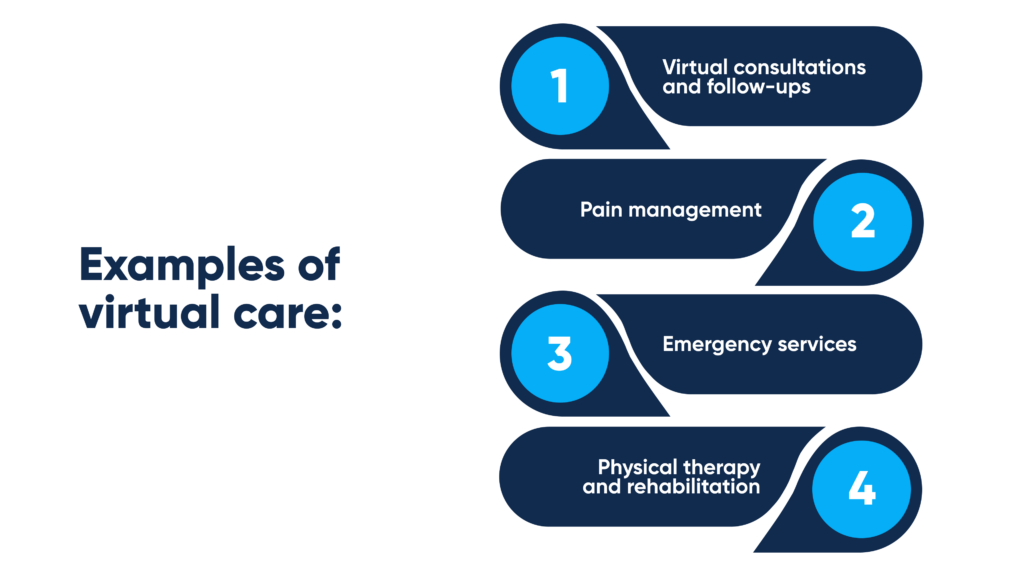 Emergency services
Applied in emergency services, virtual care might improve:
Remote triage to assess the severity and urgency during emergencies
Remote interpretation to support timely diagnosing and treatment
On-site coordination and guidance
Post-emergency monitoring and care
And facilitate:
Improved emergency response times
Minimized emergency department overcrowding
Efficient utilization of resources
Better communication and collaboration among professionals
Physical therapy and rehabilitation
Applied in physical therapy and rehabilitation, virtual care can provide:
Personalized programs without excessive physical equipment (sensors, markers)
Real-time feedback through accurate pattern recognition and visualization
Exercising guidance to prevent potential injury
Progress tracking to review recent sessions
To facilitate:
Market competitiveness through adaptive MSK rehabilitation
Smarter resource-allocation through remote musculoskeletal rehabilitation
Employee satisfaction and motivation
Patient engagement and adherence
By leveraging computer vision, healthcare organizations might empower physio professionals and patients. With modern-age computational technology, additional equipment can be completely replaced by targeted personalized programs enabling faster patient recovery.
Virtual care: key value for both healthcare providers and patients
Main advantages for patients
Minimized time and cost
Online appointments efficiently eliminate transportation burdens as well as expenses associated with in-person appointments
Remote consultations seamlessly replace pharmacy visits
Healthcare access
Homecare software ensures convenient healthcare access for individuals in remote, underserved areas through specialized:
Homecare software enables consultations with therapists who may not be geographically accessible
More engagement and self-management
Home health care software allows patients to participate in monitoring their status and progress, benefiting patients with serious chronic conditions
Remote monitoring allows tracking vital signs, symptoms, allergies, program and medication adherence, helping patients to keep their therapists always up-to-date
Support groups and communities provide opportunities for engagement and seeking peer support
Healthcare continuity and efficiency
Home health care software ensures timely healthcare delivery
Electronic records enable seamless data sharing among therapists and facilities, which facilitates healthcare continuity and efficiency
Wearable devices provide real-time data collection and processing, making sure that patients can enjoy proactive intervention
Core benefits for businesses and professionals
Optimized time and cost
Virtual healthcare platforms allow healthcare organizations to optimize resource allocation across departments. By adopting remote consultations, strategic facilities can reduce waiting times and increase overall efficiency, ensuring smart resource utilization.
In brief, digital health optimizes time and cost by providing:
Optimized workflow efficiency (automated documentation and record-keeping, task assignment, prescription generation and management, referral management)
Minimized waiting times (automated scheduling, managed queues, notifications, reminders)
Accelerated daily administrative processes (patient registration and consent, insurance verification, claims processing)
Streamlined potential patient reach and loyalty (online scheduling and registration, remote check-in, secure channels for protected patient-doctor interaction, and more)
Data-driven decision-making
Virtual healthcare platforms help healthcare companies to automate data manipulation, including analytics. This helps large facilities to personalize treatment and medication programs, identify trends and patterns, evaluate demand, and make informed decisions.
In brief, digital healthcare might facilitate data-driven decision-making through various custom tools:
EHR & EMR systems that improve data access, for example:
Integrated solutions, driven by artificial intelligence, for example:
Flexible appointment and follow-up
Digital healthcare might automate day-to-day processes associated with patient appointment and follow-ups, promoting enhanced customer satisfaction.
This can be achieved by integrating:
Scheduling platforms
Patient portals
AI for data analysis, predictive modeling, automated prioritization
ML for behavior analysis, pattern recognition, personalized planning
Efficient communication and collaboration
Digital health can bridge remote locations, break down communication barriers, and drive better outcomes.
This can be achieved by adopting:
Video conferencing systems to enable seamless cooperation between professionals
Secure messaging solutions to ensure straightforward interaction between the healthcare professional and patient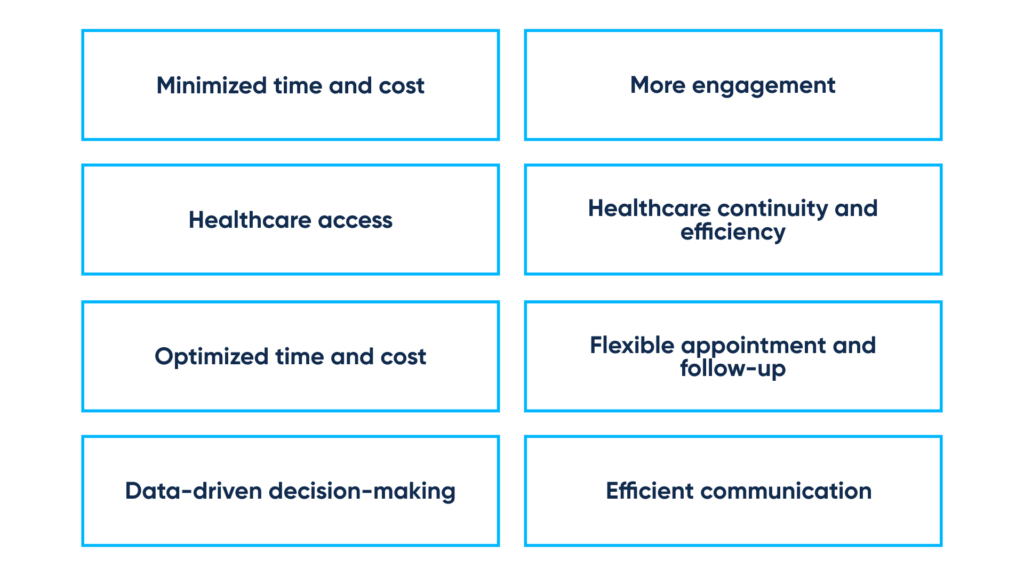 Virtual healthcare's potential challenges and limitations
Virtual services cannot replace specific procedures
Computational technology might resolve numerous challenges, for example, timely skin disease detection. Despite this, there are several interventions  which cannot be replaced by using home health care software – needle and surgical procedures, physical examinations, emergency services, diagnostic techniques, which require specialized training and also on-site presence.
Virtual services must meet legislative requirements
There are various regulations that must be considered when delivering custom designed healthcare products. These include well-known HIPAA, GDPR, HL7, FHIR, and other legislative standards, which focus on ensuring the safety and privacy of patients that utilize home health care software.
How we can help
Virtual healthcare was present in the healthcare industry long before the demolishing COVID-19 pandemic. During 2020, healthcare delivery underwent a revolutionary transformation due to global lockdown and social distancing measures.
Virtual care has transformed primary and secondary care, nursing care, outpatient care, ambulatory services, urgent and emergency services, and other healthcare-related segments.
Abto Software delivers comprehensive healthcare solutions and consulting for value-added, patient-first care. By leveraging domain-specific knowledge and experience, as well as expertise in using artificial intelligence, computer vision, ML, DL, and NLP, our engineers help leaders to digitize their operations.
Abto Software's healthcare expertise: