Management software to automate pharmaceutical packaging' workflow
Posted Oct 19, 2022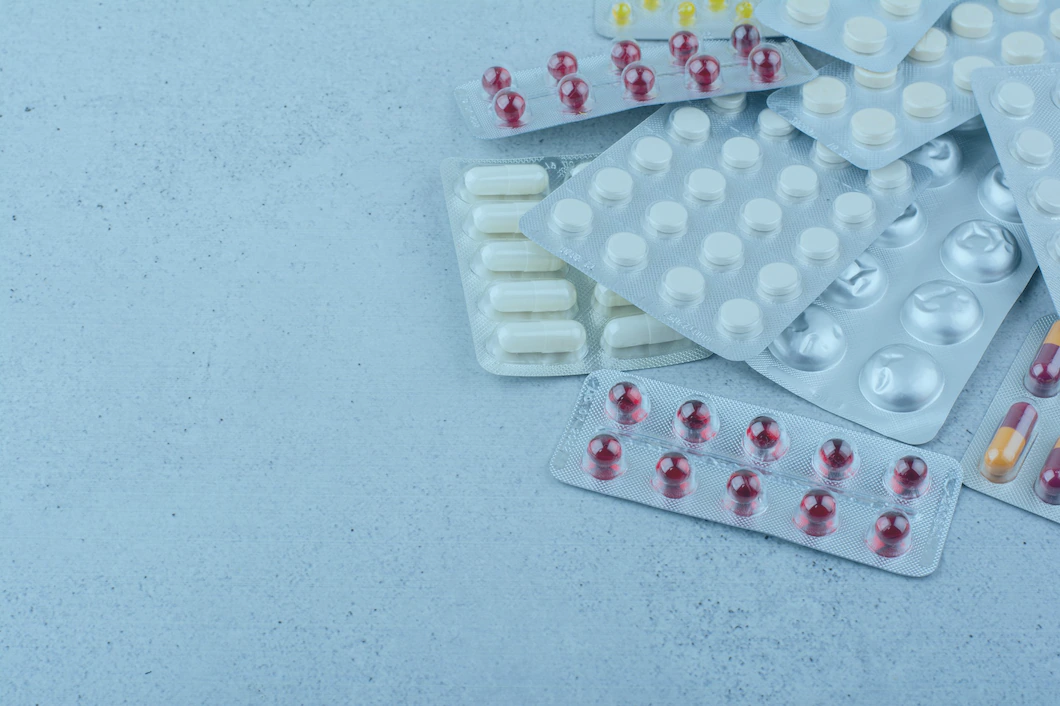 Any inconsistency of the pharma packaging is grounds for withdrawal of the finished product from distribution. This might have some significant consequences for both pharma manufacturers and partners (printing houses, logistic companies, pharmacy chains).
Secondary packaging is meant to protect pharmaceutical products from manufacturing to the end consumer. The quality of the secondary packaging is essential for preserving appropriate quality of the finished product and its unhindered distribution.
Printing houses directly related to the pharmaceutical industry must meet certain requirements and standards. To preserve valuable partnerships and, accordingly, expected revenue, printing companies must keep operational processes in accordance with acknowledged ISO and GxP standards.
Material replenishment, receiving, audit, and further production and shipping processes, as well as maintaining supportive documentation are just some challenges printing houses might face in the pharmaceutical domain. An opportunity we see for strategic-thinking printing providers is to automate processes associated with production workflows, including record-keeping.
Why consider workflow automation
Speaking about printing services, it must be said that it's quite hard to partner with a pharmaceutical company. There are various requirements associated with environmental conditions, operational consistency, the quality and storage of materials, and reporting.
In order to comply with the acceptance criteria, printing providers might need to improve numerous workflows. Despite this, the re-organization and tracing of important operational processes and approaches can bring long-term contracts that promise significant revenue.
Implementing custom management software is an influential decision, which streamlines efficient performance. It helps use data more efficiently, rethink strategies, and make usual routines more linear and accurate.
A robust management solution helps to:
Track processes and key control parameters from lot to lot
Accurately fulfill customer orders
Provide services and products that meet regulatory requirements
Address challenges and opportunities
Save time and costs
Enhance overall customer satisfaction and preserve valuable partnerships as well as profits
Meeting requirements and addressing market changes is challenging in such an increasingly dynamic industry. Considering this, more and more businesses are re-thinking current processes.
To stay highly competitive, it is extremely important to determine potential issues and address them timely. This includes taking preventive control measures to eliminate potential inconsistencies, adopting innovation, and re-organizing operational processes.
Regulatory requirements related to secondary packaging
Regulatory standards are aimed to represent the Good Manufacturing Practice (the GMP), USP, ISO, and more. This ensures proper quality of both primary and secondary packaging for distributed pharmaceutical products. The realization of standards is of great importance – it provides both safety and trust of the end consumer. And ensuring proper quality means avoiding reputational and financial losses.
Some approaches that differ from those carefully described in the regulatory guidance may also be followed. Yet still, the applicants are encouraged to discuss sensible variations in advance with the review commission.
Custom solution for facilitated production and quality assurance
The challenge
As we already mentioned, producing packaging to serve pharmaceutical organizations is a demanding business. It foresees the compliance with strict regulatory requirements, and might come with the rearrangement of the printing equipment being utilized, and some other challenges.
Let's discuss some nuances printing houses must consider when producing pharmaceutical packaging.
Pharmaceutical packaging for finished single-unit, unit-dose and multi-unit containers come in different designs. Those designs differ both in functionality and appearance.
Pharma packaging commonly includes various technologies to preserve the integrity of the finished product. These include individual barcodes and holograms, sealing tapes, radio frequency detection devices, and more.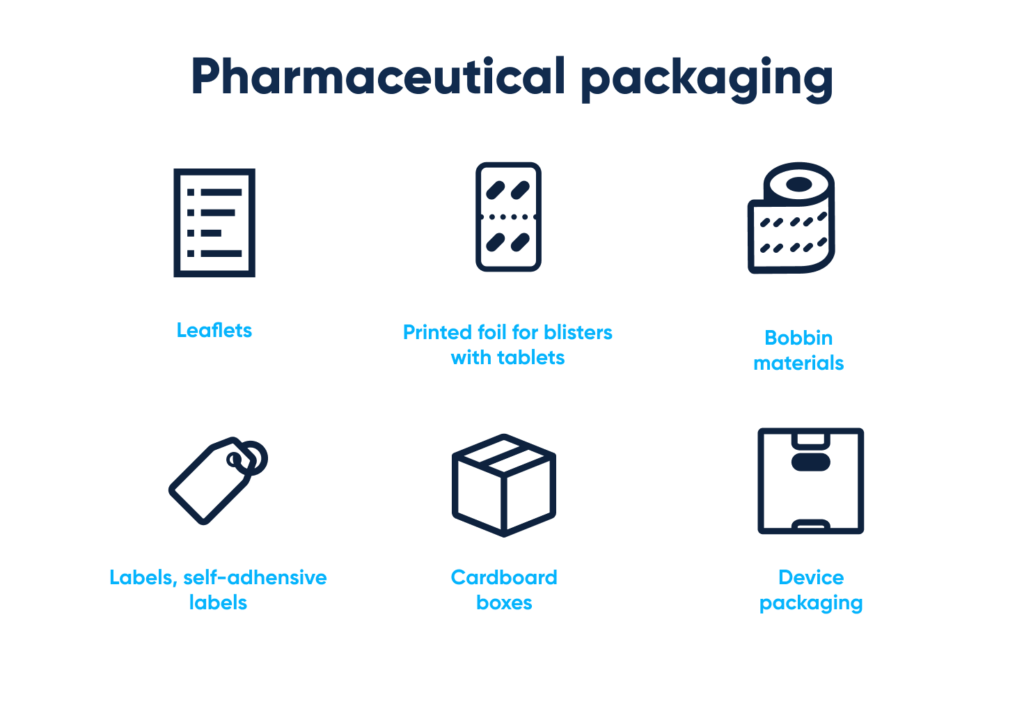 Pharmaceutical packaging comes in various forms:
Printed foil for blisters with tablets
Bobbin materials
Labels and self-adhesive labels
Cardboard boxes
"Device" packaging
Every component of the pharma packaging, as part of the medicinal container closure system, should comply with the following parameters:
Physical characteristics 

dimensional criteria (shape, thickness, design, color)
physical parameters (unit weight)
performance characteristics (tensile strength)

Chemical composition (the materials may affect the safety of the packaging component)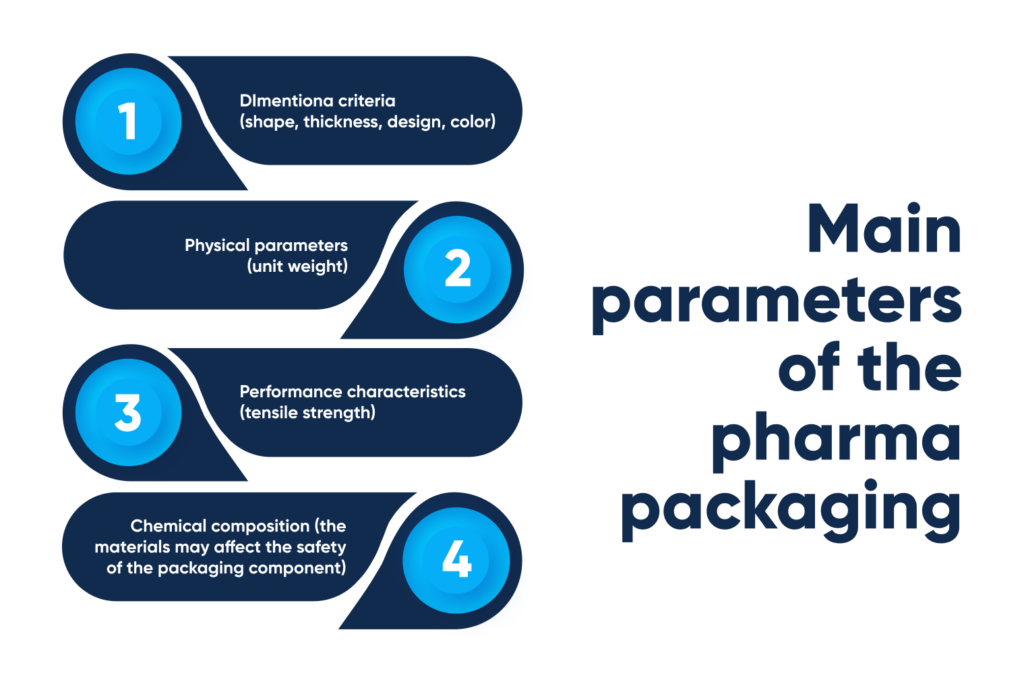 Pharmaceutical products usually require specific identification on packaging, for example, holographic prints. Such specific security elements are protecting branded products from piracy and black market activities. Holographic prints ensure protection for the end consumer and certify the quality of the distributed product. Another thing, security elements help fight maleficent counterfeiting.
As to the European Directive 2004/27/EC, pharmaceutical products also require braille font to be on packaging. Braille descriptions must comply with the ISO standards, which specify proper embossing, dot height, and even content verification.
As you can see, ensuring appropriate production and quality assurance requires significant resource allocation. This includes human resources, financial investment, and maintaining supportive documentation.
Optimizing routines might streamline more thought-out resource allocation and simplify operational processes. In particular, day-to-day record-keeping.
The solution
Production and quality assurance are not only about proper testing of some small fractions of the batch taken. Printing houses must maintain supportive documentation comprising information regarding materials, production consistency, and accurate quality assurance.
As we said before, optimizing routines might streamline resource allocation and simplify operational processes. That means better visibility, transparent communication and cooperation within personnel, and traceability at all production stages for mature printing companies.
Our concept:
A custom production and quality assurance workflow platform to assist printing houses in organizing and tracing operational processes
With implemented OCR technology for simplified day-to-day record-keeping (detailed description in the article's appendix)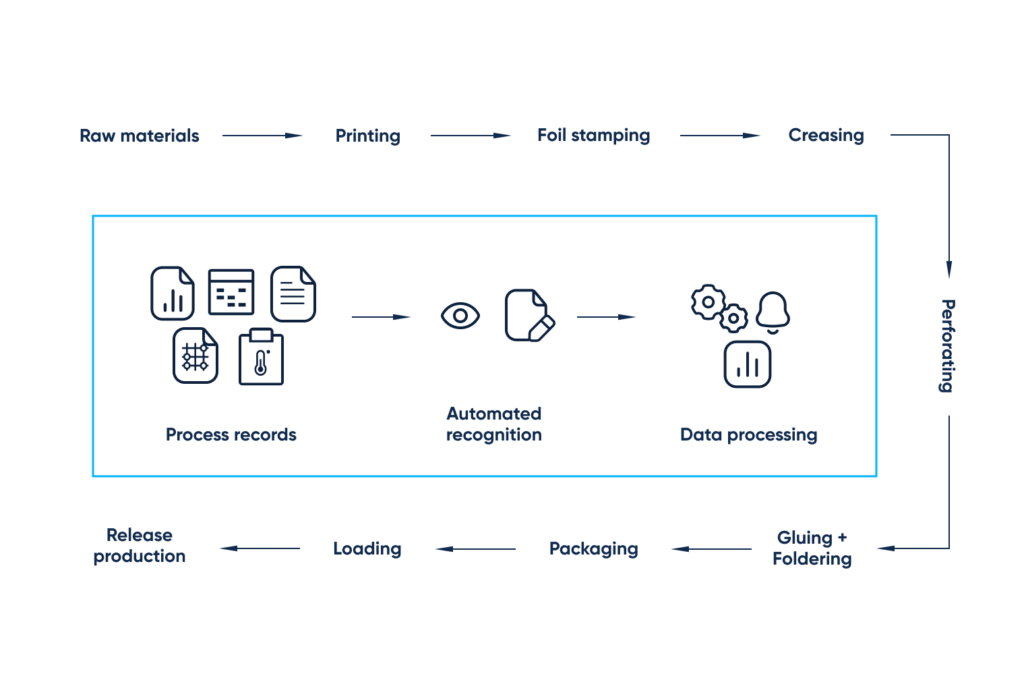 The functionality to include:
User profiles
Role-based access
Workflow statuses
Immediate notifications on inconsistencies to address
Data extraction
Custom reports
Implementing a reliable solution, printing houses can monitor production processes and take required action. This way, responsible managers can gather critical data and conduct further investigation of all the challenges that might potentially arise at different production stages to improve overall productivity.
With the right solution, printing companies can automate:
Material replenishment
Material receiving and audit
Material transmission to production
Production processes in terms of compliance with the client's requirements
Quality control during production
Quality verification of the manufactured product after production
Product packaging
Product shipping
The solution can also be used to optimize waste control: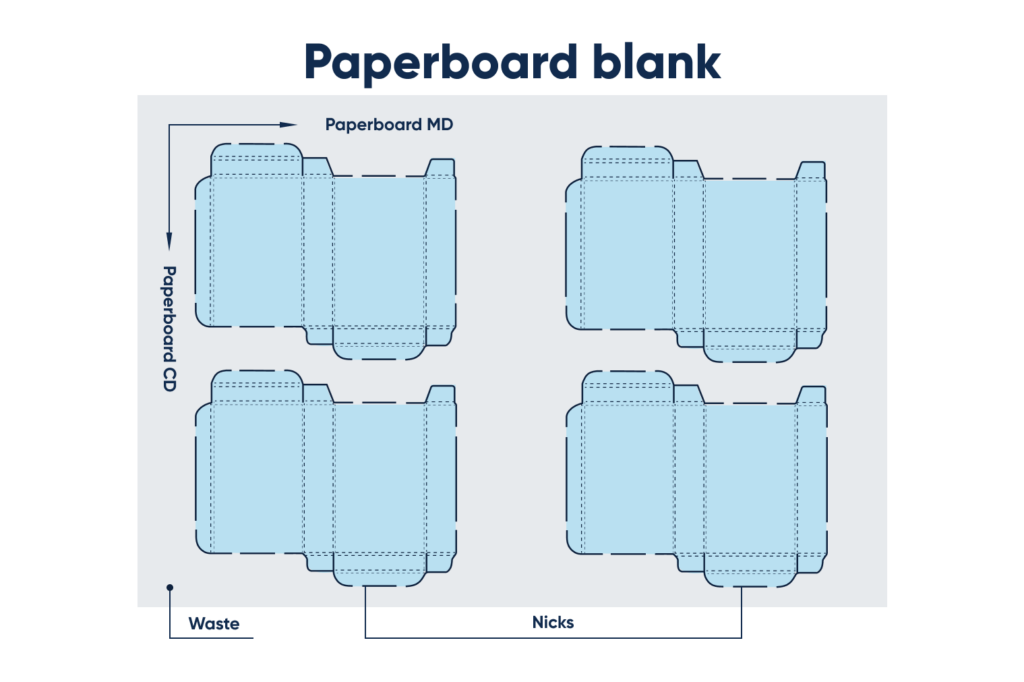 Even well-organized printing houses are commonly very messy when it comes to maintaining documentation. Daily records are being filled out traditionally manually, which means they're hard-to-navigate and consolidate. So, when pharma representatives request documentation to check control parameters and identify the room for improvement, printing companies usually struggle to extract requested documents from huge paper piles. And at this point, traditional routines might cause potential issues.
This is when adopting OCR technology can help maintain documentation and meet industry-specific standards. The records can be filled out traditionally manually, and then be scanned, easily digitized and consolidated. With modern optical character recognition technology, messy, unorganized paper piles can be finally forgotten. This means better communication and coordination with partners, and, accordingly, improved productivity.
Business value
With custom management software that optimizes production of pharmaceutical packaging, you get:
Instantly accessible, accurate records
Up-to-date reviews
Simplified monitoring of key control parameters
Advanced analytics and reporting
This way, the right management solution might provide:
A simple end-to-end process
Waste control
Reduced time and cost
More control over personnel and processes
High performance, better visibility, transparent collaboration, and traceability
Ensured compliance with the regulatory requirements
We see additional opportunities in using text recognition, in particular to comply with the acceptance criteria. As most control parameters are traditionally recorded manually, printing houses might potentially deal with unconsolidated data, human error, heavy workloads, dissatisfied staff, and poorly organized processes.
Text recognition might eliminate potential consequences, which include reputational and financial losses. Organizing processes more efficiently, printing companies can preserve valuable partnerships within the pharmaceutical industry, and revenue.
The concept of implemented optical character recognition technology is simple:
The records are scanned right after being manually filled in
Critical information is recognized and transferred into the central database
The system is configured to send immediate notifications under certain predefined conditions
The manager is notified about processes not meeting acceptance criteria
Our custom OCR solution can be trained to:
Process documents with different, patchy layouts in one single batch
Recognize tables
Process low-quality, hard to read documents
Process offset, rotated documents
How we can help
Abto Software can provide you with a custom workflow solution to help you optimize operational processes. And with your business successfully growing, our engineers can integrate the robust management platform with advanced OCR technology to transform day-to-day record-keeping.
Our company can cover project management, software development, as well as smooth third-party integration. We deliver robust solutions by engaging skilled professionals and leveraging computational technology.
We deliver:
Business automation (ERP & CRM platforms)
Telemedicine and telehealth solutions (for example, smart chatbots)
Predictive analytics (enterprise tools for discovering data patterns and making accurate predictions)
Recommendation systems (EMR & EHR systems)
By leveraging:
Contact us to optimize operational processes and improve your performance!