AI software solution development' core challenges
Posted Oct 28, 2022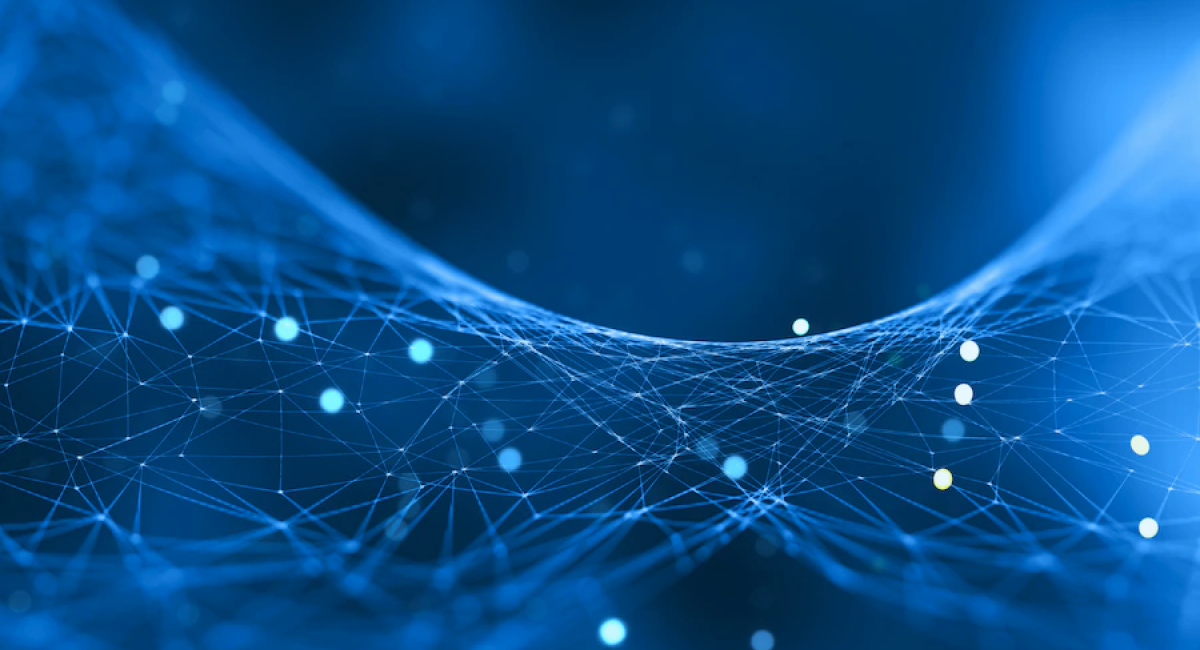 Software development, used methods and technologies have seen major transformation over the past years. More and more organizations are implementing emerging technology, and leveraging artificial intelligence (shortly, AI) became huge these days.
In the information and technology industry, scientific research has been greatly influencing everyday processes. In particular, artificial intelligence has changed the way software design and development, quality assurance, and management are delivered.
But what exactly happens after adopting artificial intelligence into your software development life cycle?
Let's discuss the opportunities and challenges that come with utilizing computational technology.
Artificial intelligence and the rapidly growing demand-supply gap
Talent shortage is real
AI scientists are required more than ever before in almost every industry, which includes healthcare services, distribution & retail, construction, but also separate subunits within individual, strategic-thinking businesses. No need to say, the role is becoming more relevant, but the suitable candidates come short, which causes certain concerns among businesses all around the world.
The necessary field knowledge, domain experience, and the desirable talent are hard to find as it turns out. There are multiple reasons for this, but we'd like to highlight the two most important factors.
To start, artificial intelligence is an umbrella term for multiple complex disciplines with their own peculiarities, – machine and deep learning, computer vision, natural language processing (NLP), and many other offshoots. Mastering those commonly requires mathematical competence combined with specific expertise, which is gained throughout many years of practice.
Another thing, artificial intelligence is an instantly changing, dynamic environment, becoming even more harsh – we see new approaches and techniques quickly transforming the landscape and the ways of doing business. That means, today's specialists must spend multiple years on studying, but the investigation field is shifting.
The numbers
According to the Business Talent Group, today's companies are entering an unpredictable business landscape. As to their study, some common, traditional skills become irrelevant, while other, new skills become important.
As stated by BTG, today's businesses should mainly focus on:
Computational technology (artificial intelligent and its individual disciplines)
Cost reduction
Human resources
Compensation strategy
As claimed by BLS, artificial intelligence and its separate disciplines are among the fastest growing occupations. When speaking particularly about artificial intelligence, data science is the top job wanted currently.
Other stats to consider:
Artificial intelligence reshaping programming
To start, it must be said that modern AI development won't replace traditional approaches in the near future. No matter how far computer science has gone, computer algorithms have not yet reached the level where they can replace human engineers.
But still, AI developers, in order to expand relevant knowledge and experience, must make continuous efforts. Human specialists must show great interest and dedication to keep up with the speed at which modern science is evolving.
By adopting AI based software development, strategic-thinking businesses can enjoy:
Estimation assistance
Prototype creation
DevOps automation
QA automation
Risk elimination
Security facilitation
And more.
Some tools used for AI driven software development to mention:
AI software development: Key value
Requirement gathering
Initial consulting, idea evaluation, and further requirement gathering require maximum human intervention. AI-based solutions (ML Kit, Infosys Nia, and other) can automate certain processes to minimize human share and optimize overall productivity.
The earlier mentioned phases are emphasizing loophole detection before moving to design and development. AI techniques can assist in deriving high-level models and planning.
Project management
Thought-out, well-planned project management is an important constituent in delivering high-quality products. AI-driven solutions can optimize project planning, delegating, overviewing, and analyzing.
With the right tools that provide data-driven decision-making, project management can be totally transformed. AI solutions can boost overall productivity and provide more accuracy.
Code Generation
Software development, in particularly core writing and reviewing, is a labor- and resource-intense process. Code generators save time and costs, eliminate risks, improve quality, and notably shorten time-to-market.
Despite the fact that software developers might face some uncertainties, programming assistance is beneficial. Code generators are trained to transform product ideas in an executable program.
Issue detection
Human error can turn into poor, inefficient products, which might cause great reputational and financial losses. And proceeding from this, it might be beneficial to implement computational technology to reduce the risks.
Human error is one of the most commonly faced problems severely affecting the quality of work and products. The implementation of the right tools can help receive notifications even about slight deviations from the predefined protocol and take required actions.
AI solutions development: Core challenges
Data security
Due to its nature of functioning, AI-based services are reliable on considerable, large amounts of information. This causes both opportunities and challenges mostly associated with storage and protection of data.
As information is generated by millions of users, AI-driven solutions are sensitive to leakage and cyberthreats. Over the last years, the issue of storage and protection of data has reached global proportions.
What can be done?
To improve data security, we suggest to utilize cloud platforms, private or permissioned blockchains.
Data privacy
When talking about using AI services, there are no acknowledged federal regulations to protect privacy rights. This means, AI solutions might automatically gather information, which is considered sensitive.
To ensure data privacy, you can:
Isolate sensitive data
Implement role-based access
Infrastructure issues
AI-based services can improve data gathering and analysis, data transfer between departments, and reporting. The prerequisites for these desirable results are great processing capabilities and stable, reliable infrastructure.
AI-driven solutions are often being rejected by businesses despite their considerable potential and advantages. Replacing inefficient, outdated applications and infrastructure is resource-intense in terms of time and cost.
Legal issues
There are some major legal concerns speaking about artificial intelligence in day-to-day operational processes. The data being collected might include personal or financial data, which is very sensitive by nature.
Inexperienced businesses oftentimes overlook potential concerns when implementing artificial intelligence. Such ignorance commonly causes reputational and financial losses.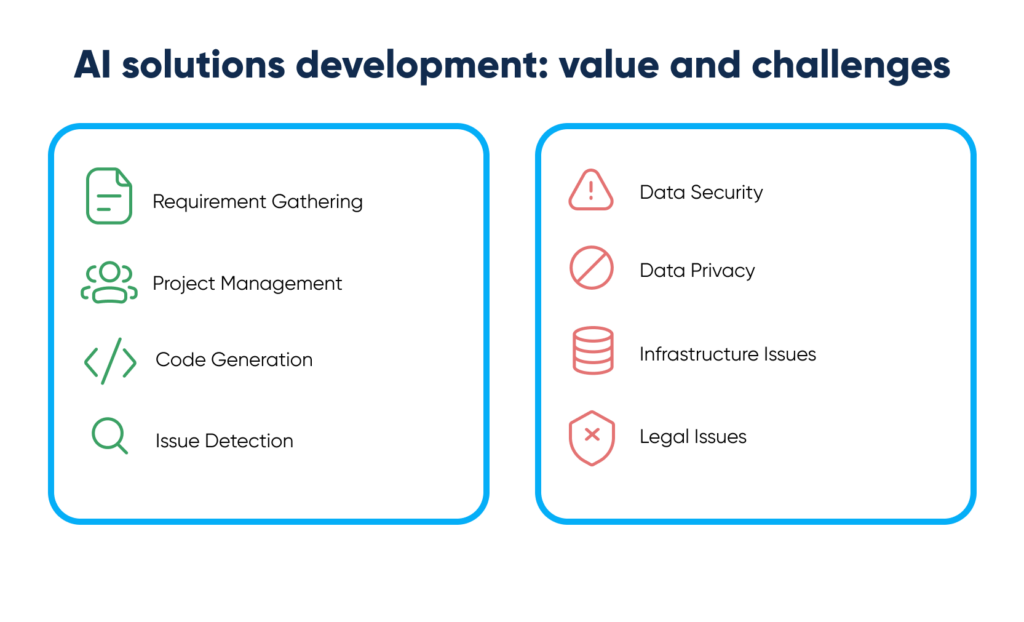 AI solutions solving common business challenges
No matter the industry, making decisions involves weighting many variables, which is quite resource-intense. Modern techniques (machine learning, deep learning, data mining, and natural language processing) can be utilized daily to extract valuable insights and get influential recommendations.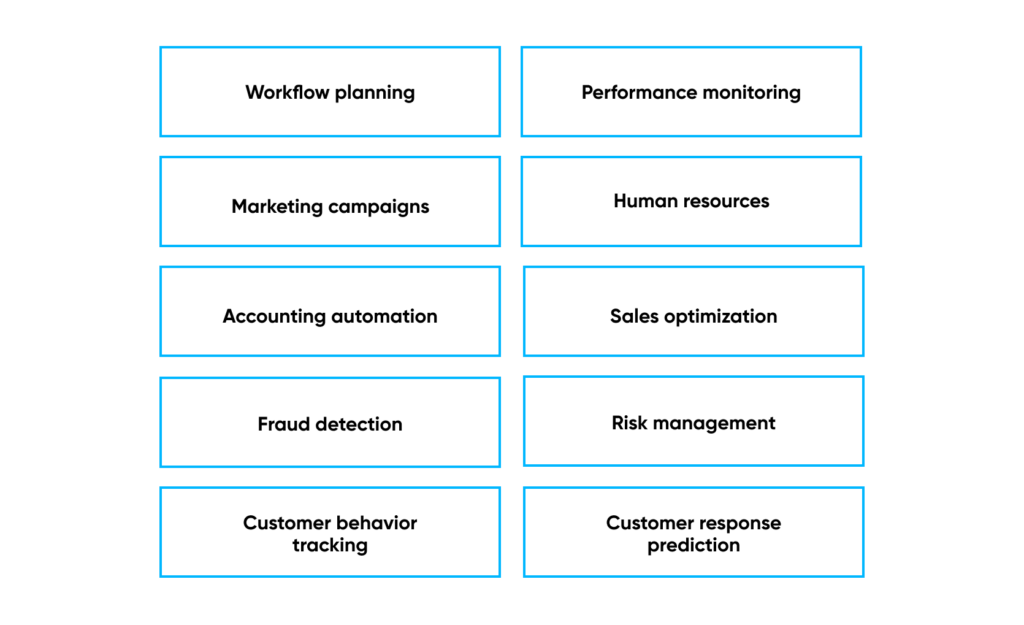 In particular, artificial intelligence can be used for:
Workflow planning
Performance monitoring
Human resources
Marketing campaigns
Sales optimization
Accounting automation
Fraud detection
Risk management
Customer behavior tracking
Customer response prediction
Our company assists businesses in automating daily routines, which improves resource allocation, and more. We see great opportunities in adopting modern science to facilitate quality services in the healthcare domain, financial and educational technology, and even geospatial research.
Some projects to mention:
AI in coming years
In the past times, we implemented traditional approaches to trace market trends and predict customer needs. But today, having the right tools, we can easily transform operational processes to create on-demand products and remain highly competitive.
With giants like Google, Apple, Microsoft and Amazon spending billions on adopting computational technology and organizations switching strategies to incorporate artificial intelligence, big things are bound to happen. Despite the numerous challenges associated with artificial intelligence and its practical implementation, we see no downturn in sight.
AI development company
We at Abto Software, a full-cycle software product development company, believe that with the right skillset, field knowledge and experience, artificial intelligence and its numerous disciplines can help transform business. By leveraging machine and deep learning, computer vision, and natural language processing, our engineers take over complex projects to deliver on-demand products.
Our services:
Our expertise:
Data science (data mining and visualization, probabilistic programming, and more)
Computer vision (image and video recognition)
Data capture & extraction (document processing for reduced human error)
Predictive analytics (custom models for efficient pricing strategies, churn prediction, fraud detection)
Ready to team with a reliable AI vendor?
Let's bring your idea to life!