Computerized laboratory inventory management
Posted Jul 15, 2022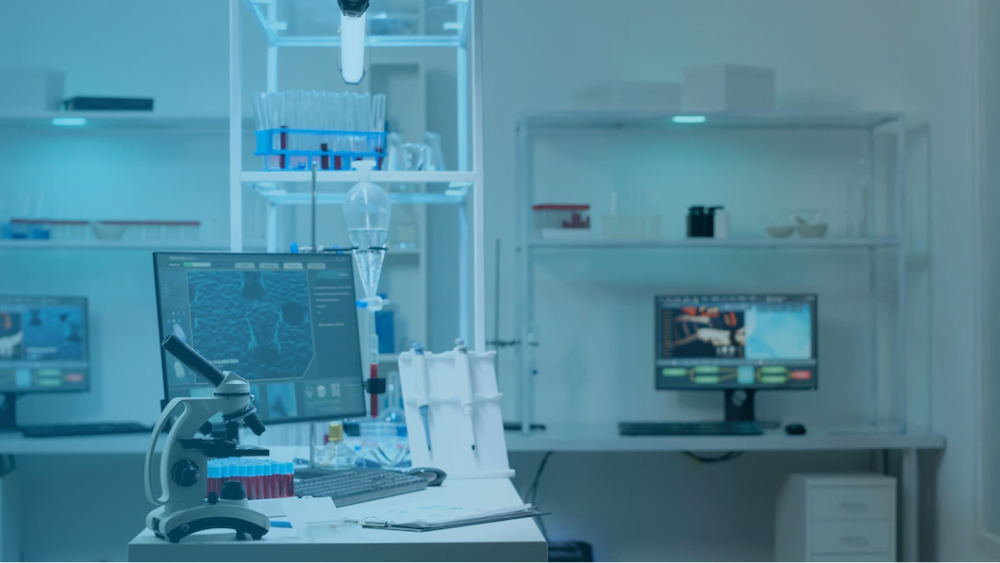 In particular reagent turnover, as part of supply chain management, organized by the means of manual document flow
Efficiency in inventory control is essential to ensure compliance with good practices and quality of tests. Manually transferring relevant information from one internal system to another is slow and inefficient.
Standard, paper-based inventory control using worksheets is challenging from several different viewpoints. Manual labeling and recordkeeping, as well as enclosed data handling are among the most common reasons for inconsistencies.
If we talk about pharmaceutical materials at the warehouse stage, the inventory is usually well established. Each batch comes with appropriate invoices to simplify further tracking, is entered into the common database, and tracked when moved.
If we turn to pharmaceutical materials at the laboratory stage, the inventory has some significant drawbacks. The information on the current statuses of reagents can be hardly obtained from large paper piles as there is usually no specially appointed person in charge for verifying those details.
Virtual laboratory inventory management
Virtual laboratory inventory systems, integrated into laboratory practice, provide for business growth in terms of productivity, data protection, compliance with regulatory requirements, and overall business efficiency. While data is being manually transferred from one internal system to another, the process remains inefficient.
The features of an accurate reagent turnover system, able to process data from paper-based and handwritten inventory documents, should include:
Product tracking with reservation and notification
Reception, identification, tracing, FIFO/FEFO and shelf-life material tracking
Auto label description fill-in in compliance with CoA and other regulatory instructions
Quarantining, release, and rejection of items with withdrawal from stock, as well as ensuring the products have an appropriate remaining shelf life
Requirement database for pharmaceutical grade materials (appropriate storage conditions or reference to the Pharmacopoeia, where applicable)
Electronic input using third-party computerized systems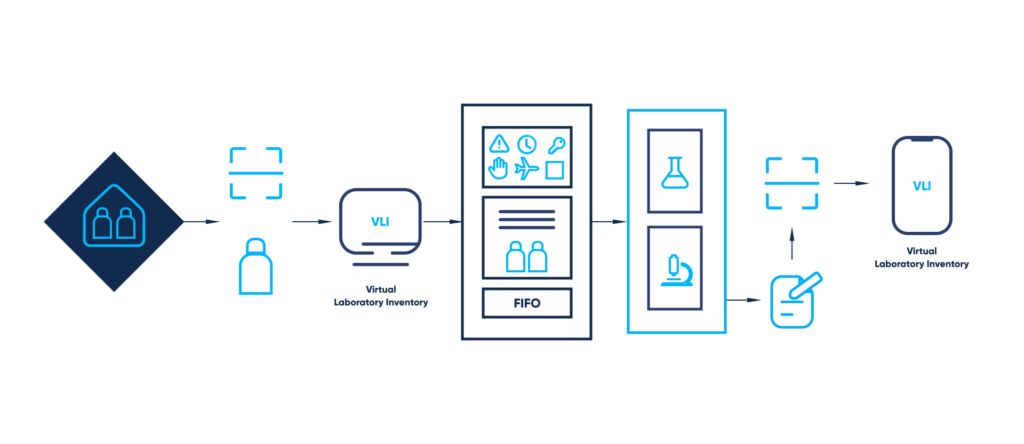 Virtual laboratory inventory system. By Abto Software
Manually transferring relevant information from one internal system to another provides for significant risks. We see the answer in deploying computerized laboratory inventory systems with handwritten text recognition.
Standard, paper-based inventory is among the most common reasons for significant time and money loss. Utilizing handwritten text recognition improves consistency, eliminates risks and provides for productivity.
Virtual laboratory inventory solution
The described Virtual Laboratory Inventory (VLI) is a custom solution, which simplifies inventory management. The solution automates important operational processes by implementing Optical Character Recognition (OCR) and cooperating with other internal systems and databases, for instance, Enterprise Resource Planning (ERP).
With VLI, labeling and turnover of the received and stocked reagent containers becomes an automatic process. The VLI tracks every relevant indicator to update material statuses and notify responsible persons about those that need to be either replenished or replaced.
Our idea of the suggested concept is simple:
The invoices and certificates, which come with the received reagents, are scanned and digitized
The invoices and certificates, as well as any accompanying documents, which are considered relevant, are arranged by their main features (serial number, delivery date, expiration date)
The system automatically updates the information on the exact amount and the expiration date of each stocked reagent when they are used
The system constantly updates the statuses of each stocked reagent and notifies responsible persons about materials that need to be either replenished or replaced in case of an expired date
Besides invoices and certificates, the laboratory inventory management solution also helps process information obtained from:
Certificates of Analysis (CoA)
Certificates of Conformity (CoC)
Reagent lists
Reagent registers
Volume registers
Sampling records
Test records (test worksheets, laboratory logs)
Stability records
Calibration
Validation
Indicators
Laboratory test reports
Volumetric solutions
Standard registers of use of reference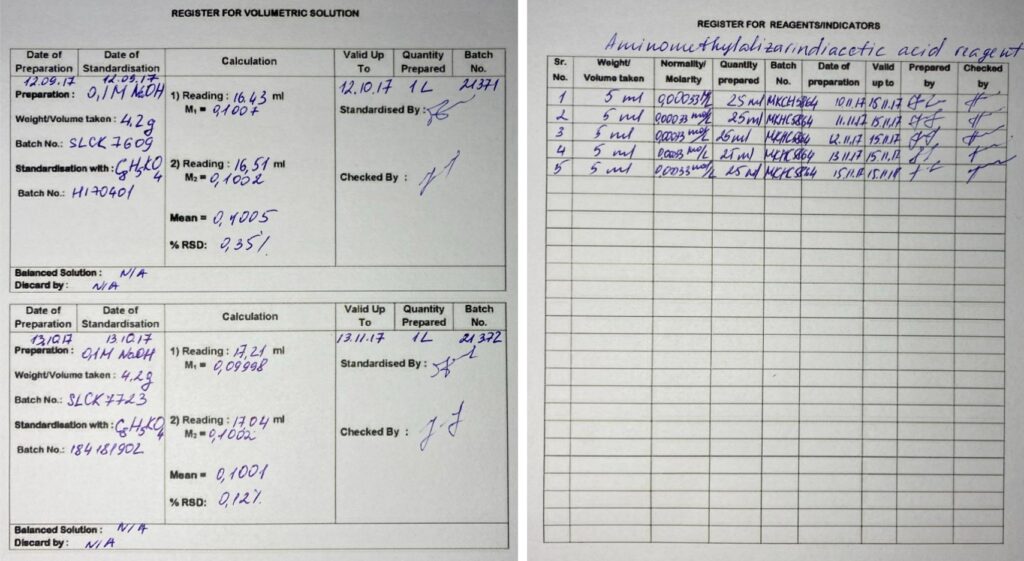 Scan copy of register documents. By Abto Software
As already mentioned before, the process of inventory at the laboratory stage has some significant drawbacks. The information about the reagent quantity and location as well as the expiration date may be either incorrect or missing.
As for the reagent turnover system, it simplifies many processes, which include tracking quantity and status. This way, responsible persons can be timely notified about replenishment or replacement.
As for obtaining information on the exact amount of materials the process of tracking can also be automated. Laboratory technicians fill out appropriate protocols or other laboratory documentation related to the reagents. The data is recognized by the described solution, which later precisely calculates the still remaining material. After that, laboratory technicians or other responsible persons are notified about the exact amount of reagents left over for re-ordering.
Such optimization frees employees from performing routine work and allows them to focus more on research. Another thing, improved monitoring provides for timely replenishment, which is equally important to ensure business efficiency.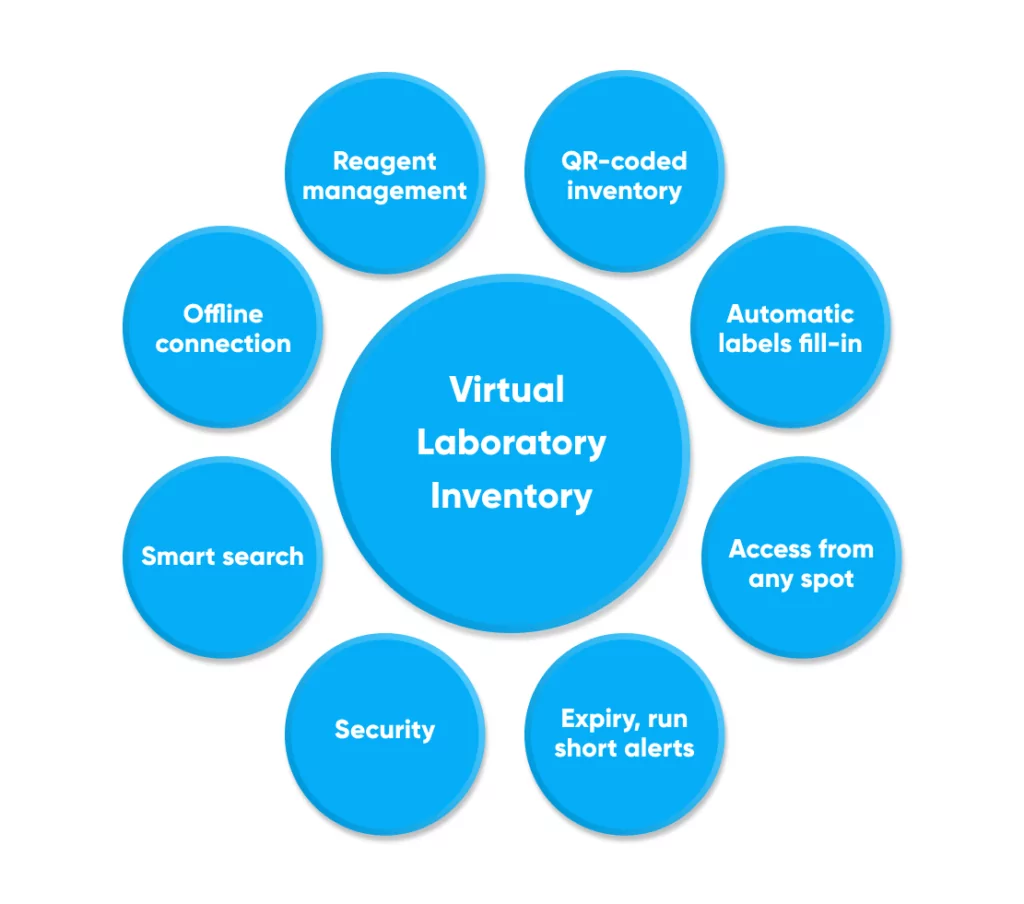 Features of Virtual Laboratory Inventory system. By Abto Software
The laboratory inventory solution includes the following features: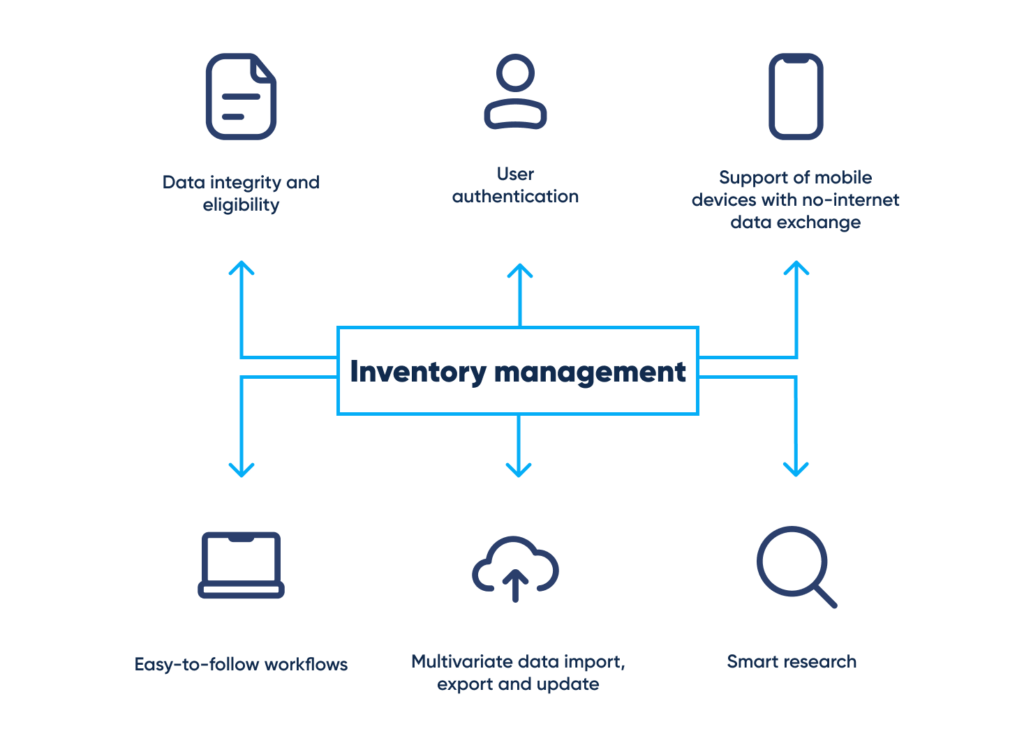 Features of inventory management solution. By Abto Software
And is designed compliant with the following standards:
Good Storage Practice (GSP)
The US Pharmacopeia
The European Pharmacopeia
21 CFR 211
42 CFR
The Good Manufacturing Practice (GMP)
The system ensures safety by sending immediate notifications about liquids and solids that need to be segregated, quarantined, replenished or completely replaced.
The system also supports relevant identification and specialized information provision for materials, which are radioactive, hazardous, sensitive, dangerous or subject to additional safety measures.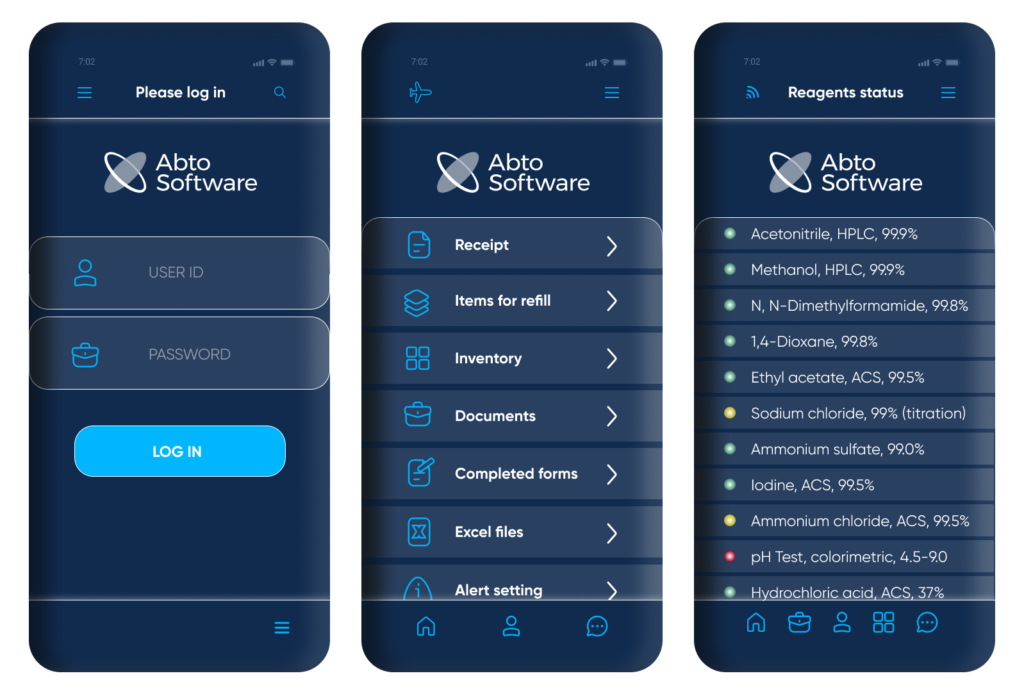 User interface of the VLI. By Abto Software
Typically, companies invite stakeholders to participate in prerelease field testing to better understand the overall product enhancement model and assist in new feature development as well as to act as primary testers. Complete testing is more applicable to release versions of the overall product. VLI is extensively tested before each software release utilizing formal test plans and scripts.
When implementing approved changes, new modules can be added to an existing VLI environment without adding new features to the existing installations, and those available modules are optional. Customers are never forced to upgrade and can continue receiving technical support from the partner company regardless of the release version they are operating.
Costs, return on investment, and estimated business value
When considering the implementation of a computerized system for laboratory inventory management automation, any organization will take into account the return on investment and profitability of such a decision. Cost justification is usually aligned with operation improvement and productivity.
When speaking about implementing computerized systems, the costs associated with paper processes are not always measurable. The costs include time spent on handwriting, cutting, pasting, transcription, and other standard processes, as well as the approval process.
Managing paper-based routine processes takes up valuable resources. Text recognition with electronic data input and virtual inventory management can be the key to improved time and cost efficiency.
Available laboratory automation products require rather high investment, process reconfiguration, and some reorganization steps, in contradiction to VLI, based on OCR technology. Such systems can be easily, rapidly and inexpensively integrated into the current laboratory processes, providing computerized system benefits with little capital expenditure, increased productive use of analyst time, fewer transcription errors and better control.
Get your virtual laboratory inventory solution
Efficiency in inventory control and storage of materials is dependent on the quality of laboratory materials and the quality of test results. Manually transferring relevant information from system to system is inefficient and may cause inaccuracy or even data loss.
Robust, custom laboratory inventory management solutions with integrated text recognition provide for simplified routines, resource efficiency, improved performance and overall business optimization.
Abto Software delivers tailor-made business solutions considering the company-specific needs.
Our areas of expertise:
Enterprise Resource Planning (ERP)
Customer Relationship Management (CRM)
Virtual Laboratory Inventory (VLI)
Handwritten Text Recognition (HWR)
Data Source Integration
Document Workflow Automation
We deliver custom solutions to provide:
Business automation
Time and cost efficiency
Increased productivity
Decreased risks
Get your virtual laboratory inventory solution and optimize your internal business processes!