Industry 4.0: Industry of Intelligent Manufacturing and Smart Factory
Posted May 16, 2018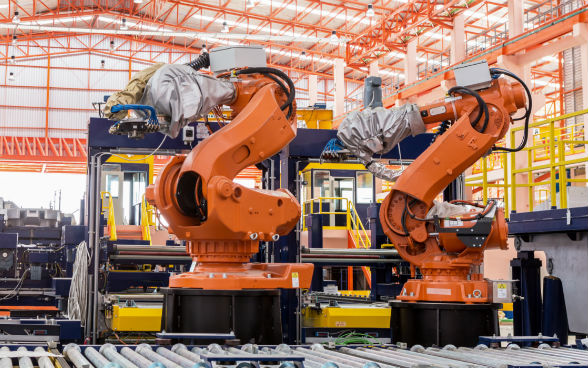 Abto Software is a provider of cloud-based ERP and computer vision solutions for clients across different verticals, and as such we experience firsthand the effect that advancing technology can have on the business. Today's post will cover how industry 4.0, the latest wave of industrialization has been forcing companies, operating in the manufacturing industry to change.
ERP Migration and Modernization
Increase functionality, improve user experience, and reduce maintenance costs.
Industry 4.0
First smartphones, and now we have a smart TV, a smart fridge, smart washing machine, any tech – you name it, which are but a few examples that show how technology has evolved our day-to-day lives, and now it is its time to transform the manufacturing industry.
Generally speaking, Industry 4.0 is the new term that describes the latest advancements in the manufacturing industry, it combines traditional industrial practices with the innovative and connected world of technology. You may also find other related terms, for example, Industrial Internet or the Smart Factory, although none cover Industry 4.0 completely.
If we take a look back at Industry 3.0, we can see that its main goal was to automate single machines and processes, while Industry 4.0 is said to support the end-to-end digitization of all physical assets and integration into digital ecosystems with value chain partners.
This can be seen in many large-scale machine-to-machine (M2M) and Internet of Things (IoT) deployments that aim to increase automation, improve communication and monitoring, along with self-diagnosis and provide new insights and analytical depth to ensure a truly productive future for manufacturing companies and their customers.

Today's factories will be transformed into smart factories of future with the highly automated and self-monitoring machines that will be able to communicate with each other and their human co-workers, allowing manufacturers run their business much smoother and free up human resources for other development.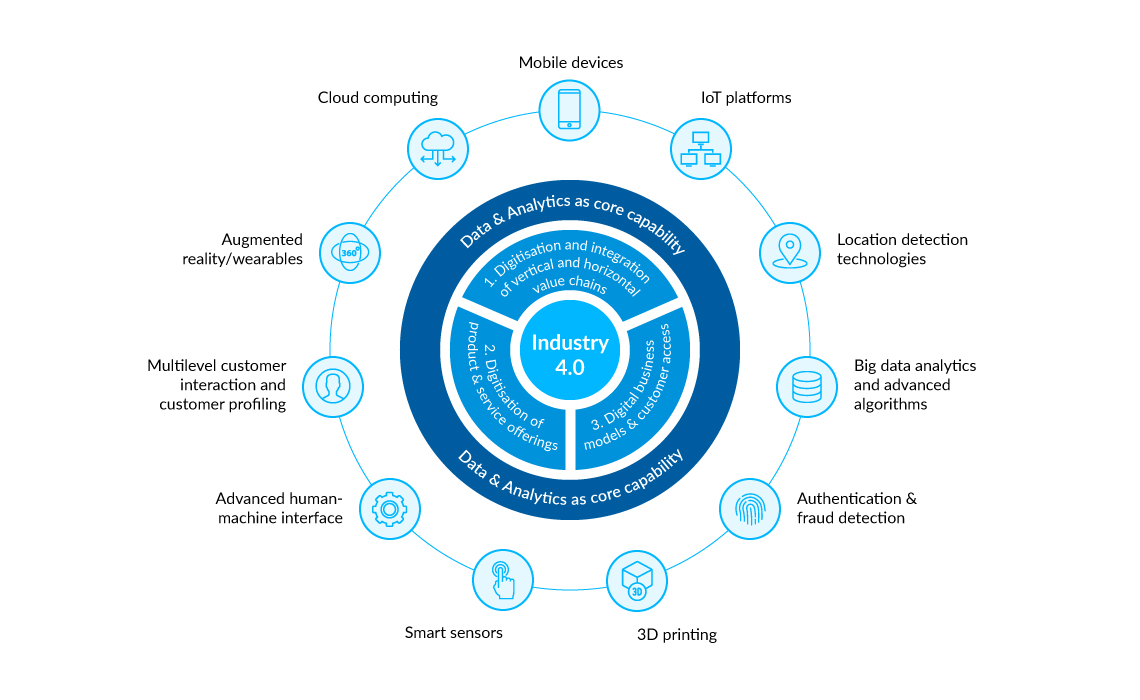 The history of Industry 4.0, and how it came to be
Industry 4.0 was first mentioned in the early 2013 German government memo. As a part of the devised high-tech strategy, it was planned to almost fully automate the manufacturing industry and make the human involvement in the production close to a minimum.
Angela Merkel, a German chancellor, expressed great enthusiasm when speaking of the Industry 4.0 in January 2015 at the World Economic Forum in Davos, calling it the only way to fuse the evolving world technology and the world of manufacturing. Also, the country's government planned to invest around €200 million to support research into connected manufacturing across academia and business. Even though Germany was the first to acknowledge this phenomenon, other European countries and USA soon followed.

In the US the Smart Manufacturing Leadership Coalition (SMLC) has been established, a non-profit organization that consists mainly of manufacturers, suppliers, technology firms, government agencies, universities and laboratories that work together to change the way of thinking behind Industry 4.0.

SMLC' goal is to build a foundation for an open, smart manufacturing platform for industrial-networked information applications, which is supposed to provide an access to specific modeling and analytical technologies that can be customized to meet the needs of manufacturing firms of all sizes.
Industry 4.0 Market
Anything connected to IoT or increased automation is worth millions and Industry 4.0 is no different. According to the market research report "Industry 4.0 Market by Technology (Industrial Robotics, Cybersecurity, Internet of Things, 3D Printing, Advanced Human-Machine Interface, Big Data, Augmented Reality & Virtual Reality, Artificial Intelligence), Vertical, Region – Global Forecast to 2022", Industry 4.0 market was estimated at USD 66.67 Billion in 2016 and is expected to grow to USD 152.31 Billion by 2022, with a CAGR of 14.72% between 2017 and 2022. The main driving factors for such rapid growth are an increasing adoption of the industrial Internet and a large focus on efficiency and cost of production.
Industrial robotics is expected to hold the largest size of the Industry 4.0 market by 2022. They are important for implementing Industry 4.0, as utilizing industrial robots can increase productivity, lower the risk of human errors, and increase the production volume. The market was estimated at USD 41.75 billion in 2016 and is said to reach USD 81.47 billion by 2022, at a CAGR of 11.70%.
There has been a growing interest in them from the vehicles manufacturing industry, to help increase production volume and meet market demand.
The market for industrial equipment vertical is said to grow at the highest rate during the forecast period. Industrial equipment manufacturing comprises the production of various kinds of machinery used in defense, construction, or manufacturing applications. Some important processes for manufacturing these devices are stamping, bending, forming, and machining, which required to shape the individual pieces of metals. The market for industrial equipment vertical is expected to be valued at USD 22.79 billion by 2022, growing at the highest CAGR of 18.45% during the forecast period. The implementation of Industry 4.0 in this sector can help manufacturers in analyzing the machine conditions in advance to avoid unplanned downtime and wastage. Machine breakdown and unplanned downtime cause huge loss to industrial equipment manufacturers as they delay the production process. Thus, a need for preventive maintenance solutions is increasing significantly in this vertical. Industry 4.0 solutions offer predictive.
Asia Pacific will hold the major share of the Industry 4.0 market between 2017 and 2022. Asia Pacific, comprising India, China, Japan, and Rest of Asia-Pacific, holds the largest share of the Industry 4.0 market. The APAC market for Industry 4.0 is expected to witness the highest growth during the forecast period. The major contributors to the Asia Pacific market are Japan and China. China has a huge potential in terms of Industry 4.0 applications and is also the fastest-growing market in Asia Pacific.
Smart Factories of Industry 4.0
Connected manufacturing is not new. Yet this fourth wave of industrialization and ongoing convergence of the digital and physical worlds have made it possible for even greater interconnection of the supply chain.
The supply chain operations are moving from linear, sequential system to a more interconnected, open one, known as the digital supply network, forcing the companies to change the way they compete. However, to gain any advantages of the digital supply network, manufacturing companies will need to implement some capabilities: horizontal integration through the different operating systems that power the organization; vertical integration through connected manufacturing systems; and end-to-end, holistic integration through the entire value chain.

These integrations are what transforms a simple factory into a smart factory, and enables the opportunities for greater profitability. The smart factory represents a huge leap from the traditional automation to a fully connected and scalable system—one that will process an ongoing stream of data from connected machines and production systems to adapt to new demands.
A smart factory is supposed to integrate data from all the systems to manage manufacturing, maintenance, inventory tracking, digitization of operations through the digital entity, and other types of activities across the entire manufacturing network. Some benefits include increased operational efficiency, lower risk of production downtime, and a greater level of predictability and adaptability to changes.

Some manufacturing companies have made first steps towards transforming their facilities into smart factories by leveraging real-time production and inventory data for advanced planning and scheduling or augmented reality for maintenance. But on your journey to a true smart factory, you should take a more holistic approach, moving beyond the shop floor toward influencing the entire enterprise and value chain. More information on smart factories will be provided in our next blog post.
SMEs in the Fourth Revolution
So, now that we have established a smart factory as the centerpiece of Industry 4.0 and defined its interconnections with other factories as the main characteristic, the next question stands who benefits from the fourth industrial revolution. At first, you may think that only for large enterprises with multiple facilities can gain any advantages. But, what about small-to-medium businesses? The answer is yes, in some cases.

First is a case of interconnection between your company's factory and supply chain. Let's imagine a simple scenario: the supplies shipment from an SME's cutting tool partner is going to be delayed due to severe weather conditions. That information is sent to the company 's manufacturing execution system that controls the production. Then the system will automatically adapt the machines' production speed and feed rates to lower the risk of equipment going out of service.. What I want to say is that even small business with one factory can benefit from having it digitally connected to the rest of supply chain.

Another case of how small companies with single facilities can reap benefits of Industry 4.0. is when SMEs offer their customers products in smaller batches down to customized individual items to speed up the delivery, or what they call assemble-to-order / make-to-order.
In theory, the business potential for Industry 4.0 is tremendous. We will be able to develop completely new value thanks to information transparency, optimal decision-making processes and the integration of external resources, optimized in terms of availability and cost. Also, the fourth industrial revolution guarantees the increasing flexibility and the highest quality assurance aspects of engineering, planning, production, operational and logistics processes.

I.e., no more rigid relationships and individual handling of locations will also fall away completely. It will be irrelevant whether you are producing or simply delivering. Knowing who may be integrated into the process, at what conditions of delivery, cost, and scheduling will be decisive.

This, therefore, describes the most significant difference compared to past Industry 3.0. No human will tell a robotic machine or resource what to do next, but external influencing factors will change and regulate the processes across the entire value creation chain.
And this is true for all businesses, including SMBs.