Pet loss prevention: the role of IoT in pet insurance
Posted Aug 30, 2023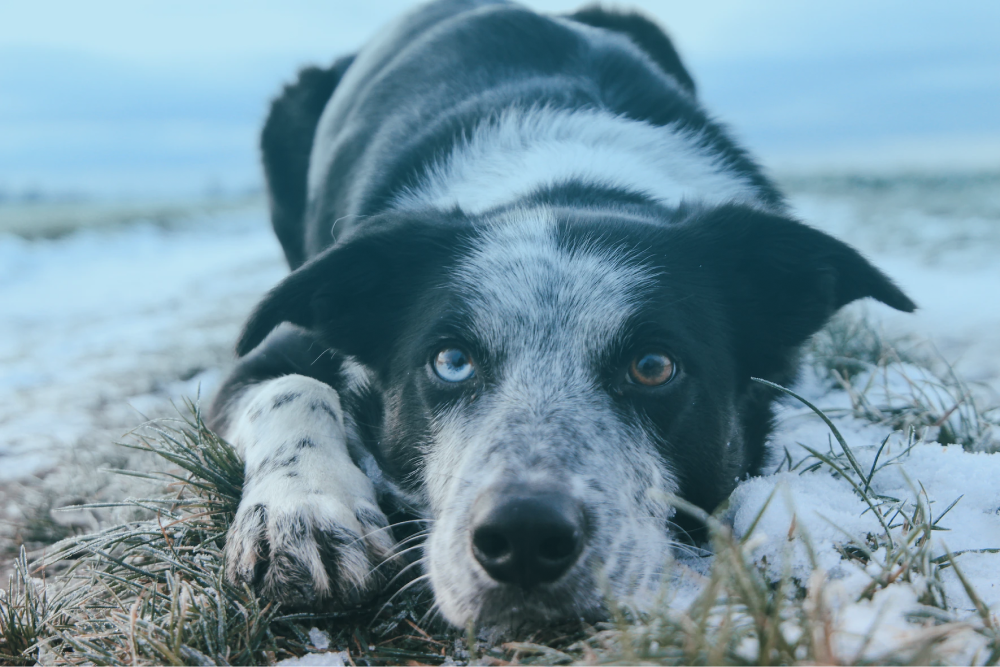 As our furry friends are integral family members, the horror of losing your companion can be truly devastating. In the modern-day world, where holistic veterinary procedures, organic diets, alternative therapies, and even pet massage are rapidly gaining momentum, the risk of losing your friend raises some great concerns.
That's where the synergy between compassion and technology provides transformative business opportunities:
With the IoT potential to enable continuous monitoring and provide valuable insights, the paradigm is shifting. Strategic-thinking insurers can tailor their offerings to benefit pet owners and minimize claim submissions.
In this detailed article, we delve into the great possibilities IoT integration can bring into the insurance domain. Let's explore how insurers can reshape the approach to traditional pet maintenance, loss prevention, and more.
Missing pet research statistics
As stated by Lost Pet Research, the first ever study on lost pet statistics was conducted by ASPCA in 2012. Although ASPCA's long-standing study has had a small sample size, it is still the least biased on the web space and shows that between about 11-16% of dogs and 12-18% of cats go missing in a five-year period in the United States.
To maintain statement transparency, we understand we're processing outdated information to cover this topic. It should be mentioned that publishing paid research to achieve marketing purposes is a widespread practice, which is why we give preference to covering official sources.
Lost cat return-to-owner (RTO) rates
Studies show that only 53-84% of lost cats are found (the range is due to the likely bias of the study methods). The least biased research is probably the one conducted by Emily Weiss, which found that about 75% of missing cats in the said study were found, and hence, talking statistics, 63- 84% of lost cats in the United States are found.
The average return-to-owner rates of cats are found to be surprisingly low, and that's due to several reasons:
Few owners are getting ID tags for their indoor cats
Many cities haven't minimum stray holds for cats
Most owners tend to wait longer to check the shelter
When present, a microchip is often not registered or up-to-date
Unless cats are injured, most people typically assume it lives somewhere nearby
In some smaller towns, animal control may not pick up stray cats at all
Lost dog return-to-owner rates
Studies state that between 71- 97% of lost dogs are recovered (but again, remember the ambiguous methods). But referring to the mentioned research presented by Emily Weiss, 86-97% of missing dogs in the United States are found and recovered.
The average return-to-owner rates of dogs are higher:
More owners are getting ID tags for dogs if compared to cats
Most cities have minimum stray holds for dogs (at least for about 2-3 days)
Most owners are checking the shelter almost immediately and check back frequently
Typically, people are much more likely to report or catch loose dogs rather than stray cats
Why not use microchips?
While microchipping is a cost-efficient solution enjoying popularity, a microchip has limited scanning access, doesn't monitor real-time location, doesn't prevent initial loss, and has some other considerable downsides. For microchipping to be really useful, the chip must first be scanned at the local rescue, which, unfortunately, isn't always the case.
Unlike microchipping, IoT-enabled tracking allows owners to take immediate measures in finding their pets. Connected with personal devices, IoT-supported applications show owners their pet's real-time location, helping them reunite faster.
IoT tracking – an alternative to consider
The demand for value-added pet products is picking up speed, and that due to several reasons:
More people are reported to become pet parents due to the recent COVID-19 crisis
Veterinary costs and costs associated with complementary services are rising
Pet healthcare has progresses over the last decades
Pet products are becoming more sophisticated and in-demand, in particular IoT products:

Activity trackers
Location trackers
Pet cameras
Connected toys, and others
IoT products specifically designed to benefit pet healthcare are increasingly gaining momentum:
The US IoT petcare market size was worth $6.62 billion in 2022
The US IoT petcare market volume, in spite of being a new technology segment, is predicted to reach $28.96 billion by the year 2031 at a 18% CAGR during the forecast period for 2023-2031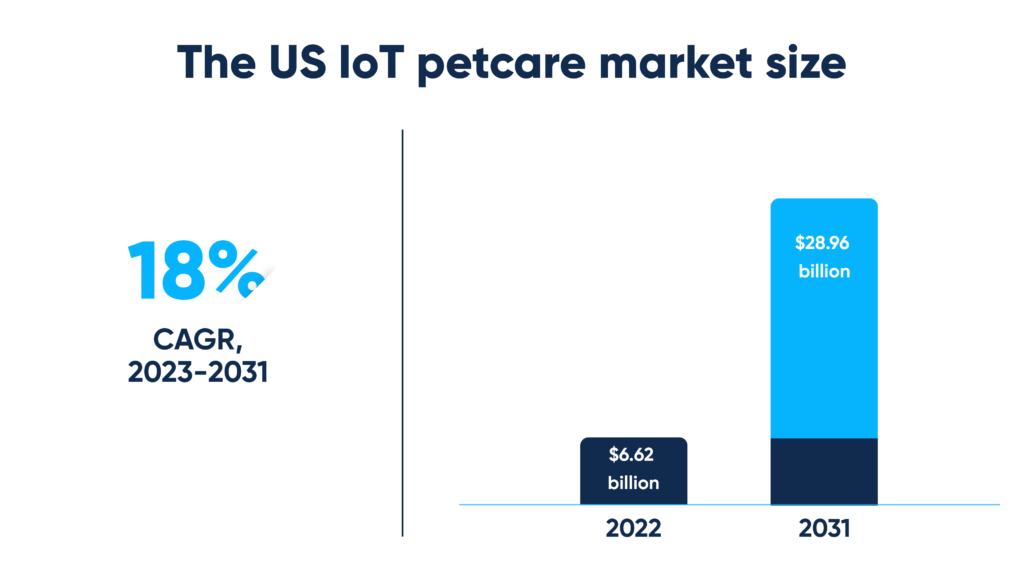 IoT integration to enhance pet insurance
Back to the subject of revolutionizing pet insurance, how can IoT devices be used to deliver better services?
To start, let us look closer at the pet insurance industry statistics:
The global pet insurance market size has reached $9.3 billion in 2022 and is being expected to expand at a 16.30% CAGR from 2022 to 2030
The overall pet insurance market volume was dominated by the United States (North America), accounting for 60% of market share
IoT tracking to avoid pet loss
By accessing real-time information about their pet's location, pet owners can enjoy:
Watching the pet sitter, ensuring the pet's safety
Keeping a historical record of the pet's activity
Monitor the pet's location in real-time, enabling a quick reunion in case of loss
Establishing a custom geofence to receive immediate notifications about the pet's change of location
IoT tracking to harness business value
Risk mitigation
IoT applications can provide value-added insights into the pet's activities, helping identify potential dangers. That means, when integrated into pet insurance software, IoT wearables might minimize risky situations, subsequently reducing insurance claims.
Risk assessment
IoT applications can provide an overview of the pet's behavior, activity patterns, health parameters, and more. This means, when integrated into pet insurance platforms, IoT devices might automate risk assessment, accordingly aligning premium pricing.
Preventive measures
By tracking pet location, the owners can locate their companions and prevent potential accidents and injuries. Rapid response helps avoid costly claims, benefiting both insurance provider and customer.
Behavioral insights
By monitoring pet activities, the owners can reveal unusual patterns (low energy, high anxiety) and illnesses. Early detection helps address occurred problems before they can escalate into major veterinary expenses, benefiting the insurance provider and owner.
Tailored plans
By using IoT data, strategic pet insurance companies can offer tailored coverage based on individual profiles. The parameters being analyzed might comprise activity levels, location details, heart and respiration rates, hydration levels, caloric burn, sleep and behavioral patterns, and even stress levels.
Customer engagement
By accessing IoT insights, the pet insurance company might automate:
Claims processing
Risk assessment
Underwriting decisions
Premium calculation
Data analytics
Fraud prevention
This way, the company can minimize waiting times and facilitate greater accuracy, eventually facilitating customer satisfaction and loyalty.
Pet insurance IoT integration: core challenges to address
IoT integration comes with certain challenges, primarily because of the unique nature of the insurance industry. Smooth integration requires planning, tight cooperation with providers, pet owners, and authorities to ensure successful and ethical implementation.
Some challenges to mention:
Data privacy and security
Data collection and transmission from integrated IoT devices raises concerns associated with data protection. Sensitive information must be adequately protected from widespread fraudulent activities, for example, unauthorized access, and more.
Device fragmentation is another major issue, as there are various IoT devices with their unique peculiarities. Integrating information from these can be quite complex due to different formats, communication protocols, compatibility issues, and else.
With such great multitude of different IoT devices (collars, trackers), data standardization becomes crucial. There aren't industry-wide standards, which hinders seamless integration and interoperability.
In contexts dealing with IoT data and its proper protection, it's important to consider regulatory compliance. There are many questions that arise when talking about adherence to acknowledged protection requirements to collected health information.
Data integration might require custom adjustments to various insurance models such as premium calculation.
Data integration might also raise some ethical considerations – for example, should certain pet behaviors (aggressive behavior, property damage, public nuisance, and similar) be penalized?
Pet insurance IoT integration: additional features to consider
A platform specifically designed to optimize pet insurance can provide a full-fledged, user-friendly experience. The application might encompass additional functionality, from notifications to insights and recommendations, naturally enhancing customer satisfaction and loyalty.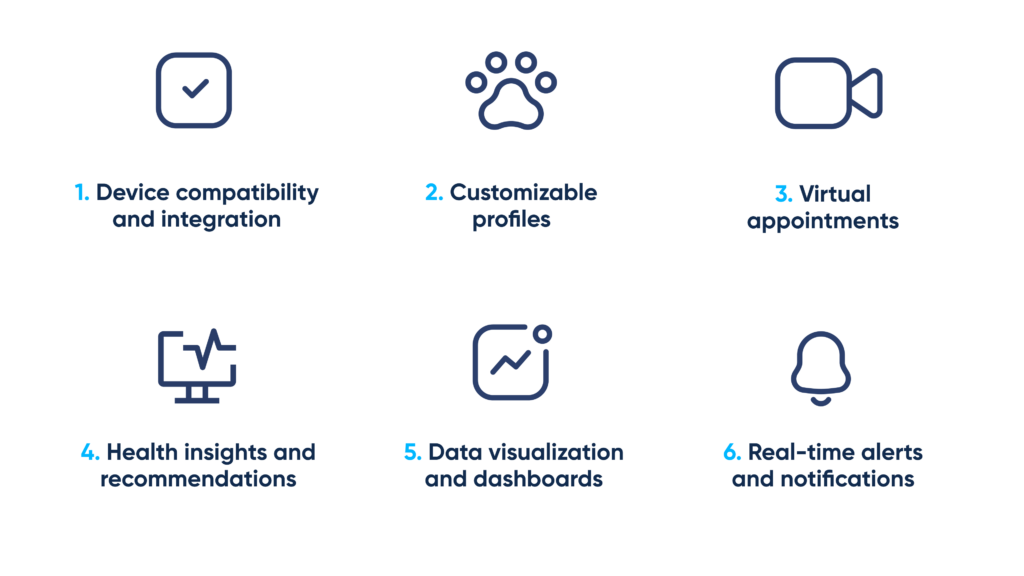 Essential features to implement:
Device compatibility and integration
The platform should support popular devices like collars, activity trackers, locations trackers, and monitors.
Data visualization and dashboards
The platform should provide data visualization and dashboards to enable pet owners to access and manage gathered information, for example health parameters, behavior, activities, and more.
Customizable profiles
By allowing pet owners to create customizable profiles that include medical history, age, breed, specific needs, and other relevant details, insurance companies can accelerate risk assessment and personalize their offerings.
Real-time alerts and notifications
By enabling pet owners to receive real-time alerts and notifications on abnormal health indicators or patterns like lower activity levels, insurance companies can streamline customer engagement and empowerment, simultaneously minimizing potential claims.
Virtual appointments
With integrated telemedicine features, pet owners can connect with veterinarians for consultations and advice, improving regular pet maintenance.
Health insights and recommendations
By using IoT data, the solution might provide health insights and recommendations (health tips, activity goals), enhancing overall pet care.
How we can help
Abto Software sees great business opportunities in integrating IoT devices into already implemented platforms. At every project stage, our commitment remains unwavering – we cover every phase from investigation, planning, design, and evaluation to integration to ensure you make the most of the IoT data you access.
Our services:
IoT integration – Internet of Things integration with already existing systems
Cloud services – cloud infrastructure to store and manage IoT data
API development – API design and integration for communication between devices and platforms