Game-сhanging Cloud Computing in Healthcare: Benefits, Providers, Examples
Posted Aug 26, 2021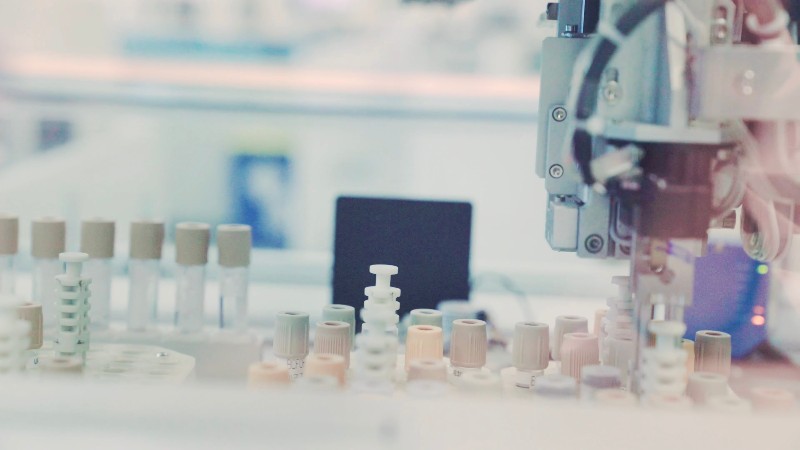 The adoption of cloud computing in healthcare has seen some significant growth in recent years. Reports show that in 2020 its market has reached an impressive $28.1 billion. Moreover, by 2025 it is expected to grow to over $64.7 billion, making healthcare one of the leading industries at adopting cloud computing. Let's take a closer look at the benefits that cloud computing brings to healthcare, as well as the challenges it faces.
A few words about cloud computing
First things first, however: what is cloud computing? In simple terms, it means accessing various computing services via the Internet (or "the cloud"). These services include but are not limited to data storage and computing power. Users can access these services on demand without the need to establish and maintain their own data centres. Providers of cloud computing services are responsible for that part.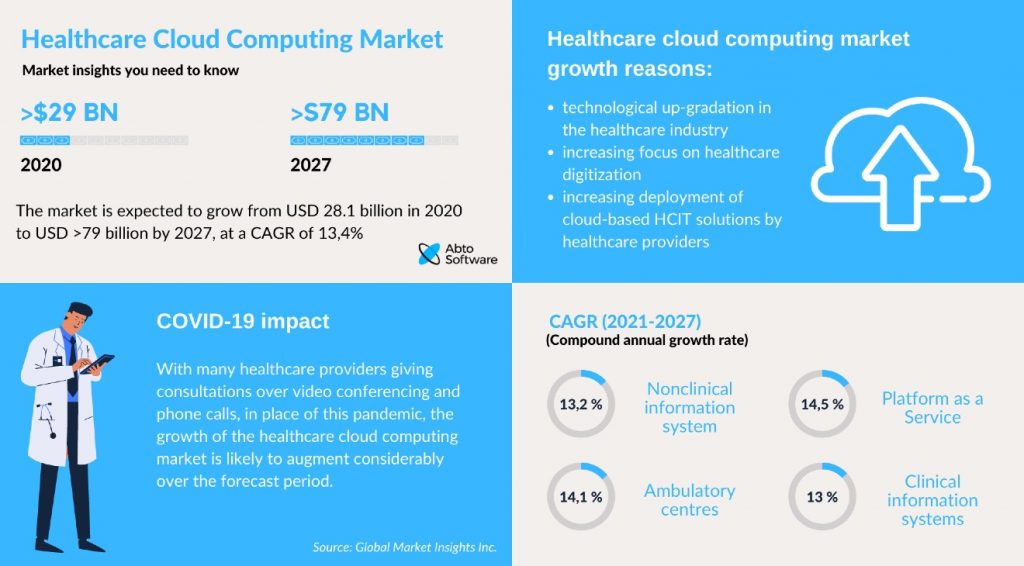 Cloud computing in healthcare: the benefits
Both healthcare providers and their patients have much to gain from cloud computing. Let's explore the most prominent benefits of this technology.
1. Lowering costs
As mentioned before, service providers take care of establishing and maintaining data centres. Healthcare installations do not have to buy expensive hardware and hire experts who would maintain it. They can simply pick a service they need and get exactly what they pay for.
Moreover, cloud computing creates great scaling capabilities. This is very important for all modern healthcare installations. Handling more patient data or adding features to your EHR solution can be simply solved by increasing your monthly fee.
2. More effective medical research
As the amount of patient and medical data increases, it can be stored in the cloud and analyzed by Big Data technologies such as AI and ML. This does wonders for medical research, as huge amounts of data can be analyzed quickly and effectively. Medical researchers can then use the results to become better at preventing diseases or predicting outbreaks.
3. Better patient care
Analyzing patient data with Big Data tools also makes it possible to create better healthcare plans. These plans can be personalized to each individual patient, and result in more effective treatment.
Additionally, cloud computing allows medical installations to provide patients with easy access to their personal data. This leads to patients being more educated about their own health, enabling them to make more informed decisions.
4. Efficient operations in clinics and hospitals
Access to the cloud has tremendous effects on the efficiency of operations within hospitals and clinics. Digitizing the data flow within such installations speeds up patient appointment management, reduces the amount of time and costs spent on manual labor, eliminates errors caused by paper documentation.
5. Improved telemedicine
Cloud computing in healthcare helps improve the services that are accessed through telehealth. Easy access and sharing of healthcare data allow telemedicine solutions to streamline healthcare coverage to patients who are preventing, treating, or recovering from an illness.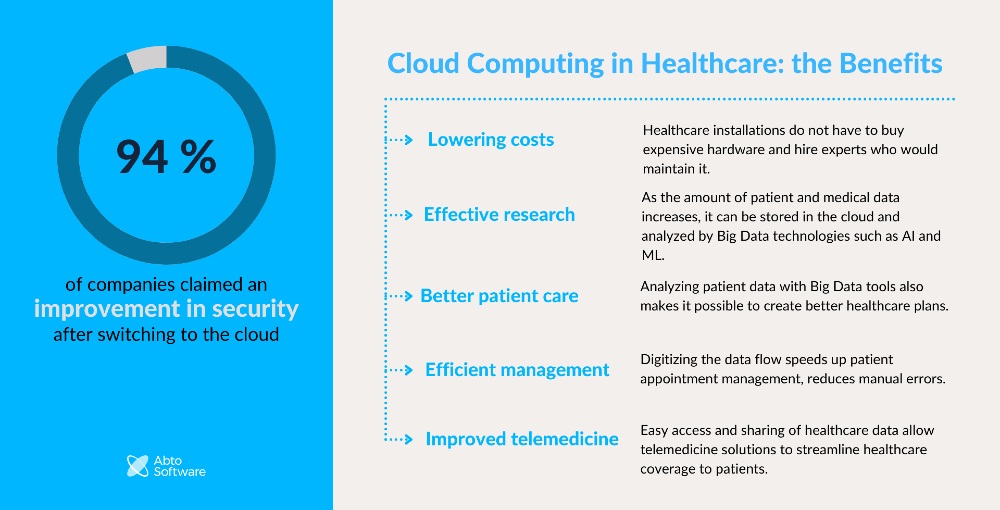 Cloud computing in healthcare: the challenges
With all of its advantages, there are also a few challenges that cloud computing faces in the industry.
1. Security risks
Healthcare is one of the top industries that suffer from security breaches, accounting for 15% of all attacks. Therefore, it is not that surprising that the biggest challenge of cloud computing in healthcare is security. Patient data is extremely sensitive and must be kept safe at all times. Therefore, before choosing a cloud computing service provider, make sure they treat security seriously.
There are, however, ways to make sure the data in the cloud remains protected. The most common ones are security keys, data encryption, and the use of blockchain.
Summary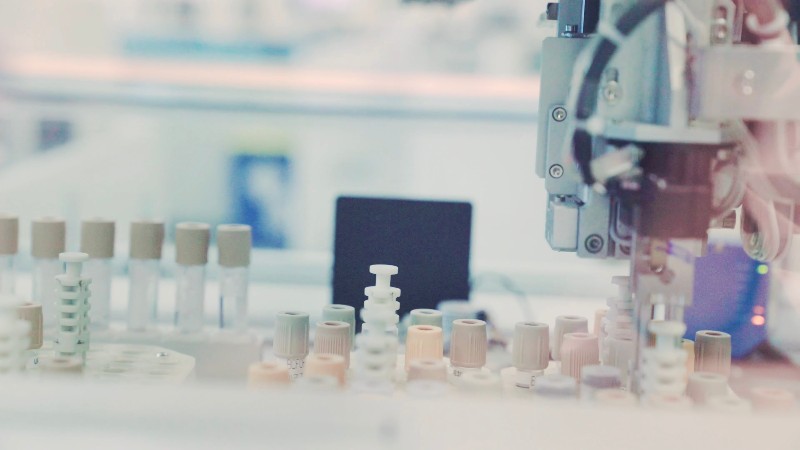 Article Name
Game-сhanging Cloud Computing in Healthcare - With Project Examples
Description
How cloud computing is changing healthcare? Benefits, challenges, the most popular cloud computing providers. Examples of successful projects
Publisher Name
Publisher Logo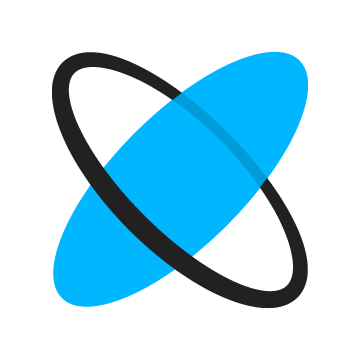 Application Security in .NET Framework: Web, Mobile, Cloud
In this article, we'll take a look at the latter to answer how secure is Microsoft's .NET and find out what the greatest cybersecurity risks are.
2. Possible downtimes
A cloud-based system, just like any other, is prone to occasional downtime or slow performance. However, with careful contingency planning healthcare installations can prepare for this challenge beforehand and reduce its effects.
3. Complying with data regulation laws
Data regulation laws such as GDPR or HIPAA are applied to all industries, healthcare including. Therefore, before moving your patient data to the cloud, you have to make sure it complies with all necessary regulations.
The most popular cloud computing providers
The $130 billion cloud market is booming at the moment, with three major players being responsible for its largest share. These are Amazon Web Services (AWS), Microsoft Azure, and Google Cloud Platform (GCP). According to recent reports, they hold 32%, 20%, and 9% of the entire cloud market, respectively. Let's take a closer look at each service.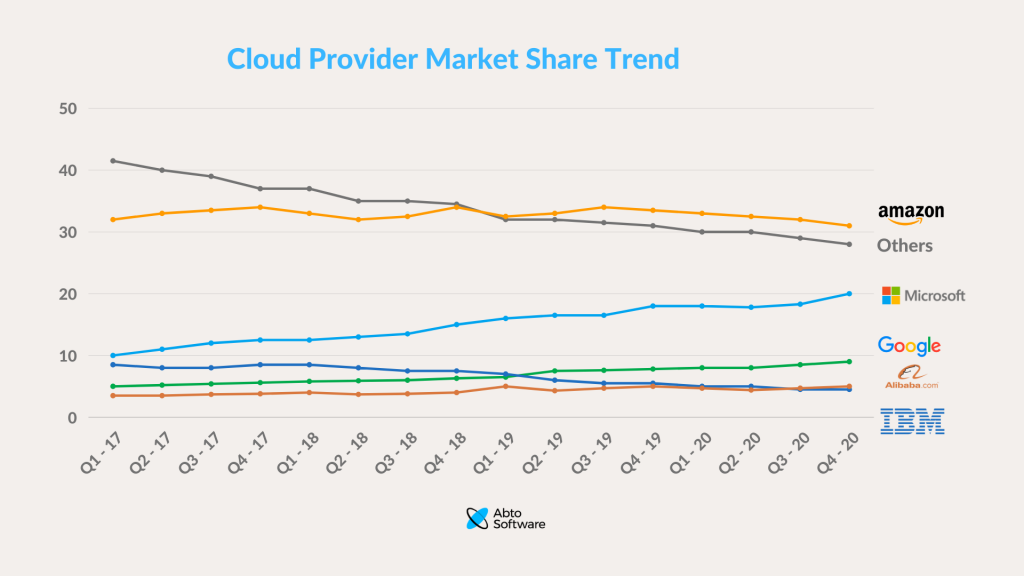 Amazon Web Services (AWS)
AWS comes with numerous tools and services that can cover all cloud computing needs. It offers unprecedented cloud computing capability with one of its main components — Elastic Computing Cloud (or EC2). EC2 offers support for both Windows and Linux and comes with useful built-in tools, such as load balancing and auto-scaling.
With its 38 data centres around the world, AWS provides great storage options. As far as price goes, there is a very useful AWS Calculator that can help you get an estimate for your monthly service fee. Moreover, Amazon offers a wide range of discounts and 12-month free trials for many of its services.
The main advantages of AWS are:
Detailed documentation about each service
Scalability and (almost) limitless capacity
Quick deployment and configuration
And a few drawbacks:
Some services may not be available in different parts of the world
Complicated protection of data backup and security control
There are many successful cases of the use of AWS and healthcare, for example, Deloitte, Philips, Illumina, and DNAnexus.

Azure
Azure is owned by Microsoft, which means it works seamlessly with Microsoft's other enterprise-grade services such as Office365 or Microsoft Active Directory. In addition to storage and computing power services, Azure also offers great tools for implementing AI and ML algorithms.
Azure computing services are known for their high security, reliable connection, and good latency. They offer excellent flexibility with private, public, and hybrid cloud deployments.
Microsoft constantly provides discounts and giveaways on its numerous cloud services. Estimating the cost is straightforward thanks to the Microsoft Azure cost calculator.
Here are the key advantages of Azure:
Seamless integration with other Microsoft services
Easy scalability and features to support it
Support of any tool or programming language you use, be it .NET, Java, or Python
Some drawbacks:
Possible accessibility issues depending on where you are located in the world
Requires technical expertise to properly set up and use
Big companies use Azure healthcare services, including Adaptive Biotechnologies, NHS, CDC, and Humana.

Google Cloud Platform (GCP)
GCP puts a lot of emphasis on data protection and privacy, Big Data analytics using AI and ML, and user-friendly pricing. It supports Windows, Linux, and custom virtual machines, and provides unified storage for any type of object or data.
The added security of GCP comes from full-scale data encryption that Google applies for data that is either at rest or in transit.
Unlike AWS, Google does not offer 12-month free trials. However, it provides a completely free GCP tier that is not limited by time, as well as credits for the service that you use. With the GCP Pricing calculator, you can easily estimate what their services will cost you.
These are the main advantages of GCP:
Lots of flexibility when it comes to pricing
Detailed documentation of all services
Supports all types of  object storage
Supports all continents (except Africa)
Several drawbacks:
Fewer data centres than AWS or Azure
Less intuitive and user-friendly interface
With Google Cloud, healthcare institutions have seen much success. The most prominent ones include Harvard Global Health Institute, Moderna, Emory University, and Shröinger.

Examples of successful use of cloud computing in healthcare
Mobile-based telemedicine solution
Abto Software helped introduce a telemedicine solution for the African market. This was a particularly challenging task due to insignificant levels of digitization in the market, the lack of PCs in the local population, and a low doctor per 1000 citizens ratio.
Our team developed a mHealth application that overcomes these challenges. It includes features such as videoconferencing, appointment scheduling, electronic payments, support for corporate programs, and more.
The successful outcome of this project was not in small part due to the extensive analytical stage that our team performed before starting the development. After solving local challenges, we now look towards expanding the solution to other markets worldwide. Read more about it here.
AI-driven medical travel platform
We cooperated with a HealthTech startup to develop a smart travel platform. Developing solutions for the medical travel industry is no easy feat since they have to constantly collect and analyze vast amounts of data.
Our team built a medical travel platform that provides patients with detailed information about all partner clinics. Moreover, the solution is equipped with an AI-powered search and recommendation engine, making it easier for patients to find the treatment they need. Learn more here.
EMR and medical practice management software
Another project that our team helped bring to life involved building various tools and features for a large healthcare solution provider. By integrating all data sources inside a single system we managed to create a highly customizable solution. It can be easily tailored to the specific needs of end customers and makes our clients more responsive to market changes.
Moreover, as the client is based in the US, we also made sure that the solution complies with both HIPAA and HITECH regulations. Find more about the project information here.
Closing words
Cloud computing technology evolves rapidly, and constantly finds new ways to benefit the healthcare industry. It works well with Big Data analytics and can do wonders for the way hospitals operate and treat their patients. If you are looking for a reliable partner to help you on your cloud healthcare journey — we can help!