E-Learning Management Tool For Corporate Education
We live in a constantly changing environment, so adapting and learning quickly can be a determining factor of whether the company will become a dominant player or fall behind. So, most companies today have an e-learning management system implemented as a part of their corporate education strategy. However, traditional methods of education and e-learning can be quite costly, and take a lot of employees' working time, which only adds to the overall expenses.
Furthermore, their effectiveness can be questioned as well, since most of online, or classroom courses are designed for wide audiences to provide a more general knowledge. They do not consider the person's educational backgrounds, which is why such learning systems cannot target individual knowledge gaps of each employee. So, the student is forced to learn what he or she already knows, which lowers the engagement, and thus the efficiency of such learning.
The challenges of the E-Learning Solution development
Our partner, an Austrian company wanted to develop a new kind of e-learning management software that is easy to implement and interesting enough so that the employee will want to learn with it. Apart from filling in individual knowledge gaps, and increasing expenses, there were other LMS challenges that needed to be addressed:
Simplifying the learning process

Encouraging employees to learn

Reducing costs and time spent on the corporate education

Increasing the efficiency of the e-learning

Motivating people to share their knowledge and ideas, teach and train colleagues, help discover hidden talents

Support of the on-the-go learning

Digital knowledge items

Performing a semantic analysis and implement recommendations, based on employee's individual knowledge
E-learning Management Software
A team of e-learning developers took up the challenge to make e-learning more exciting and efficient at the same time, and have turned this boring process into a fascinating game. In addition to the training-based approach, the e-learning management software that our Austrian partner designed supports a microlearning option.
The knowledge data exists as sets of solid packages (courses, lectures). Once such a training is ingested into the system, the content team works on decomposing, meaning splitting the information into small items to cover the answer to a single question ("claVo" box on Figure 1). As the result, we get a new quiz where microlessons are assigned to each question to explain.
At the same time, the submitted training information is available for the traditional learning processes: seminars, trainings, courses (data-flow outside of the "claVo" box on Figure 1).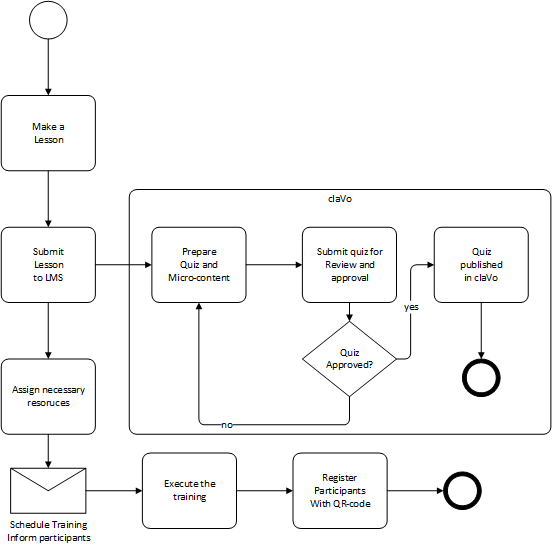 Figure 1.
ClaVo LMS builds up the knowledge map by blocks which are lectures. Such an approach works well when students learn some new subject little with little knowledge in the certain area., as shown in fig, 2.

Figure 2.
ClaVo Quiz is a microlearning solution, which works better for the cases when students already know the subject area well (fig.3). The system detects individual knowledge background and offers microlessons to fill in the gaps.

Figure 3.
The system can also generate quizzes consisting of questions from different areas – to discover hidden knowledge and skills of the employees and motivate them to share their strengths with the colleagues. Everyone gets an opportunity to show his or her expertise.
The learning tool comes as a mobile app. It is designed as a quiz-game which can be played against an artificial intelligence (robot) or colleagues. What can be more motivating than to beat a boss in an intellectual game?
For each question, the e-learning management software system offers a set of microlessons. The user can decide whether to watch a short video, listen to a 3-minute audio explanation, or read a short article. The game supports casual play: easy to pick up, leave off, continue later. Therefore, you can say that it does not cost any time to learn. One can play on a way home in a bus, or while waiting in a queue – to become a true expert in some knowledge area.
HR Team can easily direct the learning process via setting goals. The e-learning management software will build learning program according to the individual background and the goals.
ClaVo LMS system helps identify the areas not known by any of the employees, thus companies can purchase external courses/trainings only for what they really need.
ClaVo LMS Features
The e-learning management software supports:
Result-driven e-learning to eliminate individual knowledge gaps


A strong instructive framework is at the core of ClaVo LMS. Learners will get the best learning results by taking a structured approach to setting objectives and measuring success through assessment.
Smart tracking of employee's progress


HR specialist can monitor each learner's progress, as well as company's goals overall. Also, the system can determine areas the employee should study more and adjust the learning direction in order to help the learner understand the subject matter more efficiently.
High customization for any industry and business


ClaVO LMS is designed to serve as a fully customizable learning management system, which can be customized to fit your exact business needs.
Healthcare LMS
ClaVo e-learning management software has been already implemented and customized for an EU-based network of hospitals. In healthcare, a physician must earn a certain number of learning points every year to keep their license they need a system that would keep track of individual licenses, and overall hospitals learning objectives and goals.
The solution, built on flexible and highly scalable ClaVo LMS will help the physicians and other personnel develop themselves, share knowledge, take part in intellectual competitions and earn the necessary learning points for their doctor licenses. The system will draw individual knowledge maps, and HR department will get the initial information to build the learning plans and goals up. The budget for purchasing external trainings and learning courses will decrease from year to year while internal knowledge will replace the necessity of buying external items.
Our Austrian partner' LMS solution was acknowledged as one of the 8 most innovative projects in 2017 and received a government grant in Austria.