Your guide to IT Outsourcing Services. Top 5 IT Outsourcing Industries
Posted Jun 3, 2021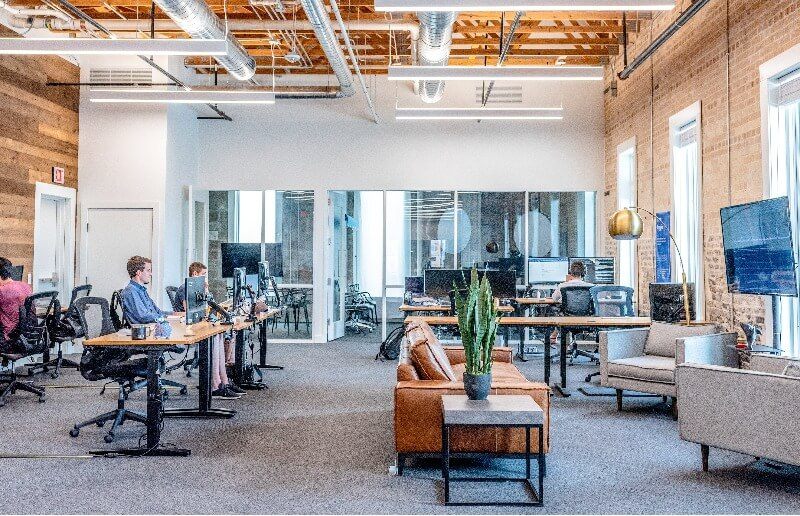 Digital transformation in the late 1990s sensibly enhanced various sectors, in particular software development. Both startups and large-scale, international organizations began integrating digital innovations are considering web and mobile development as a promising opportunity for streamlined business growth.
Another outcome of the digital revolution is the rising popularity of outsourcing IT projects to professionals. With decades passing by, more and more entrepreneurs started realizing the benefits of transferring IT needs to specialists with the required expertise.
The practice of outsourcing information & technology projects is clearly gaining momentum across industries. But what are the main reasons to delegate your needs?
Let's have a look at the key facts and figures.
What is business outsourcing?
Process outsourcing is hiring external professionals for tasks that are usually performed by an internal team. Both startups and organizations can benefit from this business strategy by involving one specialist or an established team.
Today, services, whole projects, business functions, and even product manufacturing can be easily outsourced. This approach is an integral part of today's world economy.  
The types of outsourcing:
Onshore
the delegation of processes inside your current location
Nearshore
the delegation of tasks to a neighboring country
Offshore
the delegation of tasks to a far-located country
The most popular services being outsourced in 2016-2021:
IT consulting and technology
Business and management consulting
Subscription services
Managed services
Staff augmentation
Hardware, software, and equipment
And other.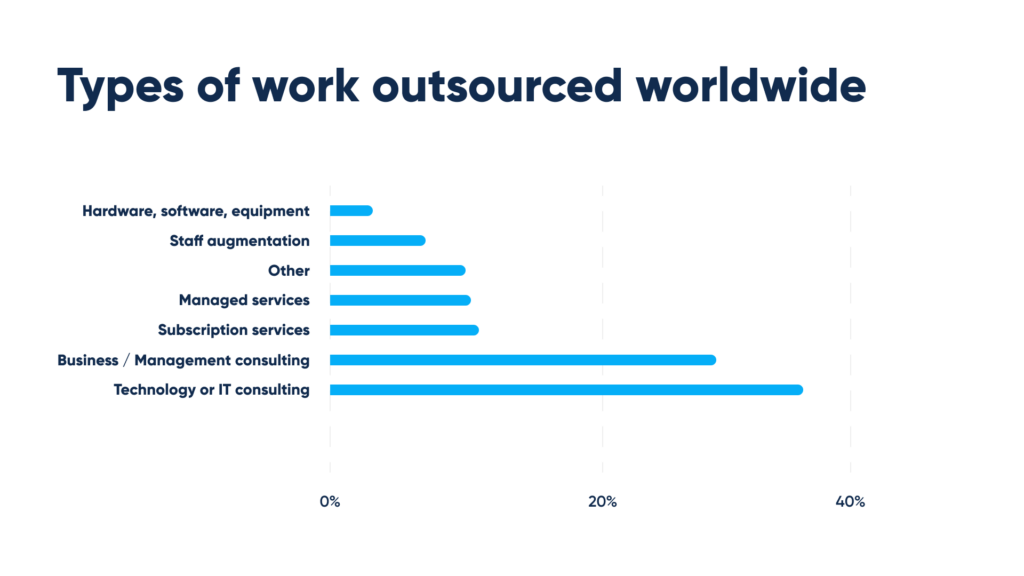 IT outsourcing market overview
The industry keeps growing even despite the influence of the COVID-19 pandemic, which began in 2019. What's more, according to Deloitte's research, business leaders are even more willing to invest in outsourcing since the whole world went remote.
Even with considerable losses in 2020, the industries annual revenue keeps increasing at a moderate pace. According to Statista's statements, the sector is expected to reach $381 billion by 2024 with a CAGR of approximately 6%, with most of the overall revenue being generated in the United States.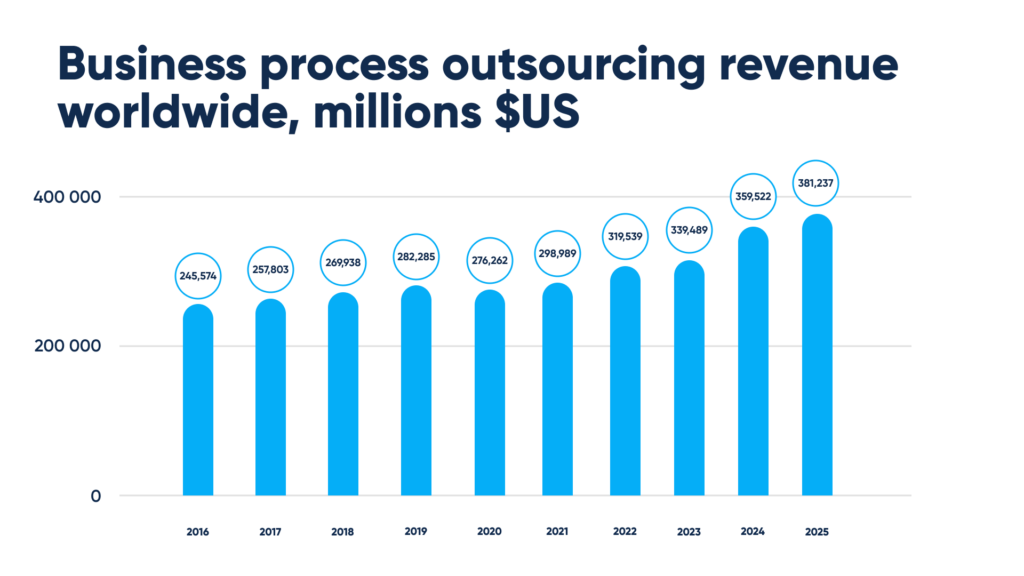 IT outsourcing market analysis
The future for global IT outsourcing seems bright: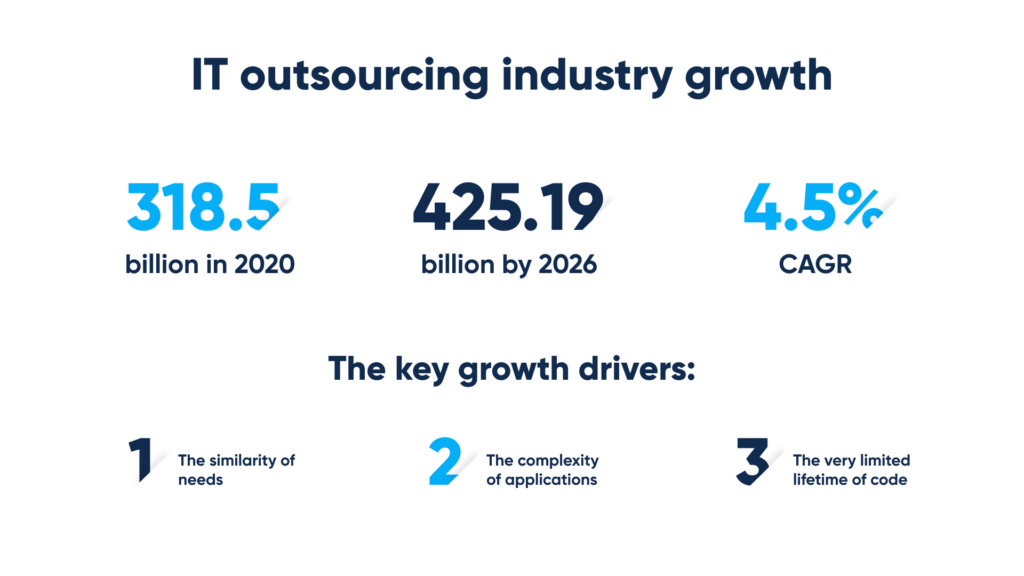 The key growth drivers of global IT outsourcing can be reduced to:
No matter the industry and size, businesses require standard solutions with slightly customized functionality. Having the domain-specific knowledge and experience, external software development teams can deliver robust solutions, precisely tailored to the client's needs.
The complexity of applications
To remain highly competitive and attract new customers, businesses must stand out from their many rivals. Leveraging modern technological advances, skilled software development teams can design unique products no matter the complexity.
The very limited lifetime of code
Programming languages, cloud services, as well as tools, are evolving and replacing well-established solutions. For example, Virtual Basic is out of support and is being replaced by the .NET framework.
Why outsource IT projects?
Cost efficiency is one of the main reasons startups and mature organizations consider outsourcing IT projects. This strategy allows companies to skip resource-intensive processes, including hunting, hiring, interviewing, and training.
Talent shortage, becoming noticeable all across the world, is another important reason to delegate IT needs. Involving professionals helps access wide ranging, domain-specific knowledge and experience.
Only 12% of businesses turn to process delegation to cut operational costs
About 18% choose this cooperation model to expand available expertise
And 24% of businesses switch to project delegation to boost overall efficiency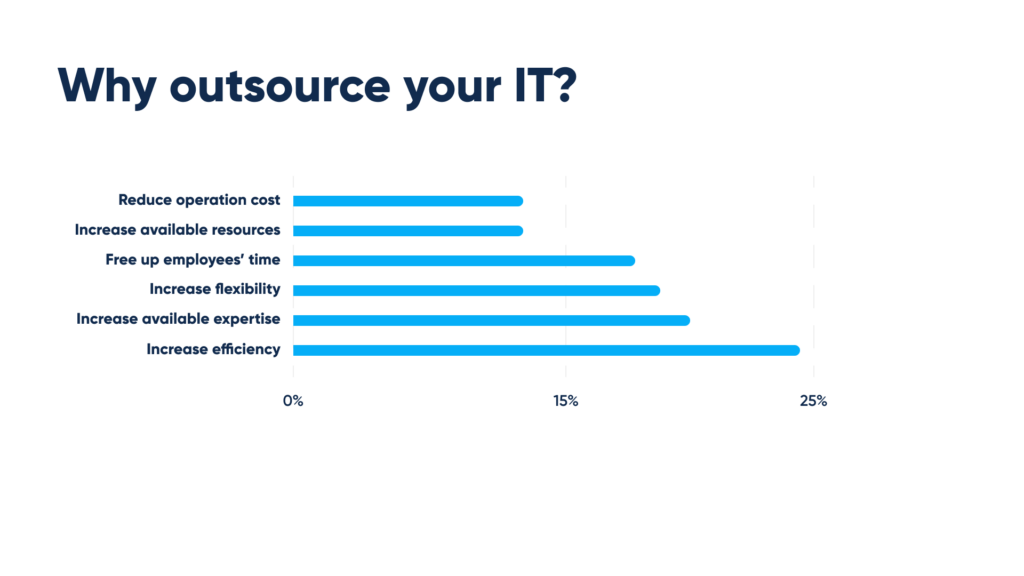 According to Statista's research, the most commonly outsourced IT functions in 2017 had been:
Software application development (64%)
Software application maintenance (51%)
Data centers (40%)
IT infrastructure (32%)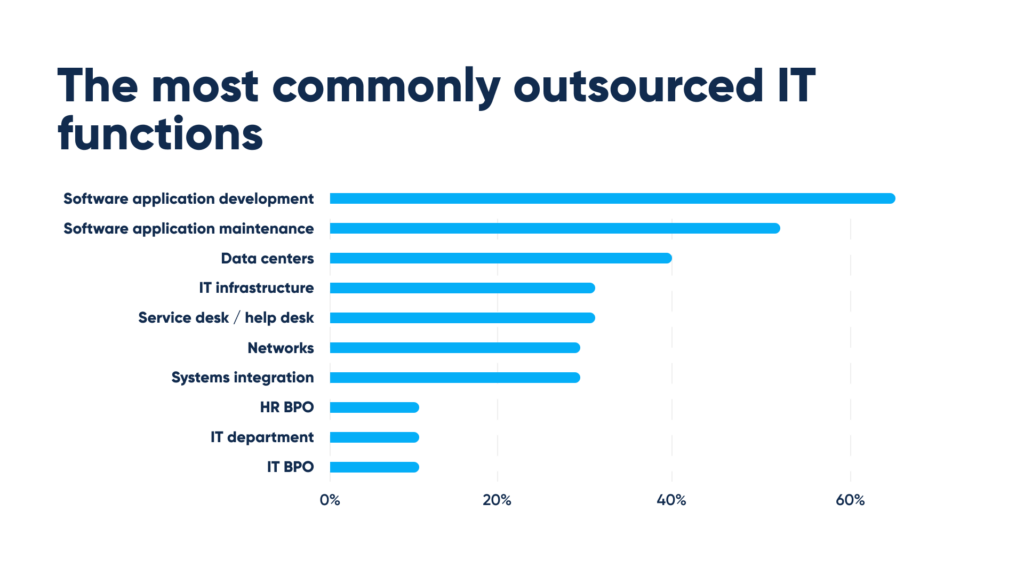 IT outsourcing in brief
Cooperation models
There are three common cooperation models:
This model is the perfect answer to the talent shortage massively affecting business leaders all across the globe. The strategy allows involving individual professionals to cover complex processes.
Most suitable for long-term software development and support.
Most suitable for short-term software development, where time-to-market is prioritized.
Services provided
Most common services include:
By partnering with a software development outsourcing company, business leaders can transfer all parts of the software development life cycle or SDLC, including planning, analysis, design, coding, testing, and maintenance. This allows to focus on the core goals without handling operational processes.
Web solutions require thought-out system architecture, reliable security, and an easy-to-navigate design. Speaking about B2B/B2C and intranet portals, eCommerce platforms, back-office dashboards, and other enterprise solutions, strategic-thinking leaders tend to contract professionals to get their projects done faster and achieve increased performance.
Mobile applications have to be adaptable to the fast-evolving technologies and dynamically changing trends. No matter whether native or cross-platform, more and more leaders are considering external help to create on-demand apps with an intuitive design.
Building solutions running on third-party infrastructure provides for better system optimization and security. That's why more and more companies engage vendors to migrate legacy products to a cloud environment.
What industries prefer outsourcing IT functions the most?
Healthcare and pharmaceuticals
Healthcare and pharmaceutical sectors are constantly facing challenges with adopting newest technology. Given the domain specifics, those industries don't have IT resources available internally.
To incorporate digital innovation, health and pharmaceutical sectors usually involve third-party providers. Externally managed IT resources are usually being contracted to deliver EMR and EHR platforms, CRM portals, data warehouses, telemedicine applications, and legacy software modernization.
Quick facts and trends:
84%
of surveyed representatives claim that they've experienced an increase in efficiency and decrease in costs by outsourcing their projects.
81%
of healthcare representatives said that the ROI was enough to keep outsourcing their needs.
eCommerce and retail 
eCommerce and retail industries are the ones that are benefiting the most from adopting newest technology. Predictive analytics provides for data-driven decision-making, and custom ERP and CRM systems are putting operational management on a new level.
By adopting advanced technology, distribution and retail leaders enjoy automation and sensible cost efficiency. AI-based personalization, robotics delivery, cashier-less checkout – today, all these things are reality.
Quick facts and trends:
85%
of retail clients are ready to order desired items and services with no human contact.
Education
Facing today's dynamic environment, educational institutions also require advanced IT outsourcing solutions. The outburst of the COVID-19 pandemic as well as several other factors make people turn to education online.
The sector is benefiting from easy-to-navigate audio and video conferencing, language applications, and more. The leaders are outsourcing the development of solutions for remote educational courses, employee training, and more.
Finance
Sensibly influenced by the global digitalization, finance institutions also turn to IT outsourcing solutions. Artificial intelligence and other advanced technologies are utilized for on-demand financial applications, as well as intuitive secondary systems, for example marketing platforms.
By delegating tech processes, financial organizations are enjoying various benefits, cost efficiency among them. Some transfer software development, quality assurance, and support along with infrastructure management.
Quick facts and trends:
AI
AI-based solutions are implemented to detect payment fraud, abnormal behavior, market abuse, and more.
52%
of financial CEOs agree that cloud computing will be strategically important in the coming years.
Automotive and transportation
Automotive leaders are also increasingly adopting information & technology outsourcing to cover their needs. Geospatial and navigation systems, data warehousing and distribution, route optimization, traffic prediction, and enterprise resource planning are just some of the most popular requests.
Cloud-based management
Improves control over loads and orders, helps manage customer data and feedback, facilitates communication between carriers and managers.
Real-time navigation
Improves auditing of carriers, helps locate moving shipments, facilitates speed of delivery.
Predictive analytics
Improves visibility of statuses and locations, forecasts shipments based on customer demand.
How we can help
Abto Software provides outsourced software development, legacy optimization and migration, and more. Having extensive, domain-specific knowledge and experience, our teams can handle the most complex projects and bring promising ideas to life.
Our expertise:
Focus on your goals, and let us handle the complex technical parts!
Contact us to get detailed information.
Summary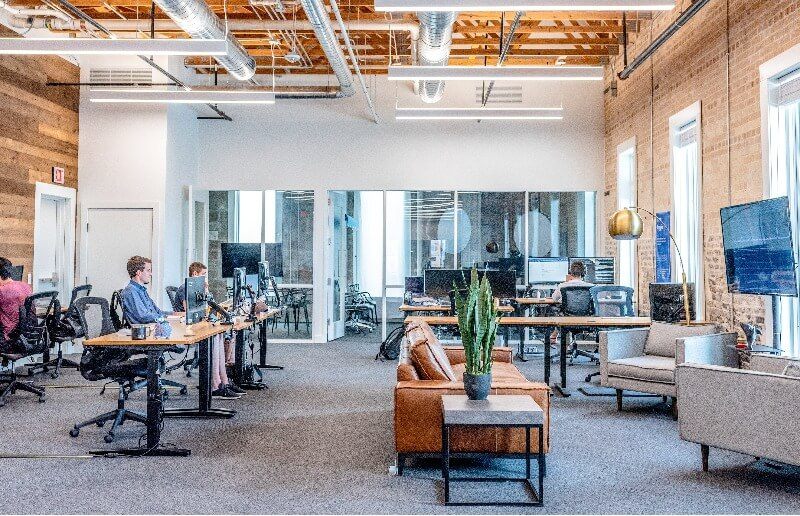 Article Name
Your guide to IT Outsourcing Services — Top 5 IT Outsourcing Industries
Description
All you need to know about IT outsourcing services. How big is the market, what are the IT outsourcing models and industries? Find out more.
Publisher Name
Publisher Logo