Your guide to IT Outsourcing Services. Top 5 IT Outsourcing Industries
Posted Jun 3, 2021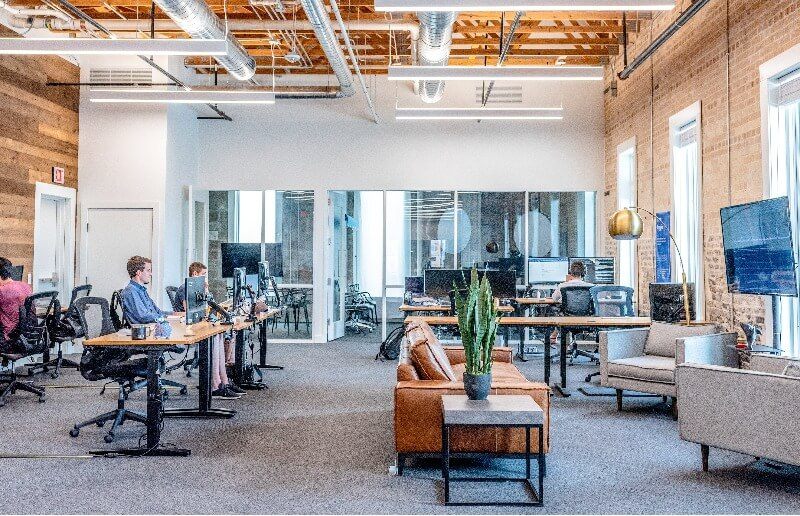 The IT revolution in the 1990s enhanced the development and spreading of IT outsourcing services. That was (and still is) a huge help for companies to deal with a talent shortage and increasing IT spendings. The industry keeps growing. It is predicted, that revenue of the global IT outsourcing will reach $430bn by 2025.
However, what are the key factors that make the IT outsourcing industry so demand? How the system works, and what services it provides? What are the major sectors for outsourcing? And, the main question, why outsource your IT? To understand industry potential and future, let's discuss some facts and figures.
What is outsourcing
What is the outsourcing industry?
Outsourcing is a business process of hiring employees outside of the company for different tasks that are usually performed in-house. An outsourced team can consist of one professional or even dozens of experts. It is possible to outsource services, business functions, and even manufacturing. The outsourcing industry covers all the parties and processes involved. Nowadays, it is an important part of the global economy.
Types of outsourcing:
Onshore
Inside your own country.
Nearshore
To a neighbouring country.
Offshore
To countries in other time zones or even continents.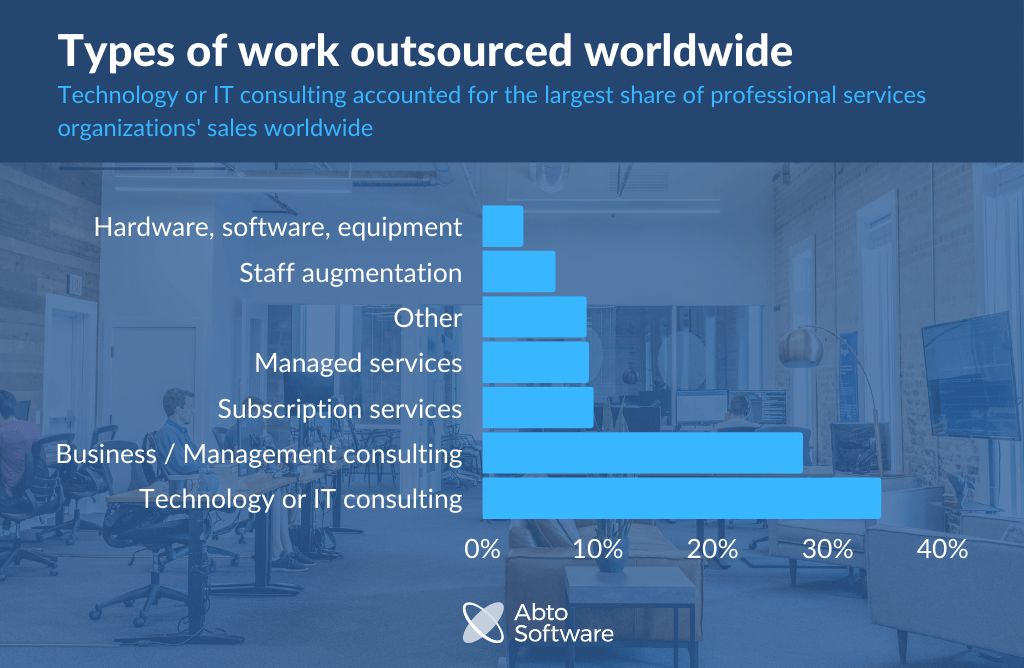 How big is the outsourcing industry?
The outsourcing industry keeps growing even despite the influence of COVID-19. Even more, according to researches, 2020 resulted in an interesting trend. Business owners are ready to invest in outsourcing more than they did before. Today, they want to save their time for change management and other operational processes. Also, the pandemic taught us to work remotely. So, more business owners are ready to experiment with outside teams.
Even with a little loss in 2020, global business process outsourcing revenue keeps increasing. It is expected to reach $381 billion in four years with annual growth of 6.26%. The biggest part of the revenue will be generated in the Americas, especially in the US – up to $112b in 2021.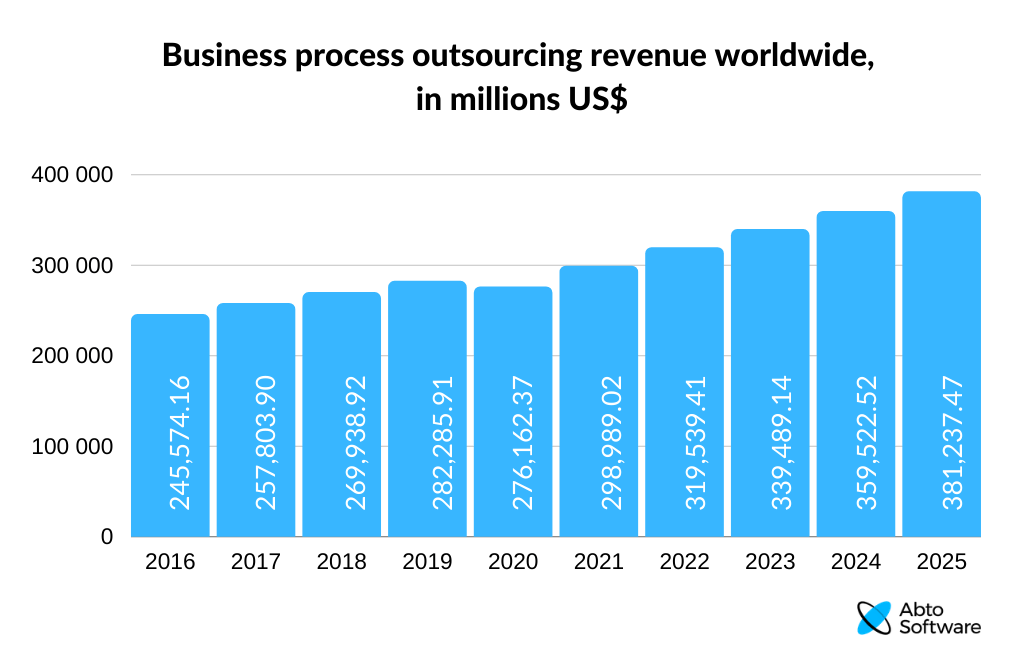 IT outsourcing industry analysis
How big is the IT services outsourcing market?
As well as business process outsourcing, the IT outsourcing solutions market keeps growing. The demand for outsourced IT professionals is fueled by the increasing need for data security, process automation, and AI solutions. More and more businesses are looking for IT consultants and experts in narrow tech areas. As a result, the IT outsourcing services market reached $318.5 billion in 2020. Expected growth is $425.19 billion by 2026 with a compound annual growth rate (CAGR) of 4.5%.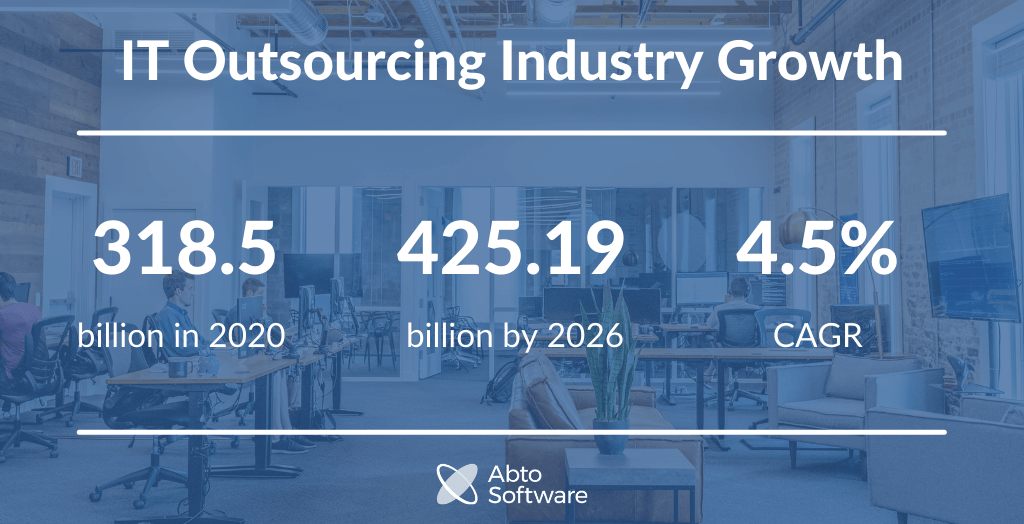 There are several main reasons why the IT outsourcing industry keeps growing:
1. Multiple types of software build many times. Different types of industries require similar applications with light changes, customizations, and localizations. That, in turn, leads to increasing dement of IT outsourcing services.
2. Software and apps becoming more complex. Competitiveness in the market needs fresh ideas and scalable solutions. The complexity of the projects increasing every day.
3. Limited lifetime of code. Technology is changing at the same speed. New programming languages appear on the market to replace outdated solutions. For example, once extremely popular Visual Basic is out of support and needs to be replaced by modern C# .NET.
Of course, such a huge dement of IT outsourcing solutions require an increasing number of IT workers. According to the Worldwide Developer Population and Demographics Study, the number of software developers will increase by impressing 75% during the next ten years.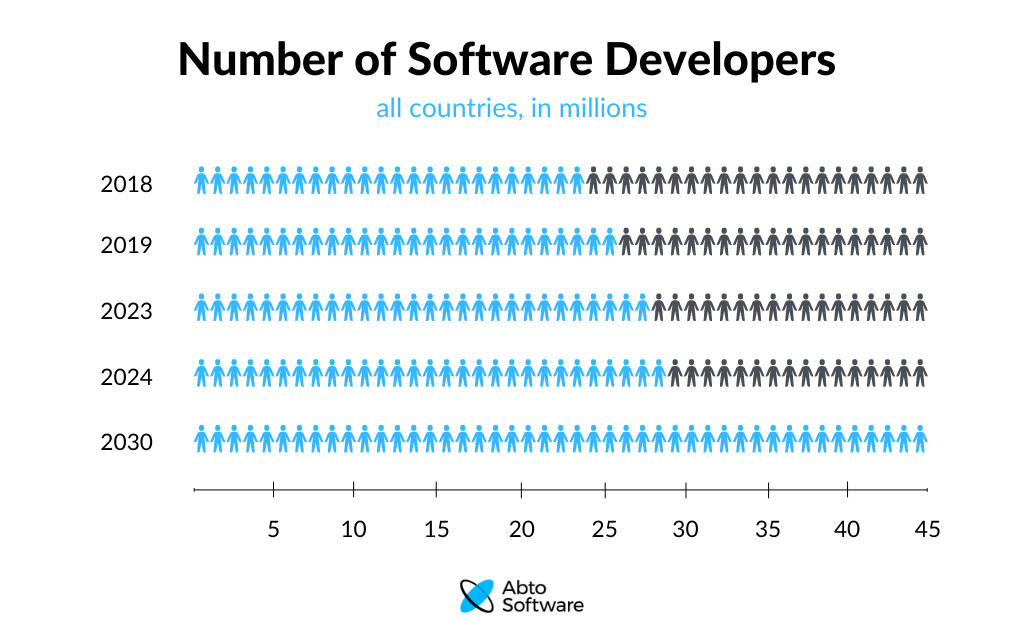 Why outsource your IT?
The most standard answer to the question "Why outsource your IT?" is to save cost. At least, it was the main goal of businesses on the first steps of the outsourcing industry. Today the situation is changed. The talent shortage became the main problem for companies all over the world. Outsourcing opens the door to a global talent pool and wider expertise. Which, in turn, allow businesses to increase their efficiency and profitability.
According to Clutch's report, only 12% of companies use IT outsourcing solutions to save operating cost. At the same time, 24% of businesses aim is to increase efficiency, and 18% want to expand available expertise.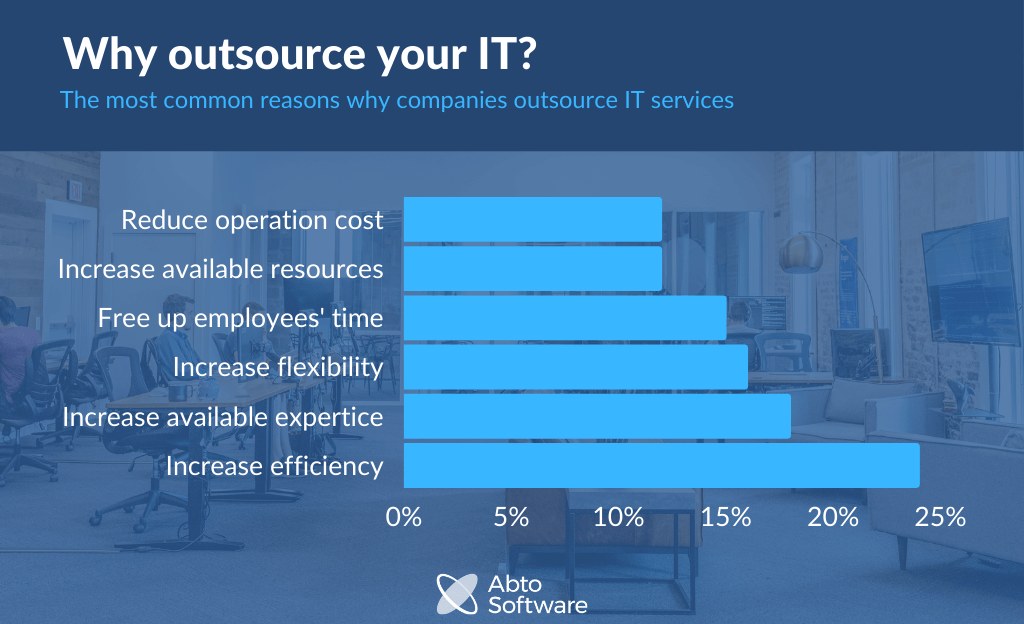 The same research shows that business outsources more willingly processes that require specific skills. It can be explained by the same reasons: professional services are more expensive and more difficult in recruitment. But also mistakes in these areas can lead to serious business problems. For example, problems in accounting influence all other operations within a business. Errors in software can lead to information leaks, security weaknesses, or data losses. So, for many, it is a good idea to outsource important tasks to teams of professionals.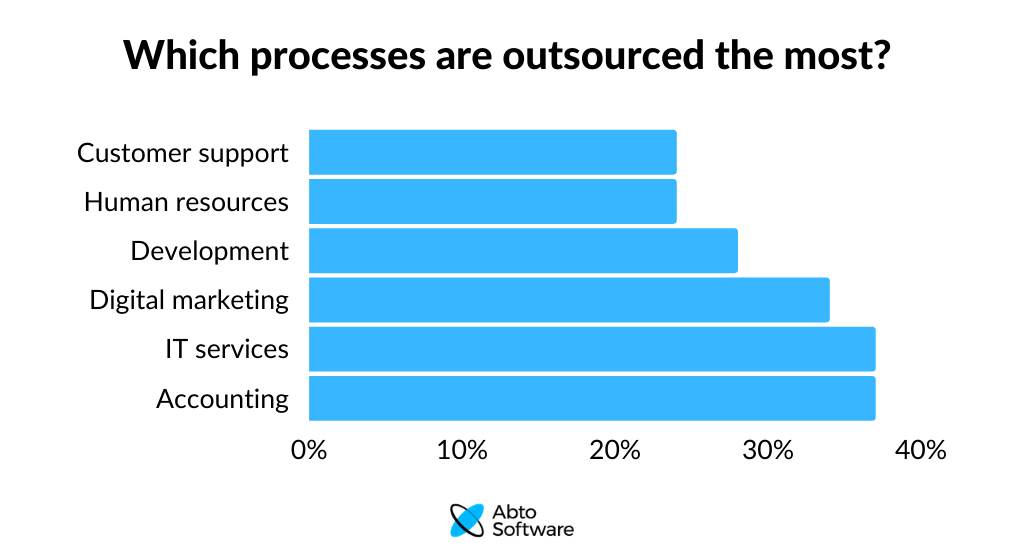 What are the IT outsourcing models?
There are three the most common IT outsourcing models that can be chosen based on business needs:
1. Staff augmentation. The perfect answer for the talent shortage problem. Works for businesses that already have an in-house IT department but need to strengthen it with skilled professionals.
2. Dedicated team. That is an IT outsourcing solution for businesses that need long-term software development. Along with getting a professional IT department, the company will save on recruitment, management, and office expenses.
3. Project-based team. Suitable for 3-6-9 months development, when business needs to get quick result for short-term projects.

IT outsourcing services examples
Software development. This service covers 64% of IT outsourcing demand. Businesses are looking for professionals to bring to life their tech ideas. Vendors offer a full cycle of software development services with requirements analysis, user interface and experience design, DevOps, QA, project managers, and more. That is one of the most common IT outsourcing services examples.
Mobile application development. Apps need to be adaptable to fast-changing mobile technologies and trends. Depending on business needs, it is possible to create native/cross-platform apps or individual solutions for iOs or Android.
Web development. Modern web solutions require thoughtful system architecture, reliable security, intuitive design. More businesses are looking for IT outsourcing solutions in 3rd level maintenance, integration with API, migration to cloud-native web applications, and other services.
Software support. To keep up with the market changes, businesses need to continue testing, maintenance, customization, and support of existing software. That is also one of the most popular IT outsourcing services examples.
Technologies & software migration. As we discussed previously, limited technologies time is one of the reasons for steady IT market growth. Outdated solutions can be a bottleneck of business development. Systems and technologies migration is never an easy task but necessary for keeping companies afloat.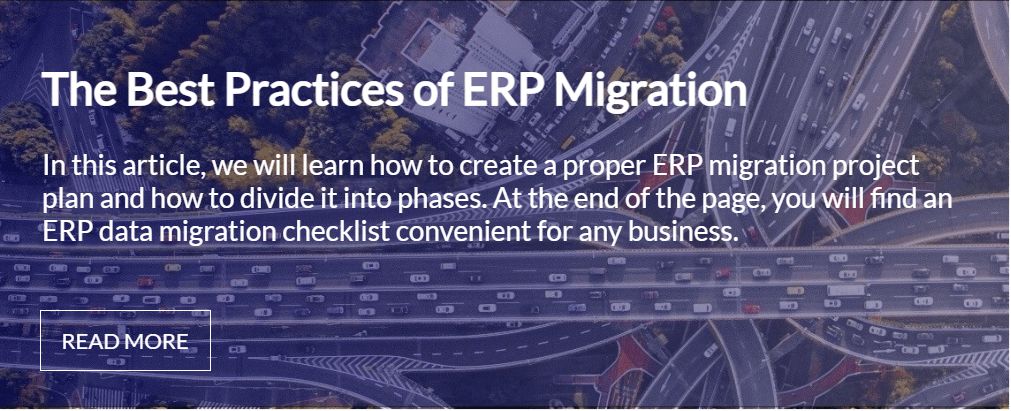 What industries outsource IT the most?
Banking and finance
Financial services companies recognize the high value of outsourcing. Large banks tend to be the biggest consumers of IT outsourcing services. Also, they are among the leading investors on the market. Banking institutions usually outsource core financial software applications development and secondary systems creation like HR/marketing applications.
With outsourcing, finance companies expect to reduce operating costs and tap new sources of skills. A lot of businesses combine software testing outsourcing with outsourced infrastructure management. Generally, outsourcing key IT functions to offshore vendors is becoming more convenient for the financial industry.
Quick facts and trends:
AI
Today AI can not just detect payments fraud. Banks now are using the technology to register abnormal behaviour and detect market abuse.
50%
And more finance activities can be automated by advanced robotics and AI now or in the nearest future.
Healthcare and medical industry
Healthcare and Pharmaceutical industries are constantly facing technology changes. Usually, skilful IT resources are not available in-house. Or, they demand extra training that is cost and time inefficient. Usage of IT outsourcing services has become a part of the medical companies' overall business strategy. The main reasons are affordable prices and access to a pool of skilled specialists.
IT service providers introduce best-practice solutions to the medical industry. These tools allow healthcare and pharmaceutical organizations to improve service levels and concentrate on their business cores. Today, medical and hospital management software development is on top of outsourcing trends.
Quick facts and trends:
$61.2 billion
Will reach the global healthcare IT outsourcing market by 2023.
84%
Of industry's representatives say that IT outsourcing services increase inefficiencies and reduce operational costs.
1/3
Of hospitals' CIOs and CFOs are planning to increase their spending on IT outsourcing.
Automotive and transportation
The automotive sector also actively utilizes IT outsourcing services. It has to respond to the increased demand for embedded development projects for various in-vehicle options. Currently, there are several most dement transportation IT solutions. They are geospatial and navigation systems, warehousing and distribution, traffic management, route optimization, and process management tools.
Top transportation IT outsourcing trends
Cloud-based management systems
Simplify control of cherries and orders, manage customer data, facilitate communication between carriers and managers.
Real-time locating systems
Provide better auditing of carriers and controlling their movements, improve delivery speed by managing routes.
Predictive analytics
Forecast shipments based on customer demand, ensure more on-time deliveries, improving the visibility of shipment status and location.
E-commerce and retail
E-commerce and retail are industries that benefited incredibly from the newest technologies. And IT outsourcing services give them access not only to a bigger employees pool but also to fresh ideas. ERP and CRM systems are putting company management on a new level. Predictive analytics software helps in data-based business planning. Augmented Reality (AR), Computer Vision (CV), Machine Learning (ML) offer ground-breaking solutions to the e-commerce industry.
Via these technologies, you can see if the furniture fits in your apartment without bringing it home. You can get your perfect body measurements using only a phone to choose the right cloth size. E-commerce AI-based website personalization, robotics delivery, cashier-less checkout – today all these things are possible.
Quick facts and trends:
21%
Expected annual growth of predictive analytics software market.
Education and e-learning
Educational institutions also require high-end and affordable IT outsourcing services. Technologies dement in the industry was boosted by COVID-19 that made millions of people search for knowledge online. The industry outsources the development of e-learning solutions for home use, educational institutions, and businesses for employees training. Today, video conferencing tools, online learning software, language apps are on top of popularity.
Quick facts and trends:
$370 billion
Of value will reach the online learning industry by 2026.
63%
Of high school students in the US using digital learning tools daily.
Conclusions
The newest technologies demand and tech talents shortage keep growing IT outsourcing industry. Software and app becoming more complex as well as market requirements. To keep up with all changes, companies from different industries need to adopt new technologies. IT outsourcing allows them to increase business efficiency and flexibility, expand available expertise, and free up employees' time for other tasks.
Still, the major part of outsourcing success depends on the right technology partner. Abto Software has extensive experience in providing IT outsourcing services to customers. Focus on your business and let us handle the engineering part! Contact us to get more details on how we can be useful for your business.
Summary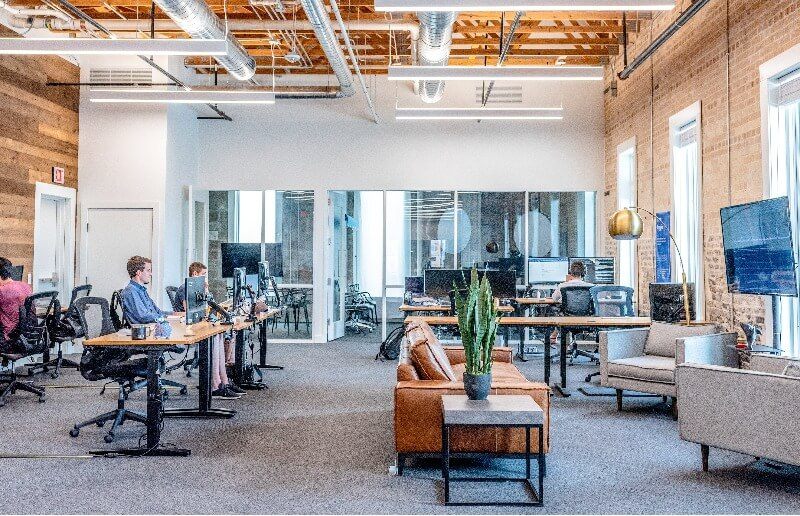 Article Name
Your guide to IT Outsourcing Services — Top 5 IT Outsourcing Industries
Description
All you need to know about IT outsourcing services. How big is the market, what are the IT outsourcing models and industries? Find out more.
Publisher Name
Publisher Logo