IoT integration to revolutionize pet insurance
Posted Aug 11, 2023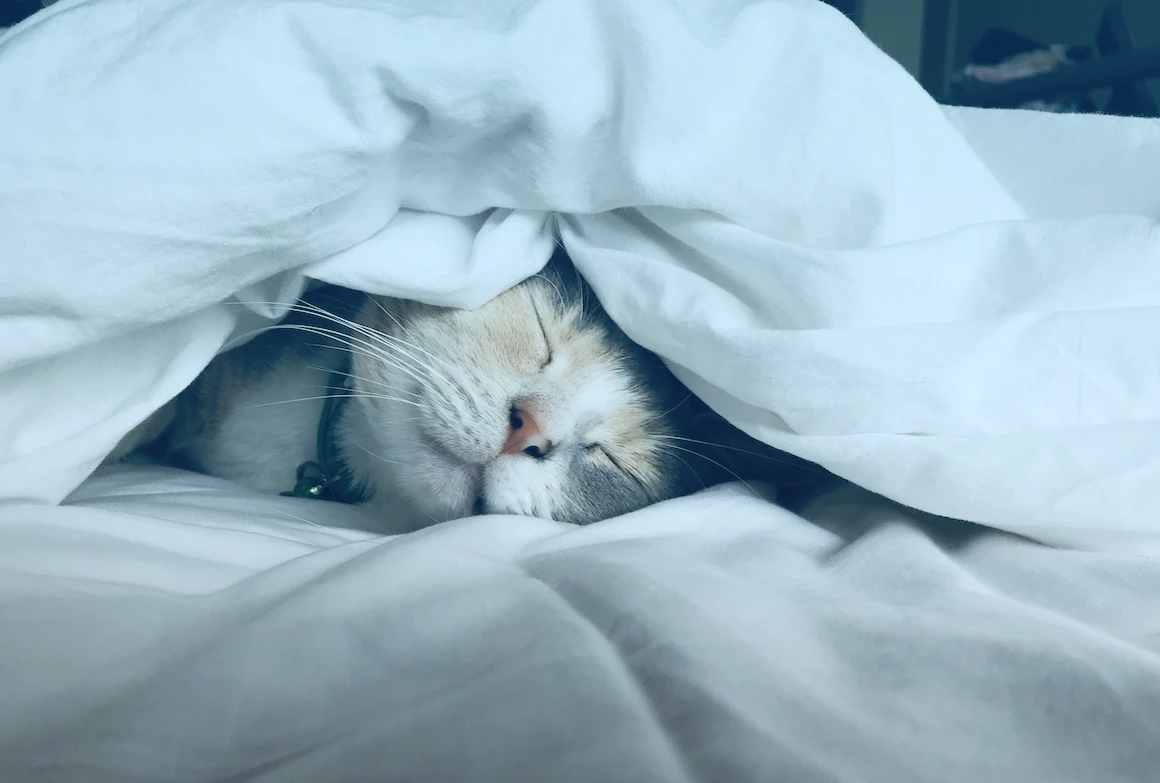 Pet owners becoming more concerned about pet health present promising business opportunities for providers to create on-demand products and rethink existing services.
IoT integration, providing important health data on the pet's health and other critical factors, is one of those. IoT data, enabling smarter risk assessment, helps formulate targeted plans, minimize claims, amplify revenue, and keep customers happy, thereby optimizing pet insurance.
Pet insurance industry statistics
Since the COVID-19 outbreak, we have witnessed increased pet adoption, in particular dog and cat adoption. What's more, we could see increasing veterinary costs and costs for grooming, physical therapy, dental care, and other related services.
These factors had been notably driving pet insurance:
Given that, technological advancements are becoming increasingly important in shaping the segment – whether design, customization, optimization, or marketing, insurance providers are dependent on innovation. Moving towards incorporating digitization and automation, strategic leaders are analyzing customer behaviors by identifying important trends and patterns to provide better-tailored options.
Most innovations are focused around meeting these trends:
Customer dynamics – the landscape was revolutionized, with millennials being the largest segment. They make the third of all pet parents, spend more on both veterinary and wellness treatments, preferably serve organic foods, hire services, and host pet parties.
Pet tech and data – pet-oriented technologies are addressing popular concerns on health and security. Those include pet cameras, activity and location trackers, accelerometer sensors, implantable sensors, and more.
Insurtech innovations:

Direct-to-customer distribution
Business automation
New solutions to drive customer engagement and experience
Pet insurance: embracing innovation
Insurance companies are now increasingly adopting modern-day technology to keep up with their competitors. Artificial intelligence, ML, DL, computer vision, data analytics, IoT devices, and other computational advances accelerate decision-making, streamline operations, and, naturally, drive enhanced customer satisfaction.
Insurance companies prioritizing efficiency, are moving towards automating:
Data and document management
Rule and workflow configuration
Product rating and pricing
Quote generation, policy binding, pet insurance claim processes, and more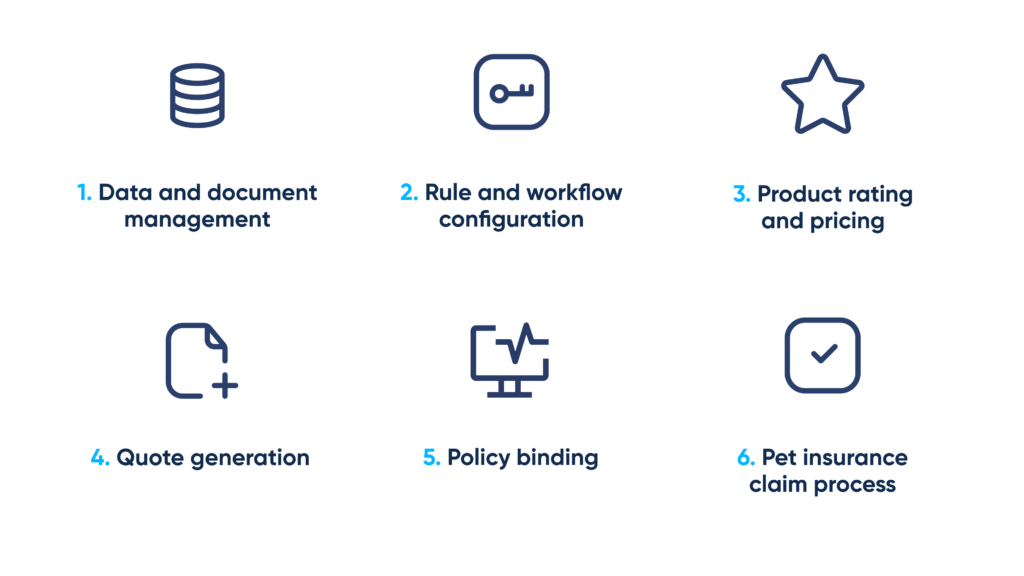 Internet of Things transforming pet insurance
IoT devices – pet cameras, activity and location trackers, accelerometer sensors, implantable tech, and more – collect valuable health data on the pet's well-being, behavior patterns, activity levels, and other critical signs. Moving further, this data is used to assess the overall risk profile and provide targeted plans by considering individual needs.
By leveraging evidence-based information, insurance companies might enjoy:
Better-tailored coverage
Underwriting accuracy
Fraud detection and prevention
Customer engagement and loyalty
Additionally, integrated into pet insurance platforms, IoT devices can also help promote preventive treatment. By minimizing claim frequency and severity, insurance providers can reduce financial burden.
Furthermore, integrated into pet insurance software, IoT devices might also help optimize routine operations. By utilizing those capabilities to facilitate claims review and processing, and other administrative processes, insurance providers can enhance their customer-centricity and create more sustainable business models.
Internet of Things devices worth mentioning
Activity trackers
Activity trackers are wearables specifically designed to monitor the pet's activity and health-related metrics. These devices typically come in form of collars or tags.
Activity trackers contain sensors that measure different parameters – steps, distance, calories, sleep, heart rate. This information is transmitted to the connected application or platform, where owners can access and analyze the data.
Location trackers
Location trackers are wearables that allow to monitor the pet's location anywhere and anytime in real-time. These devices are attached to collars and use GPS technology to provide accurate information.
Location trackers typically provide geofencing capabilities, which allows to configure customizable boundaries. The owner gets alerted if the pet leaves the predefined "safe" zone to take immediate action.
IoT data potential applications
The constantly growing utilization of wearables provides some great opportunities for the insurance industry. One way insurance businesses can engage with customers and promote pet safety are sensor-driven alerts, which, minimizing injury claims, can translate into revenue.
There are numerous scenarios where this proactive approach might bring significant value to both pet owners and their four-legged companions, as well as providers, for example:
Health monitoring
The owner is monitoring his dog's health status using an IoT application for a longer period of time
1. The owner receives alerts about lower activity levels and fewer calories burnt over the last quarter
2. The pet insurance app sends notifications to consult a veterinarian to manage the training and diet, and provide additional treatment if needed
1. The dog is taken to the attending vet who assesses the data and confirms the dog is obese and developing a disease
2. The vet administers necessary corrective actions, which prevents potential illness
3. Through the IoT app, the vet can monitor the treatment progress remotely
Timely care
The owner is getting an alert about some unusual patterns – an abnormal heart rate and rising anxiety level
The owner rushes home while monitoring the status in real-time and sees his dog being hurt
The dog is taken to the attending vet who averts a potentially major issue by providing timely assistance
Loss prevention
The owner is walking his dog when suddenly the dog is spooked and runs away from the owner
The owner can't find the dog anywhere nearby
The owner uses the tracking feature to locate his dog via the IoT app and they're happily reunited
By integrating implemented systems with third-party IoT devices, pet insurers can gain value-added insights. They can continuously monitor data streams and transfer contextual recommendations to the pet owner, naturally reducing health issues.
By integrating IoT devices like collars and trackers, pet insurers might also deliver contextual wellness advice. They can automatically provide helpful information – nearby clinics, water and calories intake, and potential health hazards – during vacations, thereby promoting preventive care.
IoT data bringing immense business value
Risk assessment
IoT data can provide helpful insights into the pet's behavior, activity levels, water and calorie intake, and more. By analyzing collected information, strategic-thinking pet insurance companies can assess the pet's risk profile and offer personalized options.
Preventive care
IoT data can help create reminders on scheduling non-routine appointments with the attending veterinarian. By monitoring gathered information, farsighted pet insurance companies can identify unusual behavior (decreased activity, increased anxiety) and encourage preventive measures.
Tailored plans
By using better data, the provider can offer suitable coverage that aligns with specific pet needs and lifestyle.
Claims processing
With more accurate data, the provider can expedite claim review and processing and ensure faster approval.
To learn more about pet insurance claim processing, read our:
Fraud detection
Collected insights might help identify potential pet insurance fraud cases carrying considerable financial threats. If these don't match specified information, it can raise concerns for conducting meticulous investigation, thereby protecting the insurer's financial interests.
Customer engagement and loyalty
Real-time insights can help handle routine pet insurance claims processes and other document-related tasks. That drives smarter decision-making & budget-allocation, greater productivity, and noticeably more efficiency, which improves customer satisfaction and retention.
How we can help
Abto Software sees high-growth business opportunities in integrating IoT devices with already existing systems. Our team covers every project stage from evaluation to planning and integration to ensure you make the most of the IoT data you access.
Our services:
IoT integration – Internet of Things integration with already existing systems
Cloud services – cloud infrastructure to store and manage IoT data
Application development – web and mobile development for enhanced data collection and analysis
API development – API design and integration for communication between devices and platforms