AI boosting pet insurance
Posted May 23, 2023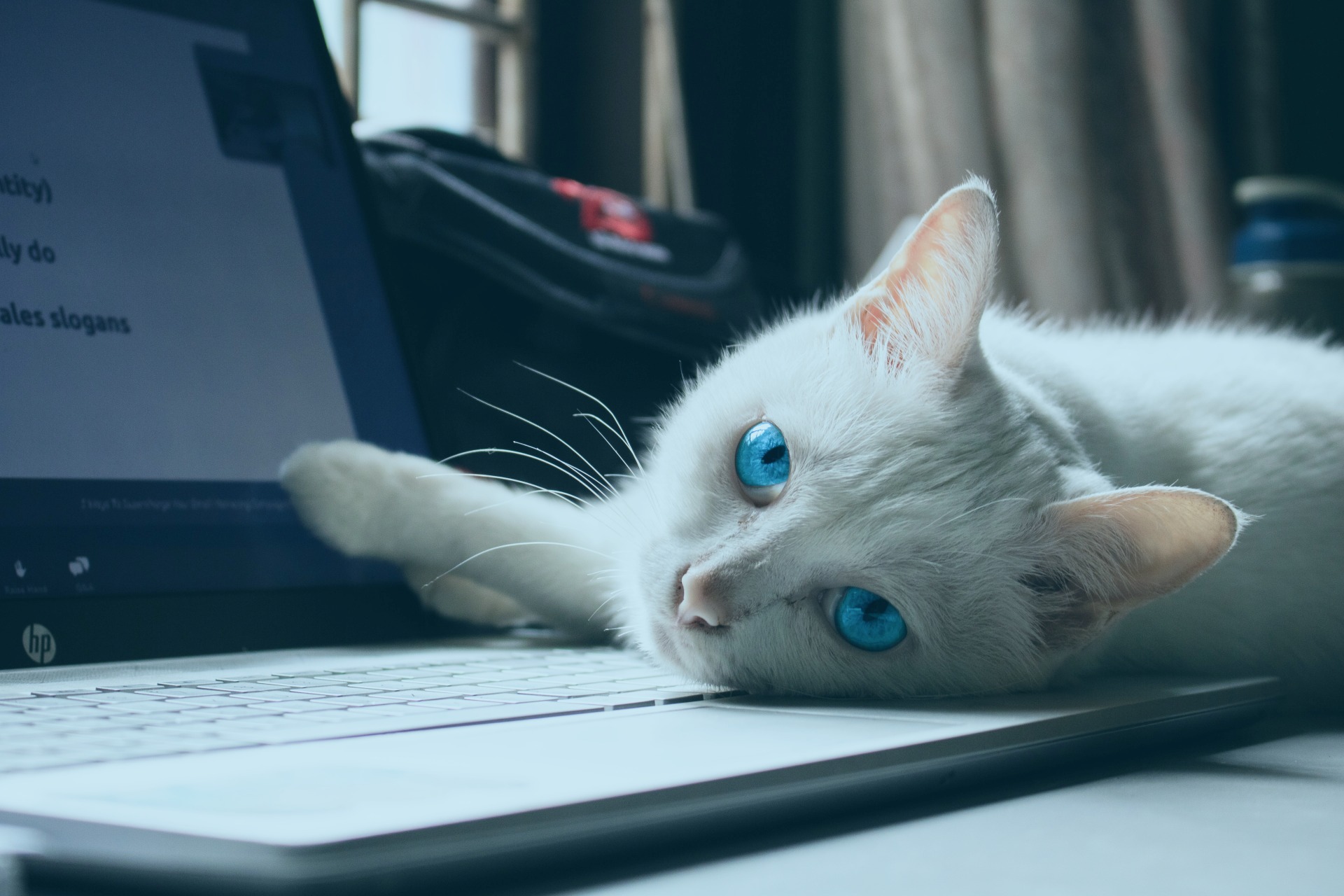 Artificial intelligence is revolutionizing business operations across industries, including the insurance sector – computational technology increases productivity and accuracy, decreases errors and risks, and accelerates customer experience.
Artificial intelligence is now gaining momentum and being actively adopted by mature insurance companies. From chatbots providing improved customer service to algorithms automating traditionally manual processes – the ever-increasing business digitization is taking over the insurance domain.
The gradually rising awareness and resources are eliminating initial hesitations and discomfort associated with artificial intelligence being adopted to handle customer service, claim processing, fraud detection, and more. But there's one question that remains – how far can we push the available capabilities?
Market overview
In the last years, artificial intelligence has shown its substance in various business verticals all across the world. Insurance providers, in particular, have been seeing significant business outcomes from investing in adopting artificial intelligence, machine learning, and other advanced techniques to automate appointment scheduling and improve customer experience.
As stated by institutions in the United States:
The rising pet adoption, in particular dog adoption, since the COVID-19 outbreak, as well as the rapidly rising veterinary costs and costs for grooming, personal care, and other related services, was driving pet insurance. Most companies that offer those services have witnessed great traction in demand with an increasing number of owners getting interested – while there are still few companies to provide pet insurance, more organizations are likely to join in the near future.
As more pet owners become aware of the numerous benefits of getting pet insurance, the industry is expected to grow: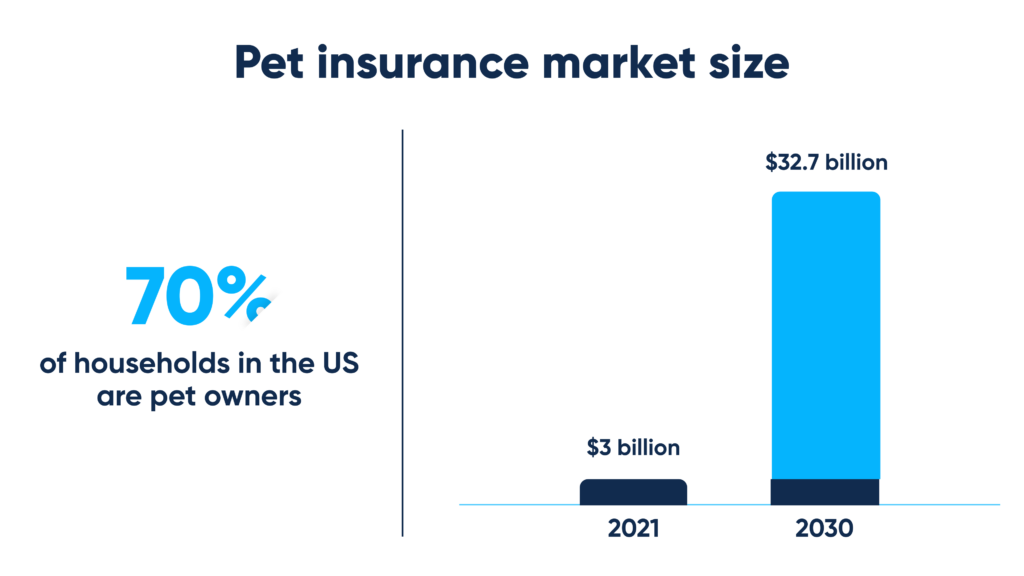 Main tendencies: Quick dive-in
Both digitization and automation in the insurance industry has been gaining momentum over the last years. With that, new customers have emerged – those customers demand anytime and anywhere access to their insurance providers.
Claim management is becoming the new behind-the-scenes battleground for transformation and automation. And considering the time and cost manual processing typically requires, it's easy to predict why strategic service providers should leverage modern technology.
AI in pet insurance: Implementation cases
Claim processing
Driven by artificial intelligence, touchless insurance claim processing removes excessive human intervention. Being part of an enterprise-level platform, AI-based systems can verify policy details and pass claims through fraud detection before sending wire instructions to the insurance company to pay for the claim settlement – such process will have pet owners get reimbursement without hassle.
Smart chatbots
Supported by mathematical algorithms, custom designed smart chatbots exceed most humans' capabilities. Seamlessly facilitating business automation, AI-powered solutions process and analyze concerns, starting with fundamental questions, ending with product recommendations, lead generation, and even customer retention.
Advanced analytics to accelerate fraud detection
Computer intelligence can process historical information to identify fraudulent activities before materialization by utilizing machine learning, anomaly recognition, behavioral analysis, and related advanced techniques.
By applying artificial intelligence to enhance fraud detection, insurance companies that provide pet coverage, can efficiently:
Eliminate illegitimate expenses
Maintain financial stability
Ensure premium stability
Preserve system integrity
Predictive analytics to streamline customer experience
Predictive analytics can provide valuable insights into the customer's behavior and preferences, which helps marketing departments to understand what improves customer engagement and make informed decisions.
By adopting artificial intelligence, insurance companies that reimburse veterinary expenses, might also:
Eliminate the administrative burden on the pet owner
Simplify the claiming process for the pet owner
Help with common issues by enhancing customer support
Assist with policy inquiries
Analyze breed, medical history, and other relevant details completely automatically
Provide personalized insurance options that align with the pet's needs
AI for pet insurance: Business benefits
Speed up claim processing
Claims include several documents – some paper-based, others digital – such as:
Personal information
Coverage details
Medical/damage/accident reports
Witness statements
Media files (photographs, videos)
Treatment estimates, and more
No matter the source, the form, or complexity of the processed document, artificial intelligence can easily recognize, extract, collect, analyze, and validate necessary information with incredibly dependable consistency. By utilizing enriched analytics to determine relevant details, artificial intelligence can identify the components that must be extracted out of each document.
No more human error
Distribution chains in the insurance industry are winding and complex, which places the need for consistency. Manual operation, which comprises data management, policy issuance, risk assessment, product distribution, and more, is prone to error.
No matter the volume of labor, mathematical algorithms can handle day-to-day routines without discordance. By utilizing machine learning and other advanced techniques, computational technology seamlessly automates most routines, eliminating error.
Fraud detection and prevention
There are many issues that determine fraudulent activities:
Repeated filing
Historical rejection
Fake accidents
Staged accidents
Policy fraud
Premium fraud
Identity theft
Billing fraud
By processing high-risk profiles based on common parameters, AI systems can monitor potential imposture. Continuously conducting thorough investigation, AI solutions identify roguery before actual occurrence, helping taking proactive measures to minimize financial damage.
Regulatory compliance
Financial services, comprising heterogeneous insurance services, are being strictly inspected and controlled. Despite great resource allocation, insurance companies are oftentimes experiencing challenges with keeping internal operations regulatory compliant.
Computer intelligence might help insurance providers seamlessly navigate the evolving regulatory landscape. By handling risk assessment, fraud detection and prevention, process monitoring and automation, and more, advanced technology might improve regulatory compliance with the domain specific standards, for example, the CCPA (California Consumer Privacy Act), the CPRA (California Privacy Rights Act), the GLBA (Gramm Leach Bliley Act), and HIPAA, to name a few.
How we can help
Abto Software sees up-and-coming business opportunities in implementing artificial intelligence to streamline pet insurance, from accurate claim processing and smooth customer service, to easy regulatory compliance. Our teams cover every project stage from initial solution design, software development, and implementation, to maintenance and support.
We provide: