Automated pharmacy inventory management for growing pharmaceutical businesses
Posted Oct 13, 2022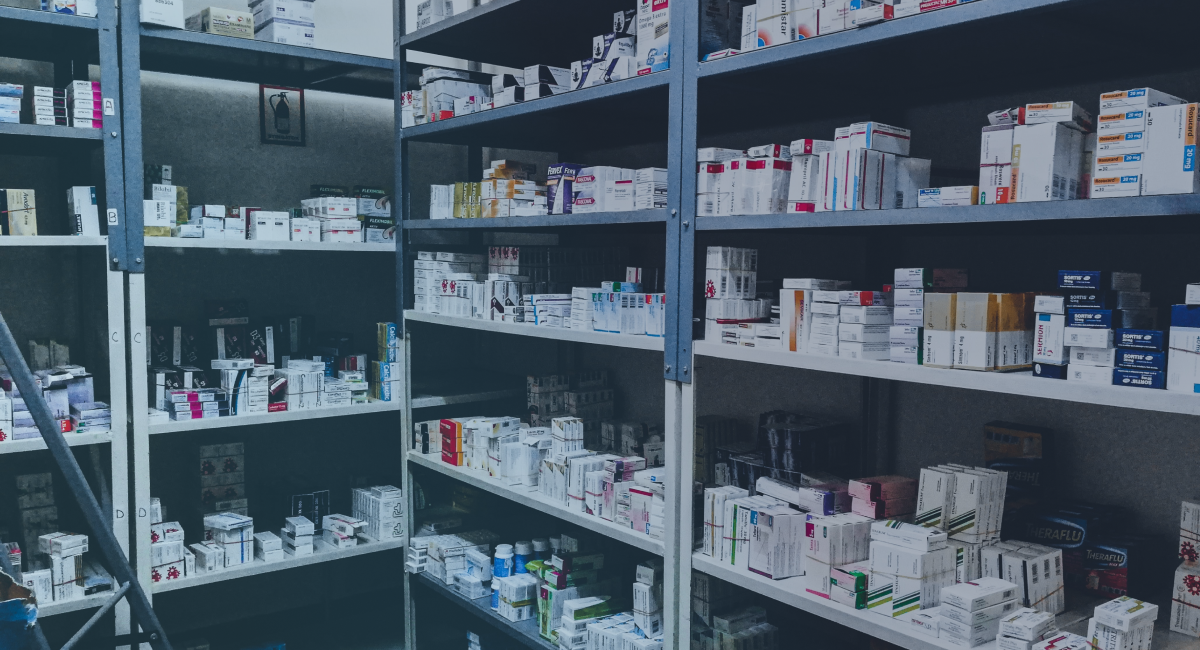 Inventory management is an intricate process for any pharmacy chain, in particular for a young business. Qualitative and quantitative control of the stocked products is an important part to keep things working.
Inventory and sales management is one of those essential stages, pharmacy chains should primarily focus on. The modern pharma industry is an unstable domain with quite huge competition that sees many challenges. Such challenges include perceptible cost changes in terms of production and distribution. Neglecting those might cause potential risks, which include ineffective investment, employee dissatisfaction, delayed processes, and, accordingly, reputational and financial losses.
When talking about mature pharmacy chains, those utilize complex software with custom all-out functionality. Such solutions usually comprise many modules, which cover almost every internal process, from ordering, human resources, and scheduling, to accounting, and more.
When talking about smaller or beginning pharmaceutical companies, such software is an unproductive decision. It encompasses excessive modules, is hard to utilize and way too expensive for young pharma businesses.
Inventory management for growing pharmaceutical businesses – keep track of each stocked item
Mature organizations usually utilize customer relationship management systems that have all-out functionality. This software is designed to assist large businesses and provides numerous advantages, but is quite expensive and hard-to-navigate.
Sure thing, CRM platforms providing control over every internal process optimize productivity and profitability. But does every business need such comprehensive software?
Described solutions usually include:
Reference instructions
Custom modules for the automatic comparison of competitors and prices
Detailed descriptions of medicines
Analogue databases
And comprise many modules that cover:
Contact and lead management
Email integration
Sales analytics
Sales and demand forecasting
Marketing campaigns
Financial management
and more.
If we dive deeper into the numerous challenges a young pharma chain might face, such tools seem inefficient. They might help handle some routines, but burden the personnel and require large investment.
We see the solution in adopting custom-made software mainly focused on optimizing inventory operations. Such software should be directly connected to FDA's National Drug Code Directory containing information about every pharmaceutical product being distributed in the United States and resolve everyday challenges.
The solution might include:
Dashboards
Contacts
Inventory details
Invoice information
Analytics
Reports
And provide the following core functionality:
Automated product information entry
Multiple accounts with a role-based access for personnel, pharmacy supervisors, and administrators
Inventory control (item tracking)
Status setting for accurate, on-time replenishment
Trend analytics
Regular reporting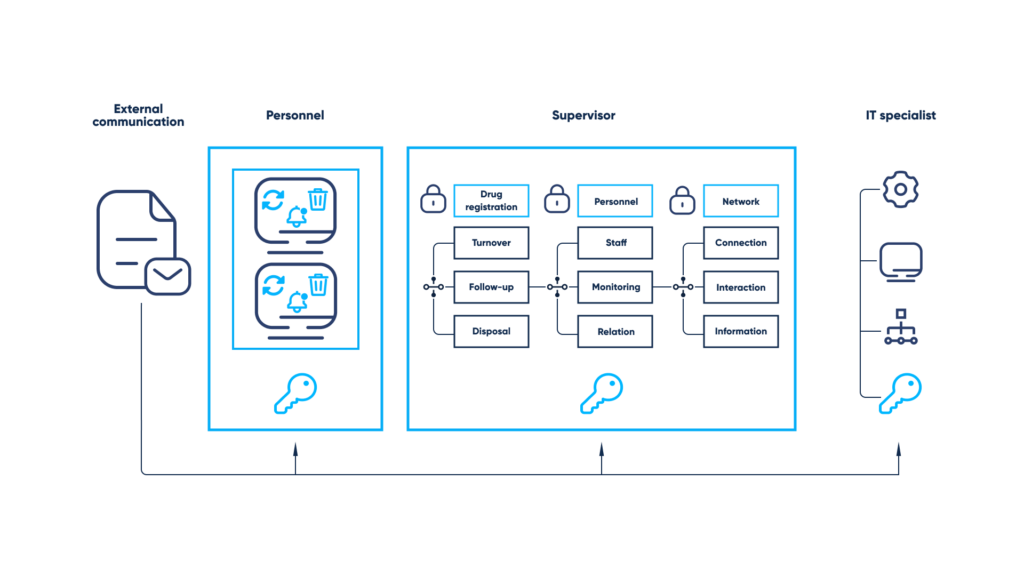 One opportunity, which might potentially bring pharmacy chains even more business benefit, is implementing analytics and regular reporting for both pharmacy networks and its individual units to access better insights. This might help to identify and better understand market demand and plan future supplies.
With greater business development and accordingly increasing profitability, such software can be easily scaled. It can be integrated with the cashier system and extended to cover accounting management, and more.
Direct connection to the FDA database
Pharmaceutical manufacturers are required to provide FDA with the lists of manufactured medicinal products. This means that FDA's National Drug Code Directory contains information about all medicinal products manufactured, prepared, propagated, compounded or processed for sale in the United States.
We suggest to connect the above described solution to FDA's official database for simplified data management. This would provide responsible pharmacy personnel with the opportunity to fill in relevant data on received medicinal products by just entering the proprietary name.
The automatically filled in pharmaceutical details might contain:
Package code
Dosage form
Labeler name
Nonproprietary name
Substance name
Package description
And other relevant details.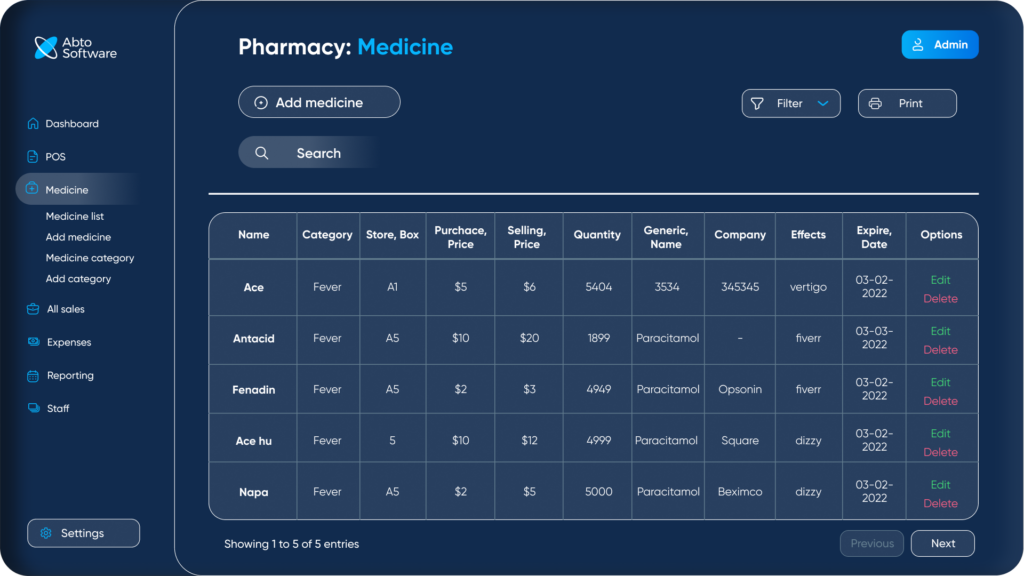 Such automation of traditionally manual processes might significantly improve productivity and profitability. Simple, automated data entry reduces risks, increases overall personnel satisfaction and helps to allocate financial resources more thought-out.
How we can help
We have seen healthcare inventory management becoming more and more important in the recent years. But integrating new software might feel quite challenging, especially for smaller businesses.
With over 16 years of experience in delivering custom solutions for clinics, laboratories and pharmacy chains, Abto Software is ready to take over unique, complex challenges to make day-to-day routines more seamless. We focus on leveraging computational technologies to help our clients remain competitive.
Our areas of expertise:
Enterprise Resource Planning (ERP)
Customer Relationship Management (CRM)
Data Source Integration
Document Workflow Automation
Contact us and tell us about your goals!