Medical software: Main types and value
Posted Jul 14, 2023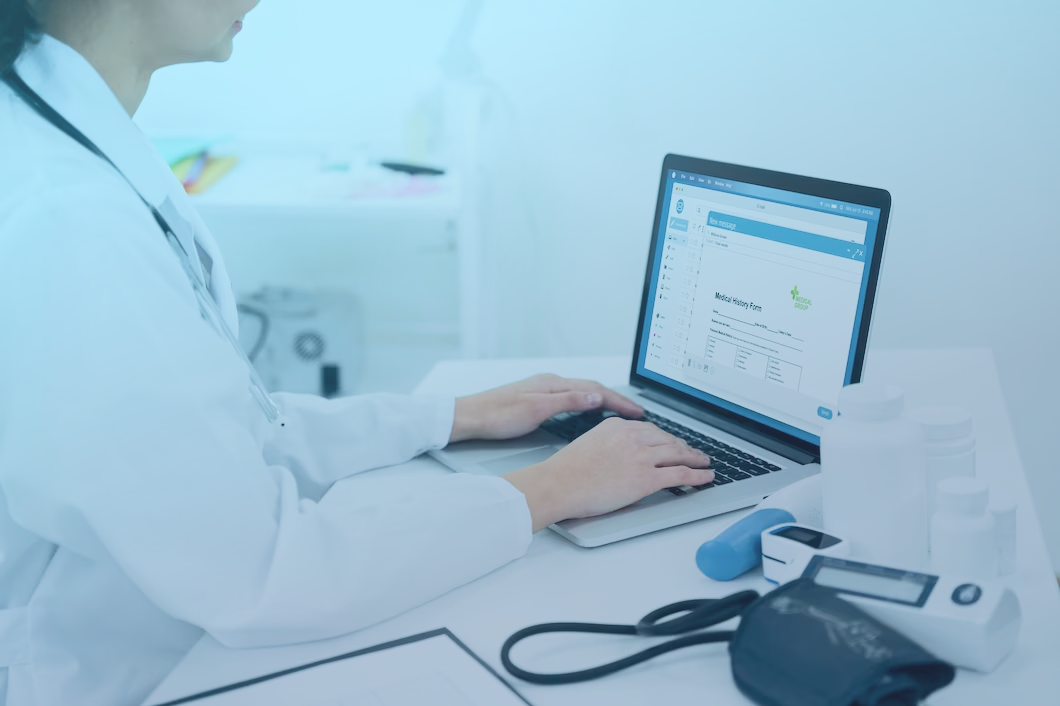 Medical software is an all-encompassing term for applications that help healthcare experts operate efficiently. Healthcare-related software might facilitate simplified administration and management, accurate diagnosis, personalized treatment, and better patient outcomes.
Medical software also includes scheduling applications that enhance appointment and follow-up arrangement. In addition, some tools target billing and accounting, analytics, reporting, and marketing.
Healthcare information and technology market trends
Digital transformation is gaining more momentum across industries, in particular in the healthcare segment. Both clinicians and patients are no longer dependent on time- and cost-consuming, arduous processes.
The recent COVID-19 pandemic has demonstrated the importance of incorporating computational technology. The crisis has hastened the adoption of telehealth and telemedicine, as well as other health-related tools.
The trend is obvious:
Speaking about software types, medical practice management software made up for over 20% share
North America's medical software market size stands out as the largest segment in terms of revenue and is being expected to keep this position
With the growing need for value-added, patient-focused care, medical software is becoming more popular. Specialized applications empower professionals to provide quality services from anywhere and anytime.
The usage of AI, ML, DL, and NLP, and other advanced techniques is another important trend fueling growth. These tools are used across domains – disease detection and diagnostics, drug discovery, radiology, cardiology, and others.
Digital innovation: The role of technology in the healthcare sector
Every year, healthcare organizations grow larger, and their day-to-day operations become even more complex. To manage and maintain their assets, strategic leaders are transitioning towards specialized medical software, specifically designed to accelerate routine processes.
For mature healthcare companies, data accessibility and consistency have become non-negotiable necessities. Automated administration and scheduling, data-driven diagnosing and treatment, as well as streamlined employee communication and collaboration are essential to streamline business performance.
Healthcare software: main types
Digital health is the purposeful utilization of technology to revolutionize healthcare delivery and outcomes. Popular categories encompass mHealth (mobile health), wearable devices, telehealth, telemedicine, and more.
Digital health can be segmented across the following core categories:
| | | |
| --- | --- | --- |
| Telehealth | Synchronous (telemedicine) | Real-time communication; two-way interaction between provider and patient per audio- or videoconferencing |
| | Asynchronous (store-and-forward) | One-way transmission of recorded health-related information per portals, email, messaging, and applications |
| | Remote patient monitoring (RTM) | The collection of personal health information using technology to monitor and manage health conditions |
| Digital therapeutics | Replacement therapies | The use of DTx to asses, manage, treat, and prevent medical conditions to replace conventional therapies |
| | Treatment optimization | The use of DTx to enhance the efficiency of existing conventional therapies by leveraging data analytics, mathematical algorithms, and personalized medical interventions |
| Care navigation | Patient self-directed care | The use of technology to empower patients assessing their conditions (for example, patient portals) |
| | E-triage | The use of technology for the electronic assessment of symptoms or conditions to determine the urgency and level of care to provide |
Source: McKinsey
Digital physiotherapy is a broad term often used to describe remote delivery of value-added physical therapy. Digital PT includes platforms, mobile applications, and tools specifically designed to support physical therapists in providing personalized care.
Digital physiotherapy can be segmented into the following two categories:
| | | |
| --- | --- | --- |
| Digital PT | Virtual model | An approach where assessment, diagnosing, treatment, and monitoring are conducted fully remotely through specialized solutions, completely eliminating in-person appointments |
| | Hybrid model | A combination of both personal and virtual components where some integral elements are conducted per videoconferencing and others – delivered face-to-face |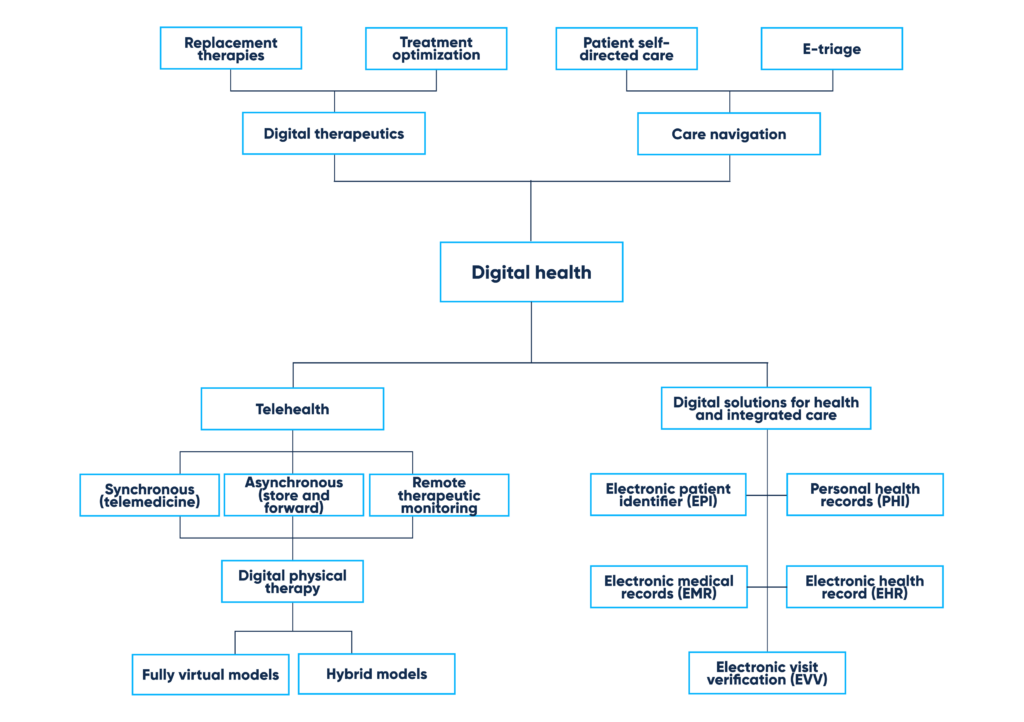 Integrated care refers to the utilization of technology to enable better interaction, data collection and sharing, as well as communication and collaboration across heterogeneous, hospital-specific settings and specialties. Those tools break down information silos, enhance coordination, and improve patient outcomes.
Digital solutions to empower integrated care typically include:
| | |
| --- | --- |
| Electronic health record (EHR) | A patient's medical history (personal data, medications, allergies, and else) being maintained by multiple healthcare providers |
| Electronic medical record (EMR) | A patient's medical history (personal data, medications, allergies, and else) being maintained by one healthcare provider |
| Electronic visit verification (EVV) | A system that verifies the occurrence of home- or community-based healthcare visits, which helps combat fraud, eliminate mistakes, minimize expenses, and more |
| Personal health record (PHR) | A system that contains the same patient details as EHRs and EMRs but is specifically designed to be only accessed and managed by patients to maintain data confidentiality |
| Electronic patient identifier (EPI) | A unique digital identification being assigned to individuals to accurately and securely match records, ensuring proper patient identification and linkage |
Healthcare software: unique features to bring more value
Geolocation
In the United States, telemedicine platforms are required to connect the patient to doctors in the same state. With geolocation, software applications can locate nearby facilities, provide directions, and calculate the time to get to the specific hospital.
Analytics
Insights about patient outcomes, financial statuses, and performance and other critical aspects are essential. With analytics, software applications can enable data-driven decision-making and improve services delivered.
Voice recognition
Voice recognition integrated into existing ecosystems allows providers to dictate medicate notes, access data, and seamlessly navigate through interfaces hands-free, facilitating convenience and productivity in workflows. This way, voice recognition might eliminate human error and ensure smarter resource-allocation.
Pose detection
AI based pose detection helps clinicians by providing objective assessment, real-time monitoring, and more. With integrated pose estimation, physical therapy and rehabilitation, elderly care, sports medicine, and even surgical planning can be partially digitized.
How we can help
Abto Software delivers custom healthcare software to empower business leaders in the healthcare industry. Our specialists cover everything from discovery to planning, development, deployment, and maintenance enabling faster business growth.
Utilizing custom healthcare software, healthcare organizations can move towards adopting modern innovation. By leveraging artificial intelligence and analytics, ML, DL, computer vision, and other sophisticated techniques, our engineers make sure to bring value-added applications and modules fostering performance.
We deliver:
Telehealth and telemedicine applications
EHR and EMR solutions
Legacy modernization and upgrade
Third-party & personal medical device integration
Our expertise: