Digital therapeutics & remote therapeutics monitoring
Posted Jul 7, 2023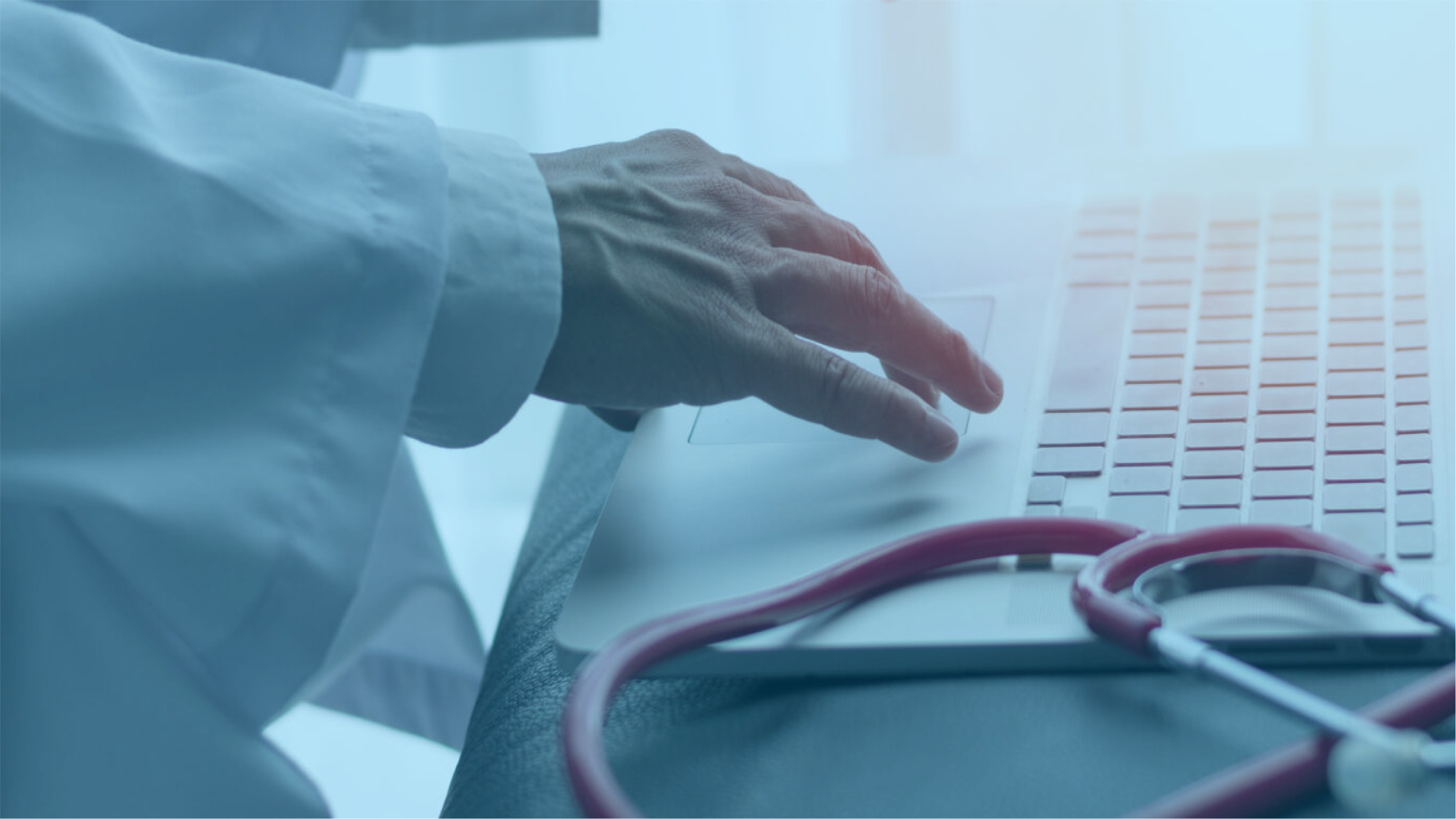 All around the world, chronic disease is rising at a rapid pace, and, unfortunately, most conditions are requiring lifelong medication and monitoring.
Digital therapeutics or DTx, as part of modern healthcare technology, are changing how diseases are managed. Unlike generic health applications available freely, such products are undergoing clinical and regulatory review, which ensures high-standard efficiency and security.
Market overview
Talking about digital therapeutics, the US is the unquestioned leader among regions, including Europe and Asia. A favorable political environment, exceptional competition, and attractive business landscape are facilitating straightforward dissemination of modern-day digital therapeutics.
According to multiple institutions: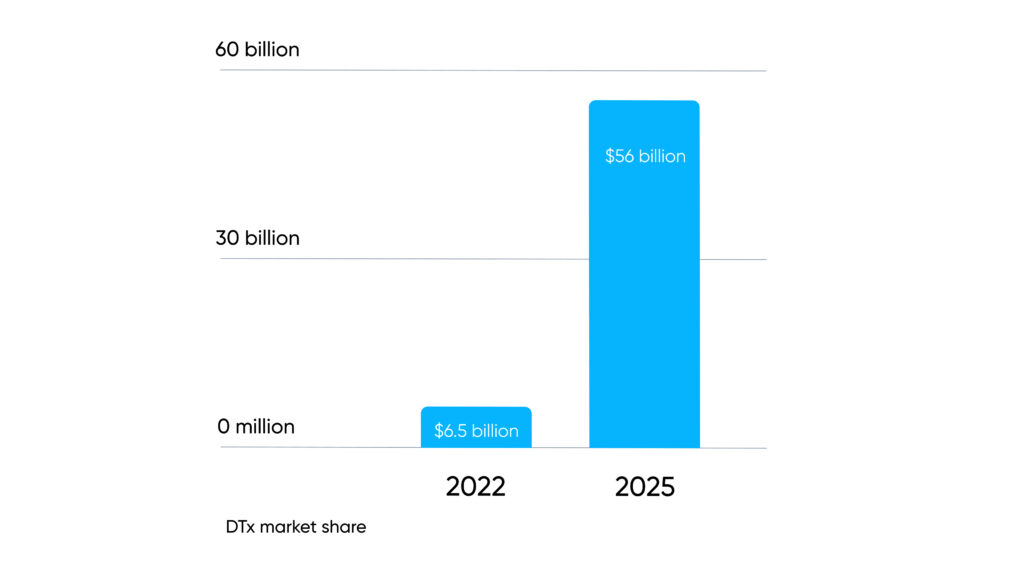 As stated by BMC, by 2030, we're expecting a dramatic global shortage of about 15 million healthcare workers. The drivers behind that – a rapidly aging population, chronic diseases, geographic maldistribution, and other influential factors.
As announced by Research and Markets, the DTx market volume is estimated to reach $47.93 billion by 2027. Providers, payers, and patients are ready to support the proliferation and adoption of DTx in ways they weren't in the past years.
What are digital therapeutics?
Digital therapeutics term definition
The DTA defines DTx as the direct delivery of wide-ranging therapeutic interventions to patients via software. Digital therapeutics help manage, timely amend, and prevent mental and physical disorders.
A subset of SaMD or software as a medical device, modern DTx is powered by modern computer technology. That involves artificial intelligence, machine and deep learning, and natural language processing among others.
Digital therapeutics support patients in managing their symptoms and thereby improve their clinical endpoints. The approach utilizes applications, mobile devices, virtual reality, augmented reality, the Internet of Things, and other handy tools to spur behavioral changes.
Digital therapeutics are designed to facilitate:
Healthcare accessibility for patients to enjoy efficient diagnosing and treatment
Preventive interventions for untreated or undertreated health conditions
Physician's ability to manage their patients from anywhere and anytime
Data accuracy and consistency associated with personalized information
Digital therapeutics and other healthcare technologies
It's critical to descry digital healthcare and DTx – they overlap but don't always point to the same processes. While many value-added applications and devices are designed to improve patient outcomes and satisfaction, it's important to note that DTx are evidence-backed and are undergoing FDA or other regulatory scrutiny.
How are digital therapeutics, virtual care, telehealth and telemedicine applications related within the whole digital health technology spectrum?
All four mentioned concepts are leveraging computational technology to enhance healthcare delivery and facilitate care efficiency
By leveraging digital platforms and technologies, digital therapeutics are often part of:
Virtual care along with other technologies are providing the infrastructure being essential for the seamless delivery of home-based digital therapeutics
Telehealth and telemedicine solutions might incorporate digital therapeutics to provide the patient with access to evidence-based digital interventions as part of their remote programs
But where exactly do digital therapeutics belong within the broad digital health technology ecosystem?
Digital health technology type
Definition
Examples
Enterprise systems & support
Platforms for enterprise settings – healthcare systems, public and private clinics, and other
1. Clinical administration
2. Predictive analytics
Clinician services & support
Platforms for clinical professionals
1. Electronic health record
2. Electronic medical record
3. Telehealth platforms
4. Clinical decision support tools
Patient-facing support
Products that help capture and transmit health-related information
1. Lifestyle & wellness apps
2. Activity & fitness trackers
3. Medication reminders
4. Non-clinical wearables
Patient-facing diagnostics & monitoring
Products that help diagnose, guide diagnosis, or actively monitor patients
1. Digital diagnostics
2. Digital biomarkers
3. RPM tools
4. Clinical-grade wearables
Therapeutics interventions
Products delivering medical interventions and therapies
1. Digital therapeutics
2. Non-DTx equipment (surgical instruments, monitoring devices, MRI machines, ultrasound systems, X-ray machines, CT scanners, and more)
Digital therapeutics within the digital health technology spectrum
What is remote therapeutic monitoring (RTM)?
RTM is a method of collecting non-physiological information from patients through approved medical devices. This includes the statuses of the musculoskeletal and respiratory systems, program and medication adherence, and outcomes.
RTM also enables patients to report important information within utilized medical devices and applications. This allows physical therapists to monitor pain levels, program and medication tolerance, and more.
Another thing, RTM and RPM (remote patient monitoring) are not the same, and the key differences lay in:
What data is collected
How data is collected
And how RTM and RPM codes are billed
RTM can be billed only when specific devices are utilized, which need to be:
Recognized by regulatory authorities
Non-reliant on individual metabolization
Intended to help diagnose, mitigate, manage, or prevent specific conditions
Intended to affect patients without any chemical action
The value of RTM
Integrating software into already existing ecosystems might be quite difficult and sometimes even daunting. But there are multiple weighty reasons to move towards innovation.
The most important benefits to mention:
RTM helps collect more valuable data
RTM boosts patient outcomes through engagement and adherence
This approach minimized barriers for high-quality patient care
Mature companies are already actively embracing this practice, utilizing technology to deliver better services. This approach has been particularly beneficial in managing chronic conditions, post-operative rehabilitation, and individuals that suffer mobility limitations.
By implementing computational technology, strategic-thinking companies are eliminating various challenges. These encompass geographical barriers, limited capacity, hospital readmissions, unnecessary appointments, and more.
The need for adopting digital therapeutics
Digital therapeutics provide benefits where traditional treatment programs are failing to drive expected results. For example, when treating mental health, diabetes, stroke, and other, which suffer from low adherence rates and over-reliance on the patient's recall.
Therapeutic areas for which digital therapeutic are available or currently being researched:
Blood disorders
Coagulation disorders
Digestive disorders
Crohn's disease
Ulcerative colitis
Irritable bowel syndrome (IBS)
Endocrine, nutritional, metabolic disorders
Diabetes, type 1
Diabetes, type 2
Hypercholesterolemia
Hypertension
Metabolic syndrome
Non-alcoholic steatohepatitis
Musculoskeletal disorders
Acute pain
Chronic pain
Psoriatic arthritis
Rheumatoid arthritis
Circulatory system disorders
Atrial fibrillation
Coronary syndrome
Congestive heart failure (CHF)
Coronary artery disease (CAD)
Nervous system disorders
Alzheimer's disease
Parkinson's disease
Multiple sclerosis
Cerebral palsy
Overactive bladder
Urinary incontinence
Migraine and tension headache
Mild cognitive impairment (MCI)
Women's health
Endometriosis
Vaginismus
High-risk pregnancy
Postpartum depression
Maternal health
Pelvic pain
Cognitive disorders
Addiction
Depression
Communication disorders
Eating disorders
Bipolar disorder
Down's syndrome
Generalized anxiety disorder (GAD)
Major depressive disorder (MDD)
Post-stroke cognitive impairment
Post-traumatic stress disorder
Therapeutic areas to apply digital therapeutics
Examples of digital therapeutics
Behavioral modification
In the scope of behavioral modification, digital therapeutics might empower:
Increased accessibility: by delivering doctor-patient interaction through applications and platforms, digital therapeutics enhance accessibility, accelerating therapeutics
Personalized interventions: by allowing healthcare professionals to consider individual needs and goals, digital therapeutics enable interventions, precisely tailored to the individual's condition
Real-time feedback and tracking: with DTx, the patient can enjoy real-time feedback, progress tracking, and reminders to support behavioral change
Continuous support: with DTx and features such as virtual coaching, educational content, and others, the patient can receive ongoing support and guidance, no matter the location
Substance use disorder treatment
Speaking about substance use disorder treatment, digital therapeutics might provide:
Remote access: digital therapy helps eliminate geographical barriers and traditional in-person visits, providing convenience to those who struggle with common hospital settings, accelerating therapeutics
Patient anonymity: digital therapy ensures anonymity and privacy, enabling individuals to access assistance discreetly and confidentially
Relapse prevention: using DTx, the patient can access various tools, including self-monitoring, personalized support, coping strategies, and more, helping them navigate triggers
Integrated care: also, DTx can be successfully integrated into existing healthcare frameworks, complementing traditional treatment approaches
Disease management and self-monitoring
Digital tools can drive disease management and self-monitoring by ensuring:
Enhanced self-awareness: digital solutions enable individuals to track and monitor their symptoms, vital signs, and behavior, fostering empowerment to participate in their disease management
Personalized interventions: digital solutions can offer personalized interventions and recommendations by collecting and analyzing patient-generated information
Medication adherence: with reminders, useful content, and tools to improve medication adherence, the patient can stay on track with the prescribed program
Remote therapeutics monitoring (RTM): through connected personal devices, healthcare professionals can supervise health statuses and intervene when necessary
Physical therapy and rehabilitation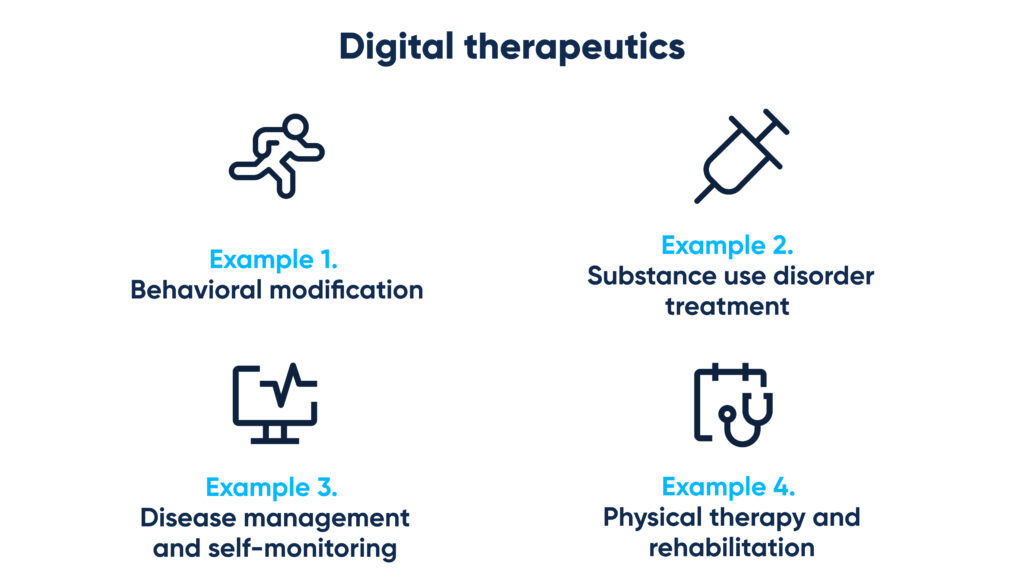 Regulatory landscape and challenges
Regulatory requirements
FDA's Pre-Cert & SaMD
When designing and implementing custom solutions to empower digital therapeutics, we always first focus around adhering to these FDA requirements:
FDA's Digital Health Software Precertification Program – this program was established to complement the regulation of digital health software, primarily highlighting product quality
FDA's SaMD, Software as a Medical Device Guidance – the guidance is providing the principles for the appropriate regulation of software by outlining the criteria for determining the software's risk levels and providing the guidance on validation and further post-market surveillance
HIPAA guidelines
In the United States, this guideline sets standards for the proper protection of patients' health information. HIPAA compliance is crucial to ensure the privacy and security of electronic health information, in particular associated with digital therapeutics, and similar healthcare technology.
GCP guidelines
GCP guidelines are setting ethical and scientific standards for how clinical trials are designed and conducted. Those are essential requirements to evaluate actual efficiency of DTx, RTM (remote therapeutics monitoring), and others.
Data protection and cybersecurity
ISO, GDPR, and other regulatory guidelines associated with data protection are prioritizing data confidentiality. Those are key standards to consider during design, as DTx, RTM (remote therapeutics monitoring), and similar always involve the collection and transmission of sensitive patient information.
Data collection and processing
The collection and processing of information is dependent on the patient's willingness to enter data manually. Without involvement, necessary information doesn't have enough integrity to bring expected value.
DTx providers are already researching techniques to integrate voice recognition to enhance data collection. Passive tracking still remains more efficient, but integrated voice capabilities might lower existing barriers making day-to-day DTx utilization more convenient.
Integration into healthcare ecosystems
There's no one-size-fits-all framework for integrating digital therapeutics into existing healthcare ecosystems. The approach may vary in dependence on the specific context and goals of implementation.
Yet still, your framework for integrating digital therapeutics should include:
Business objectives – assess your current needs and challenges within your healthcare system
Regulatory compliance – evaluate the regulatory landscape and ensure staying compliant with the relevant requirements and standards (FDA, HIPAA, and others)
Stakeholder engagement – engage with healthcare organizations, payers, patients, a well as authorities to gain their feedback, address concerns, and foster efficient adoption
Evidence generation and evaluation – conduct thorough clinical trials, observational studies, and more to gather real-world evidence on prospective patient outcomes
Product integration – establish robust data exchange, interoperability standards, integration interfaces, and coordination between personnel
Employee education – provide programs to familiarize your personnel with the implemented tools, their benefits, and how to incorporate those into patient care
Financial considerations – work closely with payers, insurance providers, and authorities to establish reimbursement mechanisms, coverage policies, and codes
Long-term monitoring and evaluation – carefully monitor and evaluate the performance and results after integration
There are multiple challenges that come with integrating digital therapeutics into utilized healthcare systems. The navigation of these requires planning and flexibility.
Major challenges that might be encountered typically comprise:
System interoperability – ensuring that wearable devices and platforms can communicate with existing electronic health record systems and other implemented technologies
Data security and privacy – safeguarding sensitive patient information and complying with regulations while transmitting and storing gathered data
Integration with existing workflows – aligning with existing workflows to prevent potential disruptions
Employee training and adoption – educating personnel to utilize and interpret gathered data
Digital therapeutics & remote therapeutics monitoring main benefits
Healthcare organizations are considering DTx solutions as the potential alternative to close interfering blanks. The recent COVID-19 pandemic has exposed the challenges most professionals are facing when delivering accessible services beyond traditional office-based appointments.
For businesses and patients, the emerged DTx products suddenly became critically important and beneficial. Those are easily accessible, radically transform disease management and prevention, seamlessly facilitate provider-patient interaction, and deliver real-world insights.
Healthcare businesses might leverage DTx technology to enjoy:
Real-time monitoring – valuable data to improve delivered services
Data-driven decision-making – programs tailored to the individual's needs and preferences
Increased flexibility and scalability – automated operations, minimized paperwork, and more
Improved outcomes – real-world insights to optimize management strategies
Speaking about individual patients, DTx technology might provide:
Healthcare accessibility – DTx solutions eliminate burdensome geographical barriers and provide anywhere and anytime access to care
Personalized programs – DTx products can offer personalized plans, precisely tailored to the individual's needs, health goals, and preferences
Increased support – real-time insights enable patients to make informed decisions
Improved engagement – medication reminders, progress tracking, gamification elements, and other unique features can enhance patient motivation and accountability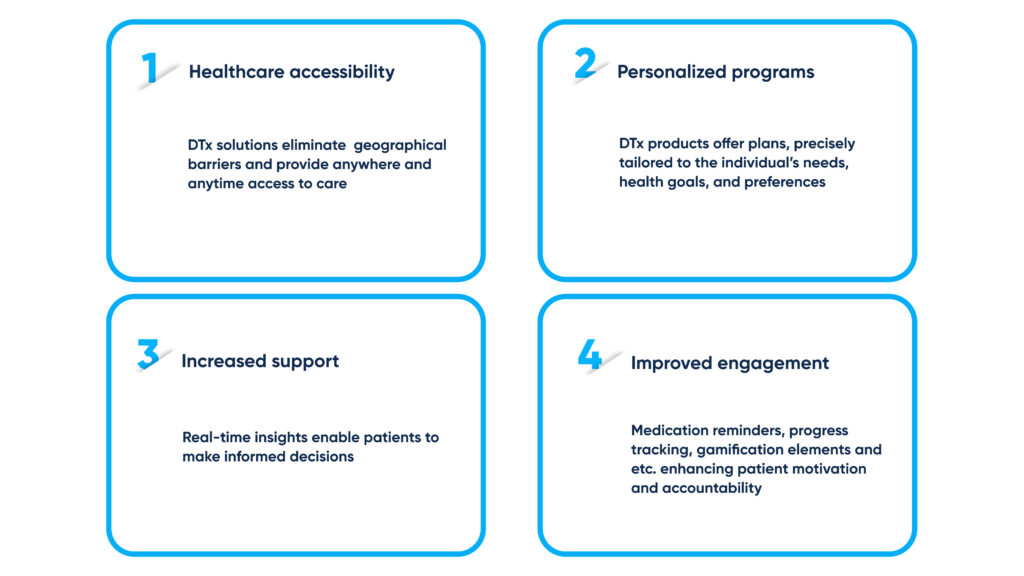 A source of revenue
Remote therapeutics monitoring codes were established after recognition during the COVID-19 depression. RTM codes compensate professionals for efforts in caring for patients outside conventional hospital settings.
This system is acknowledging and reimbursing healthcare providers for their remote activities, which presents a source of additional business revenue.
New direction for value-added outpatient therapies
Remote services – physical therapy and telerehabilitation – play a crucial role in delivering value-added care. They address the needs of those who currently lack access to services, which is around 10% – by offering alternative approaches, healthcare professionals can bridge this gap and provide accessible care.
This way, RTM solutions present ways to meet the patient despite geographical and other existing barriers.
Digital therapeutics: future trends and impact
Digital therapeutics are leading a variety of players to carve more room for value-added digital solutions.
And while we expect the sector to continue gaining momentum, there are still burdens to overcome:
Government-based insurers have been relatively slow to cover DTx services due to an outdated regulatory framework
DTx providers must integrate their platforms within the existing frameworks healthcare professionals are utilizing
DTx products can address critical gaps, no matter the patient's disease state, language, geography, and more.
Particularly by:
Delivering services through smartphones and tablets
Providing services in English, Spanish, Arabic, and other popular languages
Increasing access to care
Lowering stigma associated with conventional care
How we can help
Abto Software delivers custom-designed, regulatory compliant software products for the healthcare industry. Our engineers cover everything from consulting, software development, and deployment to maintenance, empowering leaders to facilitate business performance.
Digital therapeutics help deliver therapeutic interventions using secure, clinically evaluated software products to manage, timely amend, and prevent chronic conditions.
By leveraging the technology, you drive:
Business productivity
Risk management
Patient care and recovery
Customer satisfaction and loyalty
Abto Software's healthcare expertise:
FAQ
What is remote therapeutic monitoring?
Remote patient monitoring (RTM) is a healthcare practice that enables the tracking of individual health data. Through innovation – wearable devices, digital platforms, and sensors – healthcare professionals can track health parameters (vital signs, activity levels, posture, movement, and more), gather insights, and provide personalized interventions, eliminating frequent in-person consultations.
How can remote therapeutic monitoring transform traditional physical therapy?
Remote patient monitoring offers several advantages over traditionally used approaches:
Greater personalization – through remote therapeutic monitoring physical therapy, patients enjoy better-tailored programs that address their needs and preferences
Greater convenience and accessibility – utilizing remote patient monitoring telehealth platforms, patients can perform exercises at home, which encourages greater adherence and minimizes geographical barriers for those that have mobility challenges or limited transportation opportunities
Consistent monitoring – by enabling continuous monitoring, RTM allows healthcare providers to make informed decisions considering individual health patterns and trends
Timely interventions – by facilitating early detection, RTM enables physical therapists to identify potential issues before escalation, preventing complications
Is there a trend towards remote therapeutic monitoring?
This practice has been gaining momentum these days:
It has been praised for providing valuable insights into the patient's progress
It has great potential to minimize the need for frequent in-person appointments
Those patients undergoing RTM often report to enjoy the sense of empowerment
Recent studies have shown promising outcomes in terms of patient health progress and cost-efficiency talking about implementing RTM
Which is true for remote therapeutic monitoring?
The practice is revolutionizing traditional approaches by offering real-time insights into patient health progress, minimizing time-consuming in-person appointments, driving greater patient involvement, and demonstrating promising outcomes in terms of efficiency.
What are the benefits of remote patient monitoring?
For providers:
Operational efficiency – by managing patients simultaneously, healthcare professionals can optimize their workload and resource-allocation
Data-driven decision-making – by accessing valuable insights, healthcare providers can enhance treatment planning and adjustment
Cost savings – minimizing frequent in-person visits and readmissions can accelerate cost efficiency
Customer satisfaction and retention – personalized programs, real-time feedback, and convenience might streamline customer experience, driving revenue.
For patients:
An individual can receive medical assistance from home, which eliminates geographical barriers
The patient can become more engaged in his healthcare management, enjoying empowerment
Modern innovation provides for early detection, which enables timely intervention
Continuous monitoring and reminders improve adherence, which ensures better outcomes
What technology is used in RTM?
Some technologies commonly utilized in RTM:
Wearable devices – smart watches, fitness trackers, as well as sensors collect data such as heart rate, activity levels, sleep patterns, and more
Wireless sensors – being placed on the patient's body, smart sensors are measuring body temperature and other physiological parameters, afterwards transmitting this data to the central system
Mobile applications – mobile apps enable patients to record health-related information and interact with clinicians
Telemedicine platforms – telemedicine platforms provide some secure space for appointments between patients and doctors by leveraging video conferencing, calls, messaging, and file-sharing
Artificial intelligence – AI-based solutions can analyze data patterns to provide valuable insights, identify anomalies, and offer personalized recommendations
Cloud computing – cloud-enabled technology can store collected data, facilitating accessibility
What are the measures to take to ensure data privacy and security in RTM?
There are several measures to consider:
Data encryption – data encryption during transmission and storage, protecting records from potential unauthorized access or interception
Data storage – reliable storage in secure, compliant databases, using encryption and controls to prevent unauthorized entry
User authentication – multi-factor authentication is required to access the system, ensuring only authorized individuals can access sensitive data
Regulatory compliance – the adherence to standards like HIPAA and GDPR
Regular audits and assessments – security audits and assessments to identify system vulnerabilities and ensure ongoing compliance
Privacy controls – data control for patients to access their records