Clutch Names Abto Software The World's Top Cognitive Computing Company
With 2021 on the horizon, we understand that Artificial Intelligence is no longer a futuristic dream and we need to go beyond the usual AI approaches to truly innovate our world. That's where cognitive computing steps up and allows us not only to train intelligent algorithms but to simulate the processes of the human brain in computer systems to solve the challenges of tomorrow.
Here at Abto Software, we dedicate our efforts to bring innovation across a multitude of industries. This is why we are honored to be named The Best Cognitive Computing Company Worldwide by Clutch, a leading market B2B research firm. We have already been included in this rating once – in March 2020 we took 5th place. Since the date of that recognition, we have delivered a range of cognitive computing solutions, including a CSA (customer support automation) system for European FinTech corporation, that enabled us to reach the top of the Clutch rating.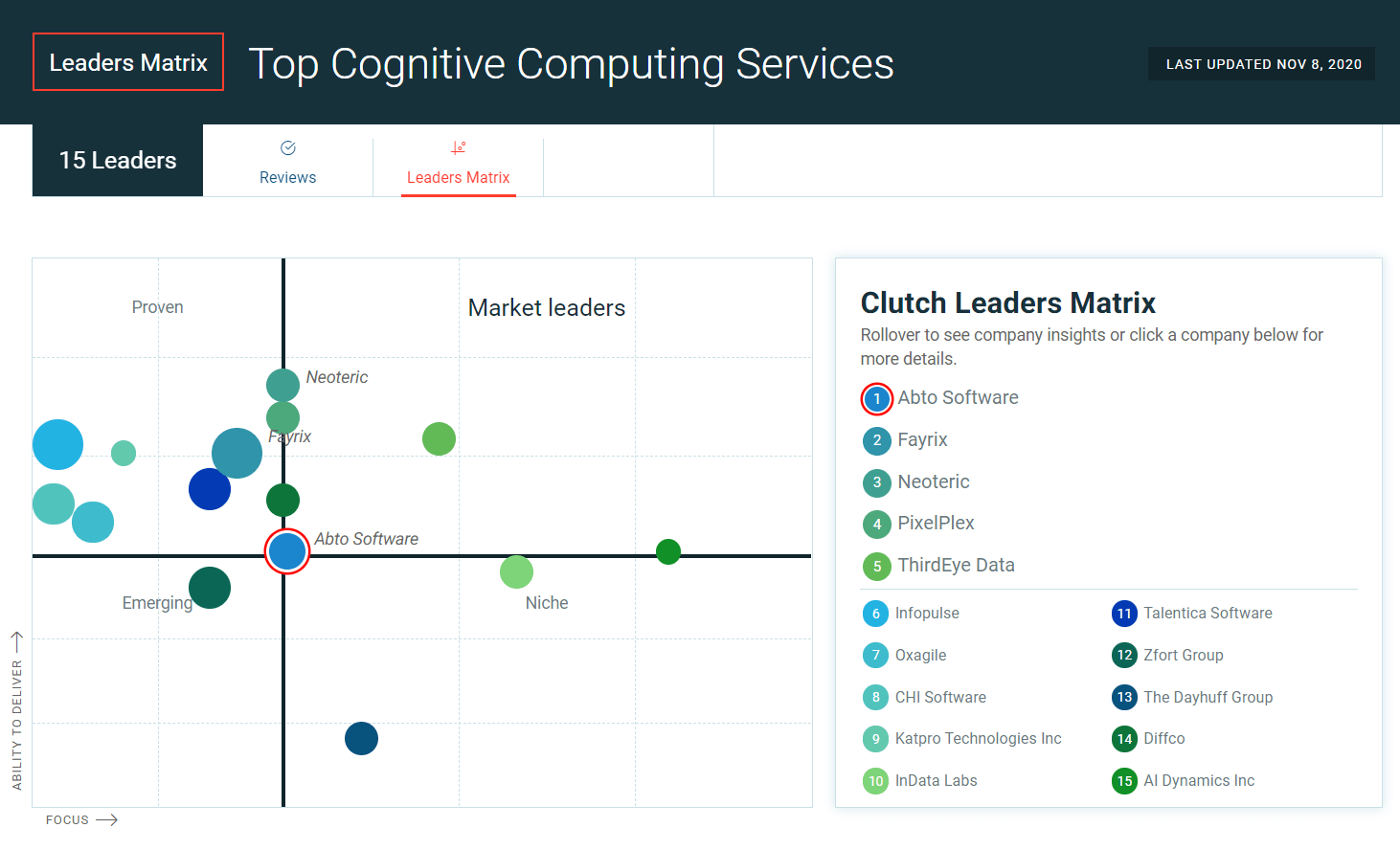 These results are a snapshot of Clutch's Top Cognitive Computing Services Leaders Matrice on November 8th, 2020. Rankings are dynamic, and this rating may not reflect the rankings currently listed on Clutch's website.
This is not the first recognition Abto Software has received for its innovative solutions. Last year Clutch ranked us among the top Emerging Technologies providers in Ukraine, the top 15 global leaders in AI, and the global top 30 Machine Learning companies. Abto has also been featured on Clutch's sister website, The Manifest, that publishes shortlists of B2B service providers. As of the date of publishing of this article, we are listed among the global top 10 Machine Learning companies and the global top 25 Application Modernization companies.
Cognitive Computing in Real Life
"Typically, in AI, one creates an algorithm to solve a particular problem. Cognitive computing seeks a universal algorithm for the brain. This algorithm would be able to solve a vast array of problems," – Dharmendra Modha, manager of the Cognitive Computing group at IBM Research.
Several applications of cognitive computing in day-to-day life include:
providing treatment alternatives based on a patient's history and best practices to assist doctors in healthcare facilities;
understanding human speech through NLP (natural language processing) to solve complex requests through voice assistants (Siri, Alexa, Google Home, Cortana) and chatbots;
analyzing consumer behavior trends to build personal shopping advisors.
About Clutch
Clutch is the leading ratings and reviews platform for IT, marketing, and business service providers. Each month, over half a million buyers and sellers of services use the Clutch platform, and the user base is growing over 50% a year. Clutch has been recognized by Inc. Magazine as one of the 500 fastest-growing companies in the U.S. and has been listed as a top 50 startup by LinkedIn.
For further information, please visit clutch.co.
About Abto Software
Abto Software is a full-cycle custom software engineering company, launched in 2007. We employ one of the largest AI/ML and Computer Vision departments in Eastern Europe with extensive expertise in building AI-powered Chatbots, Intelligent Video Analytics and Data Extraction solutions, Advanced Driver Assistance Systems (ADAS) & Intelligent Transportation Systems (ITS).
For more information about our AI solutions for business automation, please visit abtosoftware.com/AI, follow us on LinkedIn, or schedule a free 30-minute consultation with our experts.