Abto Software is Top AI Development Company in Lviv, Ukraine – Clutch
Our team has once more taken its place among the best software development companies according to the Clutch Leaders Matrix. Now, Abto Software gained second place in the list of Top 15 Lviv AI Developers. 
In the middle of 2021, it's no surprise that AI technologies are being implemented in our everyday lives. AI algorithms are used to keep safety in public places, organize and structure enormous amounts of data, and ease business processes. Furthermore, the usage of AI-driven chatbots helps organizations automate customer support and be there for the end-user 24/7. 
The Abto team has extensive experience in the development of AI solutions for its customers. We always dedicate our efforts and put all our passion to create top-notch technologies and getting the best business results. Today we are happy to announce that Clutch placed us in the second position of the Top 15 AI Companies in Lviv list.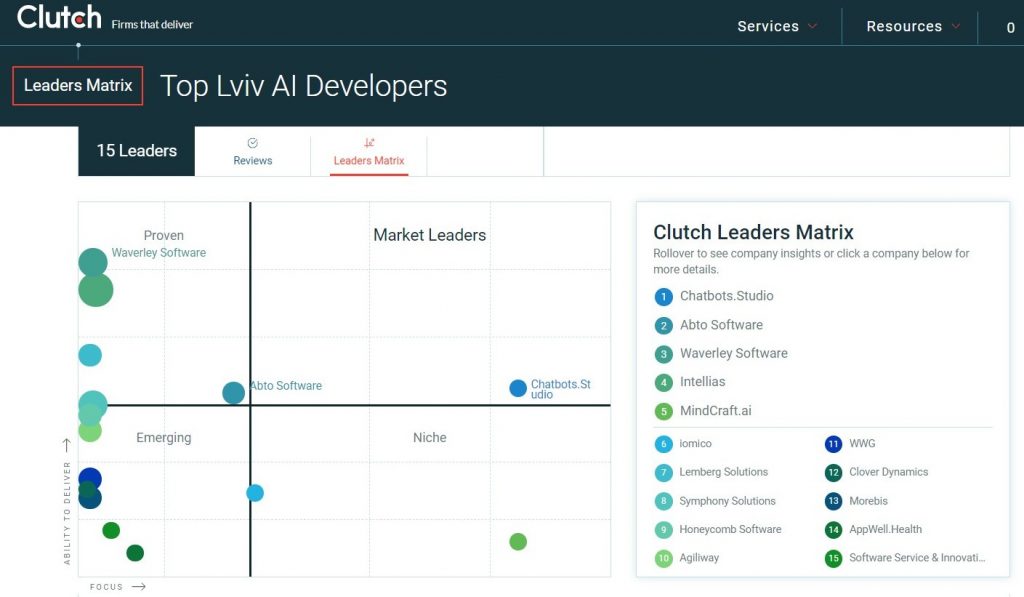 It's not the first time Clutch recognizes our company. We've also been named:
All those honours prove we are moving on the right way to provide the best services for our customers throughout the years we've been operating on the market.
Abto Software AI solutions for clients
AI-driven document classification
The Abto Data Science team has combined the experience in OCR, NLP, and AI to upgrade the construction management software with an automated document classification tool. The developed cloud-based platform is being used throughout the whole construction lifecycle. It facilitates projects from planning to operation and maintenance. Also, it is used in the UK, Ireland, Australia, Qatar, and the UAE.
AI-driven document classification is one of the business processes automation solutions (BPA). It can be implemented into the document management system or used individually. The main advantage is in replacing manual work with AI while synchronously increasing the accuracy of the completed task.
Violence detection
We developed camera-based violence detection technology. It can be further developed to document police violence and accelerate police reform. Our algorithm can also help in real-time reporting of crimes and act as an AI-driven public safety officer. After detecting a fight in security footage, the algorithm sends an alert to the police or security agents. They, in turn, will assess the situation and choose appropriate steps to alleviate the risks. 
Customer support automation
Our client, FinTech corporation from Europe, was looking to improve its customer support processes with a focus on email support. They were planning to reduce operational costs via AI-powered automation as well as to lower time of response. Abto team started developing this customer support automation solution in 2019 and have been working together successfully since then.
Our products
Cashierless Checkout
Abto Software developed a prototype for an easily deployable Cashierless Checkout that ensures fast and easy in-store checkout. Powered by Computer Vision and Machine Learning, it allows accelerating the checkout process without putting on pause any store's operation.
Body Measurement Software
Our computer vision engineers team has developed a revolutionary technology for measuring the body. The application uses a front camera on the mobile phone to calculate six body measurements of a person. The tool provides results on average with 98% accuracy and helps buy clothes that will fit just right. The body measurement technology can be implemented by retailers in their online clothing shops to accelerate sales.
Conclusions
Have an AI-driven project in mind or need to improve your current solution? Abto Software team is ready to share our experience with you. Leave a message and we will contact you as soon as possible!
Artificial Intelligence Development
Differentiate your business from the competition with innovation and the right partnership.