What are the main advantages of retail ERP software? Ultimate guide to utilizing retail ERP
Posted Jun 29, 2022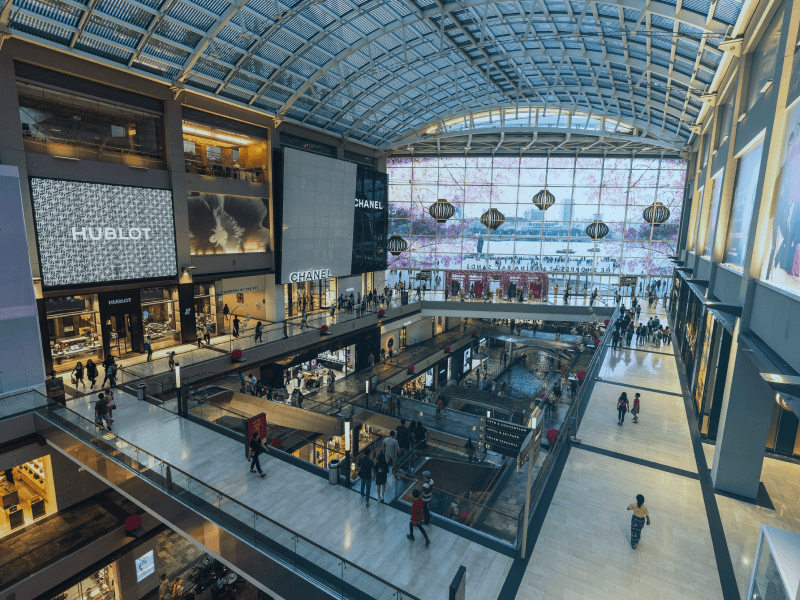 Every business depends on internally connected business processes. These include financial management, human resources and procurement, day-to-day organization of production or provision of services, and many other processes that depend on the industry specifics. The purpose of an ERP system is to efficiently combine the mentioned business processes into one single ecosystem. A well-designed ERP system helps automate routine processes and avoid multiple entries of the same information.
However, an ERP solution isn't about just accounting, procurement and process organization. Today, modern ERP software for retail and any other field is equipped with tools that take advantage of artificial intelligence, which makes business management more transparent and efficient.
Almost two years ago, the market was valued at 94,71 billion USD. For 2022 to 2024, it's expected to reach over 97 billion USD.
According to The 2020 ERP Report, in 2020 the top ERP consumers included the following industries: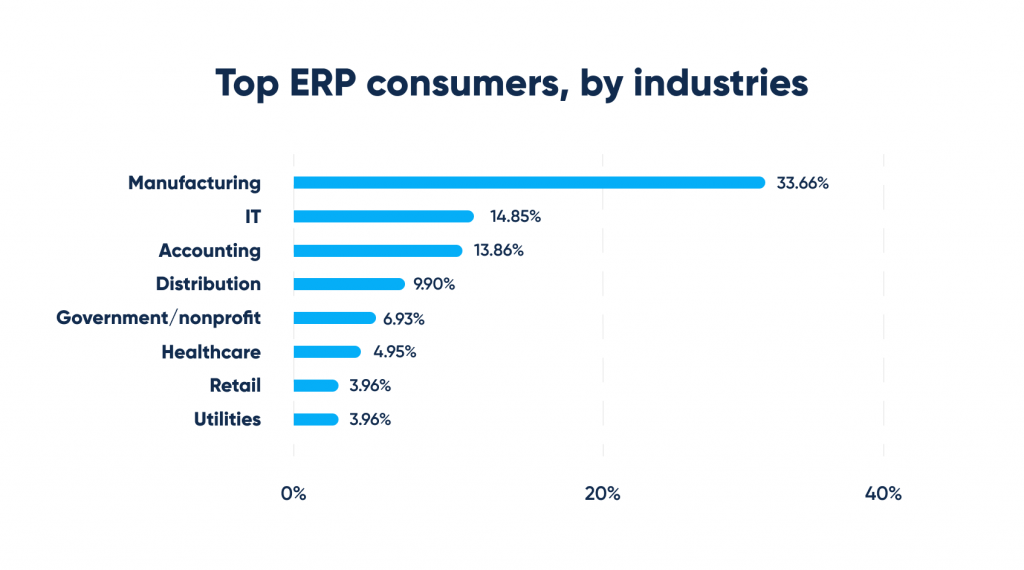 Top ERP consumers, according to Panorama Consulting Group. By Abto Software
By 2030, as to the Grand View Research, based on an analysis of the latest trends, we can expect significant market growth in several large sub-segments, and retail is one of the most promising of those, together with manufacturing, BFSI, and healthcare.
The difference between ERP and CRM
Some people confuse ERP with CRM, or consider these solutions to be almost analogue. The difference between Enterprise Resource Planning and Customer Relationship Management lies within the application, core functionality and complexity.
Both ERP and CRM handle contacts, partners, customers, logistics, invoices, quotes, orders, and forecasts. Those are used for different purposes, a CRM is used to optimize the interaction with customers, whereas ERP is a complete package laying emphasis on accurate resource planning.
ERP business intelligence solutions:
Create a centralized database
Optimize management with insight from seamlessly shared information
Break down communication barriers between departments
Improve the network's reliability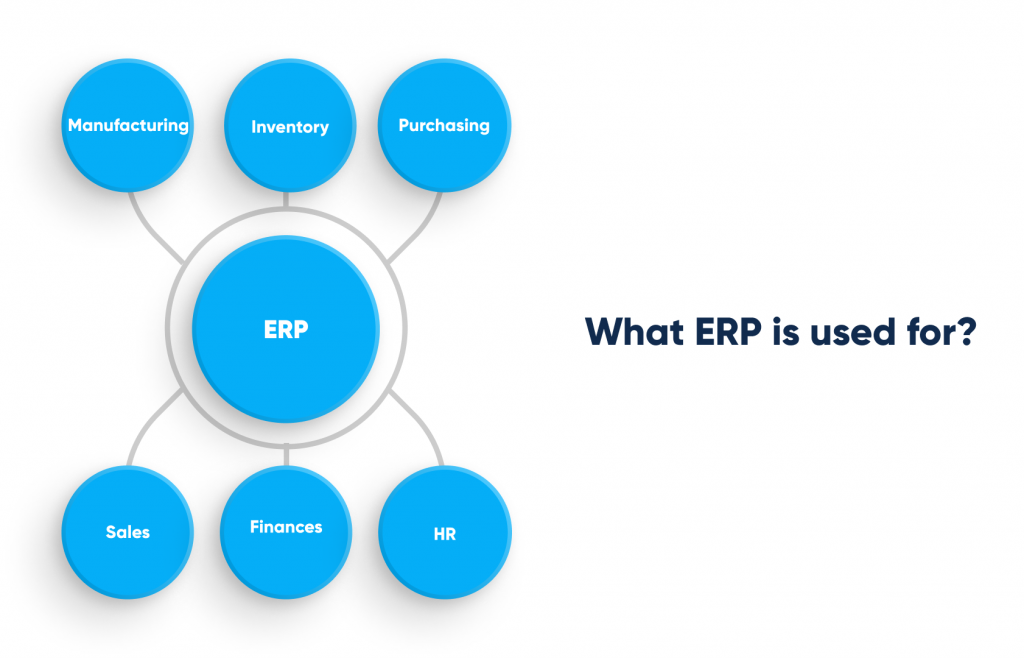 Areas of ERP usage. By Abto Software
In contrast, CRM software is designed to improve:
Customer management
Employee tracking
Lead management
Analytics, reporting and forecasting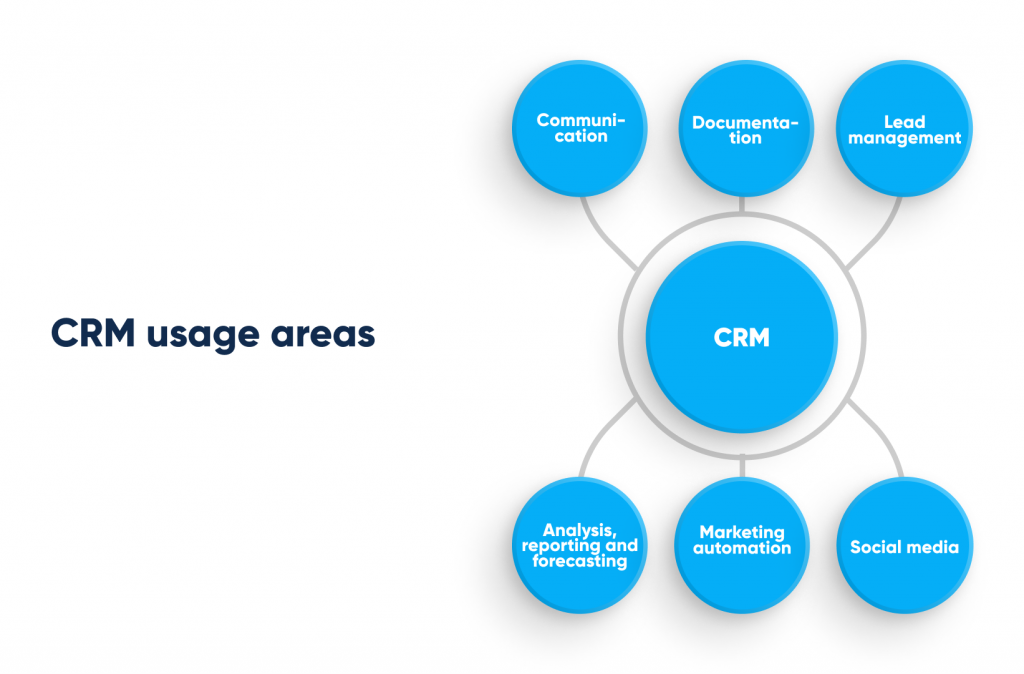 When to use CRM. By Abto Software
An ERP is a pre-packaged solution that optimizes internal processes within multiple enterprise departments, including manufacturing, inventory, purchases, distribution, HR, and services. The system is enterprise-oriented and designed to reduce financial expenses.
A CRM is a software tool ensuring companies to record every interaction with the present and potential client. The system increases sales and is oriented toward customer management.
What core retail functions benefit from thought-out Enterprise Resource Planning?
Commerce
Modern retail ERP software is a multi-channel solution, which facilitates in-store and back-office processes. This way, the business can increase the productivity of each internal department and ensure business growth, while customers are getting a more personalized experience.
Finance
Well-designed retail ERP systems automate accounting, which helps direct resources more thought-out. Advanced technology can reduce the amount of work performed manually, automate various routine tasks, and help track the investment flow.
Human resources
Retail ERP solutions streamline employee management, including hiring, onboarding, payroll, and more. Simplified hunting, interviewing, hiring and onboarding, as well as employee performance monitoring lead to increased productivity.
Supply chain
Retail ERP modules include warehouse and supply chain management features. Advanced technology such as artificial intelligence, machine learning, deep learning, and other modern approaches optimize manufacturing, inventory management and logistics creating growth opportunities accordingly.
Why does retail business need ERP?
Is your retail business not running as expected? Are you currently looking for opportunities for optimization? Sure thing, the introduction of new managerial approaches and technologies requires investment. But utilizing modern approaches and implementing advanced technology might make the difference.
With ever increasing competition in the retail market, Enterprise Resource Planning systems became necessary for organizations that want to keep up with constantly changing consumer needs. ERP systems are complex, customizable applications that help to manage operational processes. For retailers, this means more control over employees, stores, warehouses, price changes, seasonal discounts, and more. Such processes are quite time consuming if not properly organized, and for retail owners this might result in financial loss.
Conventional retailers are facing stiff competition – digital retail is rapidly taking over the market. This means low margin. Online stores do not pay rent and incur lower costs for logistics and various operational processes. This way, their return on investment increases significantly.
Traditional retail-stores today cannot afford to do business the good old way resorting to paper bureaucracy. High competitiveness requires automation and optimization, which is impossible without advanced technology.
Important modules a proper retail ERP should include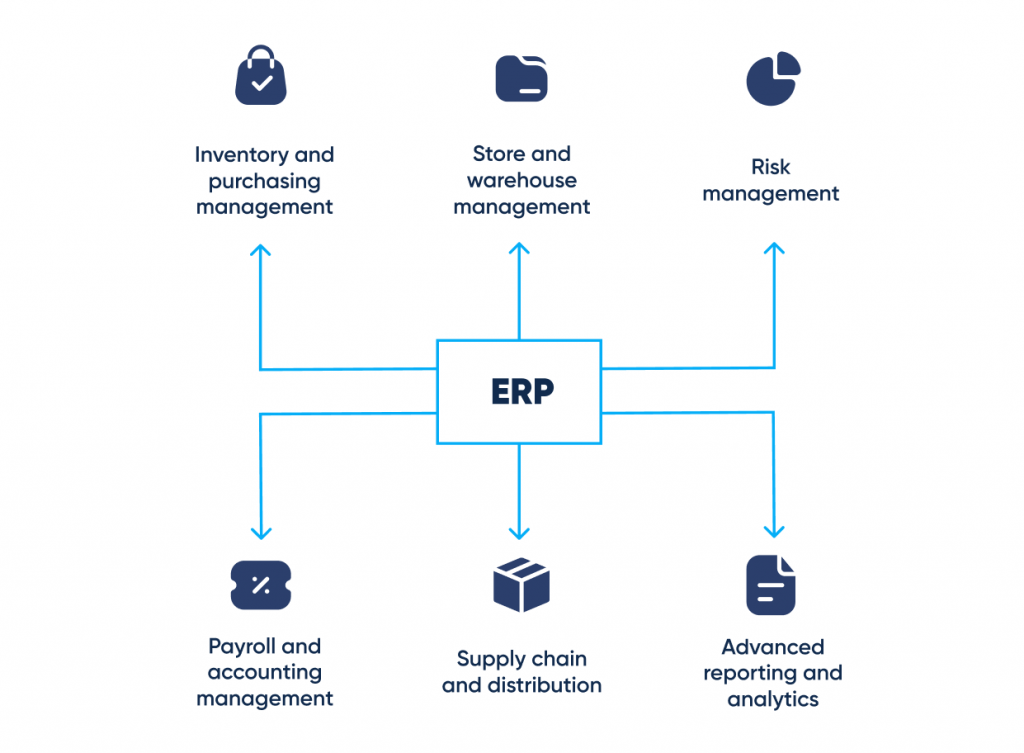 Important modules of ERP for retail. By Abto Software
Inventory and purchasing management
The solution collects information about each available product to ensure regular replenishment. ERP systems also identify market trends through detailed analysis of purchasing history.
This module might include information about:
Inventory dashboards
Inventory valuation
Stock moves
Inventory adjustments
Equipment maintenance
Equipment breakdowns
Procurement exceptions
Defective products
Store and warehouse management
The software significantly optimizes product and material management, store and warehouse operations. Enterprise resource planning automates routine tasks performed by managers and warehouse workers increasing productivity and saving resources accordingly.
This module might include information about:
Multiple stores
Multiple warehouses
Product prices
Product discounts
Product barcodes
Serial numbers
Payment methods
Payment refunds
Customer registration
Loyalty programs
Payroll and accounting management
With access to data on each stocked product, logistics costs (freight charges, import duty), additional taxes, rental costs and wages, and other financial information, the business can obtain comprehensive understanding of margins. This way, the retailer can optimize pricing and sales strategies, loyalty programs, and understand the feasibility of additional business investments.
This module might include information about:
Working shifts (well-planned shifts, proper coverage, employee availability, and more)
Tracked sessions (overviewed hours and sessions, time and attendance tracking)
Sick leaves
Pay sheets
Salary disbursement
Monthly and annual reporting
Risk management
This module might provide multiple opportunities to minimize business risks:
Demand-driven material requirement planning. Demand-driven MRP helps tracking material demand and make real-time adjustments.
Human error. The automation of certain operational processes significantly reduces human error.
Industry regulations. The facilitation of cooperation between departments minimizes the possibility of compliance variance.
Insight-driven decision-making. Smart solutions aggregate important business data and provide meaningful insight.
Supply chain and distribution
This module is responsible for processes from manufacturing and distribution to the end consumer. This way, the business becomes adaptive to sudden demand changes.
ERP solutions also help manage distribution. Well-designed, reliable Enterprise Resource Planning software facilitates processes such as order processing, invoices, quotations, taxation, logistics, and more.
Advanced reporting and analytics
A modern ERP system might provide insightful reporting and analytics processing aggregated business data. The tool can help examine and compare efficiency across departments.
This module might include information about:
Employee retention (employee onboarding, performance management, and training)
Warehouse statuses (inventory levels, stock movements, and fulfillment)
Cybersecurity statuses – implement measures to protect sensitive data
Return on Investment (ROI) – leverage reporting and analytics to gain more insight
Demand changes (inventory levels, production plans, and procurement)
Refund rates (product quality, service issues, return policies, and more)
Main advantages of utilizing retail ERP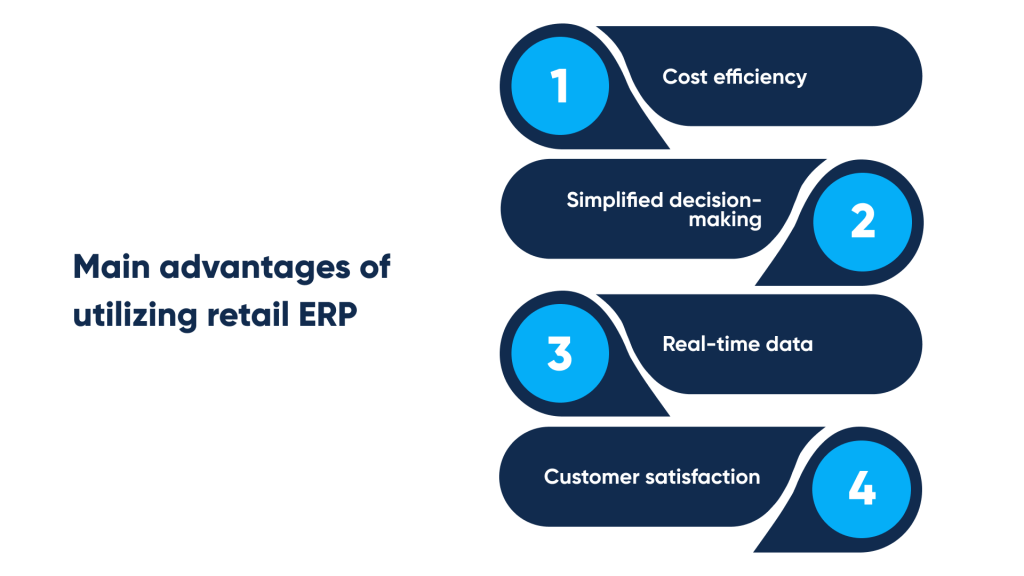 Main advantages of ERP in retail. By Abto Software
Cost efficiency
One reason to implement ERP for retail business is that Enterprise Resource Planning systems can optimize everyday routines and significantly reduce paperwork as well as optimize business reporting. This way, advanced technology reduces costs on repeated operational and administrative processes.
Simplified decision-making
Another reason to introduce ERP for retail industry is that reliable platforms store information collected across multiple departments, including details about the supply chain. Relying on this information, business leaders can make better decisions and refine business approaches.
Real-time data
Such an enterprise solution allows managers to interact with information more dynamically and efficiently. Centralized information allows users to access data immediately.
Customer satisfaction
Enterprise platforms help increase customer loyalty, order accuracy as well as overall purchasing experience. Gathering information such as customer feedback and demographics, product reviews, and more, helps to respond to consumer needs more efficiently and grow the existing client base.
Main challenges of implementing retail ERP
Cost challenges
Implementing retail ERP software can be very costly – in addition to the designed solution, there are extra costs associated with individual customization, data migration, personnel education and training, and maintenance. Small and medium-sized organizations might find this challenge the most complex problem.
Scalability challenges
Scaling retail ERP software to handle data volumes, user flows, and transactions is another considerable aspect. Mature organizations that manage multiple locations and franchises should address this challenge as their main priority.
Data migration
Data migration from existing legacy systems to newly designed ERP for retail is complex and time-consuming. This involves data cleansing, mapping, validation, and other critical activities to ensure data accuracy and avoid data loss.
Continuous upgrades and maintenance
Continuous upgrades and maintenance are critical to ensure the ERP for retail will cause minimal disruption. That involves bug fixes and addressing security vulnerabilities to keep up with changing requirements.
Employee education and training
Implementing retail ERP software often necessitates employee adoption on the new solution and processes. Change resistance can slow down adoption and burden overall productivity.
Change management
Adopting retail ERP software often requires significant changes to existing business workflows and operation. Change embranchment involves ensuring smooth transition and addressing employee concerns.
Product customization
Efficient retail ERP systems are tailored to meet specific objectives and processes within the retail company. That places some challenges associated with product adjustment and integration into the existing systems.
Vendor selection
Reliable retail ERP systems are designed by companies that possess industry-specific expertise and capabilities. Inefficient partnerships might cause severe problems – limited functionality, security leaks, and lack of support.
Signs you need a custom ERP
How long does it take to estimate the exact cost of each stocked product? If you are already getting headaches from just thinking about estimating employee working hours, material and logistics expenses, you definitely need an ERP platform.
Do you find yourself wondering about why your storage space is overloaded? A reliable ERP platform can help avoid products being forgotten, defective or accidentally unscanned.
Do you still use countless spreadsheets for regular financial reporting? With custom-built ERP solutions, financial reporting can be done in just seconds.
Relying on manual handoffs
Do you rely on manual handoffs when it comes to transmitting information from department to department? Modern software helps get rid of unnecessary day-to-day manual work.
Troublesome extraction of insight
What were the costs on wages, materials, logistics and other regular expenses made over the past five years? With a proper platform, you can get that business insight in a few clicks.
Are you receiving regular customer complaints? Having a reliable platform, you can respond to customer needs and grow your current client base.
Choosing the best-fit vendor to build custom ERP
Define your business requirements
Start by defining your business requirements before approaching a provider for your future retail ERP software. Identify the specific features and functionalities you need – inventory and purchasing management, store and warehouse management, payroll, accounting, and others.
Conduct thorough market research 
Don't forget conducting thorough market research to identify a provider that specializes in retail ERP software. Consider reputation, customer reviews, case studies, and their tech stack to find your match.
Assess capabilities
Assess your future vendor's technical expertise and skillset speaking about developing retail ERP software. Consider factors such as technology stack, management methodologies, flexibility and scaling capabilities.
Request proposals
Provide your future partner with an accurate overview of your business goals regarding retail ERP software. Evaluate their delivery approach, methodologies, timeline, and cost to understand their proposal.
Check references
Check references to evaluate the quality of already delivered projects, the adherence to timelines, and more. Designing ERP retail software requires extensive, domain-specific knowledge and experience.
Remember support and maintenance
Remember support and maintenance – inquire about their services to check post-implementation offerings. Secure ERP retail software goes with bug fixes, updates, upgrades, and timely issue resolving.
Customization capabilities
Review the chosen vendor's customization process to ensure they're capable of implementing future changes without disturbing existing processes.
Proof of Concept (PoC)
Consider conducting Proof of Concept (PoC) to evaluate core capabilities and validate provided proposals against determined business requirements.
Ownership cost
Evaluate total ownership cost, including design, software development, customization, implementation, ongoing support and maintenance, as well as licensing.
Client-vendor relationship
Assess responsiveness, communication and collaboration skills, and willingness to stay 100% transparent throughout the prospective partnership.
Main benefits of custom retail ERP software development
Isolated modules
Choosing custom software development, you obtain individually designed isolated modules equipped with necessary functionality matching every department's specifics. Your employees won't get confused with multiple features, and you won't risk data leakage thanks to process encapsulation.
Easy-to-learn and easy-to-maintain platform
With custom platform development, you get comprehensive documentation and reliable technical support. This simplifies employee training and maintenance of the built platform.
Vital features to implement when building a custom retail ERP
Retail ERP should include:
Integrated CRM (data and interaction centralization, customer segmentation, targeting, marketing, customer history and preferences, customer service)
Integrated POS (point-of-sale automation, including automated product inventory, sales, payments, data integration with eliminated manual errors, real-time visibility into trends and demand)
Materials and inventory management (stock and replenishment automation, order management, inventory tracking across locations, transfer optimization)
Multi-location management (reporting automation, inter-store communication and collaboration, inventory transfers, pricing and promotion standardization)
Retail & wholesale functionality – enable both retail and wholesale operation within a single system, pricing and promotion management, customer-specific discounts, order fulfillment, and more
Vendor management – facilitate better vendor onboarding, purchasing and procurement processes
Payroll and accounting management (payroll calculations, tax deductions, benefits administration, regulation compliance)
Risk management (sales disruptions, inventory stockouts, operational inefficiencies, and more)
Order processing – accelerate order processing workflows, from creation to fulfillment and shipment, automate routing, picking, packing, and shipping to drive customer satisfaction
Return management – streamline standardized return authorization and other critical procedures, track and manage volumes to gain more insights
Customer database – targeted campaigns, loyalty programs, and personalized customer interactions through improved customer segmentation and analysis
Advanced reporting and analytics – identify trends and patterns to determine future opportunities, monitor key performance indicators, and more through reports and dashboards
How we can help
Abto Software focuses on delivering retail software solutions to match the client's industry-specific needs. Harnessing the advances of artificial intelligence, machine learning, deep learning, computer vision, image and video processing, data science, and more, we help our partners streamline internal business processes.
Among many other things, we deliver Enterprise Resource Planning solutions for clients in the retail industry. Our custom-built ERP software helps to save costs, get a complete overview over finances, optimize inventory, store and warehouse management, and seamlessly build better customer relationships.
Abto Software's expertise includes:
CRM (Customer Relationship Management)
ERP (Enterprise Resource Planning)
and more!
Keep track with the latest trends and optimize all operational business processes by implementing digital retail solutions!