Welcome to Digital Transformation Week North America!
Posted Mar 16, 2023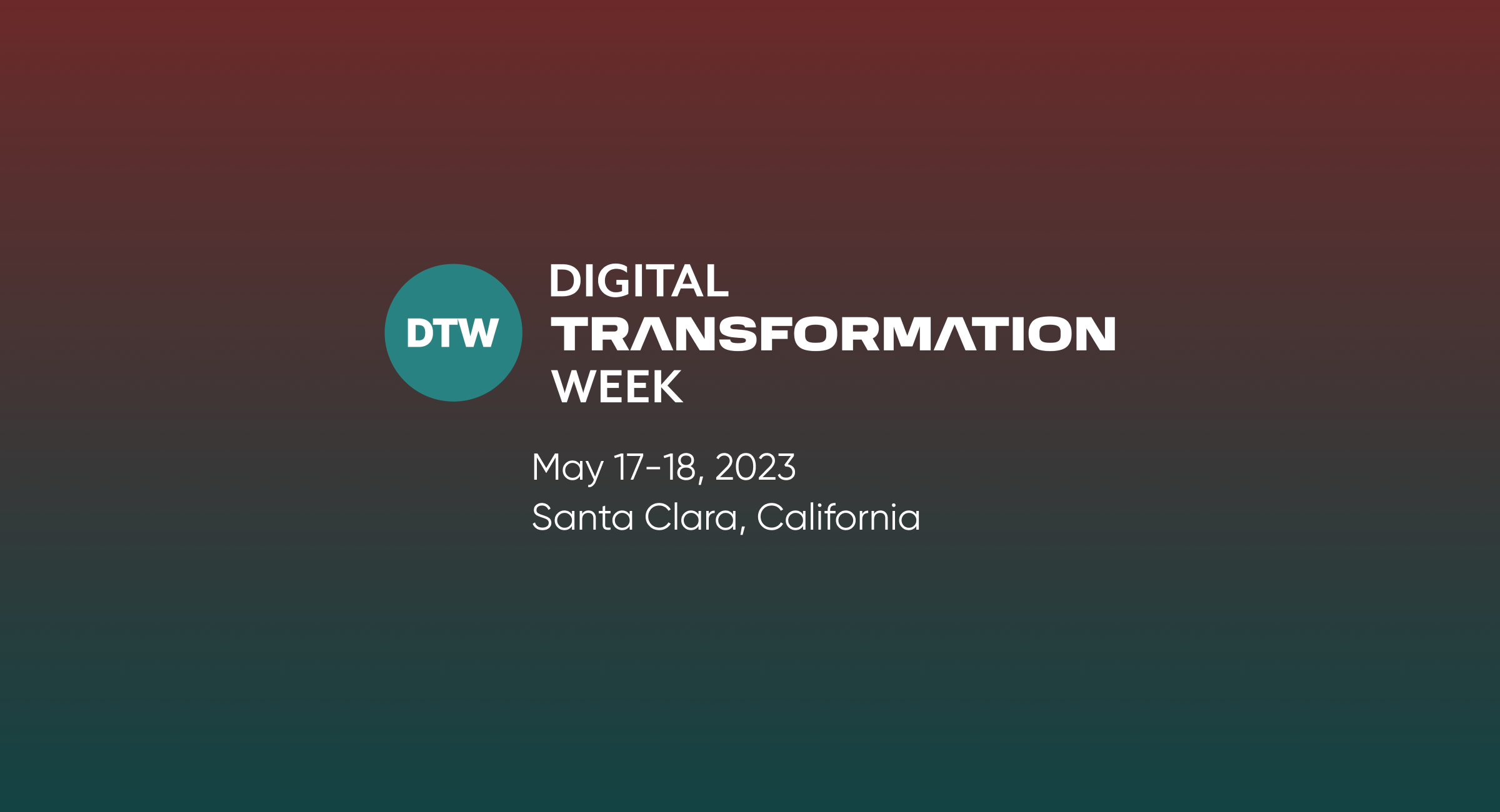 Not so much time left until Digital Transformation Week North America in May, 2023. But people doing business usually plan their activities long before. So it's time for you to prepare for the trip to Santa Clara, California, to visit the most expert conference about digitalization! Also, there's a discount -20% for Abto's audience!
On May 17-18, 2023, Abto Software invites you to join us for Digital Transformation Week North America! The event will take place at Santa Clara Convention Center, CA. You will hear from leading digital experts and discover key strategies for making your digital efforts a success. Explore the critical technologies and approaches needed to make more informed business decisions, improve operational efficiency, improve customer engagement and drive your organization's digital culture.
Attendees & speakers
The event brings together industry-leading technology companies, giving attendees the opportunity to discover the newest solutions in the digital world. The event will consist of live sessions with over 150 speakers sharing their unparalleled industry knowledge and real-life experiences in the forms of solo presentations, expert panel discussions and in-depth fireside chats.
Previous editions of the event were attended by the representatives of such companies as:
CTO & Head of Transformation – Wells Fargo
Head of Web, Data Analyst & Digital Transformation – UN Environment Programme
US Industry Leader, Software, Digital Platforms, and Startups – Microsoft
Senior Manager of Inclusive Design – Digital Retail Solution – CVS Health
Director of Engineering – Netflix
Vice President – Design Thinking – Credit Suisse
& more!
Topics
2023 year's agenda will highlight the most innovative advancements in technologies within digital transformation. The conference will bring together forward-thinking brands, market leaders, digital transformation experts and hot startups to explore and debate the advancements within this sector.
Key topics include:
Optimizing Your Workflow via Automation
Fuelling Your Digital Engine – Core Digital Infrastructures, Technologies, and Beyond
Monitoring the Impact of Your Digital Transformation Journey
Hybrid Cloud – Driving Digital Transformation
The Rise of Digital Twins – Accelerating Enterprises Virtually
Digital Transformation for a Unified view of the Customer
Unleashing the Power of AI and Analytics
Keeping the "New Normal" Employees Happy, Productive and Progressive
Women in Tech – Forging the Way
What Keeps a Chief Transformation Officer Up at Night?
'Transformation Fatigue': How to Combat the Difficulties of the Digital Transformation Journey… and so much more!
Discount
For Abto Software audience, the event is providing a 20% off the ticket price discount with the promo code: ABTO20
The in-person conference is perfect for those technology professionals making investment and strategy decisions, or building and executing pioneering projects within their organization.
Register here: https://www.digitaltransformation-week.com/northamerica/
Tickets and networking
The next North American Edition will also host 6 co-located events covering Edge Computing, IoT, AI, Big Data, Cyber Security, Cloud, Digital Transformation and Blockchain.
With over 6,000 digital transformation enthusiasts and 250+ speakers expected, 76% of which will be a director level, the event is sure to be one of the largest expos in the world.
The most recent information about the agenda, speakers, exhibitors, and tickets can be found on the organizers website.
See you there!