IT Staffing: Get Access to Top IT Specialists
Posted Apr 20, 2022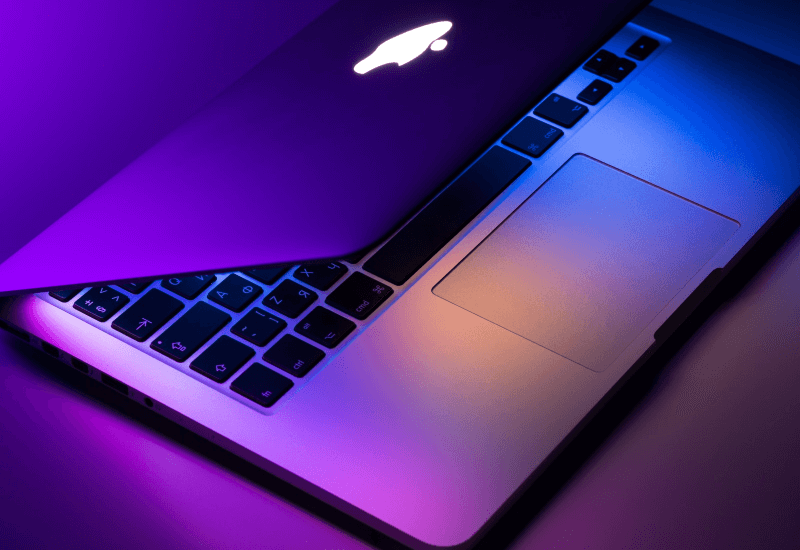 The tendency to direct resources towards fast-paced development and efficiency is gaining momentum today. At the same time, most organizations are looking for strategies to save more time and money. When the hunting, interviewing, hiring and onboarding processes become hard to handle, IT staffing comes on the stage. The term IT staffing itself stands for a modern form of solving staffing issues.
As to SIA reports, IT employment grew 56% from 2000 through 2020 alone in the US. More importantly, according to LinkedIn data, the demand for staffed IT specialists is likely to continue and result in a 29% annual growth rate.
What is IT staffing?
The IT staffing strategy is a popular model of cooperation. It implies delegating recruitment to professionals. This approach became popular in the past decades and continues gaining popularity. The reasons behind this increasing popularity are digitalization and COVID-19.
Choosing IT staffing services means delegating recruitment challenges to agencies that have the necessary expert knowledge and expertise to handle these challenges. In turn, business leaders focus more on their business goals. 
Main pros and cons to consider when choosing IT staffing
Staffing services are associated with notable cost efficiency. Cutting down expenses on recruitment processes, health insurance and infrastructure favorably influences the company's budget overall. This way, the popular staffing model helps avoiding recruitment impediments and maintaining high efficiency. The budget can then be allocated to cover other important business needs.
This model of cooperation provides access to necessary field knowledge and expertise. Experienced recruiters are able to provide skilled engineers for top-tier software development, quality assurance, business analytics, and even project management.
The reviewed staffing solution empowers organizations to scale their business. Both increased cost efficiency as well as access to knowledge and expertise provide for timely delivery of products, increased motivation among both internal and external employees, agile processes, and efficiently used workhours. Saying that, contacting a staffing and recruitment agency means bringing the company to a new level. This, in turn, allows to increase profit accordingly.
Turning to this model of cooperation means avoiding hassle over operational management, advanced training, and additional nerve-racking administration and paperwork. This means simplified bureaucracy and more resources allocated to more important processes.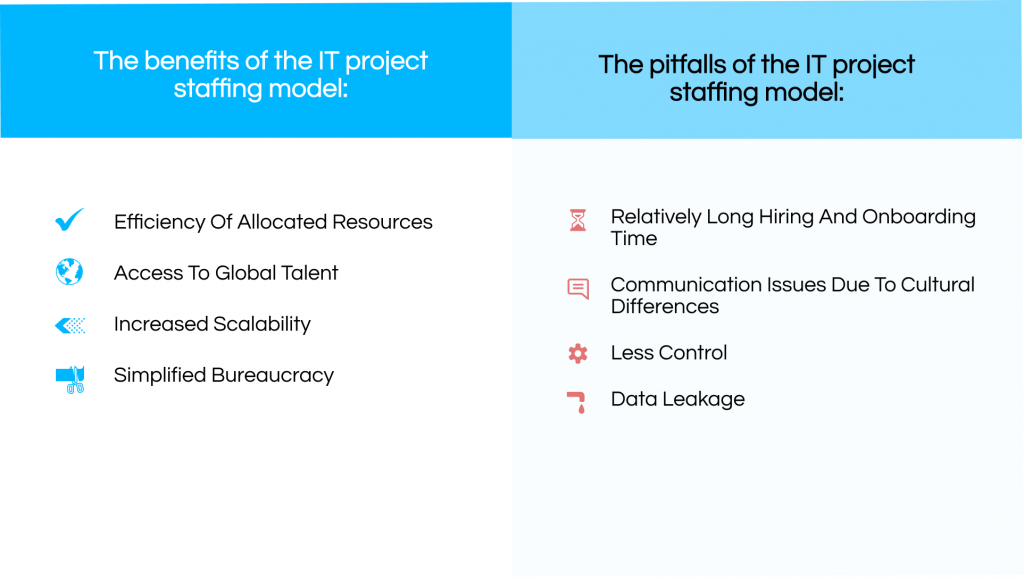 The benefits of the IT project staffing model in brief:
The efficiency of allocated resources

Access to global talent

Increased scalability

Simplified bureaucracy
The pitfalls of the IT project staffing model worth mentioning:
Relatively long hiring and onboarding time

Communication issues due to cultural differences

Less control

Data leakage
The key IT staffing models today
There are multiple approaches to deploying permanent professionals. Some are more suitable for short-term, seasonal needs, others are best for long-term projects that suppose subsequent maintenance.
The key talent augmentation models include the following: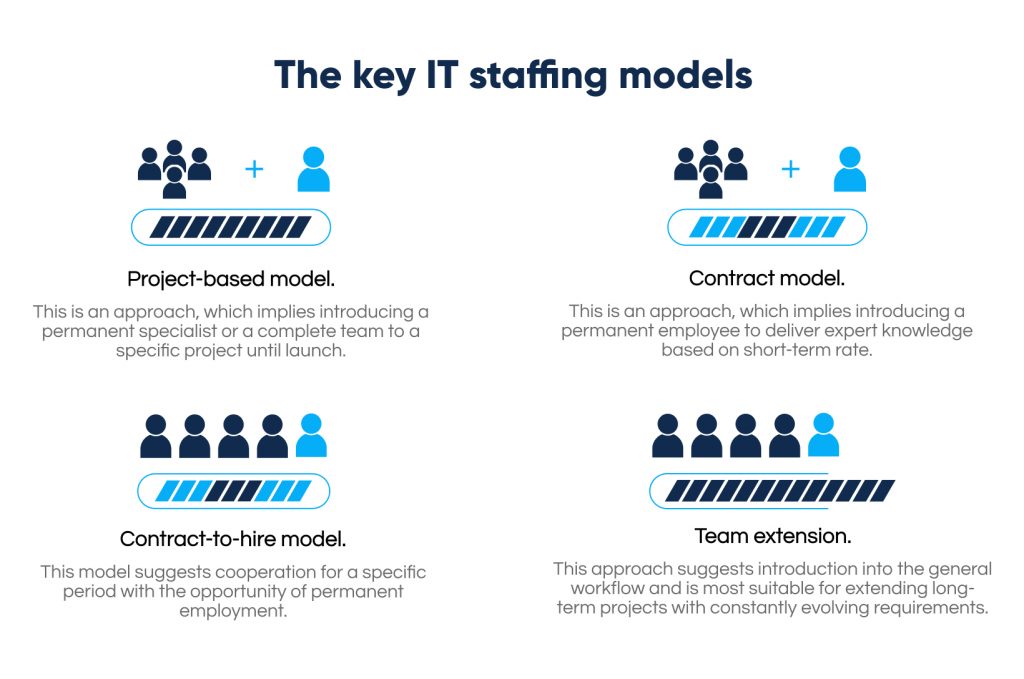 Project-based model This is an approach, which implies introducing a permanent specialist or a complete team to a specific project until launch.
Contract model This is an approach, which implies introducing a permanent employee to deliver expert knowledge based on a short-term rate. 
Contract-to-hire model This model suggests cooperation for a specific period with the opportunity of permanent employment. 
Team extension This approach suggests introduction into the general workflow and is most suitable for extending long-term projects with constantly evolving requirements.
The Ukrainian IT market as one of the most popular outsourcing destinations
In 2020, despite the global pandemic, the business for many tech hubs in Ukraine's largest cities was booming. The sector's annual export was pushed beyond the USD 5 billion mark for the first time. 
In 2021, despite lockdowns disrupting the local markets and the global trade, the Ukrainian IT industry grew by an ambitious 36%. At the same time, the number of local software engineers delivering top-tier software products increased to 285 thousand.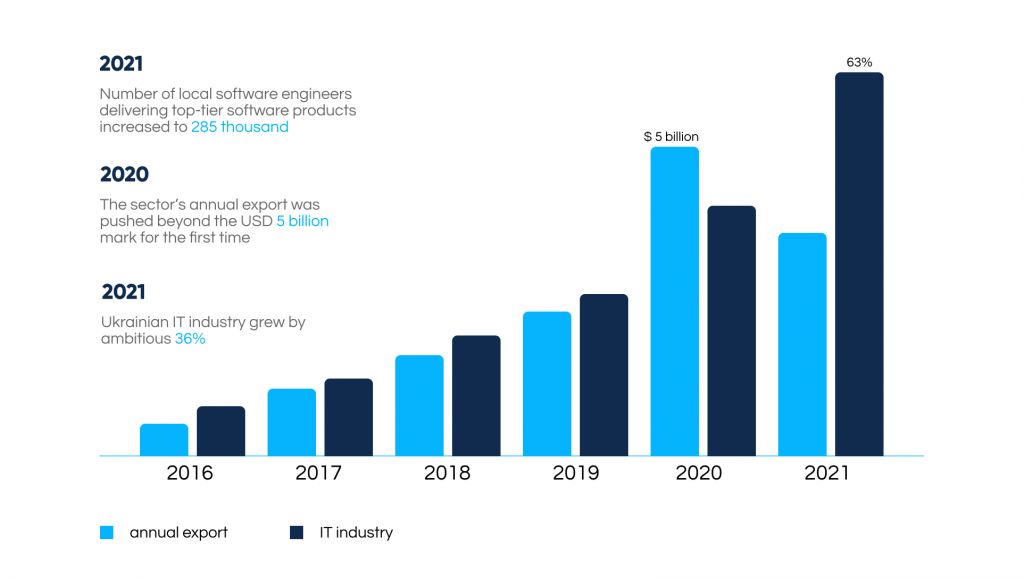 In recent years, Ukraine has become a popular outsourcing destination for organizations all over the world. And it's not about cost anymore, but about deep expertise and quality. 
Leading companies in Ukraine are no longer focusing on providing high-level support. Tech hubs in Kyiv, Kharkiv, Lviv, and Odesa assist businesses to become more competitive in today's digitalized world.
Final words
Turning to professional staffing provides for increased efficiency, access to global talent, and scalability. Delegating headhunting, interviewing, hiring and onboarding means focusing more on more significant operational processes.
Abto Software is recognized as a top software development company by TopDevelopers.co and providing specialists to cover specific needs. For more detailed information about different cooperation options, contact us.
FAQ
What companies can benefit from contracting augmentation agencies?
Staffing services are especially popular among IT companies dealing with web development, mobile application software development, quality assurance, and other IT services. However, companies operating in other fields are also taking advantage of this cooperation model.
Why are augmentation agencies that popular? 
Professional recruiters provided by staffing agencies have the necessary resources to hunt suitable specialists. This approach saves time and money and reduces the hassle over administration and paperwork.
When is it time to contact an agency for staffing?
You should consider staffing in case:
You feel the need to reduce your costs

Your company can't afford to allocate enough resources for the recruitment process and the subsequent onboarding

Your internal HR department doesn't have the necessary field knowledge and expertise to conduct technical interviews 

You want to reduce the time-to-hire
How to correctly approach staff augmentation?
Before actually hiring a staffing company and working out a staffing plan, you should:
Access your current environment

Estimate your business goals

Do research and ask for references 

Discuss the service fee, risks, guarantees, and the staffing approach