AI and Big Data Expo in London
Posted Oct 18, 2023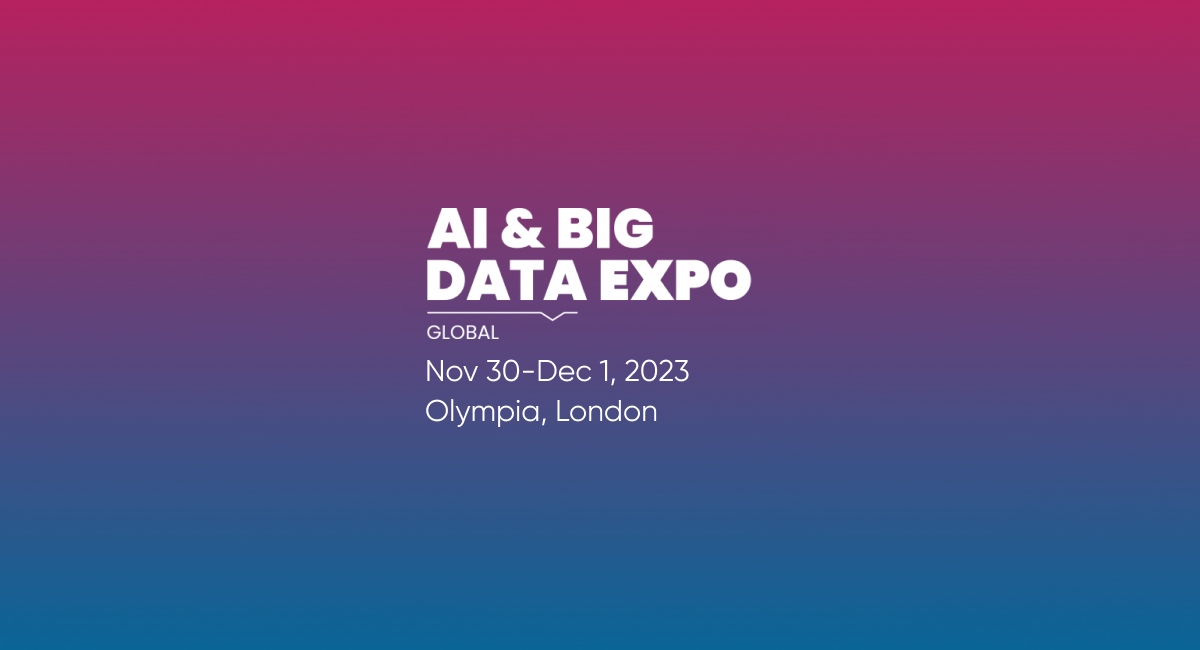 The AI and Big Data Expo Global is set to make a return to the vibrant city of London on 30th November and 1st December 2023. This eagerly awaited event, dedicated to the fascinating world of artificial intelligence and big data, will take place at the iconic Olympia London venue. The organizers are gearing up for an even bigger and better gathering, with expectations of drawing over 6,000 attendees, 150 distinguished speakers, and 200 cutting-edge exhibitors.
In a city known for its rich history and technological innovation, London provides a fitting backdrop for the AI and Big Data Expo Global, where pioneers, experts, and enthusiasts from across the globe will convene to explore the latest IoT trends and innovations.
Why to attend
6,000 attendees: an anticipated crowd of over 6,000 technology enthusiasts, professionals, and thought leaders will assemble for this one-of-a-kind event.
150 industry-leading speakers: with an impressive roster of speakers, attendees can expect to gain valuable insights from the following experts, including:

Anshul Bansal – Commercial Director, Yum Foods (KFC)
Nick Masca – Head of Data Science (Growth & Personalisation), Marks & Spencer
Kamal Jain – Principal Data Engineering Manager, BT Group
Bogdan Grigorescu – Sr Technical Lead, Architecture, eBay
Jason Smith – Chief Digital Officer, Data & Commerce Practice, Publicis Groupe
Álvaro Mendoza – Data Developer, AstraZeneca | DataKind UK

200 exhibitors: The expo floor will feature 200 exhibitors showcasing the latest AI and Big Data technologies and solutions from leading companies.
Networking зarty: еhe first day of the event will conclude with a lively networking party at the prestigious Prince Pub, offering attendees the chance to forge valuable connections with industry peers.
Networking: for those looking to enhance their experience, there are paid ticket options available, offering access to exclusive features such as the networking party, a dedicated networking app, and access to premium paid stages.
 Attendees will have the opportunity to discover what the leading Al companies have to offer and learn more about the current state of the industry and where it is going in the future. 
The AI and Big Data Expo Global is co-located with four other expos, creating a convergence of technology:
IoT Tech Expo
Cyber Security & Cloud Expo
Digital Transformation Week
Blockchain Expo 
In addition to the main event, all participants will gain access to a content library containing selected presentations from this event and previous expos and conferences, available for up to six months.
Agenda
The agenda promises a wide array of topics, including:
Ethical AI
AI Against Hackers
AI Led Personalization
Data Monetization
Data Quality Management
Enterprise Adoption of AI
The Augmented Workforce
The Rise of AIOps
Embracing AI to Drive Digital Transformation and much more!
Don't miss the chance to be part of the AI and Big Data Expo Global 2023 in London, where the future of AI and Big Data technology will be unveiled. For registration details, visit https://www.ai-expo.net/global/ 
For media enquiries, please contact:
[email protected]
Charlie Herne
Marketing Manager
TechEx

See you there!