Abto Launches 2019 Artificial Intelligence & Computer Vision Summer Camp
Computer Vision applications account for one of the five main AI trends in 2019 according to CB Insights while the International Data Corporation forecasts
Artificial Intelligence solutions
will deliver over $52B in global market revenue by 2021, reaching a compound annual growth rate of 46.2%.
AI solutions will reach CAGR of 46% by 2021
Being one of the top 3 biggest software engineering companies in Eastern Europe that are using Artificial Intelligence in the field of Computer Vision Abto Software is contributing further to the growth of the AI industry by launching its long-awaited third annual 2019 Artificial Intelligence & Computer Vision Summer Camp. This year's focus has shifted to neural networks and Deep Learning so the students will work mainly with Python, numpy, SciPy, and PyTorch.
2019 AI & Computer Vision Camp Schedule:
Registration: is open until July 1, 2019
Testing dates: July 6 and July 13
Final interview: July 22
Camp start date: August 5
Duration: one month
About the Camp:
the lectures are held by Abto Computer Vision engineers
the program covers the next topics:

Image Processing
Data analysis and visualization
Clustering and classification algorithms: SVM, K-means, k-NN, XGBoost
Linear Machine Learning models
Neural Networks including MLP and CNN
Image classification approaches
Object detection and image segmentation methods

the duration of each class, divided into theoretical and practical parts, is 4 hours
during the last two weeks of the camp, students will work in groups on their graduation projects – learn more about last year's projects here
According to the statistics, about 50% of graduates receive a job offer from Abto Software. There are nine graduates of previous Summer Camps, who are working in the computer vision department today.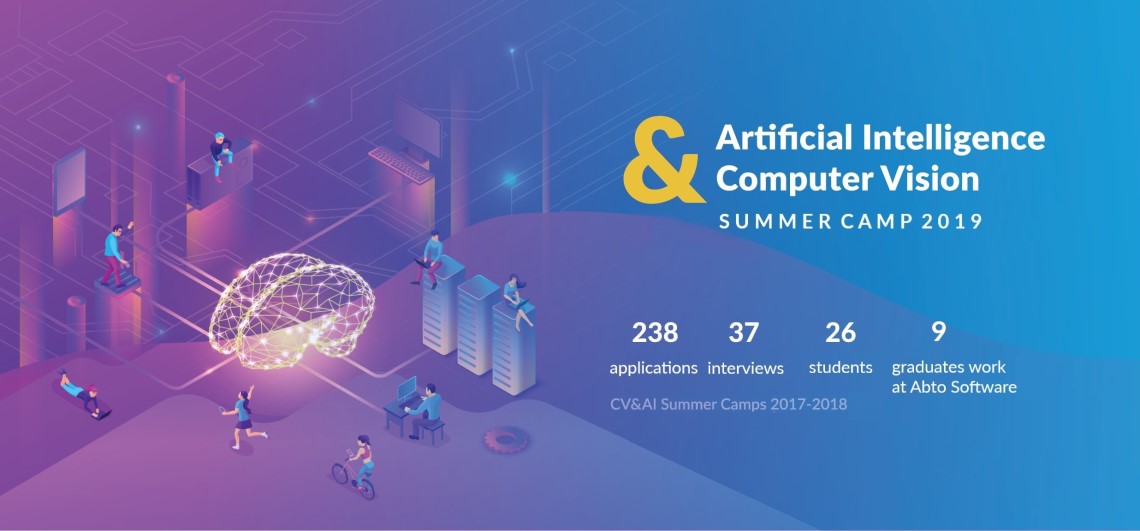 Apply for Artificial Intelligence & Computer Vision Summer Camp if you:
are a 3rd, 4th, 5th or postgraduate student of math, physics, computer science or related departments
graduated from Physics Mathematics Lyceum or similar school
can't imagine your life without Math
aren't afraid of complex calculations
want to work in a high-tech environment
have experience in Python and C++
For more information about the 2019 Abto Software Artificial Intelligence & Computer Vision Summer Camp, please visit our careers website and join us on Facebook.