Abto Software developed an excellent XChangeWithMe mobile application to build and manage your friends, family and/or professional networks current contact info and keep it up-to-date without any additional maintenance.
Xchangewithme allows you to really simplify your life and save your time as it has the next generation hassle-free address book. The user interface is clean with a quick and easy set up wizard.
With the Contact Builder created by Abto Software in this application you no longer have to manage your contacts. All you have to do is set up the Contacts Builder with your email credentials, or log into your Facebook account, and let Xchangewithme automatically obtain your friends, family, and/or professional networks to current contact info, and thereafter, keep your contacts info up to date. You can also easily exchange different levels of contact information.
In real time you can change the level of information shared with each contact or stop sharing information at all. It uses the latest encryption technology 256 bit, so your information is secure.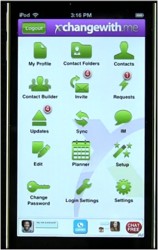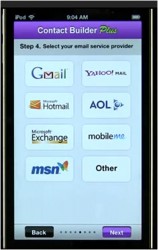 From the contact screen, you can send instant messages to your contacts, both online or offline. No need to use your data plan when WiFi is available. Great for international travel. Manually invite contacts. Tap on an address to instantly get directions or view the address location via Google Maps.
Another nice feature is the Xchangewithme calendar called, The Social Planner. The social planner is a way for you to invite contacts and even non-contacts, or non-users of Xchangewithme to join events.
On the Main Calendar Screen, you can change the time Zone, and all your event times will change accordingly.