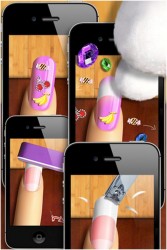 "More Nails" is a project within which Abto Software developed several applications on Android and iOS platforms, e.g. "More Nails", "Glow Nails Lite" and "Nail Maker", etc. The applications allow to clip, buff, polish and decorate your nails in the amazing glow-in-the-dark dress up game.
Using More Nails manicure application is like visiting a real nail salon. You can choose a skin tone, trim your nails with realistic nail clippers, and buff to a squeaky high shine. Then it's time to choose from loads of polish color collections to custom paint gorgeous nails. There's a possibility to choose from tons of sparkling rhinestones, crystals, diamonds, gemstones, stickers, decals, hearts, flowers, fruit and more to decorate your nails. When you are happy with your creations, the application allows you to save your nails to your album, or share with your friends. Or you clean up with nail polish remover and start all over again.
More Nailsв applications are available for iPhone, iPod touch, iPad and Android now.