Our developers spent the last three summer days in Istanbul participating in a team-building event organized by the company for the teams working on a common project in Lviv and Uzhorod offices.
Our guide, who met us at the airport on the way to the hotel was absolutely right promising that we would have an unforgettable vacation. Even the fact that we were tired and hungry and got into a huge traffic jam couldn't spoil great impressions from breathtaking landscapes, snow-white domes of the mosques and locals wearing pretty unusual for us national clothes. We arrived at the hotel late in the evening, had our dinner and then went to the seashore. The next morning at 9 30 we started exploring the Turkish capital with our guide. And here are the most impressive sights that we visited:
1)  Hagia Sophia Mosque– one of the major holy places of Istanbul, which is nowadays a museum of two religions – Christianity and Islam – at the same time.
'
2) Blue Mosque. To enter this mosque we had to wear traditional Muslim closes despite the heat. Girls put on traditional hats called yashmak and dresses (charshaf) and boys – wide trousers (potur) with a national shirt (hemlek). It was an interesting experience to feel like real Turks. Before entering the mosque following the tradition we took off our shoes.
3) Topkapi Palace was the main residence of Ottoman sultans for almost five centuries. Nowadays it's a museum with lots of exhibits, including jewels, costumes, weapons and holy things.
4) Grand Bazaar s one of the largest markets in the world with over 4000 shops located on 58 streets. It's so large that we got lost and managed to find the exit only with the help of locals. On the same day Turkey celebrated its Independence day, so the streets were decorated with national flags and crowded with people. Tired but charged with Istanbul energy we decided to visit Taksim Square and taste turkish cuisine.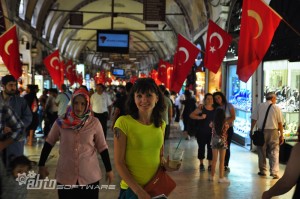 Grand BazaarOn the next day we visited:
5) The Bosphorusthat connects Europe and Asia. Yes, Istanbul is a unique city where two different cultures mix.
6) Basilica Cistern – an ancient underground reservoir with high Roman pillars rising from the shallow water. Its history started 17 centuries ago; in the end of the museum one can see two Medusa Heads.
7) Galata Tower – the highest point of Istanbul where you can enjoy one of the most stunning sunsets. However, you need to be patient, because the number of people willing to climb the tower is quite impressive.
Three days flew by very fast and even though we visited all the places we could, it was not enough. We didn't want to go back home so early and hope it wasn't our last trip. We are grateful the Abto team for this fantastic vacation!