Cyber Security & Cloud Expo Global starts November 30!
Posted Nov 9, 2023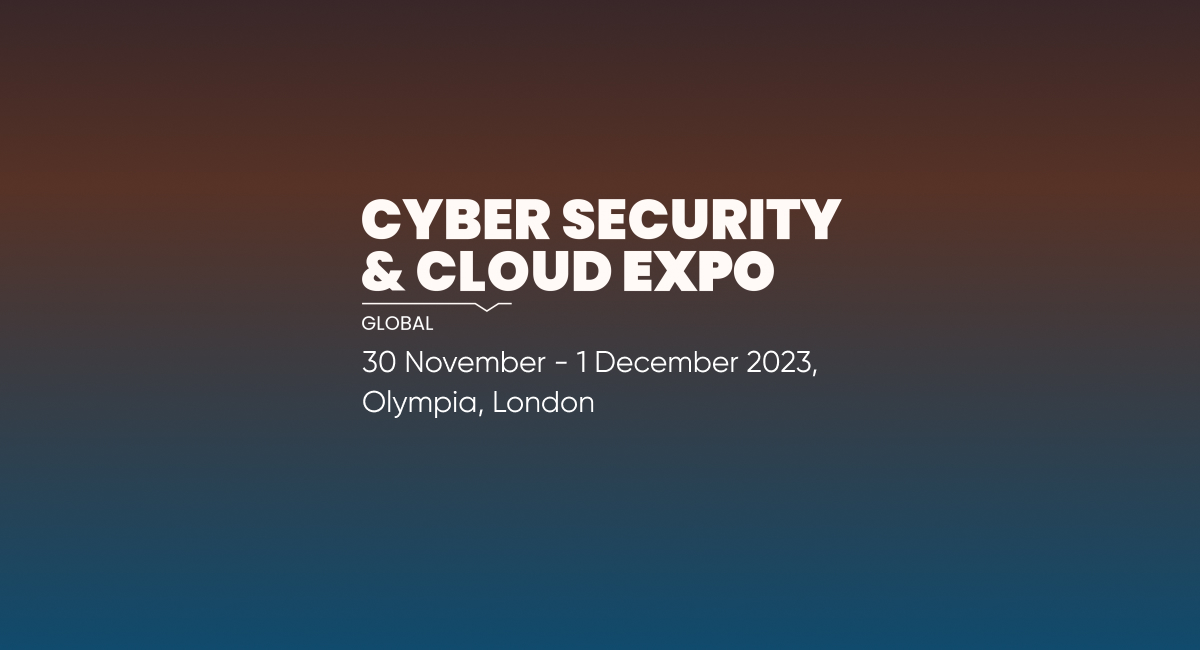 Cyber Security & Cloud Expo Global starts in London in just three weeks! It's a prestigious gathering of industry leaders and innovators. Taking place from 30th November to 1st December, this event promises to be an unmissable opportunity for professionals in the fields of cybersecurity and cloud technology.
The Cyber Security & Cloud Expo series hosts two days of top-level discussion around cybersecurity and cloud and their impact on industries, including government, energy, financial services, healthcare, and more. These events provide an exceptional platform for knowledge-sharing, networking, and showcasing the latest innovations in the industry.
At this year's event, attendees will have the unique opportunity to connect with hundreds of cloud and cybersecurity executives, including CISOs, CTOs, COOs, CIOs, CFOs, Directors of IT, IT Managers, VPs of Security Research, and other top-level industry experts. With an expected attendance of over 6,000 professionals, the expo promises a dynamic environment for networking and knowledge sharing.
Speakers & agenda
The Cyber Security & Cloud Expo Global 2023 promises an action-packed agenda, featuring renowned industry experts, thought leaders, and innovators who will share invaluable insights on the challenges and opportunities shaping the digital landscape. The event will host 150 speakers, representing some of the most influential and innovative businesses in the world, such as Amazon, eBay, Bank of England, Currys, LSEG, Aon, JP Morgan & Chase, Tesco, Santander, and many more. These thought leaders will share their insights, experiences, and strategies, offering attendees invaluable knowledge and inspiration
The agenda promises a wide array of topics, including:
Security within the engineering lifecycle
Third-Party Cyber Risks: Assessing Your Supply Chain
Never Trust, Always Verify: The Zero-Trust Approach
How to Maintain a Culture of Security in the Workplace
Making your Cyber Security Program Effective in 2023
The Risks of Remote and Hybrid Working in the New Normal
Cyber Threat Intelligence: Mitigating Attacks in Cyberspace
And many more!
The exhibition floor will be a mesmerizing showcase of the most advanced technologies, products, and services from top-tier companies and emerging start-ups. Attendees can expect to witness live demos, product launches, and exclusive previews of revolutionary cybersecurity and cloud solutions.
Numerous exhibitors including Puppet, Ontinue, Ultima, Tenable, Enclave, and many more, will be on-site, eager to engage and explore new collaborations, technologies, and solutions.
Networking opportunities
The Cyber Security & Cloud Expo Global 2023 promises an extraordinary networking experience, with ample opportunities to connect with like-minded professionals, forge new partnerships, and explore business opportunities that extend beyond the expo floor.
This event aims to elevate the standards of cybersecurity and cloud technologies, bringing together the brightest minds and fostering collaboration across the industry.
Don't miss this unique opportunity to experience the future of cybersecurity and cloud computing.
In addition to the Cyber Security & Cloud Expo, the event offers a unique feature with co-located expos, covering an extensive spectrum of transformative technologies. Explore the possibilities at IoT, Blockchain, AI & Big Data, Digital Transformation, Edge Computing, and the newly added Intelligent Automaton Track. This holistic approach ensures that you are at the forefront of emerging tech trends. To explore all the exciting event expos, exhibitors, and further details, visit our TechEx Global website at https://techexevent.com/.
Don't miss out on this exceptional event. Register now to secure your place at the Cyber Security & Cloud Expo and ensure you are at the forefront of cybersecurity and cloud technology innovation. Be part of the conversation that shapes the future of technology security. Discover ticket types here.
For registration and more information, please visit https://www.cybersecuritycloudexpo.com/global. See you there!