PPT to SWF Conversion Software – Convert PowerPoint to Flash
Abto Software's excellent PowerPoint to Flash converter allows to seamlessly create compressed Web-ready presentation in Adobe (Macromedia) Flash format.
Now your presentation can be easily embedded into the web page and distributed on the Internet among the users.
Our PPT to SWF converter also enables a non-flash experienced user to build rich-media Flash presentations and captivating online training courses.
Abto Software's advanced PPT to SWF converter is designed specifically to cut downtime leakage and expenses for various businesses. The conversion process won't take much time and our software is truly easy to install and use. PPT2SWF Converter is able to process different types of file formats. It easily converts .ppt, .pps, .ppsx, .pptx to SWF, .exe, .bmp, .png, .jpg file formats with great output quality!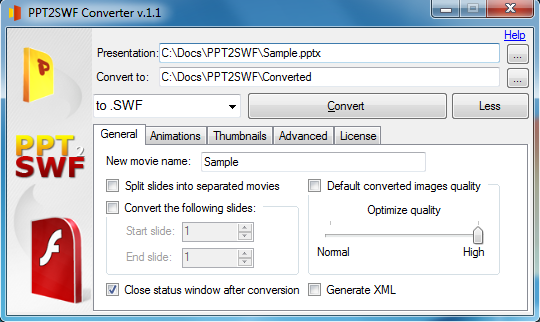 Keywords: PowerPoint to flash converter, ppt to SWF converter,PowerPoint flash converter, PowerPoint to flash converter, pptx to SWF converter, ppt SWF converter, convert PowerPoint to flash, convert ppt to flash, convert ppt to SWF
PPT2SWF Converter System Requirements: Windows OS, .NET Framework 3.5 +
Download PPT2SWF Converter
Please download the trial version of PPT2SWF Converter on the product website.
For more details about PPT to SWF conversion software check our dedicated site: http://www.ppt2swfsdk.com
If you have any questions regarding the product, purchasing, licenses etc, please feel free to contact us at sales@ppt2swfsdk.com with the subject "PPT2SWF Converter" or call us +1 773 273 8080.