Building a Leading Dental Practice Management Software
Abto Software assisted the client with developing dental practice management software. With our experience in healthcare solutions, we provided extra capacity for their existing team. The solution helps dental clinics to treat their patients quickly and efficiently. Read how we built one of the most used tools on the Sweden dental software market.
Content:
Project results
Right now, the solution is one of the most popular software tools in Sweden dental industry. Also, its flexibility allows our client to think about the future. And, as the global dental management software market grows, the company now focuses on extending to other countries.
Our software benefits:
Gathered all data in one place
Reduced manual work
Simplified medical practice management
Improved the security of payments
Added X-Ray photos management
Improved ability to scale
Our dental practice software reviews
The solution has received praise and positive feedback on many occasions. Here are a few words from dental experts who use this solution: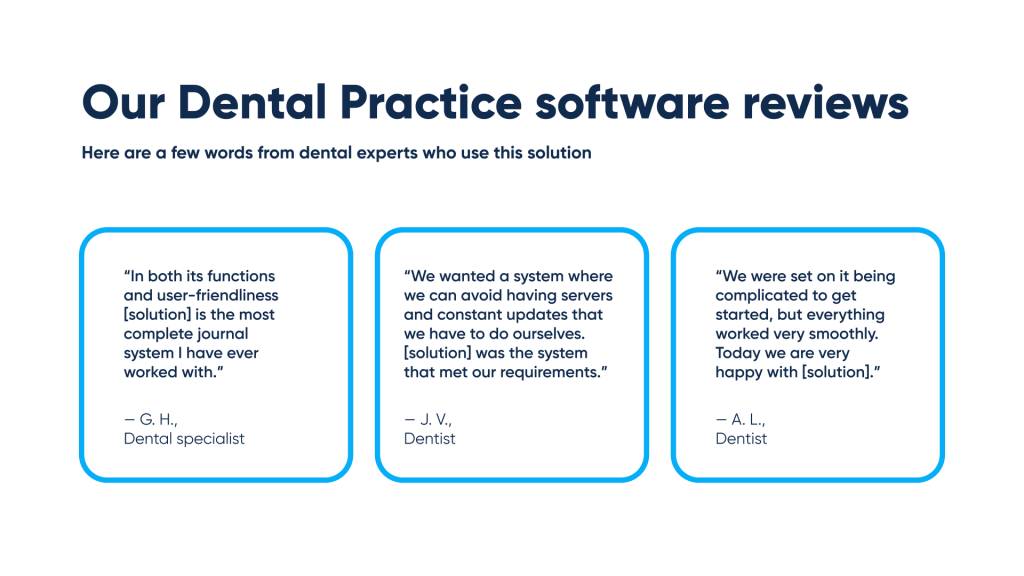 About the project
Our cooperation began back in 2018. The client was looking for additional development capacity for their project. They were going to improve the existing dental practice management software. Finding the right talent locally proved to be a difficult and time-consuming try. And so, they approached Abto Software. After a short trial run, our experts became an inseparable part of the client team.
Since then, the Abto Software team has improved the solution in a variety of ways. We developed new features as well as completed various integrations. Also, our experts took part in solution customization for specific client's needs.
Benefits of cloud-based dental practice management software
There are a lot of benefits of using cloud-based medical practice management software. Yet, let's separate them into four main advantages.
(Almost) unlimited storage
Cloud provides access to almost limitless space for storing data. And this is something that most clinics have countless. More importantly, this data can be easily accessed from any corner of the world.
Security
Storing data in the cloud is a lot safer than doing it locally. Using cloud-based software, you can be sure that all information is backed up in a secure location.
 Flexibility
Cloud-based solutions have unprecedented scaling capabilities. Adding or decreasing storage is as easy as simply changing a plan with your provider.
Reduced expenses
Finally, cloud solutions help businesses to reduce their IT expenses. You do not need to purchase expensive hardware and store it in a separate location. You don't need to manage it on your side. Your provider will take care of all this.
Features of the dental practice management software
The solution is a cloud-based application that requires desktop installation on site. It consists of the main application and an extra tool for managing x-ray photos. Also, there are three optional web applications for extra functions.
Let's take a closer look at the solution features and how they help dental professionals.
1. Dental patient management system
Register and store all patient data in one system. It includes treatment history, information about allergies, and more. Without paper documentation, data can be accessed and modified very quickly.
2. Dental appointment management system
The solution can also assign patient appointments, both in automatic and manual ways. It provides an accurate timetable with doctor and room availability. As a result, clinics can quickly set appointments without any mix-ups. Even more, appointments can be assigned automatically to available dental professionals.
3. Patient referrals and revisions
The solution sends automatic reminders to patients about upcoming appointments and scheduling check-ups. There is also a system that allows referring patients to other clinics. It is very useful in case a particular clinic does not offer the services that the patient requires. These referrals are made automatically if the referred clinic uses this solution.
4. Easy management of doctors' work
This dental practice management software provides useful dashboards, to-do lists, and statistics. They help dental professionals manage their work more easily.
5. Clinic administration
The system has features for clinic administration. They are registering doctor information, proficiencies, services, and more. There is also a communication tool for messages and notifications within the clinic.
6. Secure payments
The solution manages invoice assignment, tracks payments, and provides safe payment methods. Moreover, it provides a handy option for family payments. A client can make payments for several other patients, i.e. family members.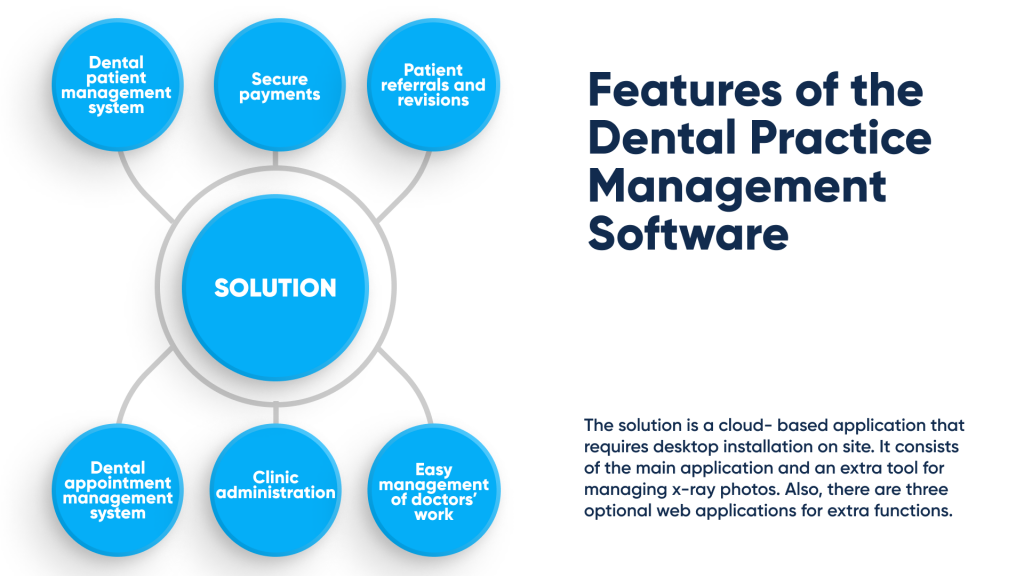 Additional tool for managing X-Ray photos
The dental practice management software comes with an optional tool for managing X-Ray photos. It stores all X-Ray photos that are taken at the clinic and distributes them among patients. Each photo is attached to the patient's medical record. As a result, it can be quickly accessed, analyzed, or edited.
As an extra level of convenience, X-Ray photos appear in this software as soon as they are taken. This way, dental experts can access them on the fly. The X-Ray tool works seamlessly with the main solution by fully integrating with it.
Health benefits
Perhaps the most important benefit of this tool is how it helps patients avoid unnecessary radiation exposure. Distributing X-Ray photos as soon as they are taken eliminates the risk of losing them. As a result, patients do not have to take X-Ray photos one more time.
Optional web-applications
Besides the X-Ray tool, the dental practice management software comes with three optional web applications.
Patient personal profile
A useful feature for patients that use dental practice management software. Patients can find information about upcoming visits, health tips, and more. Also, they can view their treatment history, access medical documents, and more.
Online appointment booking
Adds the ability to set up appointments for patients via a web browser.
On-premise check-in system
This application allows patients to check in when they enter the hospital premises. As soon as they enter their information into the app, the system notifies doctors that their patients have arrived. It helps accept patients a lot quicker since they do not have to spend time at the reception.
Third-party integrations
Our team not only developed and customized features. We also assisted with completing various integrations with third-party services.
Appointment notifications via post
The system automatically sends SMS and e-mail notifications. Still, some patients prefer to receive their messages via post. Therefore, we integrated an optional service Ekopost. It sends paper letters to patients, reminding them about their upcoming visits.
Log in to a patient personal profile via BankID
Since BankID is one of the most popular methods of authenticating in Sweden, we have added this feature to the solution. Moreover, it works with Personal patient profiles as well.
We have also added the Swish payment method. It provides patients with options to choose how they prefer to pay for services.
Conclusions
As mentioned before, the global market size of dental practice software is on the rise. Yet, we can see this trend across the entire medical practice software industry. By 2029 its market size is expected to reach $739.1 million. The predicted Compound Annual Growth Rate (CAGR) is 10.5% from 2021 and onward.
As the market size grows, so does the competition. Thus, it becomes increasingly important for providers to improve their solutions. They need to add new functionality that will appeal to customers.
Our client is a great example of this being done right. They actively use feedback to develop their dental practice software. It allows them to dominate their local market and look towards new ones.
Are you on the lookout for a professional team to develop your medical practice solution? Abto Software will be happy to help. Contact us today!
FAQ
What is cloud-based software?
Cloud-based software allows users to access applications that are located on shared servers via the Internet. Users do not have to store it on their servers. And, as in the case of dental practice management software, they only have to install its desktop component.
What is dental practice management software?
In broad terms, it is an Electronic Health Record (EHR) software solution. It assists dentists with their day-to-day activities and helps dental clinics run smoothly.
What is the purpose of practice management software?
Dental practice management software digitizes the information flow within a clinic. It usually involves scheduling patient appointments, assigning treatment plans, managing patient dental history. Also, it can handle invoices and payments. Moreover, it safely stores all patient data in digital form and eliminates the risks of losing it.
Why use medical practice management software for scheduling appointments?
Without the need to rely on paper documentation, clinics can quickly set up or change patient appointments. Information about both patients and doctors is in one single system. It allows clinics to schedule visits correctly and provide the best service possible.