TimeAI Summit 2023: unveiling the future of AI on October 4-5, 2023
Posted Sep 25, 2023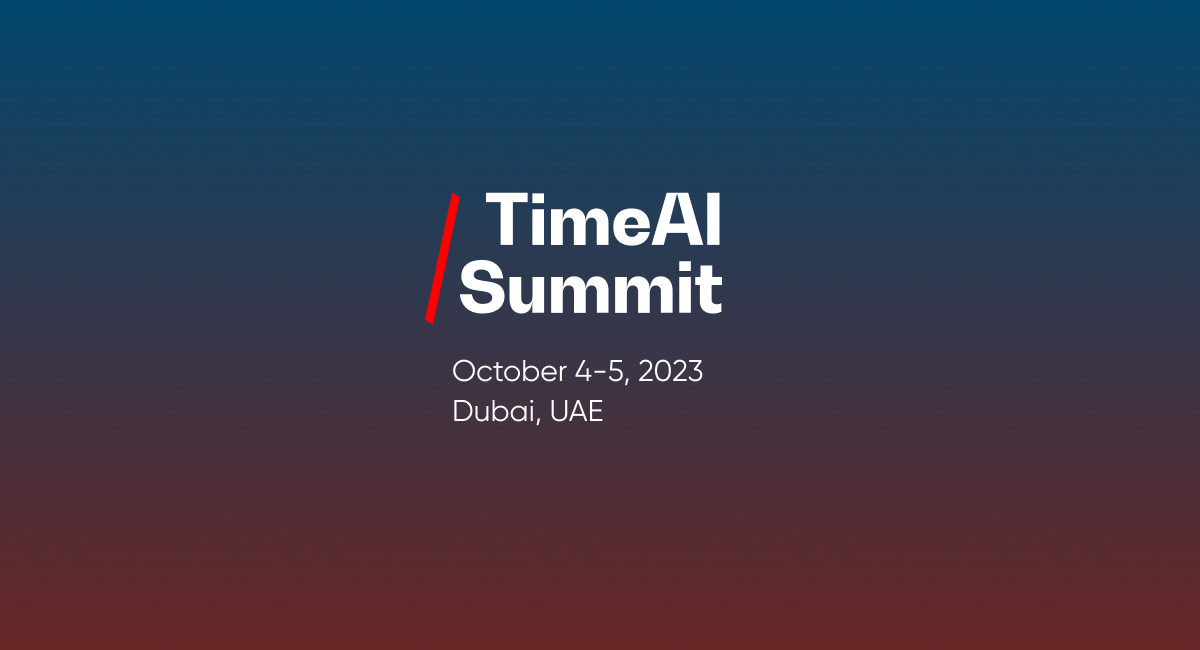 Abto Software invites you to the TimeAI Summit this October! This event unites tech giants and visionaries in Dubai to shape the future of AI. 
The TimeAI Summit in Dubai, UAE, is generating palpable excitement within the AI and technology communities, with less than two weeks remaining until the event. Scheduled for October 4-5, 2023, at the Le Meridien Dubai Hotel & Conference Center, this event will host AI researchers, technology enthusiasts, and industry leaders from 85 countries.
Why AI Matters
The Summit is set to become a landmark event in the AI field, with high-profile attendees that include industry giants like Google, EY Law, Accenture, Meta, and many others. These leading companies are not only setting the pace in artificial intelligence but also shaping its future, making their participation in the TimeAI Summit an unmissable rendezvous for anyone involved in the sector.
As an AI software development company, Abto Software can't miss the opportunity to join a world-class event with more that three thousand attendants from about eighty five countries, who are ready to share their knowledge and the latest achievements in Artificial Intelligence. 
Artificial Intelligence has emerged as the driving force behind the transformative technologies of the 21st century. Its potential to analyze vast datasets, recognize patterns, and make intelligent decisions has revolutionized industries and improved lives globally. From healthcare and finance to transportation and education, AI's impact is undeniable. Embracing AI is no longer an option; it is a necessity for organizations to thrive in the fast-paced, data-driven world.
Speakers
Attendees can look forward to insightful dialogues from an illustrious panel of experts, including:
Dr. Ebrahim Al Alkeem – Director at the Government of Abu Dhabi and an expert on Digital Transformation, Cyber Security, and Artificial Intelligence
Martin Hanzl – Head of New Technologies at EY Law
Dr. Salim Al-Shuaili – Senior Executive of AI & Digital Transformation at the Ministry of Transport, Communications and IT of Oman
Akshay Chopra – VP, Head of Innovation & Design at Visa CEMEA
Sam Blatteis – CEO of The MENA Catalysts
Amnah Ajmal – Executive Vice President – EEMEA at Mastercard UAE
Levan Bodzashvili – Ex-Deputy Minister of MFA of Georgia and Rector at Neiron Academy for AI
Yannick Even – Global Analytics Business Partner at Swiss Re
Sallyann Della Casa – CEO & Chief Identity Hacker at GLEAC
Nima Banai – Engineer, Program Lead at Google
Each of these esteemed professionals will bring a unique perspective on critical issues in AI, promising a rich and varied discourse over the two-day summit.
A distinguished Forbes personality, Senior Producer, and Presenter, Ramia Farrage, will serve as the Master of Ceremony for the two-day duration of this much-anticipated Summit.
Topics
The Summit promises to foster engaging and comprehensive discussions on groundbreaking topics such as:
Data Privacy and Ethics in AI
AI in Autonomous Vehicles
Current Status and Future Paths
Scaling AI for Enterprise
Challenges and Solutions
Machine Learning in Financial Services
Global AI Regulations: Balancing Innovation and Risk
and others.
About TimeAI Summit
TimeAi Summit is a prestigious global event that brings together AI companies, tech pioneers, and AI entrepreneurs to explore and shape the future of artificial intelligence. Through inspiring keynotes, insightful panel discussions, and valuable networking opportunities, TimeAI Summit fosters collaboration and accelerates innovation in the AI industry.
Emirates Airlines, as the Official Airline partner, is offering exclusive travel discounts for global attendees of TimeAI Summit. To further enhance attendee convenience, the organizers are also providing specially discounted room rates at the Le Meridien Dubai Hotel & Conference Center.
Find more information about the tickets, sponsorship opportunities and discounted hotel booking. Also, you can always contact organizers via email: [email protected]
See you there!