Annual General Company Meeting Held by Abto Software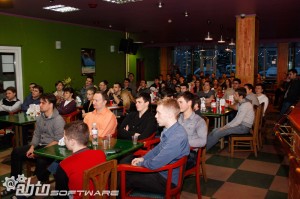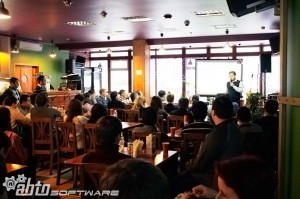 Abto Software management has recently organized the annual general company meeting that gathered all co-workers from Lviv and Uzhgorod development centers. The main goals of this event were to summarize the achievements over the past year and discuss plans for the future.
The meeting was chaired by Olexandr Muzychuk, the CEO at Abto Software. He started his speech by thanking all the developers, testers and administrative staff who made every effort for the company growth. He noted that the company made significant progress in strengthening its position on the software outsourcing and offshore/nearshore software development services market.
Some of the key achievements of the past year are: opening a new Abto Software Development Center in Uzhgorod, the number of Abto Software`s resources reaching over 100 workers, launching a brand new careers website, establishing Abto Labs Department Рё R&D Department. Abto Software`s CEO also emphasized that the arrangement of trainings and various technology related courses would become the company`s strategic point.
In his speech Abto Software Technical Director, Sergey Ivanov, emphasized the improvements of the company technical base and produced software and products quality.
Over the last year Abto Software successfully accomplished a great number of projects for lots of Western Europe and US customers which were presented by project-managers at the company meeting. Here you can find some of the most interesting ones:
SALE SYSTEM FOR SALES FORECASTING
At the end of the meeting the company management announced the company strategy and plans for the future, in particular, focusing on web development and design, mobile applications development and Java software development. High-technology science-intensive projects also remain a strategic priority of the company this year.