Abto Software`s Intellectuals Won the Open Cup of "What? Where? When?" Contest and Preparing for the 6th IT-Cup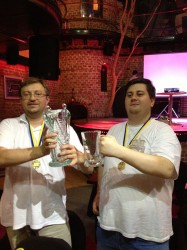 This summer Lviv hosted the final contest of XVI Open Championship of "What? Where? When?" cup. The tournament was attended by 81 teams from Lviv, Rivne, Chernivtsi and Ivano-Frankivsk regions. Lviv Open Cup has become one of the most popular and most attended intellectual competitions in Ukraine.
Our colleagues, the brightest minds from Abto Software, a Ukrainian outsourcing software development company, have taken part in seven "What? Where? When?" competitions this year, became the best in the league A, leaving their rivals far behind, and, finally, won the first prize in the Open Cup of this contest. We are extremely proud of our colleagues and their victory in this intellectual tournament.
Following the well-deserved success of our co-workers and being a long-time fan of all kinds of intellectual competitions, Abto Software gladly agreed to be the general sponsor of the Sixth IT-Cup of this popular game for the smartest. So, we would like to invite all interested in testing their knowledge or supporting their erudite friends to the 6th IT-Cup contest which will be held on September, 14th, 2013 in Lviv, Ukraine.
Please, read the details on the official IT-Cup website and expect more news from us soon.
The article image is courtesy by Ivan Misyats.