Abto Software – Top Web Development Company in the US – Selected Firms
We feel immensely happy to enlighten our peers and associates that Abto Software has been declared as one of the leading web development companies in the USA by Selected Firms – a reputed B2B research and ranking platform listing the expert and reliable IT companies.
Abto Software is an award-winning software development company whose prime focus is on .NET development, AI/ML development, and Computer Vision solutions. We create high-quality, purpose-driven, informative, and user-friendly projects within the stipulated time. 
Abto's team always aims to learn new things and create conversion-driven user experiences with excellence using modern frontend and backend technologies. This approach has helped us to satisfy our customers and to get featured amongst the top web development companies in the USA.
14+ years in business & 200+ professionals strong, we have catered to entrepreneurs, SMEs, and digital agencies to help simplify their IT experience and hence, thus reduce costs and time.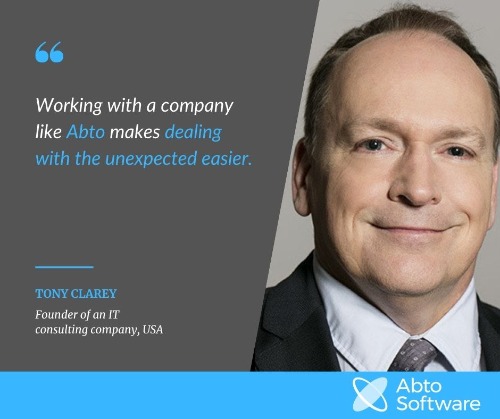 Apart from being an efficient web development agency, the Abto team have also built expertise in various services like mobile application development, AI/ML solutions, cloud services, computer vision solutions and many more. We also employ one of the largest Computer Vision AI departments in Eastern Europe with extensive expertise in building Intelligent Video Analytics and Data Extraction solutions, Advanced Driver Assistance Systems (ADAS) & Intelligent Transportation Systems (ITS).
Since 2007, we have worked with organizations hailing from different industry verticals such as healthcare, telecommunication, real estate, fintech, internet, education and many more. To have a better outlook about our previous work, and innovative solutions you can check our portfolio.
About Selected Firms:
Selected Firms is a widely respected ranking platform of B2B IT service providers. They use an unbiased approach in analyzing and ranking software companies. The R&D team of Selected Firms analyse the companies through strict and pre-defined parameters which ensure that only the most professional, experienced and reliable companies get placed on their reports.