Abto Software Launches its New Website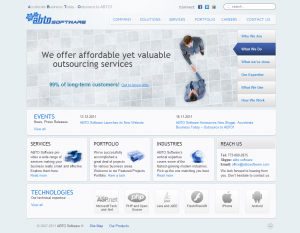 Abto Software, a global provider of offshore IT outsourcing and high-end software development services, is proud to announce the launch of its updated website filled with expanded and more accessible content.
The Abto Software's website update is closely connected with the introduction of new company's slogan: "Accelerate Business Today – Outsource to Abto!" and clearly reflects the company's direction towards helping its customers accelerate their business by providing high quality IT outsourcing services in diverse areas.
Considerable thought was given to the new convenient, easy-to-navigate website structure so that online visitors, including existing and prospective customers, can quickly find all necessary information about Abto Software and contact our Customer Representatives easily. The aim of the new site is to serve as a helpful instrument of communication with our visitors.
The new website offers quick and easy access to essential information on Abto Software's wide range of services including outsourced software development, IT consulting, Research & Engineering, etc. The website can boast of an up-to-date overview of the company's innovative software solutions (e.g. Mobile Solutions, Telecom Business Solutions, Web Development, Hardware/Embedded, etc.) and provides renewed company's portfolio containing detailed descriptions of the projects accomplished. The updated website possesses improved navigation: project and products were classified and divided according to the industries served cross-linked and categorized. The website's user-friendly nature provides visitors with more efficient access to such Abto's resources as the company presentation, video about Lviv, company PDF documents and others.
The website looks more visually attractive due to modern, colorful and informative banner placed on the website main page. The overall enhanced design makes the web look more pleasant for perception. The new website features also include integration with social media such as Facebook and LinkedIn, the news and press releases related to the completed projects and outsourcing services.
Oleksandr Muzychuk, the CEO at Abto Software, notes: "Our staff at Abto did a truly great job of updating the website to emphasize Abto Software's core business values; especially our dedication to customers' needs satisfaction. It is essential for us that the new site going live on the World Wide Web encourages our mutually beneficial cooperation with existing and potential customers".